Subject: ADFF Newsletter August 29, 2018
August 29, 2018


The Architecture & Design Film Festival and Soho Design District are presenting the 5th Annual Short Films Walk on October 3. Over 30 short films will be presented in 11 showrooms. (Films will be announced September 12th). The event is free, but RSVP i
s required. RSVP opens September 12.
Short Films Walk Showrooms
Short Films Walk Sponsors
This year's A

rchitecture & Design Film Festival will be October 16-21.

The full listing and schedule of films will be posted to the ADFF website t

his week

.

Below are a few of the films that will be featured.

Tickets will go on sale September 1

7th.
Frey: Part 1 - The Architectural Envoy


Director: Jake Gorst
2018 / 65 min / USA
NY Premiere
Albert Frey, the unpretentious Swiss-born mid-20th century architect, was a key figure in the introduction of Corbusian-influenced modernism to the United States. Through his innate curiosity of the American landscape, he developed an extraordinary design style, blending industrial techniques and a love of nature.

This film explores his formative years while working closely with Le Corbusier in Europe. It also shows his important transition to America, including the famed Aluminaire House, the Canvas Weekend House, the New York Museum of Modern Art, as well as his Kocher-Samson Building in Palm Springs. The film reveals why Frey is such a significant force in the development of modernism in the United States.
This is the first of a two-part film series. The second film is anticipated to be finished in Spring 2019.
Trailer
.
US Premiere

Through the lens of graphic design,

Design Canada

follows the transformation of a nation from a colonial outpost to a vibrant and multicultural society. What defines a national identity, is it an anthem? A flag? Is it a logo or icon? How do these elements shape who we are? In the 1960s and 1970s, these questions were answered by an innovative group of Canadian designers who used design to unify the nation.



Following the film, there will be a

Q&A with the director and producer, Greg Durrell and Jessica Edwards.

Trailer

.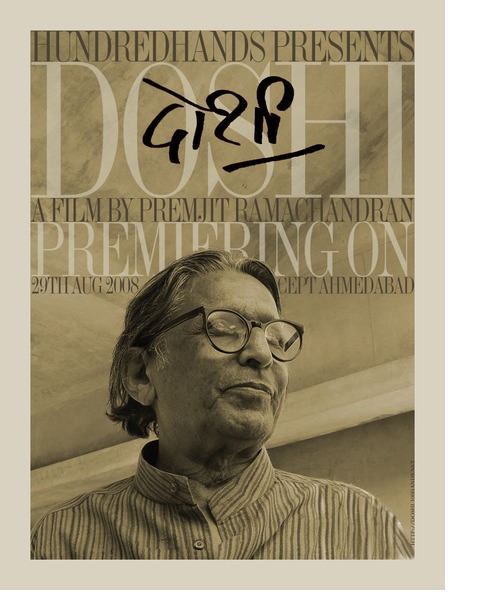 Doshi


Director: Premjit Ramachandran
2009 / 74 min / India

In a career spanning almost 70 years, the architect Balkrishna Doshi's work has mirrored the evolution of contemporary Indian architecture. Doshi's first job under the French architect Le Corbusier, who designed the Indian city Chandigarh, had a profound impact on him but he has often sought to interpret Corbusier's modernism through local conditions of site, climate and available technology.

Having a conversation with Doshi is to immediately understand his appeal and the reasons for his unique success. Not only is his work as an architect seminal but his contributions to academia through the setting up of the school of architecture in Ahmedabad and his own Vastu-Shilpa Foundation are unparalleled. These successes are primarily due to his ability to communicate with and inspire the people around him, and his rigor as an architect. The film introduces us to a truly great modern architect, and an evolved, cultured human being... and helps direct our attention to the truly important questions of our time.