Subject: ADFF NEWSLETTER MARCH 28, 2012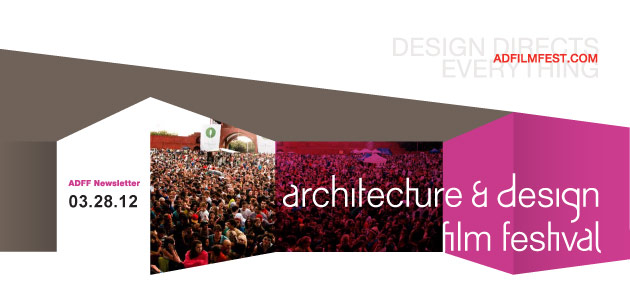 Dear Friend,
At this year's festival we are adding a PechaKucha night to the lineup. We are also featuring three films that focus on important forward-thinking environmental issues related to design.
PECHAKUCHA:
On Friday, April 13th from 8:30 – 10:00, we will be hosting our PechaKucha night in Chicago. What is PechaKucha, you say? How do you pronounce it? It's a simple presentation format that's short, sweet and fun. It's six minutes and 40 seconds (20 images, 20 seconds each where the images forward automatically). We sat down with architect Peter Exley, the Chicago PechaKucha host; here is what he had to say.

Architect Peter Exley
Chicago

PechaKucha host

Q. Why 20 seconds and 20 slides as opposed to anything else?

PE: 20x20, 400 seconds is the length of a good pop song.

PechaKucha is very rock n roll. 6:40 is a bit longer than Bohemian Rhapsody, and a little shorter than Hey Jude.

Q. How did you get involved in PechaKucha?

PE: My excellent friends Mark Dytham and Astrid Klein in Tokyo are the founders. Mark mentioned it to me about six years ago. It took me a little while to take notice - but once we did, we assembled a little organizing group here in Chicago and we haven't looked back.

Q. How many presenters are showing in Chicago, and who are they?

PE: There'll be about 8 - including Filmmaker/Designer Rujanee Maharakanjana - the best PechaKucha nights are an eclectic mix of creative types.

Q. What reaction does the audience have at these events?

PE: It varies by city - but Chicago audiences are attentive, encouraging, and craving the passion that invariably emanates from the best PechaKucha presentations.

In my opinion, a good PechaKucha audience is a little tipsy. A great one is well lubricated.

Q. What I'd your favorite thing about PechaKucha night?

PE: The conversation. Meeting new people. Hearing new things. Being surprised. Being delighted and inspired. Although I am the host in Chicago, I don't see the presentations beforehand, so it's like a whole evening of gifts. And who doesn't enjoy that?

Q. Any other interesting and fun facts you would like to add?

PE: 501 PechaKucha Nights around the world. So if each of them attracts 250 people, and they do at least four events a year, that's ½ million people in the audience at PechaKucha night.

Wow!
ADFF is proud include these three thought provoking environmental based films into this years festival.



click image to watch trailer

Biophilic Design: 60 min.

A film stemming from Steven Kellert's writing and research, Biophilic Design explores the relationship between nature and people and the impact they have on one another. Proven studies that nature improves health and reduces stress and has a measurable impact on life. Biophilic Design provokes change through design where humans are re-connected to nature.


Program 13:
Biophilic Design: The Architecture of Life - USA, 2011, 60 min Chicago premiere
Minka - Japan, 2011, 16 min Chicago premiere
April 14@ 5:15
April 15@ 9:15




click image to watch trailer

Passive Passion: 21 min.

The film Passive Passion explores the way Germans have mastered an extremely energy efficient house building standard, where idea actually stemmed from America, but did not catch on. A design concept which incorporates several basic design techniques and simple ideas which produce drastic energy saving results while essentially saving money and protecting our precious resources, Passive Passion brings a new outlook to green building.


Program 8:
Architect of Dreams - New Zealand, 2009, 52 min
Passive Passion - USA, 2011, 21 min
The Man Who Built My Childhood - Canada, 2008, 4 min
April 13@ 5:15
April 14@ 3:00

The Landfill: 3 minutes.

The U.S produces an average of 390 billion pounds of garbage on a yearly basis. A landfill in Upstate New York is turning their trash into treasure, literally, by taking their waste and 'harvesting' it to powering entire nearby communities.



Program 9:
Detroit City Wild - France, 2010, 80 min
The Landfill -- USA, 2012, 3 min
April 13@ 5:00
April 14@ 9:15