Subject: ADFF NEWSLETTER 03_21_2012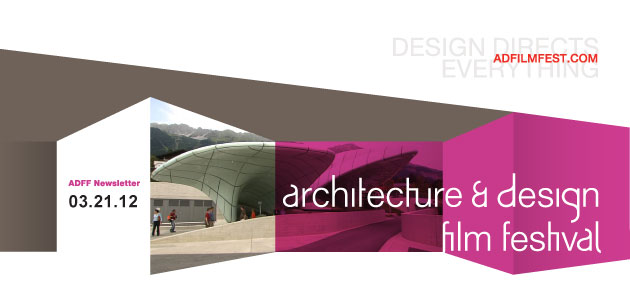 Dear Friend,
The Architecture & Design Film Festival kicked-off its Chicago 2012 festival with a reception and film screening at Frank Lloyd Wright's famed Unity Temple. The evening's highlight was a fascinating short film on the creation of another of Frank Lloyd Wright's religious buildings, the temple Beth Shalom, and his unusually close relationship with the synagogue's Rabbi, Mortimer Cohen. The film,
Beth Shalom – an American Synagogue
was followed by an informative talk-back with the film's director, James Sanders.
In addition to the 31 films that will be screened over the course of the 5-day festival at the Music Box Theatre, ADFF offers festival-goers an opportunity to attend a series of panel discussions with architects, designers and filmmakers. The talks are free of charge and take place in the ADFF's tent lounge at the Music Box Theatre
PANEL DISCUSSIONS
Architects as Filmmakers – Moderated by Sarah Herda, Executive Director, Graham Foundation for Advanced Studies in the Fine Arts. Panelists include Jord den Hollander and Ben Murray.
Saturday, April 14, 3:30-4:30

Architect as Diplomat: Embassies and What They Communicate – Moderated by Victoria Lautman, well-known host of long-running programs on WFMT and SBEZ Radio and contributing editor for Chicago Magazine. Panelists include Jord den Hollander and Jane Loeffler.
Saturday, April 14, 5:30-6:30

Erick Mendelsohn, Architect: Berlin, London, Jerusalem, San Francisco – Moderated by architect Michael Rosen. Michael's firm is currently working on a new, four-story commercial/residential building in Chicago and the Stevanovich Center at the University of Chicago.Panelists include Robert Nevel and Kevin Harrington.
Sunday, April 15,3:30-4:30

The Edge of Gruen: Tracing the Influence of the Shopping Mall on the American Landscape –Moderated by Lee Bey,is executive director of the Chicago Central Area Committee. Panelists include Peter Schlossman, Anthony Rubano and John Macsai.
Sunday , April 15, 5:30-6:30
Q&As WITH FILM DIRECTORS (after the screening in the theaters)
Thursday, April 12
8:00 Unfinished Spaces (Program 01)
Q&A with director Benjamin Murray


Friday, April 13
7:15 – Mission Statements (Program 02)
Q&A with Director Jord den Hollander Director/Architect


Saturday, April 14
3:00 – Architect of Dreams (Program 08)
Director Charlie Hoxie – Director of Passive Passion

3:15 – John Portman: A Life of Building (Program 11)
Q&A with Director Ben Loeterman


5:00 – Architect: A Chamber Opera in Six Scenes (Program 03)
Q&A with Director Jenny Kallick


5:15 - Biophilic Design (Program 13)
Q&A with Director Bill Finnegan


Sunday, April 15
4:45 – Mission Statements (Program 02)
Q&A with Director Jord den Hollander Director/Architect

7:00 – Unfinished Spaces (Program 01)
Q&A with Director Benjamin Murray
PECHA-KUCHA


This year we are adding a Pecha-Kucha evening in the tent on April 13 from 8:30 - 10:00 PM with Peter Excely - Principal of Architecture is Fun and Master of Ceremonies. Some of the presenters include:

Jord den Hollender – Architect/Filmmaker
Brad Lynch – Architect
Rujanee Mahakanjana - Artist
Ben Murray – Filmmaker
Obi Nwazota - Architect
Paul De Santis – Architect