Subject: ADFF NEWSLETTER 02_22_2012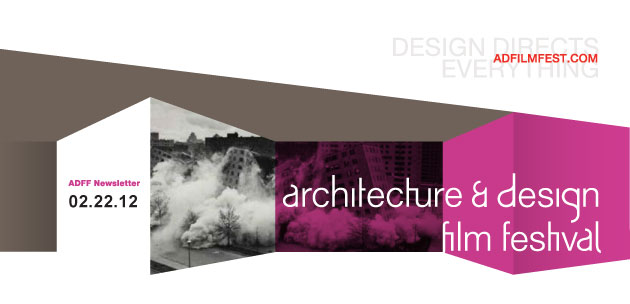 Dear Friend,
The Architecture & Design Film Festival (ADFF) is excited about the exceptional program of films that will be shown at Chicago's Music Box Theatre April 12-16. We will screen more than 30 films (features to award-winning shorts) from 13 countries and the majority of these films will be having their Chicago premiere at the festival. With such a variety being offered, here is a chance to preview our line-up and begin to personalize your festival experience.


American Homes (Chicago Premiere )
2010 / 12 minutes / USA
This animated history, presenting 1,800 years of residential architecture in North America, unfolds along a simple timeline, while notable figures in the world of design and architecture weigh in on what a house is, and can be.

Architect of Dreams (Chicago Premiere )
2009 / 52 minutes / New Zealand
Ian Athfield's architectural designs dot the New Zealand landscape and are keenly sought after by home owners. Intelligent, outspoken, amusing, opinionated and passionate, Athfield, considered by many to be a maverick, is one of New Zealand's most influential creative figures who bring a unique vision in his practice of almost 40 years.

ARCHITECT: A Chamber Opera in Six Scenes (Chicago Premiere )
2012 / 63 minutes / USA
ARCHITECT was inspired by the work of Louis I. Kahn (1902-1974), a major figure in twentieth-century architecture. ARCHITECT is a meditation on creativity and the inner life of the creator. Events are set in motion by the Trickster god, Momus. The council of gods has expelled this impish minor deity down to earth, where he seeks to inspire mortals to create buildings

Biophilic Design: The Architecture of Life (Chicago Premiere )
2011 / 60 minutes / USA
Biophilic design is an innovative way of designing places. We need nature in a deep and fundamental fashion, but we have often designed in ways that both degrade the environment and alienate us from nature.
WATCH TRAILER




Concrete Coast (Chicago Premiere )
2009 / 26 minutes / Spain
Concrete Coast is about the social, cultural and environmental effects of the last bit of un-urbanized Spanish Mediterranean coast being built for residential tourism in the Region of Murcia.

Detroit Wild City
2010 / 80 minutes / France
Florent Tillon's film begins with familiar but inevitably arresting images of Detroit's decay into post-apocalyptic pastoralism, but doesn't end there. While most cinematic pilgrims have portrayed the Motor City as a giant canvas onto which they project their outsider fantasies, A minimalist but intelligent travelogue that resists sensationalism, Detroit Wild City focuses on people rather than ruins. It suggests that while macronarratives may help us understand the past, micronarratives will describe the future, and Detroit's destiny will be the product of many individual, small-group and localized efforts.
WATCH TRAILER



EAMES: The Architect and the Painter
2011/ 82 minutes / USA
The Architect and the Painter is the first film about Charles and Ray Eames since their deaths and the only film to peer inside their collaboration, their marriage and the "Renaissance studio" they created in a gritty warehouse in Venice, CA. Narrated by James Franco, the film draws from a trove of archival material, primarily the stunning films and photographs produced in mind-boggling volume by Charles, Ray, and their staff during the hyper-creative forty years of the Eames Office.
WATCH TRAILER


Gather Give Grow
2010 / 3 minutes / USA
Gather Give Grow depicts Archeworks' Mobile Food Collective(MFC) – an innovative traveling educational and cultural center that promotes the local food movement.

The Gruen Effect: Victor Gruen and the Shopping Mall (Chicago Premiere
2009/ 50 minutes / Austria
In The Gruen Effect, an architect's life, work, and critical humor become a means to make sense of the cities we live in today. The Viennese architect Victor Gruen is considered the father of the shopping mall. His ideas about urban planning, both influential and abused, have led to cities that serve the new gods of consumption. By tracing Gruen's path from prewar Vienna to 1950s' America and back to Europe in 1968, the documentary explores the themes and mistranslations that have come to define urban life.

High Line Phase 2 (Chicago Premiere )
2011 / 6 minutes / USA
The film captures perspectives of both design firms, Ric Scofidio from Diller, Scofidio and Renfro, and James Corner.

Lioness Among Lions –The Architect Zaha Hadid (Chicago Premiere )
2010 / 52 minutes / Germany
Winner of the prestigious Pritzker prize in 2004 and the Praemium Imperiale in 2009, the English-Iraqi architect and designer Zaha Hadid (born in 1950) has long been controversial. This film spotlights a leading figure in deconstructivism and her visionary achievements around the world.

Louis LeRoy – Endless Work in Time and Space (Chicago Premiere )
2009 / 14 minutes / Netherlands
A short portrait of the Dutch artist Louis LeRoy and his work the Ecokathedraal in Mildam in the North of Holland.

Mendelsohn's Incessant Visions (Chicago Premiere )
2012 / 71 minutes / Israel
This film is a cinematic meditation about the untold story of Erich Mendelsohn whose life and career were as enigmatic and tragic as the path of the century. Erich and Louise Mendelsohn have wondered between continents, between world wars, between success and failure. Award-winning filmmaker, Duki Dror (The Journey of Vaan Nguyen, Raging Dove) has created a spectacular interpretation based on Erich and Louise's relationship, for one of the most captivating chapters in the development of modern art.
WATCH TRAILER


The Man Who Built My Childhood (Chicago Premiere )
2008 / 4 minutes / Canada
Jospeh Pettick designed a staggering 500 buildings in the Canadian province of Saskatchewan, and his impact on filmmaker Brian Stockton was profound.

Minka (Chicago Premiere )
2011 / 16 minutes / Japan
Minka is a short documentary about a remarkable Japanese farmhouse and the memories it contains.

Mission Statements (U.S. Premiere )
2011 / 77 minutes / Netherlands
In 1991 the Ministry of Foreign Affairs in the Netherlands decided to promote national architecture abroad. All over the world new embassies were realised by prominent Dutch architects. Mission Statements shows the background of the buildings and presents a stunning view behind the curtains of daily life in the embassies. Did the architecture really add to the diplomacy the Netherlands stand for? Mission Statements unveils the underestimated cultural aspect in international diplomacy and the misunderstanding that comes with it.
WATCH TRAILER



Mudgee Tower (Chicago Premiere )
2010 / 3 minutes / Australia
This film looks at the inspiration, design and construction of this unique and totally sustainable shelter.

Passive Passion (Chicago Premiere )
2011 / 21 minutes / USA
Twenty years ago, physicists synthesized a package of design principles that reduces a dwelling's energy use by 90%. Over 20,000 buildings in Europe have been built to the Passive House standard, enthusiasts in the U.S. actively work to spread the concept.

Pool Party (Chicago Premiere )
2010 / 75 minutes / USA
Pool Party is the surprising story of an abandoned swimming pool, the largest in New York City that became the most significant music venue since CBGB's. Both an indie music showcase and an urban history lesson, Pool Party traces the process of gentrification of Williamsburg, Brooklyn through the story of McCarren Pool.
WATCH TRAILER



The Pruitt-Igoe Myth
2011 / 83 minutes / USA
The Pruitt-Igoe Myth tells the story of the transformation of the American city in the decades after World War II, through the lens of the infamous Pruitt-Igoe housing development and the St. Louis residents who called it home.The Pruitt-Igoe Myth seeks to set the historical record straight. To examine the interests involved in Pruitt-Igoe's creation. To re-evaluate the rumors and the stigma. To implode the myth.
WATCH TRAILER

Public Farm 1 (Chicago Premiere )
2010 / 18 minutes / USA
Public Farm 1 is about the building of a sustainable, biodegradable, cardboard farm in the unlikely location of New York City. For WorkAC, winning MoMA PS1's prestigious Young Architects Program competition was their first big break.



Robert A.M. Stern: 15 Central Park West and the History of the New York Apartment House (Chicago Premiere) 2011 / 24 minutes / USA
Even during the Great Recession of 2008, one new apartment house in New York City continued to set the bar for real-estate prices: 15 Central Park West. Designed by Robert A. M. Stern Architects, the lavish, limestone-clad structure from 61st to 62nd streets is arguably one of the most luxurious residential buildings to rise in the city in decades. Stern deliberately evokes the grand era of New York apartments designed in the 1920s and 1930s, especially the intricately planned architecture of Rosario Candela. Rounding out this exploration of the New York City apartment house are brief glimpses of certain modern residential towers in lower Manhattan designed by today's vanguard architects.

School #9 Coop Himmelb(l)au (Chicago Premiere )
2011 / 9 minutes / Austria
Wolf Prix, principal architect of Coop Himmelb(l)au discusses the firm's projects School #9, a complex of buildings on a campus in downtown Los Angeles devoted to the performing arts.

South Pond (Chicago Premiere )
2010 / 4 minutes / USA
Spirit of Space has captured the pavilion designed by Studio Gang Architects as it took shape.

Studio Gang Architects: Columbia College Chicago MPC
2010 / 3 minutes / USA
Hedrich Blessing Photographers and Thirst Design join to create a visual interpretation of Studio Gang Architects project to build a film school in the south loop of Chicago.

Three Walls (Chicago Premiere )
2011 / 26 minutes / USA
Capturing the melancholic absurdity and shifting nature of the modern day office, Three Walls traces the development of the office cubicle from its inception in the late 1960s to its current status as the dominant form of office furniture in North America.

Up to the Sky – Hearst Tower, New York (Chicago Premiere )
2009 / 26 minutes / Germany
In the midst of this skyline one new tower is creating a furore. It is the Hearst Tower, built by the British architect Norman Foster. Norman Foster's high-rise has been standing on the edge of Central Park since the end of 2006. The Hearst Tower rises 182 meters into the sky. A rather modest height. And soon this small-scale skyscraper may be overlooked on the dense New York skyline. The Hearst Tower is New York's first green skyscraper. The structure is efficient - and it is also extremely elegant. "The most beautiful new skyscraper in Manhattan since 1967", praised him the "New Yorker".

Unfinished Spaces (Chicago Premiere )
2011 / 86 minutes / USA
Cuba's ambitious National Art Schools project, designed by three young artists in the wake of Castro's Revolution, is neglected, nearly forgotten, then ultimately rediscovered as a visionary architectural masterpiece. In 1961, three young, visionary architects were commissioned by Fidel Castro and Che Guevara to create Cuba's National Art Schools on the grounds of a former golf course in Havana, Cuba. Construction of their radical designs began immediately and the school's first classes soon followed. Unfinished Spaces features intimate footage of Fidel Castro, showing his devotion to creating a worldwide showcase for art, and it also documents the struggle and passion of three revolutionary artists .
WATCH TRAILER

Volume Zero: The Work of Charles Correa

(Chicago Premiere )
2009/ 59 minutes / India


Having built prolifically in India, architect Charles Correa is less known in the west, but nevertheless has received the highest awards worldwide for his work. Born in India and trained in the United States, Correa's architecture incorporates the philosophies of both traditions. Although often austere and modern, Correa's work is never cold or alienating; it is based in the concerns of daily life, culture, and climate.