Subject: ADFF NEWSLETTER 02_13_2012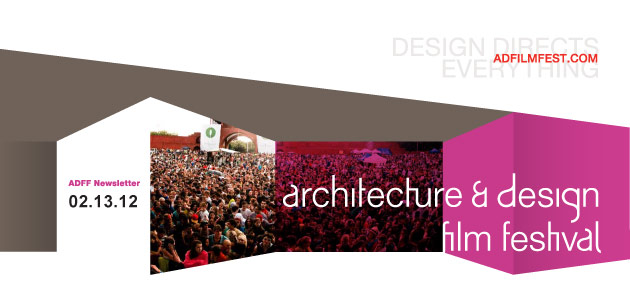 Dear Friend,
Now in its third year, the Architecture and Design Film Festival is getting ready for our return to Chicago - the town renowned for its ongoing love affair with architecture. The Chicago festival, April 12-16, will be held at the Music Box Theatre, an exciting new venue for us.

ADFF is the nation's largest film festival celebrating the creative spirit. The five-day event will showcase over 31 films from 13 countries. The films run the gamut from feature-length to prizewinning shorts. The festival will also feature conversations with industry leaders, talk-backs, book-signings and two days of architectural driving tours sponsored by Audi. New this year is an evening of pecha-kucha on Friday, April 13th. And, as always, architects can receive CEU credits for many of the film programs.

Last fall's festival at New York's Tribeca Cinemas was an extraordinary success with 3,800 people attending the event. We'll be returning to Tribeca Cinemas from October 12-17.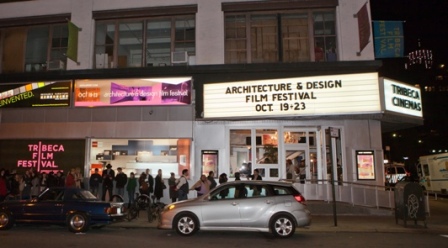 A number of films we showed at the Tribeca festival went on to have theatrical releases in New York this winter – and we'll be bringing the same winning films to Chicago in April.


EAMES: The Architect and the Painter
"Lively, gratifying…appropriately busy and abundant: full of objects, information, stories and people, organized with hectic elegance." - A. O. Scott, The New York Times

The Pruitt-Igoe Myth
"The pictures of the thirty three Pruitt-Igoe buildings imploding during a planned demolition in 1972 (shown below) have often been used to assert how government subsidies for the urban poor have failed. But the director, Chad Freidrichs, employs evocative archival footage and incisive firsthand reportage to brush away the clichéd and often prejudiced conventional … Along with this exposé of hopeless botches and compromises, the movie contains surprising recollections of a brief paradise lost." – Michael Sragow, The New Yorker

Visit www.adfilmfest.com for a full listing of films, descriptions and schedules.