Subject: #SoulBlast - Vendor Opportunity for Sewickley Community Center's Juneteenth Festival
Share a lil' Soul with
your Social Networks!
#SoulBlast - Vendor Opportunity for Sewickley Community Center's Juneteenth Festival

Forward to Friends Past Soul Blasts View Online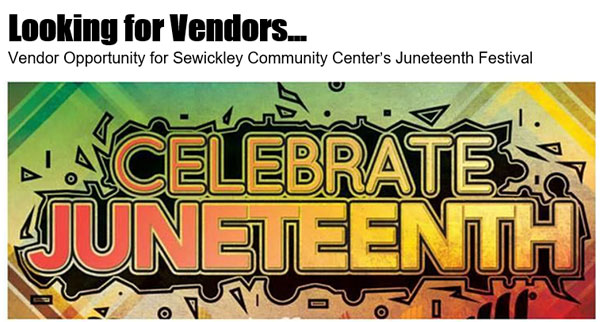 Vendor Opportunity for
Sewickley Community Center's
Juneteenth Festival
Saturday, June 22, 2019, Noon - 5 pm.
Featured entertainment "The Flow Band"
Lots of fun activities for the entire family!
Vending Opportunity for
food vendors (including food trucks),
dessert vendors, clothing, jewelry, arts/crafts, etc.
If you are interested, click on the SCC website link below and complete the vendor application and you will be sent additional instructions for payment and your guarantee to participate in the event!
https://www.sewickleycommunitycenter.com/special-events
If you have any questions contact:
sccjuneteenth19@gmail.com

A Soul Blast from TheSoulPitt.com goes out to thousands and those that they pass it on to!
All Soul Blasts are also posted on ALL of Soul Pitt's social media sites at no additional charge.
To get a blast call 412.407.SOUL or email adsales@thesoulpitt.com

GET SOULcial with SOUL PITT!