Subject: #SoulBlast - UBBCP Presents "Wise Women Say," on March 29th to celebrate National Women's History Month
Share a lil' Soul with
your Social Networks!
#SoulBlast - UBBCP Presents "Wise Women Say," on March 29th to celebrate National Women's History Month

Forward to Friends Past Soul Blasts View Online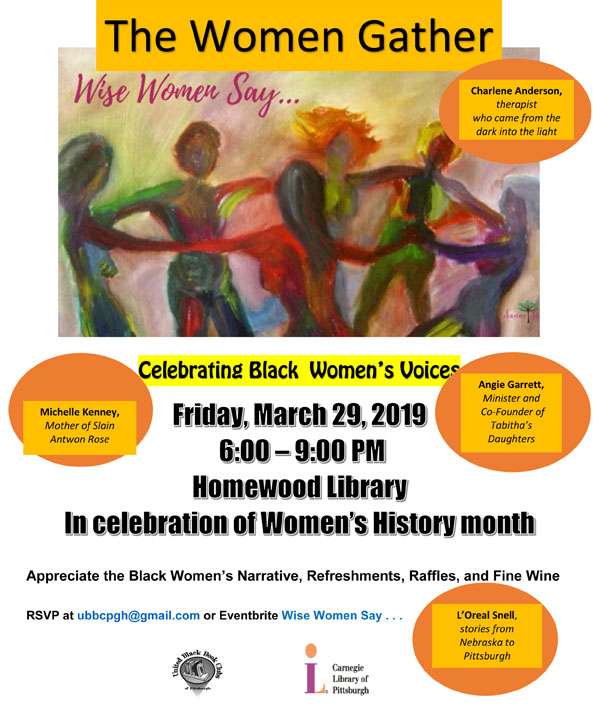 The United Black Book Clubs of Pittsburgh (UBBCP)
will present their program
"Wise Women Say,"
to celebrate National Women's History Month.
The event will be held at the
Carnegie Library of Pittsburgh's, Homewood Branch
on Friday, March 29, 2019, 6:00 P.M. – 9:00 P.M.

The Black woman narrative theme event includes four thought-provoking speakers who will share their journey that covers a wide-spectrum of emotional, physical and spiritual growth. These Black women from diverse backgrounds and experiences come together to share their different and common path when it comes to living out loud as a Black woman in the United States of America.
In addition, the evening will include light refreshments and wine. Come out to embrace and rejoice in the narratives of these beautiful women, Charlene Anderson (therapist), Michelle Kenney (Mother of Antwon Rose, Jr.), Angie Garrett (Minister and Co-Founder of Tabitha's Daughters) and L'Oreal Snell (migration from Nebraska to Pittsburgh).

The event is opened to the public.
Donations are a free will give.
All funds go towards UBBCP's community programs.


To register for the event, go to
https://www.eventbrite.com/e/say-wise-women-tickets-58321406898

or contact the United Black Book Clubs of Pittsburgh at ubbcpgh@gmail.com.

Check out the UBBCP Facebook page
for more event details.

A Soul Blast from TheSoulPitt.com goes out to thousands and those that they pass it on to!
All Soul Blasts are also posted on ALL of Soul Pitt's social media sites at no additional charge.
To get a blast call 412.407.SOUL or email adsales@thesoulpitt.com

GET SOULcial with SOUL PITT!