Subject: #SoulBlast - URA MWBE Program Office Presents: Meet the Developer | Thursday, Jan 17, 6-8PM at SpringHill Suites SouthSide
Share a lil' Soul with
your Social Networks!
#SoulBlast - URA MWBE Program Office Presents: Meet the Developer | Thursday, Jan 17, 6-8PM at SpringHill Suites SouthSide

Forward to Friends Past Soul Blasts View Online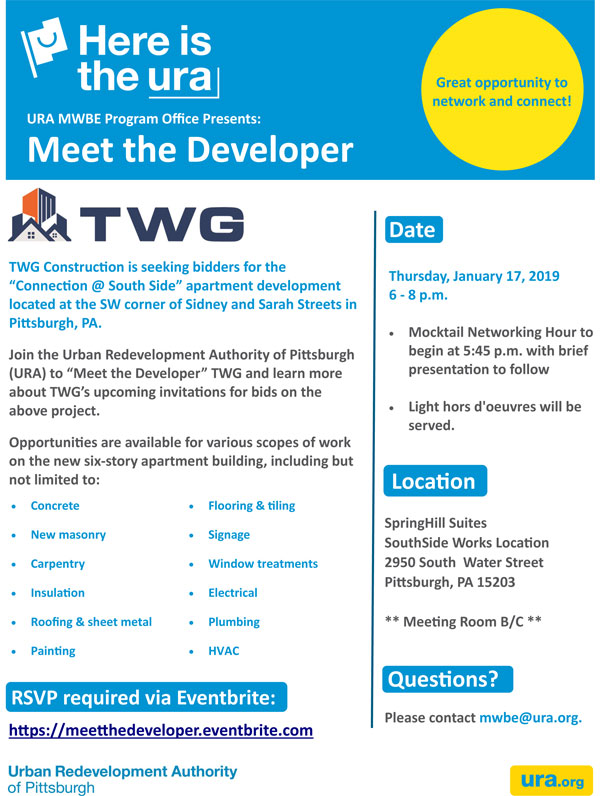 Join the Urban Redevelopment Authority of Pittsburgh (URA) to meet with TWG and learn more about TWG's upcoming invitations for bids on the Connection at Southside project. TWG Construction is seeking bidders for the "Connection @ South Side Apartments" development located at the SW Corner of Sidney and Sarah Streets in Pittsburgh, PA.

A Soul Blast from TheSoulPitt.com goes out to thousands and those that they pass it on to!
All Soul Blasts are also posted on ALL of Soul Pitt's social media sites at no additional charge.
To get a blast call 412.407.SOUL or email adsales@thesoulpitt.com

GET SOULcial with SOUL PITT!