Subject: #SoulBlast - Steel Smiling | 1st Annual Suicide Prevention Month Forum, Sept 22nd at 11AM
Share a lil' Soul with
your Social Networks!
#SoulBlast - Steel Smiling | 1st Annual Suicide Prevention Month Forum, Sept 22nd at 11AM

Forward to Friends Past Soul Blasts View Online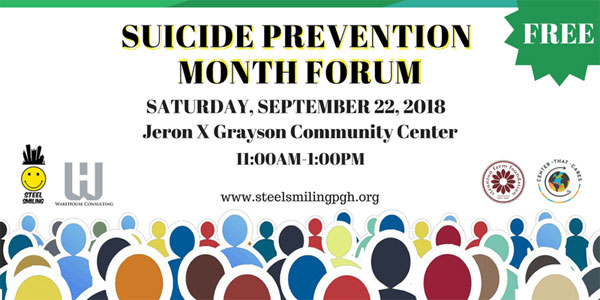 On Saturday, September 22nd,
Steel Smiling is hosting our
1st Annual Suicide Prevention Month Forum

We're convening community members, leaders and mental health professionals to share conversations about suicide prevention. We're also bringing together mental and behavioral health providers that will highlight information about their services.
During the experience, we'll hear a panel discussion hosted by the Author of YNGBLKPGH Brian Burley with the following trusted community voices:


Leonard Hammonds II |Executive Director of the Hammonds Initiative


Sharise Nance, LCSW, CCTP and Award Winning Author


Ricky Moody, MS, CSOTP, CCCJS, CSAS | Administrator of Pittsburgh Mercy's Forensic Outpatient MH Unit


Tammy Thompson | President of T3 Consulting, Inc. and Executive Director with Circles Greater Pittsburgh


Devantae Butler | Motivational Speaker and Author
Click here to Register for this FREE Forum
and to View More Details

A Soul Blast from TheSoulPitt.com goes out to thousands and those that they pass it on to!
All Soul Blasts are also posted on ALL of Soul Pitt's social media sites at no additional charge.
To get a blast call 412.407.SOUL or email adsales@thesoulpitt.com

GET SOULcial with SOUL PITT!