Subject: #SoulBlast - Register for the 7th Annual CEIR CONFERENCE | MONDAY, JUNE 17, 2019 @ Duquesne University
Share a lil' Soul with
your Social Networks!
#SoulBlast - Register for the 7th Annual CEIR CONFERENCE | MONDAY, JUNE 17, 2019 @ Duquesne University

Forward to Friends Past Soul Blasts View Online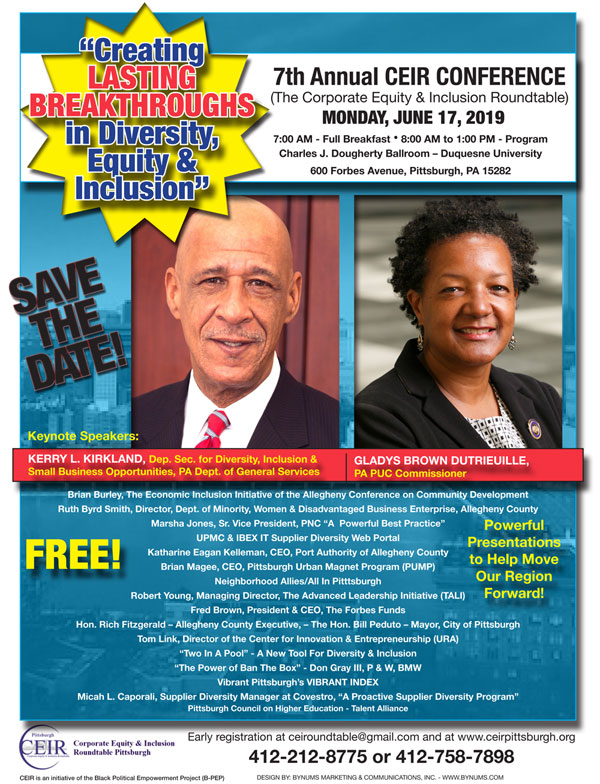 [CLICK HERE OR FLYER FOR LARGER IMAGE]


7th Annual CEIR CONFERENCE

"Creating LASTING BREAKTHROUGHS
in Diversity, Equity & Inclusion"

MONDAY, JUNE 17, 2019
7:00 AM - Full Breakfast • 8:00 AM to 1:00 PM - Program
Charles J. Dougherty Ballroom – Duquesne University
600 Forbes Avenue, Pittsburgh, PA 15282
KEYNOTE SPEAKERS

KERRY L. KIRKLAND,
Dep. Sec. for Diversity, Inclusion &
Small Business Opportunities, PA Dept. of General Services
GLADYS BROWN DUTRIEUILLE,
PA PUC Commissioner

Powerful Presentations to
Help Move Our Region Forward!
Admission is FREE!

REGISTER TODAY

Email } ceiroundtable@gmail.com
Phone } 412-212-8775 or 412-758-7898
Online } https://bit.ly/CEIR2019

The Black Political Empowerment Project (B-PEP) is looking for a wonderful and talented volunteer to coordinate their B-PEP website. Please contact us at cav.pgh@gmail.com or call us at 412-212-8775.

A Soul Blast from TheSoulPitt.com goes out to thousands and those that they pass it on to!
All Soul Blasts are also posted on ALL of Soul Pitt's social media sites at no additional charge.
To get a blast call 412.407.SOUL or email adsales@thesoulpitt.com

GET SOULcial with SOUL PITT!