Subject: #SoulBlast - HDAT's Spring Orientation & Registration on Jan 9th (New Students Only)
Share a lil' Soul with
your Social Networks!
#SoulBlast - HDAT's Spring Orientation & Registration on Jan 9th (New Students Only)

Forward to Friends Past Soul Blasts View Online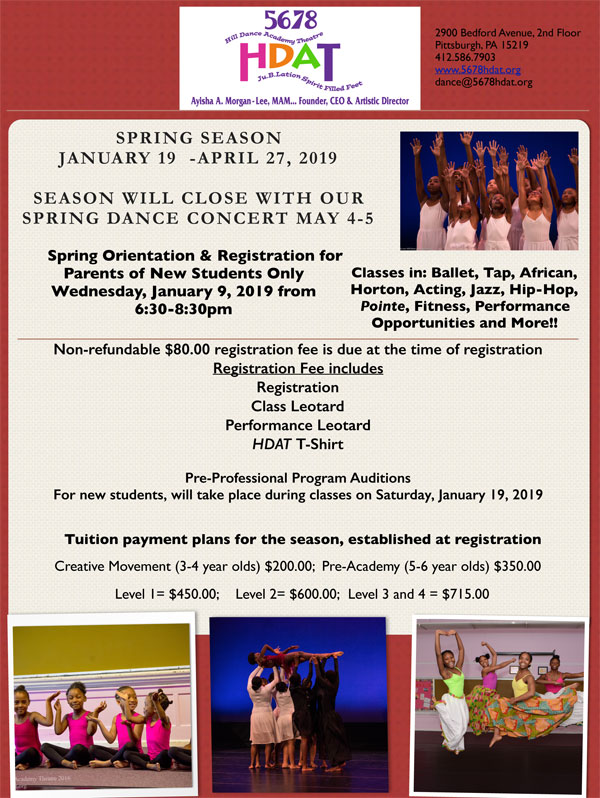 SPRING SEASON
JANUARY 19 - APRIL 27, 2019
Spring Orientation & Registration for
Parents of New Students Only
Wednesday, January 9, 2019 from 6:30 - 8:30pm
Classes in: Ballet, Tap, African, Horton,
Acting, Jazz, Hip-Hop, Pointe, Fitness,
Performance Opportunities and More!!


2900 Bedford Avenue, 2nd Floor
Pittsburgh, PA 15219
412.586.7903
www.5678hdat.org
dance@5678hdat.org

A Soul Blast from TheSoulPitt.com goes out to thousands and those that they pass it on to!
All Soul Blasts are also posted on ALL of Soul Pitt's social media sites at no additional charge.
To get a blast call 412.407.SOUL or email adsales@thesoulpitt.com

GET SOULcial with SOUL PITT!