Subject: Follow us on Social Media!
View this email online if it doesn't display correctly
*Follow us on Social Media!

*Save the Dates: Resound NW Studio Gatherings

*Staff Instructor Claire Hudkins in Performance

*Now Enrolling: SoulSinging Classes
*Resound NW Rentals
*Resound NW Gift Certificates
*Find a Lesson Time Online
Follow Us on Social Media!
Keep posted on all of our latest classes and events, photos of our performances, and all the general excitement that goes on at Resound NW!

Follow us on Facebook here.

Follow us on Instagram here.
Save the Dates: Resound NW Studio Gatherings
Sunday, April 4, 5:00 - 8:00pm
Sunday, June 28, 5:00 - 8:00pm
Come join us for our Studio Gatherings! Held at our lovely studios in the Goose Hollow neighborhood of Portland, our Studio Gatherings are opportunities for our students to share their talents and for our community to come together. They are FREE and open to the public. Potlucks will be provided by our staff and performing students. Wine and beer are permitted. Friends and family of all ages are welcome!
Staff Instructor Claire Hudkins in Performance!
Join Resound NW's Claire Hudkins as she performs with the Salem Symphonic Winds on March 15 at 3:00 pm, at the Elsinore Theater in Salem. The piece is a symphony written by Dr. Kevin Walczyk, one of the faculty members at WOU. She's joined by Clayton Reid, male soprano, who is one of her students at Resound.
Check out the Facebook event here.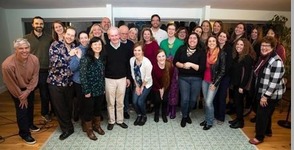 Now Enrolling: SoulSinging Classes for 2020

More info: www.resoundnw.com/soulsinging



SoulSinging




Experience the power of singing together!





What is SoulSinging?





SoulSinging is an innovative group singing journey that is equal parts choir, singing class, and supportive community. While exploring exciting and diverse musical styles, this group empowers participants to be holistic, mindful singing artists. Focusing on the skills and attention required to create dynamic ensemble performances, participants will learn the potency of singing together.





SoulSinging includes the following:





*Weekly classes with engaging group and solo singing and occasional public performances





*Diverse musical styles rich in harmony, rhythm, and inspiring lyrics, such as folk music from around the world, classical choral music, contemporary pop, musical theater, jazz, and group improvisation





*Opportunities to hone your skills both as an ensemble singer and as a solo artist





*A supportive and safe cohort of people with whom to learn and take new risks





*Extensive individual and group coaching from the Resound NW staff to work on your musical skills. The Resound NW staff has years and years of experience teaching voice and performing professionally. We have taught hundreds and hundreds of people from all walks of life to sing.





*Observe the measurable progress happening with your voice and the voices of the other students in your group





Ultimately, we will learn that we are not alone. We will learn that there is endless possibility with our singing. And we will unlock the full potential to express ourselves through our voices.





We look forward to taking this journey together!





CLASS A




Time: Wednesday evenings, 5:30-7:00pm




Level: Beginning/Intermediate





CLASS B




Time: Wednesday evenings, 7:30-9:00pm




Level: Advanced





CLASS C




Time: Thursday mornings, 10:00-11:30am




Level: Beginning/Intermediate





Cost: $150 per month





More info:




www.resoundnw.com/soulsinging





"I think SoulSinging is superb and Daniel is a complete delight as a teacher. I'm happy to report that this class was even better than I had hoped it would be. The instructor, Daniel, made me feel very welcome from the minute I walked in the door and the sense of community was very apparent as everyone seemed genuinely glad to have me there. I loved the warm up and the round of singing games that were played at the beginning of class. Everyone participated and it was a blast. Daniel has a talent for picking the correct song for your voice so you actually feel comfortable. The entire group is extra warm and supportive so that anyone will feel successful."




- Nancy S.
Resound NW Rentals



Did you know the Resound NW studios are available to rent? Our facility is a beautiful, diverse, and flexible community arts and event space ideally suited for a variety of uses.





Our centrally-located building has 4 studios available to rent for:





*Classes




*Lessons




*Workshops




*Performances




*Business meetings




*Parties




*And so much more!
We offer rentals for single events and ongoing uses with daytime, evening, and weekend availability at reasonable rates. Building amenities include: kitchenette, bathroom, waiting rooms, water coolers, tea, and free street parking.

For rental schedule, rates, and other inquiries, contact:
Faith Helma, Building Manager
resoundnwbuilding@gmail.com
(503) 897-0021

We look forward to hosting your next event!
(Click here for more information about rentals.)



Upcoming Song Studio Classes


"Song Studio" is a performance class where Resound NW students perform a song they have prepared and receive valuable coaching on their performance. The class includes a mini-lesson for each student plus a professional pianist to accompany them.

This class is fun, low-key, and an exciting way to learn about the craft of singing!

The class is FREE to observe! Read more -->



Upcoming 2020 Dates:


Last Friday of the Month, 7:30 - 9:30pm

(with Instructor Daniel Buchanan)





* with Guest Acting Coach Stephanie Cordell






Give the Gift of Music!


Music lessons are an experience to be remembered and cherished!



Online Gift Certificates


(May be printed or emailed instantly)

Treat a loved one!

* Voice and Piano
* Single Lessons
* Packages
Would you like to book a lesson with one of our instructors? We offer private lessons in voice and piano. To view our instructors' availability, please check our appointment calendar below.