Subject: Organizations' Newsletter - January 18, 2019
View this email online if it doesn't display correctly
News and Opportunities for the Cultural Nonprofits and
Creative Businesses of Fairfield County, CT
January 18, 2019
The Cultural Alliance of Fairfield County is a nonprofit service organization that supports its members through unified marketing, capacity building, professional development, and advocacy services. This newsletter is sent to all who request it - but we ask that, if you are not a member, you explore membership benefits and consider joining this community of more than 600 individuals and organizations.
Sign up here
MEMBERS
:

REGISTER

ON OUR NEW WEBSITE
313

of our 600 members have now created profiles on our new integrated Cultural Alliance website - please join them! In order to post an event on FCBuzz Events, you need to register on the new website - here. Register as if you are a new member,

u

sing the same email address you used for the old FCBuzz.org as your contact email

(call us if you are unsure what address that is) - or else you will be charged.
Call 203-212-6894 or email with any questions.
SPOTLIGHT

PODCAST AVAILABLE
Theatre and Community

with Michael Barker
The Podcast is now available of our live interview with Westport Country Playhouse Managing Director

Michael Barker

that took place on Monday Jan. 14 on WPKN 89.5FM. Click here for the podcast and please "Like" and share with your colleagues! Michael joined the Play-house in 2016 after careers in Chicago and California. Hear his evolving thoughts about the role of theatre in the community, and what's in store for the Playhouse as it continues to develop greater engagement with the wider

community in 2019 and beyond.



CULTURAL ALLIANCE CONVENES
On Thursday Jan. 17, the Cultural Alliance convened 17 historical societies from across Fairfield County. Co-organized with Westport and New Canaan Historical Societies, the meeting was hosted by the Westport Historical Society. 26 people participated in an effort to create ties among and between societies, to discover and share the successes and challenges facing the societies and to begin to plan for ways these groups can work together. This meeting follows a convening of arts councils in December, where 9 arts councils met together to similarly share their successes and challenges. A report on that meeting is forthcoming.
E-BUZZ SUMMER CAMPS ISSUE COMING SOON
The 2019 edition of our popular Summer Camps Special Issue of E-Buzz will be published and distributed online on

Wed. March 6, 2019

.

Members:

if you run summer camps, a) make sure you have registered on our new website so you can post your events; b) post your Summer Camp details onto FCBuzz-Events by

March 1, 2019

. Be prepared! Last year we had to issue three editions as many organizations missed the first deadline.
85 (and co
unting) arts
spaces to rent
Check it out, rent a space, or add your own: it's free!



Connect-Us

is a Bridgeport-based, Westport-supported organization offering after-school opportunities for youngsters in need. It was founded in 2017 by now executive director

Pam Lewis

. In an article in Westport's 06680 blog,

Lewis

is quoted as saying

"

There's a state of emergency in Bridgeport. The average 9th grader reads at a 4th-grade level. But people do

understand that the kids need support, in school and after school. This really is Westport and Bridgeport — caring adults and young people — coming together and harnessing our human capital to impact and support entire communities."

Connect-Us programs are designed to complement formal education with after-school growth opportunities that expand the vistas of youth living in Bridgeport. Currently, there are three Connect-Us programs: The

Youth Leadership Team,

whose members learn public s

peaking, community organizing, and related skills;

C-U Onstage

is a place where young people meet, create, produce performances, and learn to work as an ensemble; and

Connect-Us Academy

, a 14-week series of workshops at companies throughout Fairfield County, where professional mentors help teenagers learn about finance, law, advertising, retail, health and education administration. Graduates of the program are placed in paid summer internships. The programs accept all students, irrespective of their academic accomplishments and capabilities, and provide a variety of enrichment experiences. Young people's new experiences with each other and with adult volunteers and business professionals create a new kind of community and bring about a desire to learn and grow in everyone involved. See the Connect-Us website, Facebook and Instagram pages.




Newton Roux Gallery opened this last May, 2018, on the second level of the new Bedford Square development in downtown Westport. The gallery is the dream project of Ridgefield residents

Amy Pal

and her husband,

Kevin Manley

. The space is a sleek, oversized corridor leading to Whip Salon -- an unexpected place for art, devoid of any intimidation factor and accessible to all. The couple exhibit primary market work of emerging realist and abstract painters and are planning eight exhibitions a year. Their chief goals with Newton Roux are to find and promote talented emerging artists, and to exhibit in unusual, accessible, underutilized spaces with natural foot traffic. They also work to create synergies between the gallery and the surrounding merchant community, to keep overhead (and commission) low for artists, and to make the buying process transparent and easy for collectors. Amy, who also owns Whip Salon, comments that she is passionate about contemporary art and saw an opportunity here to work on a project she'd been thinking about for the past several years:

"We're putting art into a place where people already go naturally. Not only does that delight visitors with an unexpected surprise, it allows them to view, enjoy, and potentially purchase, art at their own pace, with no pressure,

" she said. See the Newton Roux website, Facebook and Instagram pages
Written out Loud Storytelling School
was founded by

Joshua Shelov

, with a mission to tell stories that matter. The school is led by Joshua, an Emmy-winning screenwriter and filmmaker who has made multiple films in Hollywood and for every major broadcast network and streaming service, and his wife

Jennifer Shelov

, a teacher and educator in both public and private schools for over 25 years. They founded the school out of a conviction that, as they put it:
we now live in a world that needs stories that matter more than ever, stories that force us to confront the darkening world we live in. Believing that story formats are changing rapidly but story form is not, they teach that the heart of every great story is its campfire story. Written Out Loud is like a School of Rock for movie and TV fans, teaching young people and adults alike how their favorite movies and TV shows work. Then, based on those age-old storytelling principles, they help their students create original stories of their own.
The Shelovs believe
that storytelling is a skill that kids will use for the rest of their lives, whether they become writers, doctors, firemen, or parents. Telling a strong, pow
erful story isn't easy. Good storytellers make a deep and lasting impression wherever they go in life. Workshops are held in Bridgeport
for
young storytellers (ages 10-17)
Sunday afternoons, starting

Jan. 27

, and for
adult storytellers (17 and up)
Tuesday nights, from

Jan. 29

. See the Written out Loud website, Facebook, and Twitter pages
❦

– Latest List by Town of Organization and Creative Business Members: here
❦

– Latest List by Town of Artist Members: here

ROUND-UP OF MEMBERS' NEWS
The Bruce Museum
is offering free admission to all furloughed federal workers and their families throughout the remainder of the partial federal government shutdown. Said Suzanne Lio, Managing Director:
"
The Bruce Museum is committed to being an inclusive, welcoming place of cultural engagement and community fellowship. This is surely a trying time for these federal employees, and we're pleased to be able to give them the opportunity to enjoy our exhibitions and family programs – and to feel appreciated."
T
he Bruce Museum is also participant in the
Blue Star Museums
program, offering free admission year-round to all active-duty U.S. military personnel and their families with identification.
Fairfield University Art Museum has a new executive director. We are thrilled to report that

Carey Mack Weber

, formerly Assistant Director, was appointed to this new position, effective Jan. 2, 2019. Carey
was integral to the founding of the Bellarmine Museum of Art, where she assisted Jill Deupi, PhD, the founding director, in developing the museum's first three years of exhibitions and programming, as well as setting up the collections management system. Additionally, she served as interim director after Dr. Deupi's departure, prior to the arrival of Linda Wolk-Simon, PhD. Carey also serves as President of the Connecticut Art Trail, a partnership of 21 world-class museums and historic sites, created to promote Connecticut's rich cultural assets.
More...
On Jan. 10,
Lounsbury House,
a
National Historic Site in Ridgefield, built in 1896 by former Governor Lounsbury, marked
the 178th birthday for Connecticut's 53rd Governor and the man after whom
Lounsbury House
is named. Born in 1841, Phineas Lounsbury grew up on a Ridgefield farm still operating today as
The Hickories.
He was a successful banker and lifelong opponent of 'strong drink,' so it's likely that his birthday celebrations were centered on family, cake and 'two-step dancing,' of which he was said to be a fan!
The Mighty Quinn Foundation, in mourning with the rest of the Stratford cultural community for the loss by fire this week of the American Festival Shakespeare Theatre, issued a statement clarifying that it, its buildings, resources, and its Shakespeare Academy @ Stratford will not be directly affected by this tragic loss. The Academy returns this summer and will be presenting

A Winter's Tale, Coriolanus,

and

Twelfth Night

. The Mighty Quinn, reliant on donations for its continuation is contemplating a celebration of the life and history of the American Shakespeare Festival Theatre. Respond here if you would like to participate and assist in planning such an event.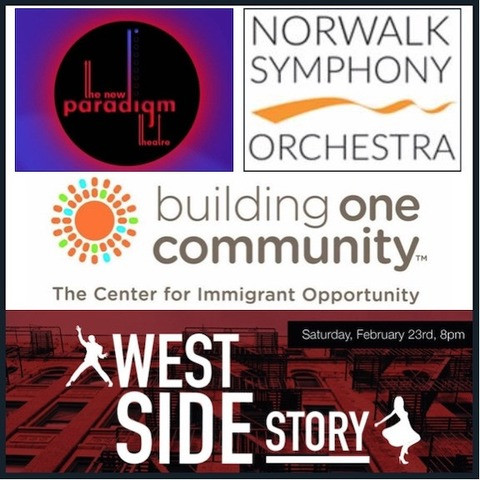 Each summer
The New Paradigm Theatre Company
partners with another non-profit that reflects the theme of its summer production to raise money and awareness for issues and organizations surrounding the community. For
West Side Story
, NPT and the
Norwalk Symphony
are proud to partner with
Building One Community, B1C
. The Center for Immigrant Opportunity (B1C) is a non-profit organization that educates, employs, empowers, and engages immigrants and the community.
"As a center for immigrant opportunities, the themes presented in West Side Story resonate with our mission to support the most vulnerable. Although our clients are immigrants from over 87 countries, the majority of our clients are of Hispanic origin who are trying to find solace for themselves, friends and family members, while being persecuted and targeted by the negative rhetoric surrounding immigration in our current political climate"
says Michelle Saldivar, Special Project Advisor for B1C. As partnerships between the non-profit and for-profit world continue to form in order to tackle social challenges from all sides, this type of collective impact production has become increasingly relevant and a vital component of a community.
GUBERNATORIAL TRANSITION COMMITTEES REPORT OUT




Then-Governor-elect Ned Lamont and Lt. Governor-elect Susan Bysiewicz held a policy summit in November 2018, where they announced the creation of 15 transition committees on topics encompassing critical state issues. The committees were tasked with developing policy recommendations on their respective topics that the incoming administration could consider immediately upon taking office.

The Arts, Culture and Tourism (ACT) Committee

recently released its

report-out, or "Memo,"

and set of

recommendations

, with supporting documentation. The committee proposed: a new investment strategy, accountability structure and innovative thinking to demonstrate ACT as a solution to stimulating economic growth, boosting tourism and making neighborhoods and cities more vibrant and equitable.

Funding

for ACT should be focused on statewide tourism marketing, increased tax revenue, new jobs, and operating support for arts and cultural organizations.

Sev

en goals,

"

achievable

within the first 100 days," included:

●

Reallocate the lodging tax revenue to Tourism Fund from 10% to 25+% annually; allocate 40% for arts/culture and 60% for tourism annually; change the fund's name to "Arts, Culture and Tourism Fund."

●

Create a Cultural Facilities Fund

to create construction jobs; support world-class arts and cultural facilities; increase tourism; expand access and education in the arts, humanities, and sciences; and improve the quality of life in cities and towns.

●

Spur private sector investment

and public/private partnerships to "act globally, invest locally"

.

●

Promote CT with immediate changes to market and promote CT's arts, cultural and tourism assets;

open the welcome centers

to declare CT is open for business.

●

Provide,

Promote and Incentivize Access

to all arts, cultural and tourism assets to improve quality of life and educational opportunities for all.

●

Funding Distribution:

Form a task force to re-examine the current funding system, so it maximizes the impact of state funds in support of job creation, economic growth and community vitality.

● Establish a New

Regional Tourism Marketing Model

to efficiently and effectively market Connecticut's resources that is relevant, inclusive, and more meaningful for the diverse entities across CT.

NATIONAL ARTS ADVOCACY DAY




Americans for the Arts

announces a National Arts Advocacy Summit:

Arts Advocacy Day,

Legislative Meetings & Trainings and the

Nancy Hanks Lecture on Arts & Public Policy.

I

n the midst of the longest government shutdown in American history, defending arts and arts education funding is more critical now than ever.

Join arts advocates from across the country on March 4–5, 2019 in

Washington, D.C. for the 32nd Annual

National Arts Action Summit

.

The Summit

is a multi-day event giving you the opportunity to receive crucial advocacy training from experts in the field and then put that training into practice on Arts Advocacy Day on Capitol Hill. Hosted by Americans for the Arts in partnership with over 85 national arts organizations, Arts Advocacy Day is the largest gathering of its kind, bringing together a broad cross section of America's cultural and civic organizations. Grassroots advocates from across the country come to Washington, DC to meet with their Members of Congress to garner support for issues like arts education policy, the charitable tax deduction, and funding for the National Endowment for the Arts.

On Monday, March 4, 2019

, hundreds of arts advocates from across the country convened for interactive advocacy training and peer-to-peer

learning and networking. That evening, attendees will have the opportunity to attend the Nancy Hanks Lecture on Arts & Public Policy at the John F. Kennedy Center for the Performing Arts.

Then,

on Tuesday

, March 5, 2019, after the Congressional Arts Kick Off, advocates meet with their senators and representatives to share stories about the impact and transformative power that the arts have in their communities.

Why should you attend?

1.

Networking

with your fellow arts advocates from across the country and go on congressional visits led by

State Captains

.

2.

Learning

the latest research facts and figures on the arts to help make your case.

3.

Strategizing

with experienced advocates during an interactive role play session on how to make the case for the arts and arts education to your Members of Congress.
SHOE CUSTOMIZATION CONTEST




Vans Custom Cultur

e

announced the opening of the 2019 Vans Custom Culture Shoe Customization Contest. From January 2-January 31, art teachers and administrators register their high schools on the Vans Custom Culture website to be one of the 500 schools in the running for the grand prize. Select schools will receive a box of arts supplies from partner Yoobi and will be tasked with transforming an unconventional canvas of 2 pairs of shoes into art. This year's themes are "Local Flavor" and "Off The Wall." From here, a top 50 will be determined based on the artwork and an impact document. The final phase will take place from April 22 – May 3 in the form of a public vote to select the five finalists. The grand-prize winner will be presented

$75,000

at a surprise celebration with Vans and partners Americans for the Arts and Journey. Runner-ups will receive

$10,000

and a gift from Vans.

Vans has partnered with Americans for the Arts since 2012 as Custom Culture's official national charity partner. Together, these organizations are highlighting the value of arts education. Last month, Vans and Americans for the Arts

announced

its 10 grantees for the Vans Custom Culture grant, which awards public (and charter) high school programs that demonstrate commitment to providing students with a well-rounded education.

Vans is a VF Corporation brand.

VF received a 2018 Americans for the Arts

BCA 10 award

for its outstanding support of the arts. Every year, Americans for the Arts, recognizes 10 businesses of all sizes for their exceptional involvement with the arts that enriches the workplace, education, and the community. To nominate a business for the 2019 BCA 10 awards,

click here

.

PUBLIC PRESENTATION GRANTS




Connecticut Humanities funds Public Presentation Grants of between $5,000 and $35,000 to support

"projects that help us understand and appreciate human history, culture, values, and beliefs. They allow us to analyze our complex society and to make thoughtful, reasoned decisions based on inquiry, evaluation, and empathy."

The Public Presentation grant lines support projects from planning through implementation and the flexible funding range allows organizations to develop projects of all sizes. There are separate application forms and requirements for

Planning Grants and Implementation Grants.

Only one Public Presentation Planning or Implementation Grant can be open at a time.

All Planning and Implementation Grant proposals must demonstrate significant humanities scholarship and content and articulate clearly defined goals that will be achieved during the project.

Planning Grants, from $5,000 to $25,000, may be awarded to develop exhibitions, public programs, and interpretive digital media projects.

Implementation Grants, from $5,000 to $35,000, may also be awarded for exhibitions, public programs, and interpretive digital media projects. Before applying, organizations

must

contact CTH staff member Scott Wands to discuss a project idea. Staff is available to review draft applications received at least two weeks before the grant deadline. Applications submitted without prior communication with CTH staff will not be considered. You can download Planning Guidelines and Implementation Guidelines. Deadlines:

April 5, 2019.



Post University, tak

ing place at

APT Found-ation,

1 Long Wharf Drive,

New Haven.

You w

ill receive a Post University Certificate of Completion

.

Designed for novice grant seekers, the workshop will present a

comprehensive introduction to the world of grant proposals, focusing on grant terminology, and the application process from start to finish.

It addresses the overarching strategy of the grant writing process with emphasis on key elements: needs statement, mission, goals, objectives, evidence, key personnel and budgets. Included are interactive exercises and discussions tailored to support a specific project you have in mind for your organization.

After the workshop, attendees will be able to: n

avigate the grant procurement process; i

dentify critical sections of successful proposals; w

rite intentionally and purposefully to create winning proposals; u

nderstand and respond appropriately to the various guidelines required

by diverse group of funders. Bring a project to the workshop with a statement about:

the current needs of the project;

the significance of the project; a plan for budgeting for the

proposal; and the

time frame for the grant. Register here.

$350 (

$250, Alliance members

); Early Bird rates:

$300 (

$200, members

)

through Feb. 4.

CULTIVATING CREATIVITY CONFERENCE




Arts for Learning Connecticut (an affiliate of Young Audiences) has just announced its First Annual Cultivating Creativity Teacher's Conference taking place

Weds., July 10, 2019, 8am - 4pm

at Quinnipiac University's School of Education at the North Haven Campus. The

Cultivating Creativity

Conference is aimed at providing teachers in an academic setting with skills and strategies for integrating the arts into daily academic curriculum. Many studies show that the integration of arts into the daily lives of students helps with academic engagement, improved Social-Emotional intelligence, and even higher test scores. You don't have to be an artist to cultivate one! The

Keynote Speaker, and recent roster-additio

n, is educator Theresa Mackeiwicz, author of International Book Awards Finalist Scribbles. The conference will be offering 14 workshops and a

panel discussion session with roster artists.

There is currently a promotional code EARLYBIRD that can be used for a discoun

ted ticket price. Artists who are delivering workshops may attend the conference free of charge. Register here ($40 Earlybird before March 1)
DIRECTOR OF PROGRAMS AND EDUCATION




The Fairfield Museum and History Centre

seeks an experienced, energetic and creative

Director of Programs and Education

to lead the development, implementation and administration of all Fairfield Museum public programs, expanding the Museum's outreach and building productive community partnerships to promote the Museum as a dynamic regional center for arts and humanities education.

This is a full-time, senior management position with competitive salary and generous benefit package.

Responsible for the development, implementation and administration of all Fairfield Museum public programs. Supervises education staff in the delivery of K-12 student programs & profes-sional development programs for educators.

Duties:

Public Programs

-

Develop and implement schedule of creative arts and humanities-based programs for adults, seniors, families and the general public, (lecture series, evening and weekend pro-grams, and summer outdoor performances);

lead coll

aborations with regional cultural partners to create programs, events and activities that welcome new audiences and constituencies; s

upervise staff in establishing and monitoring performance goals and metrics for public and student programs, including data collection, analysis and reporting; in coordination with the Museum's curatorial team, plan and implement programming and activities that complement Museum exhibits; work closely with other staff to ensure collaborative planning and successful promotion of all program.

Education Programs

-

Oversee education staff, docents and interns in the development and delivery of K-12 educational programming, as well as professional development programs for teachers that support local, state and national curricular goals; c

oordinate education staff in developing and implementing strategies for providing expanded educational programming for underserved communities and schools; o

versee docent recruitment, training, evaluation and supervision to ensure high quality program delivery.

Administration

:

develop and manage departmental budget in accordance with established goals and metrics; s

upervise departmental staff, establish and monitor annual performance goals;

i

dentify and implement opportunities for increasing program-related earned income; p

repare program-related grant applications and oversee grant-related record keeping and

reporting.

Requirements:

Applicants should bring creative energy, enthusiasm and good humor to their work, hold a Master's Degree in education, history or related field and have at least 3-5 years of relevant work experience in developing creative public programs.

Applicants should also clearly demonstrate ability and experience with: d

esigning and presenting programs for diverse and intergenerational audiences; l

eading creative program collaborations with diverse individuals, cultural organizations and

community groups; i

mplementing and interpreting audience evaluations and performance metrics; i

nspiring and managing a diverse team of staff, interns and volunteers; d

eveloping programs that generate revenue and expand audiences; b

eing an energetic self-starter, creative problem solver, effective leader and

enthusiastic advocate of the Fairfield Museum; c

ommunicating verbally and in writing with a variety of audiences; hav

ing an organized and efficient work ethic, and ability to simultaneously balance

multiple projects in a fast-paced environ-ment; m

anaging budgets, contracts and working within tight deadlines; w

orking effectively with Microsoft Office, project management software and other tools

necessary to design, implement and promote Museum programs.

For full job description, click here.

To apply, email a detailed resume and cover letter to search@fairfieldhs.org by

Feb. 8, 2019.




Arts for Learning CT

(

AFLCT), an affiliate of Young Audiences, Inc., has a 40-year record of innovation, commitment and experience.

The Executive Director

(ED) is the chief operating officer of AFLCT and provides leadership, vision, strategy and direction. The ED implements policies approved by the Board of Directors, manages the organization's programs and operations, and serves as ambassador for AFLCT in Connecticut communities. Specific responsibilities include:

Strategic Planning:

i

mplement, update and report on current strategic plans in areas of program, fund development and operational goals; m

aintain dialogue with arts and education communities to determine needs and trends in arts education; i

dentify opportunities to work with state-wide arts organizations to grow and represent the organization on state and national levels.

Fundraising & Development:

d

irect the conception, design and implementation of fundraising strategies, campaigns and events with AFLCT Development Committee and Board to assure effective acquisition of financial support from individual, corporate, foundation and government resources; l

ead fundraising efforts by supporting the Board's involvement in fundraising; personally cultivate and solicit donors, and supervise implementation of fundraising plans.

Program Oversight:

Oversee develop-ment, implementation, and evaluation of AFLCT program initiatives and services to assure they align with mission.

Finance:

E

nsure adequacy and integrity of financial operations; d

irect financial reporting, analysis, forecasting, and grant/fund monitoring in collaboration with the Board's Finance Committee, staff and Board of Directors; l

ead staff and Board in developing realistic annual budget; p

rovide regular, internal financial statements to the Board comparing performance to budget and to previous year or other benchmark.

Administration and Human Resources:

oversee management of all employees, including hiring, recruitment, training, evaluation, and compensation and benefits in accordance with AFLCT Human Resource Policy; d

evelop staffing structure that provides leadership, supports the efficient delivery of programs and services, and achieves the major goals identified in the strategic plan.

Public Relations:

i

n accordance with AFLCT strategic plan, directs the development and execution of an annual marketing and media relations plan;

works with staff and Board to develop a clear and consistent message to tell the organization's stor; p

romotes support for the visibility of AFLCT. Communicate with high level school, government, and arts personnel and participates in key associations and organizations, serving on committees and advisory groups and speaking in public setting at key community events.

Board of Directors:

m

eet with Board President, Executive Committee and full Board to achieve the goals of AFLCT; w

ork with all standing and ad hoc committees of the Board; o

rganizs all Board meeting materials.

Required Qualifications:

belief and understanding of the value of the arts in the education and lives of young people; h

ighly skilled in working with Boards of Directors, managing staff and overseeing organization's operational and financial well-being;

ability to multi-task to get the job done;

demonst-rated computer literacy and working know-ledge of technology; a

ppropriate academic credentials and/or demonstrated experience. Other:

proven ability to lead organization of comparable size and scope, preferably non-profit;

strong programmatic experience in arts and/or education, including working with artists;

proven fundraiser;

experience working with school age populations and the public and private education sector.

To Apply:

Send cover letter with salary requirement, resume, and contact information for three references to:

jobs@aflct.org

.

Full description

here.
GREENWICH HISTORICAL SOCIETY

MANAGER FAMILY & YOUTH PROGRAMS




Responsibilities include scheduling tours, maintaining good relationships with local teachers, creating camp curriculum and providing training for camp staff, and evaluating school tours and docents annually.

The Manager of Youth and Family Programs will have an active role in the evaluation and development of our current youth programs. This position is an integral part of the Education Department and the successful candidate must be a self-motivated team player.

This is an hourly, part-time, four-days-a-week (30 hrs) job with some required nights and weekends; but it will be temporarily full-time to accommodate the additional hours required to run the Art and History Summer Camp. This position is eligible for part-time health and retirement benefits, and vacation and holiday pay.

Requirements:

MA in History preferred; MA in Art History, Museum Studies, Education or MFA will also be considered; a

t least two years teaching in a K-12 classroom or in a cultural institution;

strong interest in history and art; e

xperience developing curricula for hands-on and inquiry-based lessons; s

trong writing and communication skills; a

ttention to detail; s

ummer camp and event planning a plus

This position reports to the Director of Education.

Please send a resume and one-page cover letter addressing your teaching philosophy and experience, with "

Manager of Youth and Family Program" in the subject line

to

agreco@greenwichhistory.org

.

GREENWICH HISTORICAL SOCIETY

ARCHIVAL PROCESSING INTERN




Greenwich Historical Society is seeking an Archival Processing Intern who will work under the direction of the Curator of Library and Archives on processing and description of one or more archival collections. This is a paid internship. The job will include arranging and re-housing collection material in appropriate enclosures. The intern will perform research as necessary to create scope and content notes, develop finding aid(s) to provide intellectual access to collections and may prepare collection inventories and content lists for use by staff and researchers. Digitization (scanning) of selected collection items and application of metadata to digital images may be required. Collection information will be recorded by the intern in an ArchivesSpace database.

This is a paid internship ($18/hour) with a duration of 175–180 hours, beginning in Jan. 2019. Weekly work schedule (Monday through Friday) is flexible based on academic commitments.

Required Qualifications:

c

urrent enrollment in an ALA-accredited graduate program pursuing a degree in library and information science, archival studies/administration, museum studies or a related field; p

roficient in Microsoft Office programs (Excel and Word). Experience with ArchivesSpace collection management software a plus; e

xperience using a flatbed scanner and performing basic imaging processing; f

amiliarity with primary sources and experience working with and researching in archives; e

xcellent oral and written communication skills are essential; g

ood organizational skills, attention to detail and ability to work independently after initial training; a

bility to climb ladders, bend and stoop to access and move collection enclosures and lift archival boxes weighting up to 40 lbs.

To apply:

send resume, letter of interest and contact information for three references to Christopher Shields, Curator of Library and Archives at cshields@greenwichhistory.org.
MEMBERS: Post your Job Opportunities in our Classifieds
SPREAD THE WORD!
Please help us expand the reach of our weekly E-Buzz newsletter with its selection of events taking place that week in our region
.
See the most recent issue. Subscribe here.
The Cultural Alliance of Fairfield County is a 501(c)(3) organization. We are very grateful for the support of our individual and organization members, our individual donors and the following organizations.