Subject: Organizations Newsletter, April 3, 2020
View this email online if it doesn't display correctly
News and Opportunities for the Cultural Nonprofits and Creative Services of Fairfield County, CT
The Cultural Alliance of Fairfield County is a nonprofit membership service organization that supports its members through unified marketing, capacity building, professional development, and advocacy services. This newsletter is sent to all who request it, but we ask that,
if you are not a member
, you explore membership benefits and consider joining.
Find out more
and
s
ign up here
.
All links in
green
link to pages on our website
COVID-19 RESOURCES & UPDATES
The CAFC is here to support our member organizations through this difficult time. Please refer to our website
COVID-19 Resources
page regularily as we continue to add information that will help you manage your organizations and plan for the future.
The
Small Business Administration Disaster Relief (SBA) Loans
, which also apply to artists and nonprofits – are now available. $350 billion of this money is dedicated to
forgiving these loans in their entirety,
and will become grants.
As part of the federal

Coronavirus Aid, Relief, and Economic Security (CARES) Act passed last month,

the

NEA

and

NEH

both

received $75 million in funding for

nonprofit arts organizations across the country to help these entities survive the forced closure of their operations in response to the spread of COVID-19.

The funding is in

recognition of the arts' $877 billion contribution to the U.S. economy and a source of 5.1 million American jobs

. Details regarding timing and applications are being developed at the state level and will be announced as soon as they are available. NEA Announcement NEH Announcement. CAFC resources
The Cultural Alliance has held two

Community Calls

on Zoom, with executive directors, and others, representing organizational members in the last two weeks. Between 38 and 40 individuals joined the calls each time and discussed the ins-and-outs of applying for SBA loans, how they were dealing with delaying or cancelling fundraisers, what to think about in developing long-term crisis budget planning, how to monetize going digital, and more. For both meetings so far Elizabeth Shapiro, Director of Arts, Preservation and Museum for the state's Department of Economic and Community Development has been present to answer members' questions. These happen every Wednesday at 1pm. Members can register here. Notes on the previous meetings are available here.
SPOTLIGHT:

MEET RUTH MANNES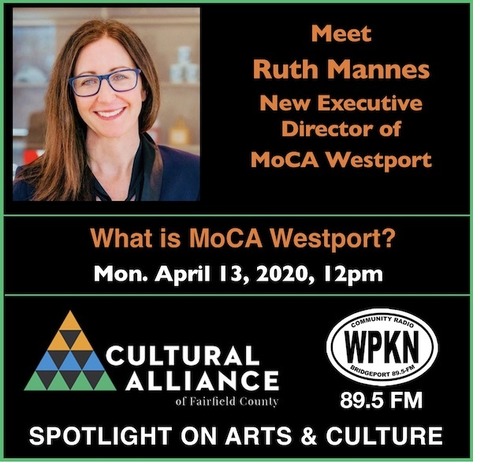 Meet
Ruth Mannes
, the new Executive Director of
MoCA Westport
(formerly the Westport Arts Center) on our

Monday, April 13th

edition of
Spotlight on Arts & Culture
our monthly radio interview show at noon on WPKN 89.5FM.
With its roots in the Westport Artists group that formed in 1947, the Westport Arts Center was born 50 years ago in 1969 as The Westport-Weston Arts Council. After several temporary homes it landed in 2002 at Riverside Avenue across the Saugatuck River from the Westport Library. After 17 years in that location, it re-grouped as MoCA Westport and moved into the handsomely renovated former TV studio of Martha Stewart just across the Norwalk border at 19 Newtown Turnpike, close to The Merritt Parkway.
Ruth Mannes is a long-time Westport resident, very active with Westport schools on the PTA executive board, and with her husband, a very active art collector in her own right. Hear her ambitions for this new institution that, as it has moved out of downtown Westport, seeks to re-connect with Westport artists, other Westport institutions and the wider community.
❦

– Latest List by Town of Organization and Creative Business Members: here
❦

– Latest List by Town of Artist Members: here
In a timely exhibition,

"There Must Be Some Way Out of Here,"

on view at

The Aldrich Contemporary Art Museum

until it recently closed to the public, artist

Zoe Sheehan Saldaña installed a usable hand sanitizer dispenser, alongside other mundane objects. The exhibition is an extended meditation on self-reliance: the instinct to escape the anxious, sometimes hysterical tenor of contemporary life. She has been busy making disinfectant gel for years, and had some available for public use since last November, months before Covid-19 led to abrupt global closures for the foreseeable future. Read more
The Carriage Barn Arts Center and New Canaan Land Trust are proud to announce the installation of
Passages
, a preview of the New Canaan Sculpture Trail, designed to celebrate the 50th anniversary of Earth Day, April 22, 2020. The full New Canaan Sculpture Trail exhibition is scheduled to open in late spring or early summer and will include eight juried sculptures.

Passages

, created by Norwalk-based artist, Thomas S. Berntsen, is a series of seven, eight-foot-tall panels, e
ach with its own distinct pattern, inspired by and borrowed from the famous 13th-century labyrinth at Chartres Cathedral in France. The sculpture
meanders along a path at the Hannan-Eberstadt Preserve, at the corner of Smith Ridge (Rt. 123) and Canoe Hill
Roads in New Canaan. In response to the town's closure of all town parks, the Land Trust temporarily closed public access to its preserves, however,

Passages

can be easily viewed from the road.
Learn more.
Darien Art Center
has expanded current offerings

with music lessons, visual arts and dance classes
for students of all ages through online Zoom video communications
taking

place live and online while Darien schools remain closed.
More than 40 dance c

lasses are underway via Zoom. New to the schedule are
Afternoon Doodles Workshops

for grades 3 and up, on Wednesdays, April 8, 15 and 22, from 1:30 -2:30pm and
live virtual workshops for adults including

Coffee and Draw

with artist and DAC instructor Joel Flora, who will lead a series of drawing exercises while participants sketch objects of choice in their own homes. Learn more.
The Greenwich Historical Society
curators, educators and docents have come together to bring the best of Greenwich history - stories, landmarks, archives and collections - online for all to peruse and enjoy. Each day GHS will feature a new story at greenwichhistory.org, and via social media.
The Archives photogra
ph collection, containing more than 40,000 prints, film negatives, slides and glass plates, is an enormous visual resource for those interested in the history of the Town of Greenwich
. Access it here. In addition, the Historical Society's
Sarah Bush and Her Town program, which almost every 3rd grade student in town experiences, will be presented virtually. Learn more.
Keeler Tavern Museum & History Center (KTM&HC) has received a generous grant from the Ridgefield Thrift Shop (RTS) to help pay for development of a state-of-the-art

outdoor audio walking tour

based on the period when renowned architect Cass Gilbert and his wife Julia Finch Gilbert owned the property during the Gilded Age. The grant will fund the curating, designing, manufacturing, and installing a series of 11 permanent, weather-proof museum signs throughout the campus, as well as the cost of curating, creating, and recording an audio component that will take visitors through the tour, accommodating and engaging 21st-century audiences. L
earn more.
The

RPAC Art Center & Academy
has launched a series of online workshops, including Photoshop Basics, Painting, Landscape, Re-touch and Pop Art. Resident artists have also
set aside time for general instruction / Q&A. If you have a question on Photoshop, Illustrator, InDesign, or a specific question on a project, jump online and have your questions answered by Greg Mursko, co-founder and professor at RPAC Art Center while learning from others. L
earn more.
Sorelle Gallery Fine Art has postponed its move to its new space at

11 Church Lane in Westport

. Its collection of artwork remains at the current location, 84 Main Street in New Canaan, and will remain there until furtner notice. In the meantime, the Sorelle team continutes to be available remotely by phone and email and is willing to consult via video chat. The gallery is also able to provide curbside delivery for local clients who would like to purchase or try artwork on approval. Contact information.
In an effort to raise spirits and provide comfort through music, the Stamford Symphony has launched the Stamford Symphony Channel on its website, a free virtual hub of classical music and entertainment. The channel will provide a variety of content from recorded performances to interviews with the musicians, informal practice videos and a section for kids with interactive videos. The goal is to unite people through music and provide a resource of entertainment to keep people's spirits up during these difficult times. This channel will be continuously updated with fresh content, ensuring that there will be no limit to musical entertainment as the COVID-19 situation progresses.

Additionally, Stamford Symphony welcomes a new

Music Director, Michael Stern

(a resident of Greenwich, CT). As an American conductor, Michael Stern has distinguished himself on the podium as a dynamic and nuanced interpreter of the traditional orchestral repertoire and as a bold champion of the music of our time. See, as a new feature of the Channel, CEO and President Russell Jones in conversation with Michael Stern in his Russell's Sofa Interview

Learn more...
Westport Museum for History & Culture launched

Westport In Focus

, an online exhibit collaboration between the museum and Westport photographer, Jerri Graham. The exhibit which will appear on social media platforms, will allow Westporters from all walks of life to tell their own stories about living in the Connecticut town considered "ground zero" for the Coronavirus epidemic in the state. The project can be viewed on Instagram @WestportFocus and Facebook @WestportInFocus and on the Museum's e-newsletter.
The Museum has also gone digital with the Return of 100 Objects, Virtual Exhibitions & Programs. Each week, Westport Museum will be using its e-newsletter and social media platforms to provide content, challenges, reviews of history-based books, videos, music and podcasts.
Sign up here.
Westport School of Music began offering online music lessons to its students after the Westport Public Schools suspended classes in mid-March. Both adult and school-age students studying piano, violin, viola, cello, bass, flute and voice have enthusiastically agreed to try the online format through Zoom, Skype or FaceTime, according to Director Sarah Miller. The music teachers have risen to the occasion, teaching from their homes while providing consistency in learning for all students. So far, the results have proved positive, with one teacher reporting that his piano student was even "more focused" with the online format.
Learn more.
TAKE THE AFTA IMPACT SURVEY
Americans for the Arts
(AFTA) designed a Coronavirus Impact Survey, shortly after the country started to realize the impact COVID-19 would have on our livelihood and economy. It
is designed to collect information about the financial and human impacts that the spread of the coronavirus have had on arts and cultural organizations and artists as well as some basic information about the participating organizations and artists so that the data can be parsed by specific geographic regions, artistic disciplines, and budget categories. It takes 5-minutes to complete and the information is going to be incredibly useful as we move forward. If you already took the survey you can go back and update it with more recent information on the losses your organization is facing. See the dashboard above that yields information using many variables. Complete the survey here.
ARTS COMMUNITY MEETING APRIL 7
The Connecticut Arts Alliance (CAA) is organizing an Arts Community Meeting on
Tuesday, April 7, 1-2pm,
with updates and information
from the Connecticut Office of the Arts (COA). The
guest speaker will be
Liz Shapiro
, State Director of Arts, Preservation and Museums, within the Department of Economic and Community Development (DECD).
Information will cover updates regarding:
DECD, the
Office of the Arts,
state grant programs, r
egional programs,
NEA funding, and o
ther resources.
The meeting will be held on Zoom and will include a Q&A session of pre-selected questions.
Questions may be submitted on social media before the meeting or by emailing
info@ctartsalliance.org
.
Pre-registration is required, and CAA
hopes you will join this innovative and informative conversation as we work collectively to move forward during this public health and financial crisis.
CT PHILANTHROPISTS SET UP CHARITY FOR NONPROFITS
Twenty philanthropists have pledged $10 million for new program to help CT nonprofit agencies facing coronoavirus challenges, Gov. Ned Lamont announced on Wednesday. Called

4-CT

, the private group, organized by regional foundations throughout the state, was set up with existing service delivery agencies, including childcare for hospital workers, housing and food. Ted Yang, a start-up investor who will be the chief operating officer, said an initial study is underway, and that even small donations will be accepted. "We are working together with the community foundations aand otehr nonprofits to udnerstand the need on the ground," he said.
Read more: CT Post
MUSEUMS WILL RECOVER FROM CORONAVIRUS, BUT THEY MIGHT LOOK A LOT DIFFERENT
As the extent and impact of the coronavirus situation have become ever more clear, arts and cultural leaders are dealing with myriad unknowns particular to their fields and specialties. Zoos and natural history museums have living collections that require constant care, no matter what is happening in the outside world. Art museums borrow and loan art. Should they find staff to return borrowed works that are now shuttered inside mostly empty buildings?
Among the trends being most closely monitored is the move to online engagement, streaming performances and online museum tours.

This isn't, yet, a significant source of revenue for many institutions. Most artists and arts groups are turning to online connections simply to keep doing what they do, offering things of value to the public.
The bigger question, however, is how online engagement will change the audience. Attendance at live events has been falling for years.

Will the coronavirus-inspired surge of online engagement further depress attendance after the virus threat abates?

Will new habits supplant old ones? Or will "absence make the heart grow fonder," as one arts leader wonders? Read more: Washington Post
UMASS AMHERST OFFERS ARTS MANAGEMENT CERTIFICATES ONLINE
Continue your education this summer with a fast and informative 6-week summer intensive. With our accredited online courses you can connect with colleagues and learn from the comfort of your couch. Select a single class or work towards one of our online Arts Management Certificates to obtain cutting-edge knowledge alongside renowned faculty and peers. Session 1: May 18- June 26 Introduction to Arts Management; Session 2: July 6-August 14 Grantwriting for the Arts Strategic Planning. LEARN MORE...
CULTURE CHAT - CRISIS AS OPPORTUNITY WEBINAR
Join Mass Cultural Council for a Culture Chat, a conversation between cultural leaders and MCC Executive Director Anita Walker to highlight creative strategies our sector is developing to adapt to the current realities. On

Friday, April 3 @11:30am

, chat with Eric Booth about how teaching artists are responding to the disruptions caused by the pandemic in both characteristic and surprising ways. Many are following President Obama's view of the financial crisis he faced: "A crisis is just too good an opportunity to waste." Booth will report what he has been hearing from colleagues across the U.S.

LEARN MORE...
YOUNG WRITERS COMPETITION
The Lockwood-Mathews Mansion Museum has launched its seventh annual Young Writers' Competition open to all third-eighth grade students in the tri-state area. Students must identify these unfamiliar objects from LMMM's permanent collection by providing detailed descriptions and historical research or by writing a fictional story on some of the objects correctly identified. Winners will be chosen based on 1) correct identification, research and most well-written description of the objects; or 2) most well-written, fictional story based on the correct identification and research on the objects. All descriptions must be in keeping with the historical period that the objects belong to. Competition winners and their families will be Guests of Honor at the Awards Ceremony on Sun., Nov. 22. CLICK or more information.
HOW TO HOST AN ONLINE FUNDRAISING EVENT
The COVID-19 health crisis has led many nonprofit organizations to cancel or postpone their fundraisers this spring. As anyone in the event business knows, no amount of planning can predict the weather, a venue or artist cancelation, or — what we are currently dealing with — a global pandemic. When unexpected setbacks derail your organization's fundraising event, a contingency plan will help you decide your next move. But what if you don't have one? The bottom line is -- adaptability is still the most beneficial skill to have. And with a whole slew of digital formatting options, you can more seamlessly pivot in any given challenge.

Some call it a livestream, others call it a webinar or virtual event. All that matters is that your attendees' expectations are satisfied — or, better yet, exceeded. Read more to find out how.
Read more
CRISIS COMMUNICATIONS PLAN FOR NONPROFITS
In times of crisis like we're experiencing right now with the COVID-19 pandemic, it's hard to know how to respond. Your initial tendency might be to go into fight or flight mode: either to respond right away, without taking the time to think of a balanced response, or to run away from the situation. However, as difficult as it is, the best response lies somewhere in between: in remaining honest without being defensive, and in taking a step back to better analyze the situation without ignoring it altogether. But how do you figure out how to strike this balance? That's where a crisis communications plan comes in. Take a look at this step-by-step guide as well as examples from nonprofit organzations across the country. Read More
CONNECTICUT LANDMARKS EXECUTIVE DIRECTOR
The Executive Director of Connecticut Landmarks will have day-to-day oversight of all operations, with an active presence across the state. They will build collaborative partnerships to ensure that annual and strategic goals are achieved. The Executive Director will also serve as the organization's representative to the general public and community at large and will function as the liaison between grantors, governmental representatives, and community partners

.
Qualified applicants must have the ability to travel to various sites throughout the state and beyond and work a flexible schedule, including evenings and weekends. Applicants should submit a cover letter and resume with a summary of demonstrable accomplishments. Visit artsconsulting.com/employment. Learn more,
click here.
MARKETING MANAGER WALL STREET THEATER
The Marketing Manager at the Wall Street Theater is the primary lead for developing, implementing and monitoring the Theater's marketing and public relations strategies, plans and budgets to meet or exceed objectives for ticket sales, advertising revenues, registrations, individual donations and other earned and contributed income sources. The Marketing Manager also provides support for fundraising and sponsor/donor initiatives of the theater. Full information here.
click here.
COMMUNITY MUSIC SCHOOL EXECUTIVE DIRECTOR
The Community Music School, in Centerbrook, CT, seeks an
Executive Director to be the s
chool's chief professional officer, and implements the strategic vision articulated by the Board, fulfills its programmatic mission, and manages its overall administrative and program operations. The Executive Director reports to the Board of Directors and directly supervises 25+ staff and faculty. Responsibilities include p
reparing an annual operating and capital budget; developing and leading the implementation of an annual development plan to secure funds; creating an annual marketing and public relations strategy to publicize CMS in order to insure planned student enrollment.
For more information and to apply,
click here.
MARITIME AQUARIUM NORWALK VOLUNTEER COORDINATOR
The Maritime Aquarium at Norwalk, Inc. seeks a full time Volunteer Coordinator to lead its dynamic team of more than 300 volunteers and interns. This outstanding volunteer corps, diverse in age and background, supports the Aquarium's mission by providing interpretation, inspiration and entertainment to the Aquarium's half a million visitors a year. Collectively, Aquarium volunteers contribute close to 30,000 hours per year, providing behind-the-scenes support to a variety of departments in addition to the vital role interacting with Aquarium visitors.
To apply,
click here.
FOR JOBS, FOR SALE, FOR RENT, VOLUNTEERS, AND CALLS FOR ARTISTS - CONSULT AND POST IN OUR
CLASSIFIEDS
Please help us expand the reach of our weekly E-Buzz newsletter with its selection of events taking place that week in our region
.
See the

most recent issue

. Share with a friend. Subscribe here.
Support us through Amazon Smile. Click here to have 0.5% of your Amazon purchase donated to The Cultural Alliance of Fairfield County. Thank you!
The Cultural Alliance of Fairfield County is a 501(c)(3) cultural nonprofit membership organization. We are grateful to our members and our donors whose support enables us to do our work. Donations are always very welcome and may be made
here
. In particular, we are grateful for support from: