Subject: Organizations Newsletter, March 6, 2020
View this email online if it doesn't display correctly
News and Opportunities for the Cultural Nonprofits and Creative Services of Fairfield County, CT
The Cultural Alliance of Fairfield County is a nonprofit membership service organization that supports its members through unified marketing, capacity building, professional development, and advocacy services. This newsletter is sent to all who request it, but we ask that,
if you are not a member
, you explore membership benefits and consider joining.
Find out more
and
s
ign up here
.
All links in
green
link to pages on our website
THANK YOU TO OUR GIVING-DAY DONORS!
We want to offer our heartfelt thanks to the 60 donors who contributed (between $10 and $250) to the Cultural Alliance of Fairfield County on Fairfield County's Giving Day, Thurs. Feb. 27, organized by Fairfield County's Community Foundation. Including donors whose checks arrived the next day, we received a total of

$3,143

in donations. Thank you to the E-Buzz subscribers, artists, board members and fellow cultural nonprofits who chipped in. We re the stronger for you!
40 EXECUTIVE DIRECTORS MEET
Forty of the members of our Executive Directors Network gathered in The SoNo Collection's "Magnificent Room" on Tues. March 3 to introduce themselves to, and to hear from,
General Manager,
Matthew Seebeck, and
Marketing Manager
JP Geoghegan, about Brookfield Properties' commitment to community organizations and especially to the arts and culture. After introductions, the group had 30 minutes of brainstorming of possible uses of the mall's spaces for exhibits, tours,
performances and more.
SPOTLIGHT:

MEET RUTH MANNES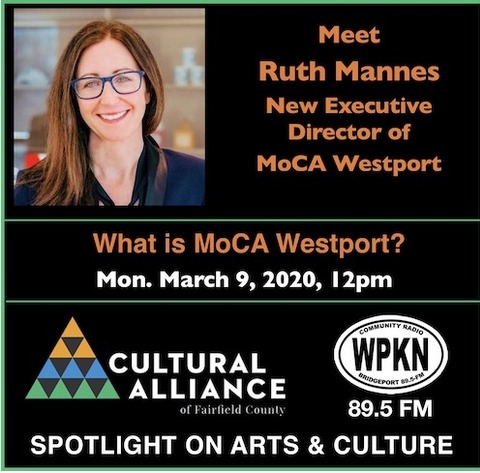 Meet

Ruth Mannes

, the new Executive Director of

MoCA Westport

(formerly the Westport Arts Center) on our Monday, March 9th edition of Spotlight on Arts & Culture our monthly radio interview show at noon on WPKN 89.5FM.
With its roots in the Westport Artists group that formed in 1947, the Westport Arts Center was born 50 years ago in 1969 as The Westport-Weston Arts Council. After several temporary homes it landed in 2002 at Riverside Avenue across the Saugatuck River from the Westport Library. After 17 years in that location, it re-grouped as MoCA Westport and moved into the handsomely renovated former TV studio of Martha Stewart just across the Norwalk border at 19 Newtown Turnpike, close to The Merritt Parkway.
Ruth Mannes is a long-time Westport resident, very active with Westport schools on the PTA executive board, and with her husband, a very active art collector in her own right. Hear her ambitions for this new institution that, as it has moved out of downtown Westport, seeks to re-connect with Westport artists, other Westport institutions and the wider community.
ACE
NOMINATION DEADLINE: MARCH 16
TRUMBULL HISTORICAL SOCIETY
President: Judith Edwards
F
ounded in 1964, The Trumbull Historical Society is dedicated to the preservation of the history of the Town of Trumbull.
Trumbull was the home of the
Golden Hill Paugussett Indian Nation
for thousands of years before the English settlement was made in 163
9.
The town was named after Jonathan Trumbull (1710–1785), a merchant, patriot, and statesman when it was incorporated in 1797. Aviation pioneer Igor Sikorsky lived in Trumbull during his active years when he designed, built, and flew fixed-wing aircraft and put the helicopter

into mass production for the first time.
The Society is located in the George & Florence Woods House, built in 1820 on the property of the Nichols family, one of the original founders of the town of Stratford. The last of the family to live in the house was Florence Nichols Woods (died 1973), whose husband, George Woods (died 1972), was president of Bridgeport's People's Bank. Their estate was noted for its gardens. Since 1978 the house has been rented by the Historical Society, while the grounds are now Abraham Nichols Park. See the Historical Society's website and Facebook page.
❦

– Latest List by Town of Organization and Creative Business Members: here
❦

– Latest List by Town of Artist Members: here
AMS Planning & Research Corp., based in Southport, has announced the inaugural fellows in its new

Pathways to Consulting

Fellowship program, designed to encourage, support and increase the involvement of those who have been historically underrepresented in arts and culture consulting. The fellowships will provide practical training and nurture future leadership by expanding and fostering inclusiveness. Renée Leigh-Anne Cox earned her BA-Journalism/Advertising from Howard University and is currently attending the University of Connecticut earning her MFA in Arts Administration. Kay Anna Pusey currently attends the University of Bridgeport's Trefz School of Business where she is working toward her B.S. in Finance. Fellows will be mentored by AMS staff. Stipends will be provided, and the 'Pathways to Consulting' will be a year-round program, with each fellow engaged for a three-month period of time. More...
The Greenwich Historical Society is pleased to announce that the Mr. and Mrs. Raymond J. Horowitz Foundation for the Arts has approved a grant request of $89,000 to support

John Henry Twachtman Online

, a joint project of the Greenwich Historical Society and Lisa N. Peters, Ph.D. John Henry Twachtman Online will be the definitive catalog of the work of Twachtman (1853–1902), an important figure in late nineteenth-century American art who is often considered the most original artist among the American Impressionists. The project was begun over two decades ago by Dr. Peters under the auspices of Spanierman Gallery, one of New York's foremost American art galleries, which closed in 2013. It will now be published on the website of the Greenwich Historical Society. Pictured: GHS Executive Director & CEO

Debra Mecky

and Curator of Museum Collections

Maggie Dimock

with

The Old Salt Box

by John Henry Twachtman. Learn more...
KEYS (Kids Empowered by Your Support)
, which provides free, in-school music instrument instruction to Bridgeport, CT students, welcomes Bridgeport resident
Amy Marshall
to the KEYS Board of Directors. Amy is the Development Coordinator at
Bridgeport Caribe Youth Leaders
.
She
worked in Connecticut as an educator in various public, private, and diocesan schools for 35 years. Thirty of those years were spent in the Bridgeport Public Schools where she was first introduced to KEYS as the

Principal of Beardsley School.

KEYS' mission is to bring one-to-one instrument lessons and group music instruction to underserved inner-city children in Bridgeport, CT who have no other access to this empowering life experience
.
Learn more...
The Lounsbury House, Ridgefield's historic community center, has announced the appointment of three new Board of Director members as well as the full slate of officers and members for 2020.

Patricia Ross

is a former NYC portfolio analyst with a background in economics, finance and accounting. She is both a board member and performer with the Ridgefield Chorale and an active supporter of SPHERE, The Ridgefield Playhouse.

Timothy Trant

enjoyed a 25-year career at PepsiCo as a senior executive in both foodservice and retail followed by an entrepreneurial role running sales and operations for Barfresh Inc. He is a current board member of The Ridgefield Playhouse.

Stephen Wooters

is a 25-year financial services veteran with experience in global, national and community banks across retail and commercial banking. Learn more...
The health insurer ConnectiCare is funding energy-efficiency improvements at The Maritime Aquarium at Norwalk through the Connecticut Neighborhood Assistance Act (NAA) Tax Credit Program. Shown presenting a check for $8,006.28 to Dave Truedson, the Aquarium's chief operating officer, are Beth McNeil (left), senior account manager for ConnectiCare, and MJ Corti, ConnectiCare account manager for Small Group Sales. ConnectiCare's contribution to The Maritime Aquarium is one of more than 30 that the company is making to non-profit and municipal organizations throughout the state.
MoCA (Museum of Contemporary Art) Westport announces

Ruth Mannes

as the new Executive Director of the nonprofit devoted to inspiring intellectual and creative curiosity through the arts. Mannes, a 12-year resident of Westport, has an extensive background in publishing, leadership, community outreach, and fundraising for local causes. In addition, she has been collecting art for over two decades and has
been recognized by

ARTnews

as one of the top 30 young contemporary art collectors in America. She succeeds Amanda Innes, who held the Executive Director position for four years, and was instrumental in the rebranding of Westport Arts Center to MoCA Westport, and transitioning to the state-of-the-art museum space at 19 Newtown Turnpike. More. Hear our Spotlight interview with Ruth on Mon. March 9 at 12pm on WPKN 89.5FM
The Ridgefield Theater Barn announces two new Improv workshops – one for adults, and one for teens. Taught by the coach and director of the Role in the Hay Players, Rick Hodder, Fundamentals of Improv focuses on agreement, banishing fear, the elements of Improv scene work, and most especially, teamwork. You will use these tools to play games like those seen on Whose Line Is It, Anyway? Beginning March 22, the adult workshop (18 and older) will meet Sunday evenings from 6-8pm and run through May 3. The teen workshop (grades 9-12) will meet Tuesday evenings from 7-9pm starting March 24 (no class April 28). Both workshops will culminate with a performance for friends and family on May 8. Learn more.
New England Fashion + Design Association welcomes a new fashion instructor,

Danchen Sun

. A graduate from Parsons School of Design with BFA in Fashion Design, she represented Parsons for Swarovski International Catwalk Competition at London, and was one of the top three runners in a few competitions. Specialized in womenswear with crafted textiles, Danchen has a great passion for fashion and design. She has two years working experience in fashion industry, and aims to help students to build up their design from pattern and textile.
Norwalk's Stepping Stones Museum for Children is celebrating its

20th anniversary

with a host of events and special promotions. The campaign invites museum members and visitors to post videos on social media using #MySteppingStones that detail favorite museum experiences and share birthday greetings for the institution. Beginning on Feb. 10, a weekly winner from the submissions will be selected to receive a $20 food voucher that can be redeemed in the museum's Healthyville Cafe. On March 7, three winners will be selected from the submitted videos to receive a complimentary Family Plus membership worth $210. Favorite videos will also be shared on the Stepping Stones website, and inside the museum. More...

Since acquiring the Fairfield Community Theater last May, Sacred Heart University has endeavored to renovate the historic building from the ground up as a new, state-of-the-art facility for film events and live performances. Bringing the theater back to its former glory has entailed challenges, but with community support, Sacred Heart is determined and committed to restoring all the iconic theater's memorable features, including its neon marquee, ticket booth and stage proscenium. Plans also call for extending the stage so we can host a wide range of music, live performances and community events. In addition, we will introduce some free, after-school programs, master classes, eSports, matinees and dinner-and-movie nights. To help restore the Fairfield Community Theater to its original stature, CLICK HERE.
NATIONAL ARTS ACTION SUMMIT
REGISTER TODAY
The National Arts Action Summit is a multi-day event giving you the opportunity to receive crucial advocacy training from experts in the field and then put that training into practice on

Arts Advocacy Day

on Capitol Hill. Hosted by Americans for the Arts in partnership with over 85 national arts organizations, Arts Advocacy Day is the largest gathering of its kind, bringing together a broad cross section of America's cultural and civic organizations. Grassroots advocates from across the country come to Washington, DC to meet with their Members of Congress to garner support for issues like arts education policy, the charitable tax deduction, and funding for the National Endowment for the Arts.
On

Monday, March 30

, hundreds of arts advocates from across the country convene for interactive advocacy training and peer-to-peer learning and networking. That evening, attendees will have the opportunity to attend the Nancy Hanks Lecture on Arts & Public Policy at the John F. Kennedy Center for the Performing Arts.
On

Tuesday, March 31,

advocates attend the the Congressional Arts Kick Off to hear from elected officials, agency chairs, and artists about why advocating for the arts on Capitol Hill makes a difference. Then advocates will meet with their U.S. Senators and U.S. Representatives to share their stories about the impact and transformative power that the arts have in their communities.
Today(Fri. Mar. 6) is the last day to get advance rate pricing. Register here. More information here.
HOW COVID-19 IS IMPACTING CULTURAL INSTITUTIONS
As the COVID-19 coronavirus continues its spread across the globe, the art world has already been affected by its rapid growth. Major international events have been canceled, museum exhibits have been delayed, and there will likely be more news to come. For the latest on the coronavirus' effect on the arts, here are several updates from around the world:

In Paris, staffers at the Louvre Museum voted to close one of the world's most famous art destinations for fear that visitors could bring the coronavirus to the 2,300 workers.
Meanwhile, Italy's cabinet declared museums not in the hardest-hit areas of the country could reopen with a warning that guests should stay about one meter (or around 3 feet) away from each other. Van Gogh's "Sunflowers" is one of 60 artworks from London's National Gallery that will wait in quarantine as many of Japan's museums remain closed for the next two weeks in response to the outbreaks.
READ MORE.
INSTITUTE OF MUSEUM AND LIBRARY SERVICES INVESTS $166 MILLION
The Institute of Museum and Library Services  recently released its FY 2020 allotment table for 59 State Library Administrative Agencies (SLAAs), totaling $166,803,000. These annual grants to the 50 states, the District of Columbia, and the U.S. Territories represent the largest source of federal funding support for library services in the United States. This year, IMLS incorporated three freely associated states in the program for the first time: the Federated States of Micronesia, the Marshall Islands, and Palau. In Connecticut, the grants are managed through the CT State Library. One local receipient, the Ferguson Library, used the grants to
create the American Citizenship and Beyond project in response to the needs of a growing multicultural community
.
Click here to read more about CT Library projects.
HOW FREE vs PAID ADMISSION DATA CORRELATES WITH CREDIBILITY
Museums are trusted. In fact, museums are very trusted. They are trusted even by people who don't visit them. People believe US museums are highly credible sources of information, generally do not have a political agenda, and should recommend behaviors to the public in support of their missions

Specifically, we know that museums are trusted – but is there a difference in trust perceptions between those with an admission basis and those without?

Well, yes and no… but there is certainly a trend worth calling out.

institutions with free admission are more likely to be perceived as being government-run. While there are individual institution exceptions, entities perceived to be government-run generally experience lower visitor satisfaction scores and lesser intentions to re-visit than those that are perceived to be for-profit or private nonprofits. One reason for this may be the declining trust levels in state and federal agencies in the United States in recent years. It stands to reason that if you don't trust the "funder" at the outset, you may be less likely to have a positive experience or return. FULL ARTICLE
NEW PARADIGM THEATRE CASTING CALL
New Paradigm Theatre (NPT), is accepting video submissions for a talent search competition to cast a leading role in its August production of Footloose. "RUSTY" (the role made famous in the movie by Sarah Jessica Parker) must have incredible vocal talent and stage presence. Performers 16+ may submit. The finalists chosen from these videos will be featured at NPT's May Gala in a "live callback" and will be voted on by the audience! The winner will be hired (if over 18 years old) or given free tuition (if ages 16-18 years old) to play the role. LEARN MORE...
The Office of VSA and Accessibility at The Kennedy Center, Washington DC, seeks arts, education, and cultural organizations to provide accessible, arts-based education experiences to students with disabilities, transition opportunities to youth with disabilities, or professional development to educators of students with disabilities. Organizations are invited to submit proposals to implement VSA Programs.
If you have experience, knowledge, and expertise working with students with disabilities pre-kindergarten through grade 12, or providing professional learning to their teachers, you could become a VSA Program site.
Look at the Requests for Proposals for program specific details. See if your work aligns with VSA Program goals and if you have the capacity to execute a VSA Program in your community, schools, museums, or performing arts venues. View RFPs

here

.
ARTS ADMINISTRATION FELLOWSHIP
The Elizabeth L. Mahaffey Arts Administration Fellowship provides funding to arts administrators to pursue professional development opportunities that will advance their careers in arts administration. Arts administration is the field that concerns the business operations of an arts organization, including but not limited to staff management, public relations, marketing, budget/fiscal management, board development, fund-raising, program development and evaluation. An applicant may request up to $2,500.

APPLY

here

.
The Arts Workforce Initiative (AWI) is a paid apprenticeship program that gives Connecticut college students, emerging creatives and military veterans an opportunity to gain high-level professional work experience with not-for-profit arts and cultural organizations throughout the state. This program is specifically designed for applicants from diverse and traditionally underrepresented backgrounds. A host organization must provide a hands-on and engaging learning opportunity that allows an individual to gain relevant skills and work experience in the arts. Selected host organizations will be granted $3,750 per apprentice to be used to pay an hourly rate of $15. Selected participants work 25 hours a week for 10 weeks for the selected host organization. Participants receive payment from the host organization where their apprenticeship will take place. CLICK FOR INTERN APPLICATION
REGISTER FOR ARTS DAY 2020
Arts Day @ the Capitol is produced by the Connecticut Arts Alliance, with support from the Connecticut Office of the Arts, designed to engage the arts community across the state with a unified message that

Arts Matter

!

GET A TABLE:

Arts Organizations can register for one of 50 tables ($10 for a half table with 3' display area) to share their information with legislators and their peers across the state. Arts Day will begin at 9 AM with an orientation and tips on how to make Arts Day a success. Exhibition time will be from 10 AM - 2 PM.

M

ore. REGISTER HERE!
The Chicago-based Harpo Foundation was established in 2006 to stimulate creative inquiry and encourage new modes of thinking about art.
To that end, the foundation welcomes

Letters of Inquiry

for its 2020 New Work Project Grants program. Through the program, grants of up to $10,000 will be awarded to nonprofit organizations in support of new work by underrecognized artists age 21 years or older. The foundation will consider proposals that directly support the production of new work by visual artists and/ or collaborations that are under-recognized by the field. The production may happen in the context of an installation, public intervention, residency, or exhibition.
To be eligible, applicants must be considered tax-exempt under section 501(c)(3) of the Internal Review Code.
The foundation will accept Letters of Inquiry through April 10. Upon review, selected applicants will be invited to submit a full proposal by June 12, 2020.
For complete program guidelines, information about previous fellowship recipients, and applications instructions, see the Harpo Foundation website.
YOUNG WRITERS COMPETITION
The Lockwood-Mathews Mansion Museum will launch its seventh annual Young Writers' Competition open to all third-eighth grade students in the Tri-state area. Students must identify these unfamiliar objects from LMMM's permanent collection by providing detailed descriptions and historical research or by writing a fictional story on some of the objects correctly identified. Winners will be chosen based on 1) correct identification, research and most well-written description of the objects; or 2) most well-written, fictional story based on the correct identification and research on the objects. All descriptions must be in keeping with the historical period that the objects belong to. Competition winners and their families will be Guests of Honor at the Awards Ceremony on Sun., Nov. 22. CLICK or more information.
WEBINAR: LEGALLY PUTTING INTERNS TO WORK
The Probono Partnership's Summer Hires webinar is back. Join Jennifer Grudnowski, Esq., for this webinar to learn how to navigate the use of interns, externs and volunteers in your organization, including your obligations under state and federal employment laws. The discussion will include the "primary beneficiary" test for legally compliant internships and practical tips on how to most effectively use interns and volunteers in your workforce. Other topics:
The legal differences between interns, externs and volunteers
;
The hiring process; Compensation;
Thoughts on how to effectively use interns, externs and volunteers within your organization for the summer and year-round.
Wed. March 25, 12pm Fee: $30.
REGISTER HERE
Jeannine Pedersen-Guzman

is a museum professional with over 25 years of experience in history, archaeology, art, and cultural heritage. She is currently
an Archaeological Collections Coordinator, a Lead Instructor for a Museum and Cultural Heritage studies program, a wife, and a mom of two girls. She has recently started a Museum Savvy, a new museum blog and online resource with museum jobs, professional tips and more. Check it out here.
CENTER FOR CONTEMPORARY PRINTMAKING
MARKETING & COMMUNICATIONS COORDINATOR
The Center for Contemporary Printmaking (CCP) seeks an experienced Marketing and Communications Coordinator who is passionate about the arts and will contribute to the growth of this 24-year-old non-profit organization. Candidate will work closely with the Executive Director to grow overall exposure for the organization and online reach through media efforts in support of CCP's programming and mission.
Primary Responsibilities include:
Content creation - strong writing and language skills required;
Social media strategizing and implementation on Facebook, Instagram, Twitter;
Website management;
Print ad and printed material development – postcards, brochures, wall graphics;
Local and industry media outreach – press contacts and press releases;
Serve as photographer for CCP events and special programs;
Establish and monitor benchmarks for success using analytics.
Additional responsibilities related to the organization include but are not limited to:
manage web-based communications tools and local digital assets: Constant Contact, ISSU, CaFÉ, Facebook, Instagram, website;
coordinate efforts with staff in all areas to insure communications and content releases are scheduled effectively; s
hepherd external-facing branding and partnerships with local organizations. For more information and to apply, click here.
GREENWICH LIBRARY DEVELOPMENT DIRECTOR
Greenwich Library is seeking a Director of Development to serve as the key fundraiser for the institution. For 200 years, Greenwich Library has served as the intellectual and cultural hub of its community. The Library, one of the busiest in New England, serves the 62,000 residents of the Town of Greenwich through its Main library and two branch libraries, the Byram Shubert Library and the Cos Cob Library.
With a staff of 91 FTEs, a collection of nearly 400,000 items and an annual budget of over $10 million from public and private sources, the Library provides a remarkable array of resources, materials, and programs to the Town and surrounding communities.
APPLY HERE
NEW POND FARM DIGITAL MARKETING ASSOCIATE
The New Pond Farm Education Center is hiring a Digital Marketing Associate to help get the word out about NPF's brand. T
he digital marketing associate is responsible for looking after the online marketing strategies for the organization. They plan and execute marketing campaigns and maintain and supply content for the organization's website.
APPLY HERE
FOR JOBS, FOR SALE, FOR RENT, VOLUNTEERS, AND CALLS FOR ARTISTS - CONSULT AND POST IN OUR
CLASSIFIEDS
Please help us expand the reach of our weekly E-Buzz newsletter with its selection of events taking place that week in our region
.
See the

most recent issue

. Share with a friend. Subscribe here.
Support us through Amazon Smile. Click here to have 0.5% of your Amazon purchase donated to The Cultural Alliance of Fairfield County. Thank you!
The Cultural Alliance of Fairfield County is a 501(c)(3) cultural nonprofit membership organization. We are grateful to our members and our donors whose support enables us to do our work. Donations are always very welcome and may be made
here
. In particular, we are grateful for support from: