Subject: NCC Weekly News: We Cannot Be Silent
View this email online if it doesn't display correctly
From Jim:

We Cannot Be Silent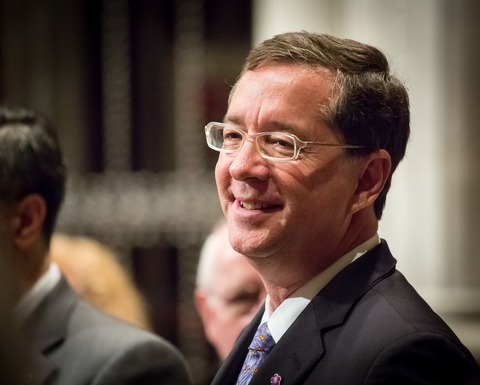 One year ago, the violent "Unite the Right" rally took place in Charlottesville. Rev. Dr. Joseph Crockett and Rev. Steven D. Martin were present and joined the Charlottesville Clergy Collective, Congregate C'ville, and others in standing against the forces of white supremacy.

Now, Nazis and racists plan to hold events in Washington, DC, and Charlottesville. Our staff will join with anti-racist people of faith in both cities. I will be speaking at the "United to Love" rally on the National Mall this Sunday, for example.

We simply cannot be silent and absent when voices of hatred and racism are on the march. In two months, the NCC will hold our 5th Christian Unity Gathering. I invite you to join us at the Marriott Convention Center in College Park, Maryland on October 15-16.

This year our focus is "A.C.T. To End Racism: Hard Truths in Beloved Community." We will be meeting six months after our Rally to End Racism in Washington, DC. Bishop Teresa Jefferson-Snorton and Rev. Traci Blackmon will be our preachers. Our keynote speaker will be the Rev. Dr. David Anderson Hooker.

I assure you that you will not only experience powerful preaching and speaking, but you will also be enriched by the young adults and seminarians who will be present, by the workshops and by those who are present.

The Christian Unity Gathering is one of those events when we come together to worship God, renew friendships, focus on the challenges before us, and recommit ourselves to our faith and the struggle for justice and peace. I look forward to seeing you in October.

Jim Winkler
President and General Secretary
As Hiroshima Day approaches, how does the church reckon with the lengthening Nuclear Age?


August 6 and 9, 1945, are the days that the United States Air Force dropped atomic bombs on Hiroshima and Nagasaki, causing over 185,000 immediate and slower deaths in those Japanese cities. Ever since, most churches and many other religious and moral people have sought to prevent any further use of nuclear weapons. Remembering and mourning that initial devastation is part of the spiritual resistance of Christian obedience.

This article suggests a prayer for use in worship, printing, or posting on church websites, and then points to the action taken by the General Assembly this past June, which seeks to lift up nuclear disarmament as an active campaign.


Charlottesville clergy hope for peaceful weekend

Members of the Charlottesville Clergy Collective, including United Methodist ministers, will be a major force in the efforts to maintain peace as the city marks the first anniversary of a "Unite the Right" rally that turned deadly.

"The CCC has been very invigorated by the current events," observed the Rev. Gary Heaton, senior pastor of First United Methodist Church in Charlottesville. "By virtue of being interfaith, it is very tolerant."

It is uncertain whether a potential for violence, such as occurred during last year's rallies, will recur. On Aug. 12, 2017, the rally held by white supremacists to oppose the planned removal of a Robert E. Lee statue from Emancipation Park became violent.

Heather Heyer, 32, was killed when James Alex Fields Jr. intentionally drove into a crowd of counter-demonstrators. A group of white supremacists also severely beat Deandre Harris, an African-American counter-protester, with metal poles.

The 92 members of the clergy collective, representing 20 faith traditions, hope this year will be more peaceful. United Methodists are the second most-represented faith tradition with eight clergy members.

The Ark Is Carrying Us: A Reflection From Charlottesville, One Year Later
Emboldened by the foul political climate that has encouraged division and the expression of bigotry, they came here with their insignias and their racist and anti-Semitic slogans. They came ostensibly to protest the removal of Confederate statues from our public squares, claiming that "we" are trying to erase "their" history.

In fact, the opposite is the case. It is the long history of their movement, and its legacy in all aspects of our life, that has been concealed and hidden. At first, many in our town wanted to dismiss these events as the work of outsiders, people who came from somewhere else to disturb the calm of our quiet university community.

But the ideology these people represent is not from somewhere else. It can be found, in more or less virulent form, in every town in America. The violence we experienced in Charlottesville in 2017 has moved our community to take a more critical look at our history as a nation and as a community.

We are starting to realize that there is almost no significant event in the American story that cannot be examined through the lens of white supremacy, an ideology that changes form in every generation and yet always yields the same fruit. We are gaining some clarity about how this history created and maintains the racial inequalities that are still a blemish on our country. We have only begun to start telling the truth to ourselves and to one another. We are working to build and strengthen alliances in our community to resist and dismantle the worst consequences of this national problem.

NCC Celebrates the Life of Dr. Katie Geneva Cannon

The National Council of Churches celebrates the life and mourns the passing of Dr. Katie Geneva Cannon who went to be with the Lord on August 8, 2018. Dr. Cannon was the first African American woman ordained in the Presbyterian Church (USA), and we join with her denomination in mourning this great loss to the entire Church.

We remember Dr. Cannon's pioneering ministry. She was ordained on April 24, 1974, in Shelby, North Carolina by the Catawba Presbytery, in the Synod of Catawba. She considered teaching as her primary ministry and was a member of the faculty of Union Presbyterian Seminary in Richmond, Virginia, beginning in 2001. During her career, she earned numerous distinctions including several Distinguished Professorships and the Excellence in Teaching Award by the American Academy of Religion.

Throughout her profound ministry, she took up the intellectual challenge of Dr. Gayraud S. Wilmore "to think theologically about some of the exasperatingly difficult problems Black people are facing in church and society." Most recently, she founded the Center for Womanist Leadership, dedicated equipping church leaders with the theological and practical tools to "analyze the intersecting vectors of racism, sexism, and class elitism."

Dr. Katie Geneva Cannon will be remembered for her courageous, prophetic, and profound theological and intellectual leadership. We mourn her loss, pray for her family, students, and colleagues, and hope that her ministry will continue through her writing and the lives of those she taught.

Theological leader reflects on being first African American woman ordained in the PC(USA)
The Rev. Dr. Katie Geneva Cannon was ordained April 24, 1974, in Shelby, North Carolina by the Catawba Presbytery, in the Synod of Catawba. According to the Presbyterian Office of Information, the United Presbyterian Church listed 154 white women as ordained clergy at that time.

Presbyterian News Service asked Cannon to reflect on her ordination, in light of her life experiences, as African American History Month and Women's History Month are celebrated in February and March respectively. Her response is below:

When I think about my 44th anniversary as an ordained clergywoman, I simultaneously recall, reconnect and remember antecedents. As Toni Morrison says, "there is always a 'before' that makes our 'beginnings' possible."

The before that makes my beginning possible, the specific antecedents of my ordination, are directly intertwined and inseparable from the historical fact that African Americans have been part of the Reformed faith tradition since the establishment of the first Presbyterian Church in North America at Southold, Long Island, New York in 1640 to the date of the First General Assembly in 1789. The Rev. Dr. Frank T. Wilson, one of the country's leading experts on Black Presbyterians and African American Presbyterianism, documents that Black Presbyterians, under a variety of conditions, have been members of the Reformed communion for the past 378 years.

Prayers for Korea "an expression of repentance and commitment"



As the anniversary of Korea's liberation and division draws near, churches in Korea and around the world prepare for the Sunday of Prayer on 12 August.

"Many local churches and different regional councils, such as Daejon, Daegu, Cheonju, Kwangju, are preparing to join in the prayers," explains Rev. Shin Seung-Min programme executive of the National Council of Churches in Korea (NCCK).

"And two churches in the North too, Bongsu and Cjigol, are using in their Sunday worship the prayer text prepared by the NCCK and the Korean Christian Federation (KCF)," Shin adds.

As part of the long-standing commitment to peace in the Korean Peninsula, the World Council of Churches invites churches worldwide to the annual day of prayer for peace and reunification of the Korean Peninsula, taking place on the Sunday before 15 August, the anniversary of Korea's liberation and division.

Grant program to be developed to support congregations' grassroots work on racial healing

One of the biggest developments at the 79th General Convention related to the Episcopal Church's work on racial reconciliation was the approval of a new grant program to support grassroots efforts, building on the progress made under the church's new Becoming Beloved Community framework.

The grant program outlined in Resolution D002 marks the first time a churchwide grant program will be dedicated specifically to providing financial support for Episcopalians working toward racial healing and justice in their congregations and communities. The 2019-2021 church budget includes $750,000 for the grants, much less than the $5 million recommended by D002, but these initiatives – such as forums, workshops and informal gatherings – often don't need a lot of money to become viable and thrive.

"It is exciting to think about how $750,000 over three years could really seed some powerful work," said Heidi Kim, the church's staff officer for racial reconciliation, and she is hopeful that the grant process will shine a brighter light on existing efforts already making a difference. "I think people all over the church are doing amazing things that we just don't know about."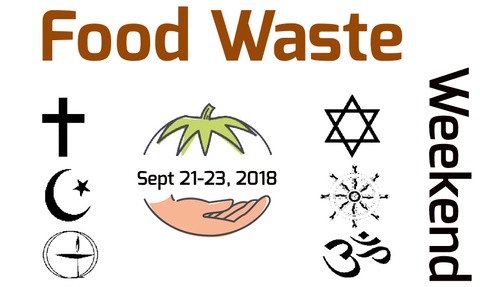 "Thou Shall Not Toss Food" - Faith Leaders Unite Together in the Fight Against Hunger and Food Waste



Americans waste an unfathomable amount of the food. Pope Francis once said, "Throwing away food is like stealing from the table of the poor and the hungry." Little changes can make a big difference, such as the non-profit organization AmpleHarvest.org encouraging home gardeners to donate their backyard bounties to food pantries.

Since 70 percent of food pantries are located in houses of worship, AmpleHarvest.org launched the religious education campaign, Food Waste Weekend. From Sept. 21-23, 2018, Christian, Jewish, Muslim and other religious clergy will deliver sermons on the moral responsibility to avoid food waste and alternative options for combating hunger in their local communities. Note that if that weekend conflicts with already planned programming, the sermons can be given on another weekend – the resources remain online all year.

AmpleHarvest.org worked alongside many religious leaders to develop Food Waste Weekend materials. Click here for the Christian sermon (clergy may modify the materials).
Reverend Jacob Bolton of New York said, "Food Waste Weekend addresses the complex, global issue of food waste and overconsumption, with tangible, local, and 'spiritually cultivating' practices that any faith community can undertake." Rabbi Joshua Ratner from Connecticut echoed his sentiments, "I think this is a fantastic opportunity for people of all faiths to actualize the biblical injunction to share the gleanings of our fields with those in need."
Ecumenical Opportunities:
The Refugee Council USA is searching for a Media Associate:
The successful candidate will serve as RCUSA's media liaison, working closely with RCUSA leadership and our membership communications and advocacy teams to develop, clear, concise and effective outreach to the media. The Media Associate will maintain and build strong relationships with both traditional and new media outlets, will assist in the writing and production of relevant educational material, and will assume primary responsibility for developing an effective social media strategy.
The Episcopal Church is hiring a new Public Affairs Officer:

the Public Affairs Officer is responsible for maintaining and strengthening media relationships outside the Episcopal Church, and for working with the Communications staff and church leadership to develop quality communications within the Episcopal Church. After the Presiding Bishop, the Public Affairs Officer will often be expected to be the spokesperson for the Episcopal Church.
The Center for American Progress has an immediate opening for Director of the Faith and Progressive Policy Initiative.

The Director will work to create, coordinate, and manage alliances, partnerships, and campaigns with religious leaders, faith-based organizations, and progressive advocates on policy issues related to Faith team initiatives and CAP priority issues.
NEW BOOK: United Against Racism
Authentic Christianity requires the loving inclusion of all God's creation. An inclusive, beloved community is a community free from racism.

United Against Racism

is a call to an authentic Christianity, a religion that strives to become God's inclusive, beloved community. It summons Christians to pray, think, and act to end racism. This resource aims to support churches, communions, and those who endeavor to share the journey of the Christian faith in the pursuit of an unfinished agenda to embody a more excellent way of racial equity.
Church leaders from many backgrounds have praised

United Against Racism:





United Against Racism

is a huge gift from the church to the church. Its generative format invites every Christian and Christian community to hear the call and assume the vocation of being ambassadors of reconciliation. Without apology I encourage its wide use.

--Bishop Gregory Vaughn Palmer
Ohio West Episcopal Area, United Methodist Church



Rabbi Abraham Joshua Heschel, after marching alongside Dr. Martin Luther King Jr., wrote, 'When I marched in Selma, my feet are praying.' This resource presents a compelling chorus of diverse Christian voices that will inspire our feet to pray with people of other religions and worldviews for an end to racism in our time.



--Rev. Elizabeth A. Eaton
Presiding Bishop, Evangelical Lutheran Church in America



It is the essential role of the church to speak out against the sin of racism and mend the persisting divides it has caused in our society. This resource is a valuable tool in provoking thoughtful responses on the meaning of repentance for the sin of racism and helpful as Christians seek to live faithfully to God's call to love our neighbors and seek the common good.



--Jim Wallis
New York Times bestselling author, President and Founder, Sojourners



A heartwarming and inspiring ensemble of voices inviting the Church and our nation to re-engage America's sin of racism. The National Council of Churches spurs the conscience of every American in the quest for a more just and equal America.



--Rev. Dr. A. Roy Medley
General Secretary Emeritus
American Baptist Churches USA

Get your copy today for the discounted price of just $12! This is a limited time offer so make sure you buy your copy soon. Special discounts are also available for orders of 10 copies or more, just email ks@natcc.us. Use it for your Sunday School class, area conference pastor gatherings, youth groups, small groups - or just use it yourself.
Serving as a leading voice of witness to the living Christ in the public square since 1950,
the National Council of Churches of Christ in the USA (NCC) brings together 38 member communions
and more than 40 million Christians in a common expression of God's love and promise of unity.