Subject: NCC Weekly News: United to Love
View this email online if it doesn't display correctly
Editor's note: this is the text of Jim Winkler's speech at the "Unite to Love" rally in Washington, DC, August 12, 2018:



On behalf of the NCC, I thank Bishop Easterling and the Baltimore-Washington Conference of the United Methodist Church for bringing us together today on the anniversary of the tragic events last year in Charlottesville. Indeed, we are united to love in the face of racism, violence, and white supremacy.

We gather publicly every Sunday to express our love for God and one another. It is appropriate we meet here today to unite in love and to say no to hatred.

Here on the National Mall, the NCC brought together thousands of United Methodists and other Christians on the occasion of the 50th anniversary of Dr. King's assassination to declare our intention to awaken, to confront, and to transform this nation to bring an end to racism.

And we have come together through the Women's March, through the March for our Lives, through the Poor People's Campaign and now today. We will continue to unite in love and to bring justice and peace to this country.

We must root out white supremacy from the heart of our institutions, including the church of Jesus Christ.

Sisters and brothers, racism is power plus prejudice.

More than affirmative action is needed, more than consciousness-raising workshops, more than pledges to change behavior.

We stand right here on land taken from its native peoples. The Nacostine people lived at the confluence of the Potomac and Anacostia rivers for many years before being pushed out by the encroachments of white settlers.

We need to know our history and to be prepared to face up to it.

And in the midst of the task in front of us, we who are white must not permit ourselves to be paralyzed by guilt. For many years I led seminars on racism for young people just a few blocks from here in the United Methodist Building.
We would examine Peggy McIntosh's toolkit on white privilege, undertake Bible study, engage in prayer, and talk about the pervasiveness of racism in our society. Inevitably, powerful emotions would bubble up among the white youth and they would say things like, "I never knew." "What can I do?" "I feel so ashamed."

Some were resistant and would say, "it's not my fault." "My family doesn't own slaves." "I'm not racist." "Everyone can be racist."

Well, friends, everyone can be prejudiced. Everyone can discriminate in some way. Everyone can be biased. But you have to own and possess power to make your prejudice into a system. Then it becomes racism. And in our nation, that raw power is held and controlled by white people, and it always has been. The question for us is: Will it be that way forever?

There are people rallying a few blocks from here who are determined that it will always be the case that white people are in control of this nation.

Love is strong, not passive. We agree with Dr. King who said, "Hate cannot drive out hate; only love can do that."

Love is humble, not arrogant. Let us not presume that by gathering here this afternoon we have defeated racism. Instead, let us pledge today that we will continue on the long journey, in love, to do so.

Our united love is an unstoppable force and I'm here to tell you that racism is not an immovable object.

We are united today in a strong love, a mature love, a love that fortifies us for the task of upending and uprooting racism and making the changes, the deep, deep changes required to reorder our society. This is our task. It is not only the task of United Methodists. It is not only the task of the ecumenical movement. It is not only the task of the Christian community. It is the task of the entire nation.

"There is no love without forgiveness, and there is no forgiveness without love (

Bryant McGill

)." As those of us who are white seek forgiveness for our complicity in a system that benefits us because of our color and suppresses people of color, let us not be deterred from the hard work of dismantling this racist system and building along with everyone a new community upon which God can smile and for which we can be truly thankful.

Frederick Douglass wrote many years ago in his autobiography, "I love the pure, peaceable, and impartial Christianity of Christ. I therefore hate the corrupt, slaveholding, women-whipping, cradle-plundering, partial and hypocritical Christianity of this land…The warm defender of the sacredness of the family relation is the same that scatters whole families, sundering husbands and wives, parents and children, sisters and brothers, leaving the hut vacant, and the hearth desolate. We see the thief preaching against theft, and the adulterer against adultery."

Does that sound too familiar? As we say today that we are united to love, let it not be mistaken for a love contained within the four walls of our church buildings, when the nation is led by and plagued with hatred, where families are being separated at the border, when one of the president's longtime aides testifies that he is a racist, when the president regularly disparages the intelligence of African American public figures, when he slurs African countries, when he emboldens misogynistic and racist elements in our society.

We stand united in love for a better future and a better nation.

Our united love cannot be kept under the bushel basket. It has to be placed on the lampstand so that it can give life to the whole house of our nation so that our light may shine before others so that they may see God's good works and give glory to our God!

Jim Winkler
President and General Secretary
Faith-based protesters flock to Washington to counter white supremacists

When white supremacist groups announced plans to hold a demonstration in the nation's capital to mark the one-year anniversary of the "Unite the Right" rally in Charlottesville, Virginia, many were concerned the day would descend into violence as it did in 2017, when one woman was killed and many more injured after a man who had marched with racists allegedly plowed his car into a group of counter-protesters.

But by Sunday evening (Aug. 12), Washington had hosted far more anti-racist Methodists, Baptists and other religious demonstrators than white supremacists, and the thousands of other counter-protesters spread across the city suggested white nationalists had inadvertently done more to unite people across religious and racial differences than bolster the ranks of racists.

Some religious groups have been actively fighting against racism throughout America's history, and a band of faith leaders and theologians were among the few who stared down white supremacists in Charlottesville last year. But a broad swath of religious groups began organizing ahead of this year's rally in Washington, hosting vigils, trainings and events. Auburn Seminary, the Council on American-Islamic Relations) and Bishop Michael Francis Burbidge of the Roman Catholic Diocese of Arlington, Virginia, also issued statements condemning racism, the planned white supremacist rally or both.

Charlottesville 2018: Power of God, Power of State
The highly anticipated (and dreaded) anniversary of the August 12 "Unite the Right" rally in Charlottesville, VA, the murder of Heather Heyer, and the violence that exposed sympathy to white supremacy in the highest places in government, passed mostly without incident. Having joined the brave clergy counter-protesters last year, who held the line in front of Emancipation Park and ministered to the injured, I am relieved the violence did not return this year.

The crowds that gathered this weekend both in Charlottesville and in Washington, DC, show that those who would dismantle white supremacy are more vocal than those who value it. I'm encouraged by this and hope that last year's violence spurred the kind of social change and reflection that Selma did years ago. But before we pat ourselves on the back and sit back in our easy chairs, thinking the forces of good won the day…

Let's talk about the police presence in Charlottesville this weekend.

New, Historic Dialogues Begin

In July, the National Council of Churches initiated a national Hindu-Christian Dialogue and a national Buddhist-Christian Dialogue. These new dialogues join the national Jewish-Christian Dialogue and national Muslim-Christian Dialogue that have long been a part of the NCC's work in interreligious relations and collaboration.

The new dialogues are co-sponsored by The Guibord Center in Los Angeles, California. While national in scope, the dialogues will be based on the west coast. The inaugural sessions of the new dialogues were held at First Congregational Church in Los Angeles, where The Guibord Center has its offices.

Dr. Antonios Kireopoulos, Associate General Secretary for Faith & Order and Interfaith Relations, serves as a co-convener of the new dialogues. "We are very excited to be starting these dialogues. We've wanted to do so for a long time, and we are pleased to be able to do so," said Dr. Kireopoulos. "The dialogues have met with great enthusiasm among our partners, and these initial meetings lived up to these high expectations."

NCC Opposes Reimposition of Trade Sanctions
The National Council of Churches opposes the Trump Administration's reimposition of trade sanctions on Iran, ninety days after announcing the United States' withdrawal from the 2015 Iran nuclear deal. All indications are Iran has abided by the Joint Comprehensive Plan of Action (JCPOA) and that it has been successful in deterring any progress toward a nuclear-armed Iran.

The renewed sanctions will cause needless suffering among the people of Iran, likely destroy the success of the JCPOA (which is still in force for other countries that were part of the agreement), strain relationships with allies, and increase tensions in the Middle East and in Europe.

Most concerning is the Trump Administration's recent use of bellicose rhetoric, threatening the Iranian regime with "consequences the likes of which few throughout history have ever suffered before," even as international inspectors have concluded that Tehran is complying with the terms of the 2015 agreement.

We call upon the President to end these regressive and aggressive actions that threaten peace. We urge the governments of the United States, Europe, and the Middle East to secure a lasting agreement that ensures peace in the world.

We continue to hope, pray, and work for a world free of nuclear weapons.


Recent Attacks on Elderly Sikh Men Are Disturbing & Appalling
Last week in Manteca, California, Sahib Singh was the victim of an attack while taking his morning walk. The 71-year-old Punjabi immigrant was assaulted causing him to hit the cement street and his turban to be violently ripped off. This sad act of cruelty is just the latest example of violence, bullying and abuse against Sikh Americans. Recently in Turlock, California, Surjit Singh Malhi was also brutally assaulted while putting up campaign yard signs in his local community.

Dr. Rajwant Singh, co-founder of National Sikh Campaign (NSC) stated, "We are disturbed and appalled by the recent attacks on Sikh Americans. The fact that Sahib Singh was assaulted and had his turban ripped off his head should be a peaceful call to action for our community and the many supporters of our campaign -- Sikhs and non-Sikhs alike -- to take a more active role in combating hate . This situation serves as a painful reminder that there is still much work to be done in bringing Americans of all faiths, colors, and communities together."

"Our nation is going through an incredible time of polarization and hateful rhetoric has been increasingly inserted into public discourse. The Sikh community can be an easy target for people who are either enraged or misguided. We hope that civic sense prevails in this nation and we continue to make this nation stronger and more harmonious."

Gurwin Singh Ahuja, Executive Director of NSC, said, "We wear our turbans to stand up against inequality, injustice and the poor treatment of the oppressed. We launched National Sikh Campaign & We Are Sikhs last year so that more Americans could hear about their Sikhs neighbors, what we stand for and the contributions we make to our communities.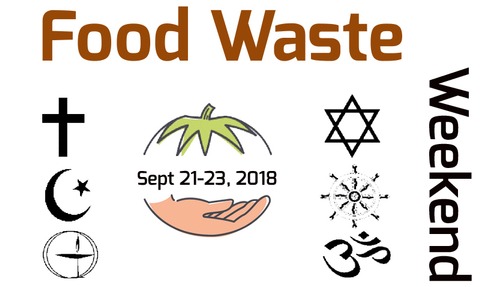 "Thou Shall Not Toss Food" - Faith Leaders Unite Together in the Fight Against Hunger and Food Waste



Americans waste an unfathomable amount of the food. Pope Francis once said, "Throwing away food is like stealing from the table of the poor and the hungry." Little changes can make a big difference, such as the non-profit organization AmpleHarvest.org encouraging home gardeners to donate their backyard bounties to food pantries.

Since 70 percent of food pantries are located in houses of worship, AmpleHarvest.org launched the religious education campaign, Food Waste Weekend. From Sept. 21-23, 2018, Christian, Jewish, Muslim and other religious clergy will deliver sermons on the moral responsibility to avoid food waste and alternative options for combating hunger in their local communities. Note that if that weekend conflicts with already planned programming, the sermons can be given on another weekend – the resources remain online all year.

AmpleHarvest.org worked alongside many religious leaders to develop Food Waste Weekend materials. Click here for the Christian sermon (clergy may modify the materials).
Reverend Jacob Bolton of New York said, "Food Waste Weekend addresses the complex, global issue of food waste and overconsumption, with tangible, local, and 'spiritually cultivating' practices that any faith community can undertake." Rabbi Joshua Ratner from Connecticut echoed his sentiments, "I think this is a fantastic opportunity for people of all faiths to actualize the biblical injunction to share the gleanings of our fields with those in need."
Order your "ACT to End Racism" T-shirts Today!


Didn't get a t-shirt at the April 4 rally? This one is made from the best quality shirt we could find. It feels soft and lightweight, with the right amount of stretch. It's comfortable and flattering for both men and women.

• 100% combed and ring-spun cotton (heather colors contain polyester)
• Fabric weight: 4.2 oz (142 g/m2)
• Shoulder-to-shoulder taping
• Side-seamed
Ecumenical Opportunities:
Poligon is looking to hire a legislative fellow!

This DC-based position will work on legislative issues related to economic justice, anti-Muslim bigotry, and civil and human rights. Apply ASAP but no later than 8/24.
The Refugee Council USA is searching for a Media Associate:
The successful candidate will serve as RCUSA's media liaison, working closely with RCUSA leadership and our membership communications and advocacy teams to develop, clear, concise and effective outreach to the media. The Media Associate will maintain and build strong relationships with both traditional and new media outlets, will assist in the writing and production of relevant educational material, and will assume primary responsibility for developing an effective social media strategy.
The Episcopal Church is hiring a new Public Affairs Officer:

the Public Affairs Officer is responsible for maintaining and strengthening media relationships outside the Episcopal Church, and for working with the Communications staff and church leadership to develop quality communications within the Episcopal Church. After the Presiding Bishop, the Public Affairs Officer will often be expected to be the spokesperson for the Episcopal Church.
The Center for American Progress has an immediate opening for Director of the Faith and Progressive Policy Initiative.

The Director will work to create, coordinate, and manage alliances, partnerships, and campaigns with religious leaders, faith-based organizations, and progressive advocates on policy issues related to Faith team initiatives and CAP priority issues.
NEW BOOK: United Against Racism
Authentic Christianity requires the loving inclusion of all God's creation. An inclusive, beloved community is a community free from racism.

United Against Racism

is a call to an authentic Christianity, a religion that strives to become God's inclusive, beloved community. It summons Christians to pray, think, and act to end racism. This resource aims to support churches, communions, and those who endeavor to share the journey of the Christian faith in the pursuit of an unfinished agenda to embody a more excellent way of racial equity.
Church leaders from many backgrounds have praised

United Against Racism:





United Against Racism

is a huge gift from the church to the church. Its generative format invites every Christian and Christian community to hear the call and assume the vocation of being ambassadors of reconciliation. Without apology I encourage its wide use.

--Bishop Gregory Vaughn Palmer
Ohio West Episcopal Area, United Methodist Church



Rabbi Abraham Joshua Heschel, after marching alongside Dr. Martin Luther King Jr., wrote, 'When I marched in Selma, my feet are praying.' This resource presents a compelling chorus of diverse Christian voices that will inspire our feet to pray with people of other religions and worldviews for an end to racism in our time.



--Rev. Elizabeth A. Eaton
Presiding Bishop, Evangelical Lutheran Church in America



It is the essential role of the church to speak out against the sin of racism and mend the persisting divides it has caused in our society. This resource is a valuable tool in provoking thoughtful responses on the meaning of repentance for the sin of racism and helpful as Christians seek to live faithfully to God's call to love our neighbors and seek the common good.



--Jim Wallis
New York Times bestselling author, President and Founder, Sojourners



A heartwarming and inspiring ensemble of voices inviting the Church and our nation to re-engage America's sin of racism. The National Council of Churches spurs the conscience of every American in the quest for a more just and equal America.



--Rev. Dr. A. Roy Medley
General Secretary Emeritus
American Baptist Churches USA

Get your copy today for the discounted price of just $12! This is a limited time offer so make sure you buy your copy soon. Special discounts are also available for orders of 10 copies or more, just email ks@natcc.us. Use it for your Sunday School class, area conference pastor gatherings, youth groups, small groups - or just use it yourself.
Serving as a leading voice of witness to the living Christ in the public square since 1950,
the National Council of Churches of Christ in the USA (NCC) brings together 38 member communions
and more than 40 million Christians in a common expression of God's love and promise of unity.