Subject: NCC Weekly News: "Today, We Have Hope (part 2)"
View this email online if it doesn't display correctly
From Jim: "Today, We Have Hope"
Commencement Address, part 2 of 2
Garrett Evangelical Theological Seminary
May 11, 2018
Delivered by Jim Winkler

The central value of the church today is its ability to create community in a society in which people live increasingly isolated lives. Those who participate in churches tend to be happier, live longer, have stronger marriages, and earn more money. You've learned theology. Now, you need to learn community organizing, not only in the sense of bringing social and political change to the town or city where you live but also to the congregations you serve.

People do want to be part of a community of meaning. Better preaching and music alone won't cut it—though as one who attends church every week, I encourage you to hone your craft. You need to be more than a good preacher, or teacher; you must learn to weave the Christian story into the lives of your people. You must fiercely love your people, even when many of them are unlovable.

These days the issue facing the church isn't the numbers of people in the pews, it is the difference our churches are making in their communities and the world. You must create a counterculture in a fractured society. You must create experiences for your people to encounter the living God. You must be willing to experiment, take risks, and do new things.

And you leave Garrett at a moment when we need resistance, resilience, and persistence. In the midst of seemingly daily crises, signs of hope surround us. Earlier this year, hundreds of thousands of people all around the world participated in the second Women's March under the theme of "Look Back, March Forward."

Two months ago, following yet another horrific mass shooting, this one at Marjorie Stoneman Douglas High School in Parkland, Florida, hundreds of thousands of people were led by our young people in the "March for Our Lives" to call for an end to gun violence.

Last month, the National Council of Churches, joined by more than 50 partner organizations, held the "A.C.T. to End Racism" rally on the National Mall. 10,000 people from across the country and around the world joined us as we marked 50 years since the assassination of the Rev. Dr. Martin Luther King, Jr. and launched a movement to end racism. Our theme was "Awaken, Confront, and Transform;" we committed to do our part to eradicate the entrenched racism that grips the United States and paralyzes our ability to see every human being as equal.

We challenge ourselves and our communities to join in truth-telling that leads to actions that right the wrongs, and with God's grace, bring healing and wholeness to all peoples and unity to the nation. I hope you will join this clarion call.

As part of my work in the ecumenical church, I have been privileged to participate in numerous senior religious delegations to conflict zones around the world. When you leave Garrett, you will minister in conflict zones every day. At the community level, where conflict can be most consequential, you will minister as clergy and laity welcome immigrants and refugees, advocate for better healthcare, livable wages, rights of workers, affordable housing, civil and human rights, and racial justice.

It is essential you be part of such efforts. Please do not allow yourself to be exempt from this ministry by claiming you lack time and expertise. Do not settle for keeping your ministry within the four walls of your parishes. You will be seen as a community leader, and your presence on the front lines is required.

Next week, I will join the Poor People's Campaign launch of a season of nonviolent direct actions in over 30 state capitals. Rev. William Barber and Dr. Liz Theoharis are the principal leaders of an effort to challenge the evils of systemic racism, poverty, the war economy, ecological devastation and the nation's distorted morality. I, along with many faithful people, will join this effort because we want to put our faith into action. We will participate because we believe the people united cannot be defeated. We will participate because we cannot be silent in the face of attacks on the poor. We will participate because we don't think "very good people" were on both sides in Charlottesville. We will participate because we cannot be silent while immigrants are rounded up and deported, and desperate refugees are turned away. We will participate because we believe the rich don't need a tax cut. And I, I will participate because I believe in love, not hate.

Sisters and brothers, you leave these halls and this campus at a time when God's creation is groaning. You are reinforcements in a holy struggle for peace and justice. The moral arc of the universe may indeed bend toward justice, but it bends because we are pulling on the bow and your hands and feet and strength are needed to keep it bending. So keep on pulling, when you're fresh out of seminary. Keep on pulling, when you been preaching or teaching for ten years, twenty years, thirty years, keeping on pulling on that bow. When you're tired and feel like you can't go on, pull on that bow. When folks say, "Take it easy, pastor, you're shaking things up," keep on pulling. When you are tired and don't know if you can keep going, keep on pulling.

If the people of Jesus Christ pull together, we can bend that moral arc and justice will become more than a dream, peace will become more than a concept. Love will prevail, and God's kin-dom will come and our prayer, "Thy will be done on earth as it is in heaven" will become a reality. Keep on pulling.
Garrett Evangelical Theological Seminary Class of 2018, keep on pulling.
Jim Winkler
President and General Secretary
People of color lose far more years of life to US police violence than whites

People of color in the United States have dramatically more years stripped from their lives due to police violence than white people, according to a new study.

"This is the first study that quantifies years of life lost due to police violence in the US by age and by race," said Anthony Bui, a researcher at the University of California, Los Angeles. "We found that deaths from law enforcement are a major public health concern."

The researchers drew on data from The Counted, a 2015-2016 award-winning Guardian investigation into police killings, which concluded that Native Americans, black Americans and Hispanic Americans, in that order, were

The new research added a fresh aspect to those findings by looking at the public health metric of "years of life lost" (YLL), which essentially subtracts the age individuals had attained when they died from their life expectancy, in order to find out how many years were "lost" by their premature death.

Episcopalians reflect on staying power of 'the sermon that stole the show'

It's not Meghan Markle's stunning 16-foot veil or bouquet of forget-me-nots, the favorite flower of the groom's late mother, Princess Diana.

It's not the romantic words Prince Harry whispered to his bride as she joined him at the altar.

Days after the royal wedding, it's the address by the Most Rev. Michael Curry, presiding bishop of the Episcopal Church, people still are talking about.

It was a sermon that quoted from American civil rights icon Martin Luther King Jr. and French philosopher and Jesuit priest Pierre Teilhard de Chardin, that referenced "slaves in America's antebellum South" and the theology in the African-American spiritual "There Is a Balm in Gilead." It proclaimed the "power of love" and challenged its hearers to "think and imagine a world where love is the way."

It was a sermon that a reporter for Britain's Sky News referred to as "unconventional" in an interview afterward with Curry and Archbishop of Canterbury Justin Welby of the Church of England. (Welby responded, "There is nothing conventional about Christianity.")

Episcopal Church Presiding Bishop, ecumenical religious leaders descend on Washington, D.C., to 'reclaim Jesus'
Presiding Bishop Michael Curry and the Rev. Jim Wallis of the Christian social justice organization Sojourners will co-lead a May 24 service at National City Christian Church followed by a candlelight procession to the White House.

The events in Washington, D.C., are part of "Reclaiming Jesus: A Confession of Faith in a Time of Crisis," an ecumenical Christian elders' initiative launched in March to "reclaim Jesus" from those believed to be using Christian theology for political gain.

"We are living through perilous and polarizing times as a nation, with a dangerous crisis of moral and political leadership at the highest levels of our government and in our churches," said the 23 original signers of the statement. "We believe the soul of the nation and the integrity of faith are now at stake."

It's the church's role to change the world through the love and life of Christ. When political leadership undermines that role, "faith leaders must stand up and speak out," they said, invoking the words of the Rev. Martin Luther King Jr., "the church is the conscience of the state, not its master or servant."

The contemporary Christian religious leaders believe the United States is in a political, moral and theological crisis. They are concerned with the resurgence of white nationalism, racism and xenophobia; misogyny; attacks on immigrants, refugees and the poor; the distortion of facts and consistent lying by the nation's highest leaders; and moves toward autocratic political leadership and authoritarian rule.

So other families won't know my grief



Mary Ward, a United Methodist from Virginia, lost her son, Adam, to gun violence. She recently spoke about the experience of losing her son and finding her voice in advocacy.





United Methodist Church and Society hosted a retreat for survivors and families of gun violence. Mary Ward spoke at the beginning of the retreat and shared her story. We've printed it here in full, as prepared for delivery.



This has been a long and emotional day for all of us. The common bond that we share as we've told our stories and gotten to know one another today is the loss of a loved one through gun violence. Lives that held so much promise and we mourn each loss equally.

I've been asked to share with you my story, only because I have worked with Jeania Ree, Rebecca, Bryan, and Donna to plan this retreat. And my story is one of starting from the unbearable pain of losing my precious son, Adam, to my role in advocacy, trying to find my voice to make a difference so that other families won't have to know the grief we've known. Speaking in public has always been extremely difficult for me — not only am I uncomfortable with it but it's a true phobia. The very fact that I've done it tells me that God has his hand in all of this.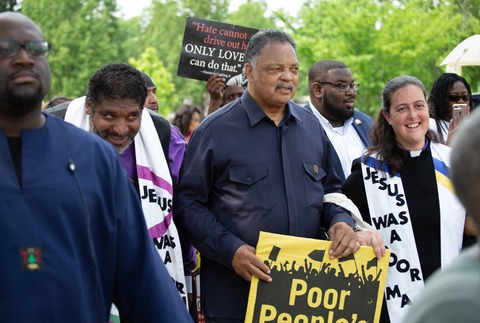 The Poor People's Campaign: Standing against Systemic Racism, Poverty and Voter Suppression



"The time has come for us to civilize ourselves by the total, direct and immediate abolition of poverty."



-Rev. Dr. Martin Luther King, Jr. "Where do we go from Here: Chaos or Community?" (1967)

My excitement has caused me to wake up before dawn on a Monday morning. After months of meetings, training sessions, phone calls, rallies, social media posts and paperwork, I soon will board a bus from Evanston to Springfield, Illinois. It is the second week of an intensive six weeks leading up to the launch of the revived, reignited Poor Peoples Campaign: A National Call for Moral Revival. Last week, the 40 Days of Nonviolent Moral Fusion Direct Action began with a rallies and demonstrations in 39 states and the District of Columbia focused on Somebody's Hurting Our People: Child Poverty, Women and People with Disabilities. National campaign co-chairs the Revs. William J. Barber II and Liz Theoharis were among hundreds arrested nationwide in the most expansive wave of nonviolent civil disobedience in U.S. history, kicking off six weeks of direct action demanding new programs to fight systemic poverty and racism, immediate attention to ecological devastation and measures to curb militarism and the war economy.
The National Council of Churches is a proud sponsor of the Wild Goose Festival
The NCC Podcast Returns!
The award-winning National Council of Churches Podcast took a long break over the winter. Why, you ask? What's our excuse? Well, we had a very large event to plan for! Now that we're back, be sure to set your favorite podcasting app to download new episodes of our interview-based podcast to hear the top faith leaders of our time.
This week: Brian McLaren, author and speaker, talks with us about the Wild Goose Festival, a home for spirituality, justice, and art that takes place each summer.

Join us as we talk about this important, growing festival, how it began, and where it's going.

Look for us at the iTunes store, iHeart Radio, Stitcher, and the Google Play store. A new episode will be released each Friday.
NEW BOOK: United Against Racism
Authentic Christianity requires the loving inclusion of all God's creation. An inclusive, beloved community is a community free from racism.

United Against Racism

is a call to an authentic Christianity, a religion that strives to become God's inclusive, beloved community. It summons Christians to pray, think, and act to end racism. This resource aims to support churches, communions, and those who endeavor to share the journey of the Christian faith in the pursuit of an unfinished agenda to embody a more excellent way of racial equity.
Church leaders from many backgrounds have praised

United Against Racism:





United Against Racism

is a huge gift from the church to the church. Its generative format invites every Christian and Christian community to hear the call and assume the vocation of being ambassadors of reconciliation. Without apology I encourage its wide use.

--Bishop Gregory Vaughn Palmer
Ohio West Episcopal Area, United Methodist Church



Rabbi Abraham Joshua Heschel, after marching alongside Dr. Martin Luther King Jr., wrote, 'When I marched in Selma, my feet are praying.' This resource presents a compelling chorus of diverse Christian voices that will inspire our feet to pray with people of other religions and worldviews for an end to racism in our time.



--Rev. Elizabeth A. Eaton
Presiding Bishop, Evangelical Lutheran Church in America



It is the essential role of the church to speak out against the sin of racism and mend the persisting divides it has caused in our society. This resource is a valuable tool in provoking thoughtful responses on the meaning of repentance for the sin of racism and helpful as Christians seek to live faithfully to God's call to love our neighbors and seek the common good.



--Jim Wallis
New York Times bestselling author, President and Founder, Sojourners



A heartwarming and inspiring ensemble of voices inviting the Church and our nation to re-engage America's sin of racism. The National Council of Churches spurs the conscience of every American in the quest for a more just and equal America.



--Rev. Dr. A. Roy Medley
General Secretary Emeritus
American Baptist Churches USA

Get your copy today for the discounted price of just $12! This is a limited time offer so make sure you buy your copy soon. Special discounts are also available for orders of 10 copies or more, just email ks@natcc.us. Use it for your Sunday School class, area conference pastor gatherings, youth groups, small groups - or just use it yourself.
Serving as a leading voice of witness to the living Christ in the public square since 1950,
the National Council of Churches of Christ in the USA (NCC) brings together 38 member communions
and more than 40 million Christians in a common expression of God's love and promise of unity.