Subject: NCC Weekly News: Thursdays in Black
View this email online if it doesn't display correctly
From
Jim: Thursdays in Black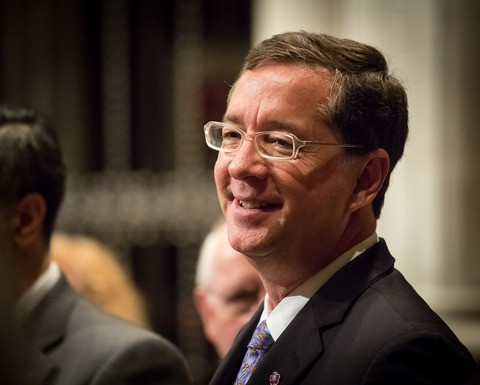 Recently I attended the Churchwide Assembly of the Evangelical Lutheran Church in America. Dr. Agnes Aboum, who serves as the Moderator of the World Council of Churches, was one of the featured speakers. Dr. Aboum highlighted the Thursdays in Black campaign, which encourages all of us to speak out against violence and to do all we can to ensure that everyone is safe from rape and violence in their homes, schools, and workplaces. One means of participating in the campaign is by wearing black on Thursdays: by doing so, we take a public stand and gain the opportunity to explain why we are involved.



Thursdays in Black

grew out of the World Council of Churches Decade of Churches in Solidarity with Women (1988-1998), in which the stories of rape as a weapon of war, gender injustice, abuse, violence, and many tragedies that grow outward from such violence, became all the more visible.

The campaign was inspired by the "Mothers of the Disappeared" in Argentina, who on Thursdays protested against the disappearance of their children during the years when a violent dictatorship gripped the country, as well as by the Women in Black in Israel and Palestine, who continue to protest war and violence.

I have known a number of women who have personally experienced violence at the hands of men. I confess when I was younger I was shocked at, and even somewhat skeptical about, the reports of high rates of sexual violence. I was naïve. Over the years, I became aware of this rampant problem by hearing the testimonies of friends and loved ones. This violence is commonplace.

The National Sexual Violence Resource Center reports that one in five women -- and one in 71 men -- will be raped at some point in their lives. In the U.S., one in three women and one in six men experience some form of contact sexual violence in their lifetime.

The truth is, though, that most violence -- of all kinds -- is perpetrated by men, particularly young men. A lot of attention has been given in recent years to "

toxic

masculinity:" not "masculinity," but "

toxic

" masculinity. This has been defined by psychiatrist Terry Kupers as "the constellation of socially regressive male traits that serve to foster domination, the devaluation of women, homophobia, and wanton violence."

The church has an important role in addressing this spiritual crisis and in developing a more positive vision of masculinity. If the church is silent, we contribute to and are complicit in the violence that surrounds us.

Richard Mollica, director of Harvard's Program in Refugee Trauma, has written, "Young males are really the most dangerous people on the planet because they easily respond to authority and want approval. They are given the rewards for getting into the hierarchical system, and they're given to believe they're building heaven on earth. In most atrocities, there's a big utopian dream—a cleaner society, or purer society. Young people are very idealistic, and the powers prey on the young people by appealing to their more idealistic nature. People who commit murder find it very easy to rationalize it and to come to terms with it when it's being condoned by the state."

The demons of xenophobia, hatred, sexism, violence, and war must be confronted. We must proclaim freedom for the captives and liberation of the oppressed. We cannot any longer perpetuate the myth that it is OK to silence and belittle women and commit violence against them. Thursdays in Black is a movement to rebuild lives and relationships. Let us all be a part of it.
Jim Winkler
President and General Secretary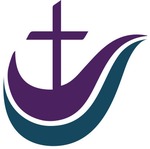 NCC Deeply Concerned for Two Baptist Clergy in Myanmar

The National Council of Churches joins with the American Baptist Churches USA, one of its member communions, in expressing deep concern for the safety of two Baptist pastors from Myanmar, the Rev. Dr. Hkalam Samson, former General Secretary and currently President of the Kachin Baptist Convention, and Pastor Lanjaw Gam Seng.

Both of these clergy, our brothers in Christ, attended the recent Ministerial to Advance Religious Freedom hosted by the U.S. State Department. Rev. Samson now faces legal action brought against him by Lt. Col. Than Htike of the Northern Command. We decry this move meant to intimidate and silence dissent by people of faith across Myanmar. While charges have not been brought against Pastor Seng at this time, there are also concerns about his safety since he attended the meeting with Rev. Samson at the State Department.

We recognize the right to speak against violence as a matter of basic morality and Christian faith. The action taken against Rev. Samson is deeply concerning, and we stand with the American Baptist Churches USA, the Kachin Baptist Convention, and all who strive to live out a faith that seeks justice for all, especially for the most vulnerable.

We urge the government of Myanmar to drop the charges against Rev. Samson and restore these pastors to their rightful place in a democratic society. It is the duty of people of faith to speak out against injustice and to seek the good of all people.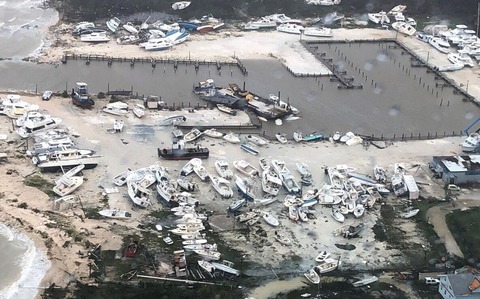 UMCOR starts efforts for Bahamas relief

As Hurricane Dorian continued to threaten the U.S. east coast, United Methodists were connecting with Methodists in the Bahamas to start relief efforts.

The Bahamas Conference of the Methodist Church already is fielding requests to help those being evacuated from the "unprecedented devastation" to receive basic supplies and find a place to live, says its president, the Rev. L. Carla Culmer.

But the survivors also need someone to hear their stories. "We want to see how we can counsel and listen and be there for them," she told UM News in a Sept. 5 phone interview.

After striking the island nation on Sept. 1, Hurricane Dorian caused "vast devastation" and left 70,000 people in need of immediate humanitarian relief, says Mark Lowcock, head of the U.N. Office for the Coordination of Humanitarian Affairs.

Bahamas Prime Minister Hubert Minnis called Dorian the most damaging storm ever to hit the island group, Reuters reported. Worst hit was the Abaco Islands in the northern Bahamas and Grand Bahama Island. As of Sept. 5, the death toll was 20.
ANNOUNCING: Ibram Kendi speaking at 2019 Christian Unity Gathering

Ibram X. Kendi is one of America's foremost historians and leading antiracist voices. He is a New York Times bestselling author and the Founding Director of The Antiracist Research & Policy Center at American University in Washington, DC. A professor of history and international relations, Kendi is an ideas columnist at The Atlantic. He is the author of THE BLACK CAMPUS MOVEMENT, which won the W.E.B. Du Bois Book Prize, and STAMPED FROM THE BEGINNING: THE DEFINITIVE HISTORY OF RACIST IDEAS IN AMERICA, which won the National Book Award for Nonfiction. At 34 years old, Kendi was the youngest ever winner of the NBA for Nonfiction.

His third book, HOW TO BE AN ANTIRACIST, was published on August 13, 2019 by One World, an imprint of Random House.

We will have a limited number of copies available, free to persons registered for CUG, to be signed by the author.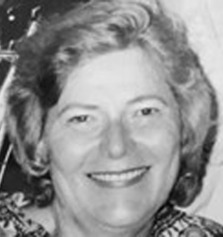 Presbyterian trailblazer Pat McClurg dies at age 80



She was the National Council of Churches' first clergywoman president



Pioneering Presbyterian the Rev. Patricia McClurg, who once shared candy bars with actress Whoopi Goldberg and shared a stage with the Rev. Jesse Jackson, Sen. Ted Kennedy and Coretta Scott King, died Aug. 25 at age 80.

Her memorial service will be held at 11 a.m. Sept. 21 at Montreat Presbyterian Church in Montreat, N.C.

According to her obituary, Patricia Ann McClurg was simultaneously a down-to-earth Texas woman and a trailblazer. She was the only woman on a committee of 10 that wrote "A Declaration of Faith" during the mid-1970s, a document that continues to speak to worship and faith in the Presbyterian Church (U.S.A.). In 1988-89, she became the first clergywoman to be elected president of the National Council of Churches.

She wrote that she experienced a "watershed moment" in her life as a teenager, when her then all-white church shared worship one Sunday with an African American congregation and a Native American congregation. During the service, members of the Ku Klux Klan threw bricks through a church window. According to her obituary, she experienced "a deep awakening" at this moment. "From that day and throughout her adult life, Pat clearly put significant effort into striving to make things different," the obituary stated.

Celebrating the Life and Work of Toni Morrison (1931-2019)

The death of the great writer, essayist, and extraordinary human being, Toni Morrison, is a significant loss to the entire world. She understood and effectively communicated the complexities of the African-American experience in a nuanced and respectful way.

We are thankful for the influence that the AME Church had on her growth and development through her childhood. The Bishops and servant leaders of the AME Church are asking our members to pray for Toni Morrison's sons and family. We encourage you to take a moment of meditative silence for her life and memory and to read at least one of her books.

Throughout our history, the best African-American writers were our cultural protectors and spiritual voice. From Phyllis Wheatley to Lorraine Hansberry to Maya Angelou to Toni Morrison, our writers have encouraged, equipped, and empowered us to walk by faith and not by sight. They have reminded us that we have come this far by faith!
MONDAY, SEPTEMBER 9 AT 9:30am ET:
Regional Webinar on Racism, Xenophobia and Discrimination in North America

The thematic focus of the World Council of Churches (WCC) Pilgrimage of Justice and Peace (PJP) in 2019 is Racism.The WCC Commission of the Churches on International Affairs (CCIA), organizes a series of eight WCC CCIA regional expert Webinars on the issue of racism and racial justice from August to December 2019. The aim of the webinars is to explore how racism manifests itself in the respective regions, learn about the work that churches and ecumenical partners are doing in this respect, identify synergies and avenues for possible collaboration.

Moderators:



Prof. Evelyn L. Parker,

CCIA Member and Professor of Practical Theology at Perkins School of Theology


Rev. Michael Blair,

Executive Minister on Church in Mission at the United Church of Canada


Speakers:



Rev. Aundreia Alexander,

National Council of Churches of Christ in the USA


Ms. Dominique Day,

UN Working Group of Experts on People of African Descent


Archbishop Mark MacDonald,

WCC President for North America


Ms. Carmen Ramirez,

Canadian Council of Churches


Rev. Jonathan Schmidt,

Canadian Council of Churches


Rev. Dr. Angelique Walker-Smith,

WCC Central Committee


Rev. Seth Wispelwey,

United Church of Christ
Despite setbacks, The Episcopal Church and Alaska Natives step up fight against drilling in Arctic refuge
For Bernadette Demientieff, rediscovering her identity as a Gwich'in – one of the indigenous peoples of the Arctic – meant reconnecting with the land. Specifically, a mountain called Duchanlee near Arctic Village, Alaska, in the Arctic National Wildlife Refuge, a place that holds deep significance to her people.

"When I went there, I don't know what came over me," she told Episcopal News Service. "I just started crying."

"I lost my identity after high school," she said. "I kind of went down the wrong path."

But on that mountain, something changed.

"And right there, I asked Creator for forgiveness, for being disconnected so long, but that I'm here now to share my responsibility as a Gwich'in," she said.

For Demientieff, that responsibility includes protecting the lands and animals that have sustained her people for thousands of years. Now 43, she is a central figure in the coalition of Gwich'in, Episcopalians and conservationists that has fought to prevent industrial development from disrupting the ecology of the refuge's most sensitive area. She is the executive director of the Gwich'in Steering Committee, which calls itself "the unified voice of the Gwich'in Nation speaking out to protect the Coastal Plain of the Arctic National Wildlife Refuge" from the oil industry. She is also a member of The Episcopal Church's Task Force on Care of Creation and Environmental Racism and has spoken to the House of Bishops and the General Convention about the importance of protecting the refuge.

Church leaders: Amazon's fire must be addressed as an international crisis

Fires in the Amazon region must be addressed as a national and international crisis, states general secretary of the World Council of Churches Rev. Dr Olav Fykse Tveit.

"It is a profound ecological, political and moral catastrophe if humanity cannot take care of these enormous assets for our common life on this planet", said Tveit on 27 August.

"It is a matter of our accountability to God, our Creator, and therefore also a spiritual issue", he said. Tveit pointed out that situation in the Amazon rainforest is a concern of many churches and will be the topic of a Vatican synod in October.

Brazil's Amazon rainforest has seen a record number of fires this year. The National Institute for Space Research said its satellite data showed an 84% increase during the same period in 2018.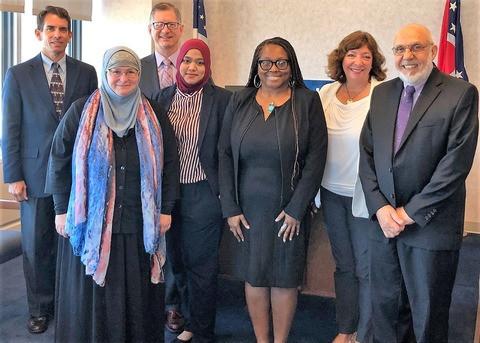 UCC, Muslim leaders urge limits on presidential travel bans



United Church of Christ and Muslim leaders have urged a key U.S. senator to support a bill that would lift a ban on travel to the United States and limit presidential authority to order such bans.

They asked Ohio Sen. Rob Portman – on a visit to his Cleveland office Thursday, Aug. 29 – to become a co-sponsor of the No Ban Act (S. 1123). It would overturn President Donald Trump's current order that keeps Muslims from several countries from entering the U.S.

Portman was among members of Congress who questioned the wisdom of Trump's 2017 executive order banning travel from seven Muslim-majority countries. Federal courts struck down that order, but the Supreme Court upheld a subsequent version of the ban, which remains in effect.

The request came in a meeting with Caryn Candisky, Portman's district director for Northeast Ohio. Representing the UCC were the Rev. John Dorhauer, General Minister and President, the Rev. Karen Georgia Thompson, Associate General Minister, and Global Ministries team leader Peter Makari, Executive for the Middle East and Europe.
Serving as a leading voice of witness to the living Christ in the public square since 1950,
the National Council of Churches of Christ in the USA (NCC) brings together 38 member communions
and more than 40 million Christians in a common expression of God's love and promise of unity.