Subject: Dr. Ibram X Kendi at the Christian Unity Gathering 2019
ANNOUNCING: Ibram Kendi speaking at 2019 Christian Unity Gathering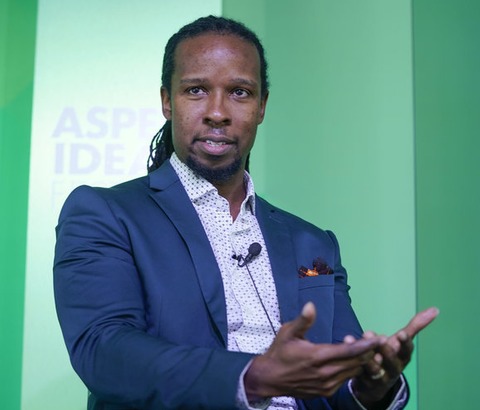 Author and speaker Ibram X. Kendi, American University



Ibram X. Kendi is one of America's foremost historians and leading antiracist voices. He is a New York Times bestselling author and the Founding Director of The Antiracist Research & Policy Center at American University in Washington, DC. A professor of history and international relations, Kendi is an ideas columnist at The Atlantic. He is the author of THE BLACK CAMPUS MOVEMENT, which won the W.E.B. Du Bois Book Prize, and STAMPED FROM THE BEGINNING: THE DEFINITIVE HISTORY OF RACIST IDEAS IN AMERICA, which won the National Book Award for Nonfiction. At 34 years old, Kendi was the youngest ever winner of the NBA for Nonfiction. He grew up dreaming about playing in the NBA (National Basketball Association), and ironically he ended up joining the other NBA.

Kendi has published fourteen academic essays in books and academic journals, including The Journal of African American History, Journal of Social History, Journal of Black Studies, Journal of African American Studies, and The Sixties: A Journal of History, Politics and Culture. He has published op-eds in numerous periodicals, including The New York Times, The The Guardian, Washington Post, London Review, Time, Salon, Diverse: Issues in Higher Education, Paris Review, Black Perspectives, and The Chronicle of Higher Education. He commented on a series of international, national, and local media outlets, such as CNN, MSNBC, NPR, Al Jazeerah, PBS, BBC, Democracy Now, and Sirius XM. A sought after public speaker, Kendi has delivered hundreds of addresses over years at colleges and universities, bookstores, festivals, conferences, libraries, churches, and other institutions in the United States and abroad.

His third book, HOW TO BE AN ANTIRACIST, was published on August 13, 2019 by One World, an imprint of Random House.
Rev. Dr Olav Fykse Tveit, World Council of Churches general secretary

One of today's greatest Christian leaders, The Rev. Dr Olav Fykse Tveit was elected general secretary of the World Council of Churches (WCC) in August 2009, and was re-elected to a second term in July 2014. At the time of his nomination, Tveit was the general secretary of the Church of Norway Council on Ecumenical and International Relations (2002-09).

In his home country, he served as a member of the board of directors and executive committee of the Christian Council of Norway, moderator of the Church of Norway – Islamic Council of Norway contact group and the same for the Jewish Congregation contact group. He also was a member of the Inter-Faith Council of Norway and a member of the board of trustees of Norwegian Church Aid.

Dr Agnes Abuom, Moderator of the WCC Central Committee
Dr Agnes Abuom, from the Anglican Church of Kenya, was elected unanimously by the WCC 10th Assembly on 8 November 2013 to serve as moderator of the WCC Central Committee. She is the first woman and the first African in the position in the history of the World Council of Churches.

Abuom has served on the WCC Executive Committee, representing the Anglican Church of Kenya. She is also a development consultant serving both Kenyan and international organizations coordinating social action programmes for religious and civil society across Africa.

Abuom was the Africa president for the WCC from 1999 to 2006. She has been associated with the All Africa Conference of Churches, National Council of Churches of Kenya and WCC member churches in Africa, as well as Religions for Peace.

Abuom's areas of work include economic justice, peace and reconciliation.
Archbishop Mark L. MacDonald
The Most Rev. Mark MacDonald became the Anglican Church of Canada's first National Indigenous Anglican Archbishop in 2007, after serving as bishop of the U.S. Episcopal Diocese of Alaska for 10 years.

Archbishop MacDonald was born on Jan. 15, 1954, the son of Blake and Sue Nell MacDonald. He holds a B.A. in religious studies and psychology from the College of St. Scholastica in Duluth, Minn., an M.A. in divinity from Wycliffe College, and did post-graduate work at Luther-Northwestern Theological Seminary in Minneapolis.

He has had a long and varied ministry, holding positions in Mississauga, Ont., Duluth, Minn., Tomah, Wis., Mauston, Wis., Portland, Ore., and the southeast regional mission of the Diocese of Navajoland. Immediately prior to his ordination to the episcopate, Archbishop MacDonald was canon missioner for training in the Diocese of Minnesota and vicar of St. Antipas' Church, Redby, Minn., and St. John-in-the-Wilderness Church, Red Lake, Red Lake Nation, Minn.

He is the board chair for Church Innovations, Inc., and a third order Franciscan.
Register today for the Christian Unity Gathering
This year the National Council of Churches will be marking 400 years since the arrival of the first enslaved Africans in America. At the

Christian Unity Gathering

we will join together in a public witness at Point Comfort, Virginia, where it is recorded that the suffering of millions began in a legacy that lives on today through systemic racism that ravages our churches, communities, and lives.
Ending Racism: Confronting Our Past, Revisiting Our Present and Naming God's Preferred Future
The

Christian Unity Gathering

is the signature, annual event of the National Council of Churches. All members of NCC governance structures, convening tables, and all ecumenical officers and regional, state, and local ecumenical executives are urged to attend.
Hotel: Holiday Inn Newport News-City Center
Nestled in a wooded area off I-64 and overlooking a parking lot, this beautiful hotel is 10 miles from Newport News/Williamsburg International Airport.

The modern rooms and suites feature free Wi-Fi, flat-screen TVs and minifridges. Suites add living rooms and walk-in showers.

Booking is now available! When you book, identify yourself with "
National Council of Churches Christian Unity."
Use the code: NCC to book your room today.
About the National Council of Churches:
Serving as a leading voice of witness to the living Christ in the public square since 1950, the National Council of the Churches of Christ in the USA (NCC) brings together 38 member communions and more than 35 million Christians in a common expression of God's love and promise of unity.
The Christian Unity Gathering is the signature annual event of the National Council of Churches. Join us!