Subject: NCC Weekly News: Summer Assemblies, Supreme Court
View this email online if it doesn't display correctly
From Jim: Don't miss the boat
Summer is the time for church conferences, conventions, and assemblies both at the regional and the national levels. NCC staff have attended those of the Presbyterian Church (USA), the Christian Methodist Episcopal Church, the Mar Thoma Church, and the Episcopal Church.

All such gatherings have an 'old home week' feel as friendships are renewed and experiences are shared. Always, there's wonderful preaching and music. Sometimes there is tension over one matter or another, but generally, a good feeling prevails.

Even as there's much wailing and gnashing of teeth over membership loss, when you attend most church gatherings, you realize people are faithful and committed, and they're just not interested in gloom and doom. Who wants to be part of a church that focuses on negative things anyway?

Most of the member churches within the National Council of Churches are quite diverse theologically and politically. In the midst of a nation that is increasingly polarized and tribalized, believers in our denominations go to church each Sunday in congregations where Republicans and Democrats worship side by side. In fact, this may be one of the principal venues where people gather intentionally with one another despite political differences. However, the media, even the

religious

media, finds this uninteresting.

At a time when it is desperately necessary to re-knit society, help neighbors come to know one another, and teach the value and importance of good conversation and manners, our churches do this as a matter of course. Granted, we have contributed our share to the current fragmentation of society, and we have been complicit in every injustice known to humankind, but we are determined to remain together, to be faithful to God, and to build a just society and a beloved community.

We recognize and value the importance of ecumenical and interreligious relationships. Each of the national gatherings I mentioned earlier has featured those relationships, for example. We appreciate the necessity of crossing boundaries, breaking bread together, and discussing commonalities and differences.

Elections are not the way out of our current predicament. Instead, we have to intentionally go to places full of the pain of brokenness, including the Mexico-US border, Palestine and Israel, Charleston and Ferguson. We make our witness in lands such as these because they exemplify both our failure to love and our commitment to moving in a positive direction.

I have found the ecumenical and interreligious world to be more vibrant and more interesting than remaining in one church. There was a day when ecumenical and interreligious forums were considered exotic, the province of those who were, perhaps, just a little unusual. In 2018, this is the real world. If you aren't engaged in ecumenical and interreligious relationships, you've missed the boat.

It is through these dialogues and relationships that we express our commitment to love, decency, justice, and civility. They are where we reject crassness, hatred, bigotry, racism, greed, and anger.

Bishop Curry repeatedly refers to the Episcopal Church not as the Jesus Movement, but as the Episcopal branch of the Jesus Movement. This qualification is appropriate, humble, and just. May we all follow his example.

Jim Winkler
President and General Secretary
79th General Convention of The Episcopal Church - Opening remarks by Presiding Bishop Michael Curry



Presiding Bishop Curry made these remarks at the opening session of the 79th General Convention on July 4:



Thank you, thank you. God love ya, thank you!

It sounds like the rumble of kneelers in church.

Thank you, Canon Barlowe, and thank you for being here, for your willingness to serve in this way. To serve the cause of our Lord Jesus Christ as the Episcopal Church. Better yet, as the Episcopal branch of the Jesus Movement.

It is a real privilege and a real blessing to be able to serve as your Presiding Bishop. It is a privilege and blessing to serve with fellow servants of Jesus who are just remarkable people. President Gay Clark Jennings, president of our House of Deputies. Canon Michael Barlowe, I always refer to him as Mr. Secretary. And it is a privilege to serve with them. And I've said in several Provincial Meetings that I spend so much time with them I feel like John Boy on the Waltons. You know how they used to go to bed at night and say, "Goodnight Ma, goodnight Pa, goodnight John Boy," and I just at night say, "Goodnight Michael, goodnight Gay." It is a blessing and a privilege to serve with them and the incredible staff of the Episcopal Church and I do not say that as simple rhetoric. We have incredible people who are the staff of the Episcopal Church. They are absolute – and look, a dove is flying up already to prove it. And so, it's good to be – I hope you all are glad to be here!

Allow me just to share some thoughts as we begin, and this is not a sermon – it's a little early for y'all to start this – but I did happen to find a text – it comes from First Corinthians, Chapter 2. The Apostle Paul wrote, and I quote,



When I came to you, brothers and sisters, I did not come proclaiming the mystery of God to you in lofty words or wisdom. For I decided to know nothing among you except Jesus Christ, and him crucified.



Baptist Joint Committee head 'disappointed' by Supreme Court decision upholding White House travel ban

The head of a Baptist religious liberty watchdog agency voiced disappointment with Tuesday's Supreme Court decision upholding President Donald Trump's so-called Muslim ban.

"We are deeply disappointed by the Supreme Court's refusal to repudiate policy rooted in animus against Muslims," Amanda Tyler, executive director of the Baptist Joint Committee for Religious Liberty, said in response to the 5-4 decision upholding a temporary ban on refugees and immigrants from eight foreign states, six of them with populations that are predominantly Muslim.

Writing for the majority, Chief Justice John Roberts said Trump acted "squarely within the scope of presidential authority" when he issued a proclamation restricting the entry of aliens deemed "detrimental to the interests of the United States."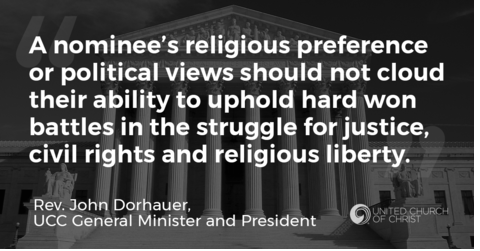 UCC leaders question Kavanaugh nomination to U.S. Supreme Court

Leaders of the United Church of Christ are expressing concern about the nomination of federal judge Brett Kavanaugh to the United States Supreme Court. UCC officers believe Kavanaugh, a conservative U.S. District Court judge in Washington D.C., who came up through the Bush administration, could shift Court rulings to the right.

"The slow, painful, and incredibly important work over decades to advance a woman's right to control her reproductive options is now likely under threat," said the Rev. John Dorhauer, General Minister and President. "The United Church of Christ will do all it can to protect that, committed to making sure that the advancements made recently in LGBT justice and worker rights, as well as matters related to climate justice, are not threatened by a new justice to the Supreme Court."

Kavanaugh, 53, tapped to succeed retiring Justice Anthony Kennedy, currently serves the U.S. Court of Appeals, and worked in the George W. Bush White House before becoming a federal judge, serving on the bench for 12 years. He served as a clerk to Kennedy in the early 1990s alongside Justice Neil Gorsuch, whom Trump nominated for the Supreme Court last year.

"The newest Justice will consider issues of law that will shape the rights of all Americans, including the right to religious liberty, which protects the religious beliefs of every citizen and the right to privacy, which protects a woman's right to her reproductive choices," Dorhauer continued. "When extreme right wing ideologues like members of the Federalist Society provide a short list of candidates to a sitting President, then those of us who are committed to bending the arc of history toward justice have cause to shiver and feel real fear. We urge the Senate to carefully examine the nominee's commitment to the constitutional rights established over decades in this country. A candidate's religious preference or political views should not cloud their ability to uphold hard won battles in the struggle for justice, civil rights, and religious liberty."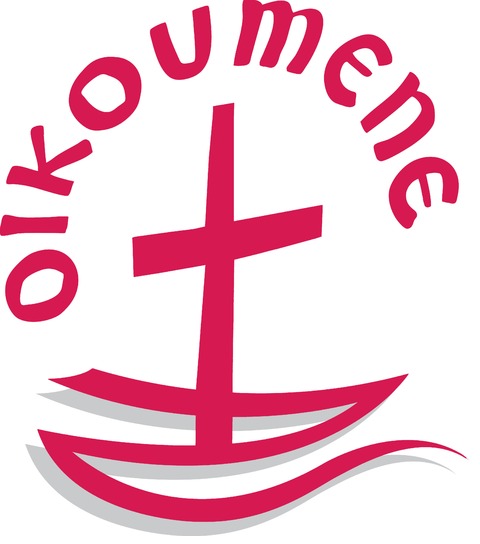 WCC invites participation in World Week of Peace in Palestine and Israel

In a 9 July letter, World Council of Churches (WCC) general secretary Rev. Dr Olav Fykse Tveit invited the WCC global fellowship and all people of good will to participate in the World Week of Peace in Palestine and Israel on 16-23 September.

This year's theme is "Youth and Children: Raising Hope and Making Change".

Held the third week of September each year, the World Week of Peace unites Christian witnesses in peaceful actions around the world to promote a just peace in Palestine and Israel.

"We remind world leaders, as well as the public, about a sad, unsolved – and in some ways forgotten – situation, which benefits neither Israelis nor Palestinians," wrote Tveit. "Youth and children are the ones who suffer the most in conflicts and under occupation."

Young people also hold the future of Palestine and Israel in their hands, reflected Tveit. "Today, too many children in Palestinian territories grow up in fear, poverty and hopelessness, caused by more than 50 years of occupation," he wrote. "Too many youngsters lack access to proper education and can't find decent work."


Statement on Family Separation at the Border


Recently, the U.S. Administration announced that it will begin separating families and criminally prosecuting all people who enter the U.S. without previous authorization. This policy was also argued as biblical by leaders of our nation. As religious leaders representing diverse faith perspectives, united in our concern for the well-being of vulnerable migrants who cross our borders fleeing from danger and threats to their lives, we are deeply disappointed and pained to hear this news.

We affirm the family as a foundational societal structure to support human community and understand the household as an estate blessed by God. The security of the family provides critical mental, physical and emotional support to the development and wellbeing of children.
Leaving their communities is often the only option they have to provide safety for their children
and protect them from harm. Tearing children away from parents who have made a dangerous
journey to provide a safe and sufficient life for them is unnecessarily cruel and detrimental to the
well-being of parents and children. Whatever changes may be made to immigration and refugee
laws, family separation is not acceptable morally or theologically.
Carolyn Winfrey Gillette

is a mother, grandmother, former foster mother, pastor and hymn writer. She has seen children screaming as they have been taken from the arms of those they love. Carolyn also served as a hosting pastor for an immigrant group for five years in her church. Her 300+ hymns are all posted online at www.carolynshymns.com.
WSCF Denounces the Separation of Children from their Parents at US-Mexico border

The World Student Christian Federation (WSCF) raises its collective voice to denounce and condemn the actions of the United States government in separating thousands of children from their parents at the US-Mexico border.\

Due to some of the highest levels of internal violence, a decay of civil society and increasing pressure on communities due to criminal violence related to the drug trade throughout Central America thousands of families are migrating north due to a fear for their life. Many of the individuals fleeing violence are in search of asylum in the United States and an opportunity for peace and security.

Since the Trump Administration announced its zero-tolerance policy at the border Immigration and Customs Enforcement (ICE) Agents began a policy of separating children from their parents who seek asylum in the United States. The parents are then processed through expedited court proceedings and are being deported. The actions of ICE are a violation of human right against children who have not only been separated from their parents but have been placed in conditions that are inhumane. Despite the reversal of the policy due to political pressure the Trump Administration continues to demonize immigrants and stoke fear of the other. Moreover, the policy reversal has not provided a clear plan for reuniting families or dealing with issues that have led to the mass migration.

NEW BOOK: United Against Racism
Authentic Christianity requires the loving inclusion of all God's creation. An inclusive, beloved community is a community free from racism.

United Against Racism

is a call to an authentic Christianity, a religion that strives to become God's inclusive, beloved community. It summons Christians to pray, think, and act to end racism. This resource aims to support churches, communions, and those who endeavor to share the journey of the Christian faith in the pursuit of an unfinished agenda to embody a more excellent way of racial equity.
Church leaders from many backgrounds have praised

United Against Racism:





United Against Racism

is a huge gift from the church to the church. Its generative format invites every Christian and Christian community to hear the call and assume the vocation of being ambassadors of reconciliation. Without apology I encourage its wide use.

--Bishop Gregory Vaughn Palmer
Ohio West Episcopal Area, United Methodist Church



Rabbi Abraham Joshua Heschel, after marching alongside Dr. Martin Luther King Jr., wrote, 'When I marched in Selma, my feet are praying.' This resource presents a compelling chorus of diverse Christian voices that will inspire our feet to pray with people of other religions and worldviews for an end to racism in our time.



--Rev. Elizabeth A. Eaton
Presiding Bishop, Evangelical Lutheran Church in America



It is the essential role of the church to speak out against the sin of racism and mend the persisting divides it has caused in our society. This resource is a valuable tool in provoking thoughtful responses on the meaning of repentance for the sin of racism and helpful as Christians seek to live faithfully to God's call to love our neighbors and seek the common good.



--Jim Wallis
New York Times bestselling author, President and Founder, Sojourners



A heartwarming and inspiring ensemble of voices inviting the Church and our nation to re-engage America's sin of racism. The National Council of Churches spurs the conscience of every American in the quest for a more just and equal America.



--Rev. Dr. A. Roy Medley
General Secretary Emeritus
American Baptist Churches USA

Get your copy today for the discounted price of just $12! This is a limited time offer so make sure you buy your copy soon. Special discounts are also available for orders of 10 copies or more, just email ks@natcc.us. Use it for your Sunday School class, area conference pastor gatherings, youth groups, small groups - or just use it yourself.
Ecumenical Opportunities:

The United Church of Christ Washington DC public policy advocacy office is searching for a

Justice and Witness Fellow

to serve in a year-long fellowship with the option to renew for a second year. This is a paid fellowship and includes health benefits. If you know of any strong, young leaders with a passion about faith, public policy and a just world for all, please encourage them to apply. Applications are due August 15.
For more information, click here.

Sojourners

has several job openings. Click here for more information.



Pittsburg Theological Seminary is seeking a Director of Vocation and Placement

, responsible for offering and coordinating institutional activities that help master's level students discern, plan, and pursue vocational and placement goals. The Director works collaboratively with faculty, staff, and denominational/church partners on behalf of students.

For more information, click here.

The Unitarian Universalist Association is seeking an International Office Director who will cultivate and advance relationships with international Unitarian/Universalist, interfaith, and social justice partners on behalf of the UUA to dismantle systems of oppression and imperialism, and to support the strength and diversity of global Unitarian Universalism.



The Unitarian Universalist Association is seeking a Director of Stewardship and Development and Special Advisor to the President

who will lead all fundraising and stewardship functions of the Unitarian Universalist Association (UUA), including oversight of congregational giving, direct mail, major gifts, charitable gifts, legacy giving, and capital campaign efforts.

For more information, click here.



Christian Peacemaker Teams is searching for a new Administrative Director.

Partnering with nonviolent movements around the world, CPT seeks to embody an inclusive, ecumenical and diverse community of God's love.

For more information, click here.
Serving as a leading voice of witness to the living Christ in the public square since 1950,
the National Council of Churches of Christ in the USA (NCC) brings together 38 member communions
and more than 40 million Christians in a common expression of God's love and promise of unity.