Subject: NCC Weekly News: Our Experience at the Border
View this email online if it doesn't display correctly
From Jim and Leslie: Our Experience on the Border
Last week, I participated in the Faith Table retreat in San Diego, CA with some 40 other Christian leaders including many friends. NCC leaders present included the Rev. Dr. Jeffrey Haggray, Diane Randall, Rev. Karen Georgia Thompson, and Rev. Dr. Leslie Copeland-Tune. Rev. Jim Wallis of Sojourners organizes the retreat annually. This year we visited the US-Mexico border and were hosted by numerous activists, including several "Puentes," or bridge-builders.

The Puentes are young Hispanic evangelicals committed to Christ, social justice, and immigration reform. They led us into Tijuana where we visited Iglesia de Todas Las Naciones, a Disciples of Christ congregation led by Pastor Lupita Castillo. Rev. Castillo's church has been ministering to those who are migrating in the caravans from Central America.
We also met with Rev. Alejandra Ortiz who has been leading students and staff from Mexico and the US in learning ad exposure projects to understand more about life in the board region. Her husband, Dr. Abdiel Espinoza, gave us an excellent lecture on the history of US-Mexico relations.

I could describe other experiences and meetings we had in Tijuana, including worship at the border fence there (you cannot get close to the fence on the US side due to the heavy militarization created around it by our government), but on this my third visit to the border in Tijuana I once again experienced both hope and despair. My hope is based on the resilience and beautiful spirit of those working for justice and peace; my despair can be attributed almost wholly to the cruelty and injustice created by my own country.
I have had similar experiences at the Berlin Wall in the 1980s and the Separation Wall constructed by Israel. Those walls and the one on the border with Mexico have been erected because of failure—failure of imagination, of courage, of faith.

The president insists he is going to build a beautiful wall at the border and maybe he will. The models of the wall that he has shown us don't look attractive to me and the wall in Tijuana is downright ugly and scary and heavily militarized.

But the worship service we shared at the wall was beautiful. It gives me hope that we can find the proper tension between security and hospitality; but to get there we will have to do more for those our sisters and brothers, children of God, to find a better life.

I'm grateful that our new Chief Operations Officer, the Rev. Dr. Leslie Copeland-Tune, was able to be with us at the border. She shares her experience below:
From Leslie:

My soul was vexed as I looked at the border wall that stretched for miles before me. It seemed to just pop up as we were driving, breaking up what is a beautiful landscape. As we made our way to Playas, El Muro/The Wall for a service on the Mexican side of the border, I was surprised to see that the wall actually extends into the water – not so far that you couldn't swim past it, at least on the surface, but far enough to disrupt and dissuade anyone from daring to cross that way. It's as if the beauty of God's creation has been rudely interrupted by the vain imaginations and selfish ambition of human beings. And, everything about it is wrong.

I visited the border with a group of faith leaders who, like myself, were there to listen, encourage, offer support and bear witness to what is happening. A week later, I am still processing my experience. There was so much to absorb – stories of hope and resilience, heartbreak and disappointment, frustration and anger. Through it all, churches there are doing the important work of ministering to those who are fleeing violence and extreme poverty in search of a better life for themselves and their families.
The ministry support given by the churches we visited is amazing and almost miraculous. We talk about being the hands and feet of God in this world. They are doing the work! These churches, which by American standards have limited resources themselves, are witnessing to the power and love of God by providing shelter, food, clothing, and job leads with those seeking asylum in the U.S. They are ministering to those whose applications have been rejected and helping them find encouragement, employment and think through their next steps. They are journeying with God's people through one of the most tumultuous times in their lives. They are being the church.

As an African American hearing the stories of the "Brown Church," I couldn't help but be struck by the parallels of our journeys and struggles for freedom. I had profound sadness and palpable anger at the evil that racism and white supremacy have unleashed on Black and Brown people. It remains mind-boggling, heartbreaking and infuriating at the same time.

Yet, witnessing what the churches are doing and hearing the stories of resilience, determination, and resistance, gave me hope. The beautiful art along the Mexican side of the border wall (the American side is bare), reminded me of African Americans' depictions of racial injustice in America. The art is another sign of resistance, resilience and hope – hope for a better tomorrow. Hope for more than the reality that is before me. Hope that my children and my children's children will have a brighter future. Indeed, at the border, I saw hope embodied in the people -- and it renewed my own.

I wonder what history and heaven will record about American churches during this time period? Will we collectively be found as faithful to the Gospel message as these churches in Tijuana, Mexico? Will we be the church? Will we be disciples of Jesus, spreading the Gospel with our actions, not just empty words? I certainly pray that we will be. Right now, we have our work cut out for us.
In observance of Martin Luther King Jr. Day,
"A New Day of Justice and Brotherhood and Peace:"
and this magnificent development.
and brotherhood and peace.
And that day the morning stars
One of King's very last public prayers, recited at the end of his sermon "Remaining Awake through a Great Revolution." This sermon was preached at the National Cathedral in Washington, D.C., on March 31, 1968, five days before King was assassinated.
Week of Prayer for Christian Unity

Theme for 2020:

"They showed us unusual kindness"

At least once a year, Christians are reminded of Jesus' prayer for his disciples that "they may be one so that the world may believe" (see John 17.21). Hearts are touched and Christians come together to pray for their unity. Congregations and parishes all over the world exchange preachers or arrange special ecumenical celebrations and prayer services. The event that touches off this special experience is the Week of Prayer for Christian Unity.

Traditionally the week of prayer is celebrated between 18-25 January, between the feasts of St Peter and St Paul. In the southern hemisphere, where January is a vacation time, churches often find other days to celebrate it, for example around Pentecost, which is also a symbolic date for unity.

In order to prepare for the annual celebration, ecumenical partners in a particular region are invited to produce a basic liturgical text on a biblical theme. Then an international editorial team of WCC and Roman Catholic representatives refines this text to ensure that it can be prayed throughout the world, and to link it with the search for the visible unity of the church.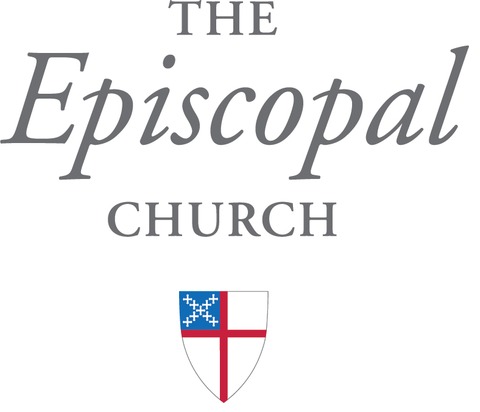 Statement of The Episcopal Church on Texas Governor Greg Abbott's Decision to Reject Refugee Resettlement

The Episcopal Church condemns Gov. Abbott's decision to reject refugee resettlement in 2020. Texas has long served as a strong partner in the work of welcoming some of the most vulnerable individuals in the world to peace, safety, and a bright future. Texas Episcopalians have also given generously of their time, talents, and treasure to help our refugee brothers and sisters rebuild their lives in the Lone Star State.

Texans have long been known for their southern hospitality and generosity of spirit. Additionally, many Texans are people of strong faith who take seriously the Gospel call to welcome the stranger and to help those who are fleeing religious persecution and violence. The Episcopal community in Texas shares these values. Through Refugee Services of Texas (RST) and Interfaith Ministries for Greater Houston (IMGH), both affiliates of Episcopal Migration Ministries, our church serves refugees, asylees, individuals with Special Immigrant Visas, Cuban-Haitian entrants, Central American minors, survivors of human trafficking, and other vulnerable populations. In addition, RST and IMGH work to facilitate partnerships with host communities to build a welcoming environment.

Refugees bring immense value to communities throughout Texas. They have invigorated the economy, brought innovation to small towns, and made communities stronger through their contributions to public life and cultural institutions. Refugees in Texas are students, entrepreneurs, dedicated employees, customers, elected officials, and community leaders – just like us. They are us.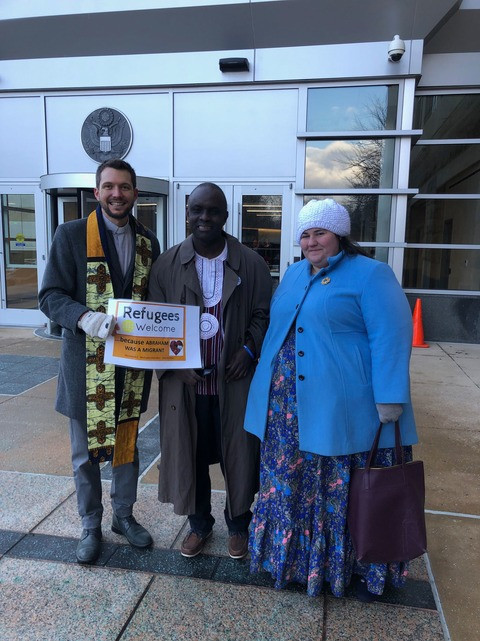 Outside Maryland courthouse, religious leaders oppose 'immoral' refugee limits

UCC advocates, religious leaders and interfaith allies gathered outside a federal courthouse in Greenbelt, Md., Wednesday morning, Jan. 8, to celebrate refugees and their contributions to the United States. Representing more than 50 denominations and faith groups that work on refugee resettlement, they came together to oppose Trump administration efforts to further limit the number of refugees allowed into the U.S.

The Rev. Noel Andersen, coordinator of the UCC Collaborative on Immigration and grassroots organizer for Church World Service, joined Katie Adams, domestic policy advocate with the UCC office in Washington, D.C., who spoke on behalf of the church.

"The sacred scriptures of our faiths lay out a blueprint for how we are to welcome refugees," Adams said. "Over and over again we are exhorted to watch over the stranger, love the least of these. We are told clearly: 'Do not neglect to show hospitality to strangers, for by doing that some have entertained angels without knowing it.'"
General Assembly Committee on Ecumenical and Interreligious Relations holds winter meeting
Stated Clerk urges unity in ecumenical work in a changing world
There is no reason why churches can't grow in the 21st century. That was one of the messages to the General Assembly Committee on Ecumenical and Interreligious Relations (GACEIR) from the Stated Clerk of the General Assembly of the Presbyterian Church (U.S.A.).

The GACEIR has been meeting this week at the PC(USA) offices in Louisville. The agenda has been full for the three-day gathering, as special subcommittees have taken up several topics from scholarships to ecumenical dialogue and interfaith relations.

In his address to the committee, the Reverend Dr. J. Herbert Nelson, II said the only way for Christian Protestant denominations to move forward is to work together.

"We are moving toward ecumenism in significant ways. Somehow, we will have to figure our way as both learners, supporters and assistants," he said. "When we talk about this table, we need to think about what it means to bring denominations and faith communities together, and this has to happen through interfaith and ecumenical work, not by one denomination or one hero."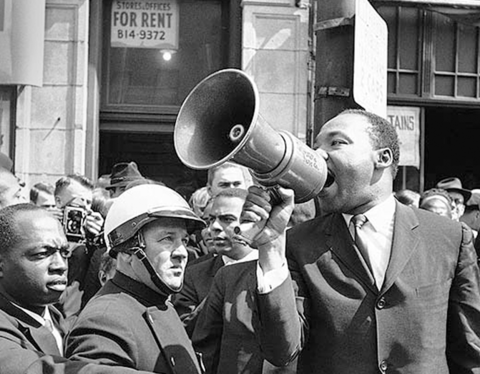 "Where do we go from here: Chaos or Community?" Martin Luther King, Jr.'s prophetic question waits for a response



When the title prophet is used in this modern era, it mostly references the prophets spoken of in the Old Testament. The Christian world is familiar with these iconic figures—voices like the prophet Isaiah declaring, "A voice is calling, 'Clear the way for the LORD in the wilderness; Make smooth in the desert a highway for our God.'" (Isa. 40:3 NASB).

Walter Brueggemann writes, "Sociologically, the prophets are situated realistically among issues of social power, functioning as speakers and advocates for a variety of social interests that are said to be congruent with God's will and purpose." This description resonates with the work of Martin Luther King, Jr.

King did not label himself as a prophet. However, in a sermon preached in 1968 at Ebenezer Baptist Church in Atlanta, Georgia a few months prior to his death, he gave what would be considered his eulogy. While delivering a message about "The Drum Major Instinct," that drum beat that presses the ego and causes self-inflation, King alluded to his prophetic work. In his own words, he said to share at his funeral, "that Martin Luther King, Jr. tried to love somebody… Yes, if you want to say that I was a drum major, say that I was a drum major for justice; say that I was a drum major for peace; I was a drum major for righteousness."
Ecumenical Advocacy Days 2020



Around the world, the most marginalized communities disproportionately affected by hunger, poverty, and the structural history of colonialism and racism are experiencing the impacts of the climate crisis most profoundly. Women and children in these communities suffer the most.

EAD 2020 will explore the

intersection of climate change and economic injustice

. This will galvanize our advocacy on behalf of policies and programs to chip away at the systems of oppression that keep people in poverty and push all life on earth to the brink of destruction.



Register today for Ecumenical Advocacy Days 2020, April 24-27,

on re-imagining community for God's earth and people. Come to learn about the intersection of climate change and economic injustice, and to advocate for climate justice.

Statement on Inhumane Treatment of Incarcerated Persons in the Mississippi state prison system

The servant leaders of the African Methodist Episcopal Church and the Commission of Social Action are profoundly concerned are deeply concerned about allegations and stories about the inhumane treatment, five deaths in 20 days, and the intentional state cutbacks that bred a culture of greed and corruption in the state prison system of Mississippi. We cannot allow the stories and allegations of racist and sub-human treatment to be lost and overlooked.

The African Methodist Episcopal Church joins U. S. Congressperson Bennie Thompson (D-Miss.) in calling for a federal investigation of the violence and inhumane treatment that is reportedly taking place in the state of Mississippi prison system. We implore United States Attorney General Barr to conduct an open and fair investigation lead by the United States Department of Justice.
Bible app brings Week of Prayer to on-the-go people across the globe



Bring the Week of Prayer for Christian Unity to your phone, computer or tablet - wherever you are - with the Bible-reading plan now available via the YouVersion Bible app. Users can explore the theme, "they showed us unusual kindness," taken from Acts 28:2, in a digital format.

The app, which has already been installed on more than 400 million devices by users in all countries of the world, allows users to read the Bible, share verses via social media, and bookmark favorite passages.

"The reflections and prayers for the Week of Prayer are short and inspirational - just perfect for those of us who need to nourish their soul on the go, with the help of a smart phone," says Annegret Kapp, WCC communication officer for fellowship and social media.

ELCA presiding bishop pastoral letter on the United Methodist Church

Through full communion, we have grown in unity and fellowship over the past decade with the United Methodist Church (UMC). We are receiving and sharing gifts, strengthening the body of Christ, and deepening mission and ministry for the sake of the world.

Last week, in a flurry of misleading headlines, many of us read that the United Methodist Church had split. This is not, in fact, what happened. On Jan. 3, it was announced that an ideologically diverse group of leaders collaborated in a mediation process resulting in their unanimous support for a proposed agreement. If adopted, the Protocol of Reconciliation and Grace through Separation would result in the separation of the United Methodist Church. At this point, it still needs to come through the appropriate legislative mechanisms in order to be deliberated by the UMC General Conference in May. The proposed agreement is just that at this time.
AME member Congresswoman Val Demings named Impeachment Manager for Trial of President of President Trump
Wednesday, Rep. Val Demings (FL-10), a member of the Judiciary and Intelligence Committees, was appointed by Speaker Pelosi as an Impeachment Manager to present the case for impeachment to the U.S. Senate. The Trial formally began on January 16. Representative Demings is a member of St. Mark AME Church in Orlando, Florida pastored by Rev Terence R. Gray, I.



Please be in prayer for Representative Demings, her family and constituents.



Rep. Demings made the following statement after the announcement: "I am honored to have the opportunity to help defend our republic in this incredible moment in history. I hope that every American who believes in democracy will take a stand.

"The president has been given an incredible responsibility and opportunity to serve the American people. Instead, he has abandoned his oath of office and the Constitution, choosing to put his interest before the national interest. The evidence against the president is overwhelming. The president abused his office to try to cheat in the 2020 election, and then covered it up. He shall be held accountable.

"I understand that the politics of impeachment are difficult for many Senators. But I have not written off the Senate. Each Senator still has the power to do the right thing. I know that as each Senator considers whether to side with justice or corruption, the voices of the American people will matter."
Ecumenical Opportunities:
Plymouth Congregational Church, Minneapolis, is looking for its next Lead Minister:

This is a unique opportunity to come into a newly titled position at a time when the church is attracting new, younger members, our long-time members are engaged, and the ministerial and administrative team is performing at a high level.
Serving as a leading voice of witness to the living Christ in the public square since 1950,
the National Council of Churches of Christ in the USA (NCC) brings together 38 member communions
and more than 40 million Christians in a common expression of God's love and promise of unity.