Subject: NCC Weekly News: Of What Life Do We Speak?
View this email online if it doesn't display correctly
Last weekend, NCC President and General Secretary Jim Winkler spoke on the occasion of the 225th anniversary of the Valaam Mission to North America, the Orthodox Church mission to indigenous peoples in Alaska. The program was held at the Mother of God, Joy of All Who Sorrow Orthodox Church in Princeton, NJ. Below are excerpts of Jim's address:



I stand before you as president and general secretary of the National Council of the Churches of Christ in the USA (NCC). The Council consists of 38 member communions comprised of some 30 million Christians in approximately 100,000 local congregations across this nation.

The NCC was founded in 1908 and was then known as the Federal Council of Churches. In 1950, a number of other organizations came together with the Council, and it was re-christened as the National Council of Churches. The Orthodox Church in America is one of the member churches of the NCC.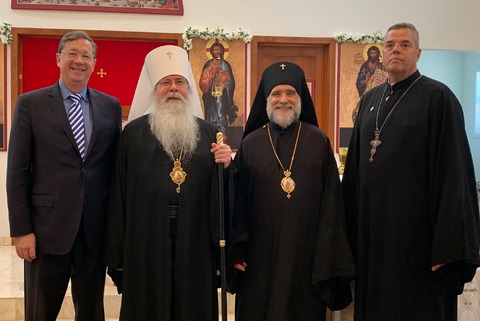 My thanks to His Beatitude, Metropolitan Tikhon, for inviting me to be with you today. His Beatitude memorably addressed the Christian Unity Gathering of the National Council of Churches several years ago, and I remain grateful to him for honoring us on that occasion. He also joined us last year on a remarkable evening at St. Sophia's Greek Orthodox Cathedral in Washington, DC for the opening event in our rally against racism.

I wish to express my deep appreciation to the Very Rev. Leonid Kishkovsky for his longtime leadership in the ecumenical community. This year marks the 30th anniversary of Fr. Leonid's election as president of the NCC. He was the first Orthodox president of the Council, meriting a major article in the New York Times. Today, he continues to serve on the executive committee as a voice of wisdom and reason. He is a mentor to me.

I also wish to thank my good friend and the pastor of this parish, the Very Rev. Peter Baktis not only for his gracious invitation to me to be with you today but for his participation in the Interreligious Dialogues Convening Table of the NCC.

Metropolitan Tikhon has provided us with a precious gift in his guiding framework for the Orthodox Church in America, "Of What Life Do We Speak?" This document will be shared with the leaders of the member communions that comprise the NCC.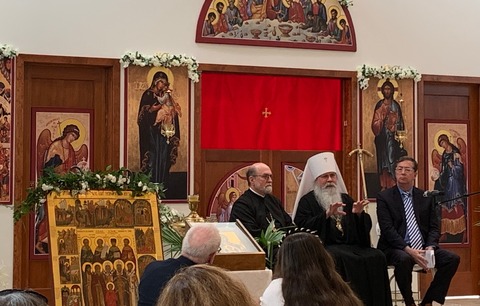 The NCC is a form of conciliar ecumenism—that is, it is organized for common prayer, counsel, and decision. Also, the search for unity is envisaged as a conciliar fellowship, with each local church possessing the fullness of catholicity and apostolicity.

St. Tikhon, who served as archbishop in America from 1898 to 1907 and then as Patriarch of Moscow, himself affirmed the openness of the Orthodox Church to dialogue.

It is important, as well, to note that in 1920 the Ecumenical Patriarch issued an encyclical, "Unto the Churches of Christ everywhere" in which he stated, "Our own church holds that rapprochement between the various Christian Churches and fellowship between them is not excluded by the doctrinal differences which exist between them. In our opinion, such a rapprochement is highly desirable and necessary."

We have come a long way over this past century in furthering rapprochement between the churches and yet have much further to go. This is difficult but joyful work, and it takes time. After all, let us recall it was 1200 years between Great and Holy Councils of the Orthodox Churches.
Jim Winkler
President and General Secretary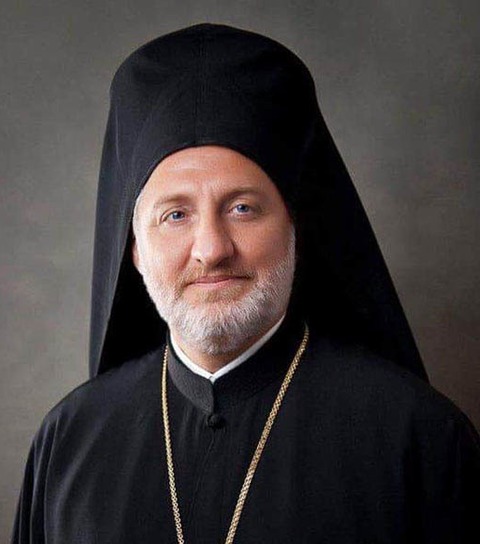 FROM THE ECUMENICAL PATRIARCHATE


Announcement of May 11, 2019



Today, Saturday May 11, 2019, the Holy and Sacred Synod, continuing its work, proceeded to fill the vacated seat of the Archdiocese of America following the voluntary resignation of its shepherd, His Eminence Archbishop Demetrios Geron of America.

Therefore, following the suggestion, permission and exhortation of His-All Holiness, the holy synodical members upon invocation of the Holy Spirit, duly casted their votes and unanimously elected as Archbishop of America His Eminence Metropolitan Elpidophoros of Bursa, Abbot of the Holy Monastery of the Holy Trinity in Halki and Professor of the Theological School of the Aristoteleian University of Thessaloniki.



From the Secretariat of the Holy and Sacred Synod



Effective today, the clergy of the Archdiocesan District of New York will commemorate Archbishop Elpidophoros by name, and Metropolitan Methodios of Boston is hereby declared Vicar (Epitropos) of the Archdiocese.

News of the Arrival and Enthronement of His Eminence Archbishop Elpidophoros will follow as it becomes available.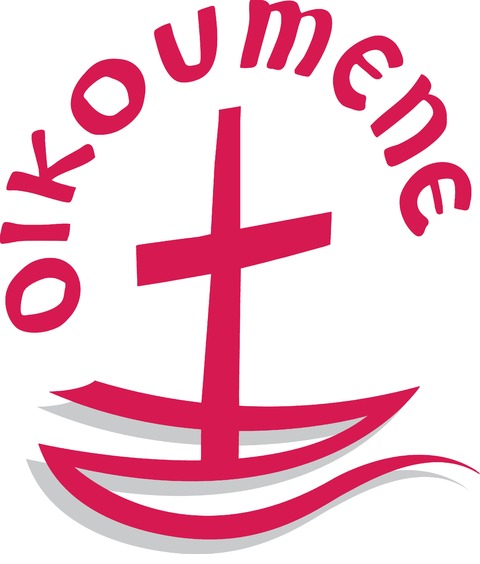 WCC welcomes new archbishop of Greek Orthodox Archdiocese of America



World Council of Churches (WCC) general secretary Rev. Dr Olav Fykse Tveit sent a welcoming letter to His Eminence Metropolitan Elpidophoros of Bursa upon his election by the Holy and Sacred Synod of the Ecumenical Patriarchate
 as the new archbishop of the Greek Orthodox Archdiocese of America.

"Within the joyful atmosphere of the Easter season, we welcome joyfully your election by the Holy and Sacred Synod of the Ecumenical Patriarchate to the head of the Greek Orthodox Archdiocese of America, one of the most prominent sees of the Church of Constantinople," wrote Tveit. "We do rejoice for the election to such an important ministry of one member of the central committee of the WCC and a professor of inter-Christian relations at the Theological Faculty of Aristoteleion University in Thessaloniki."

Tveit noted that Metropolitan Elpidophoros carries with him a very rich ecclesial, academic and ecumenical baggage as well as an important pastoral and spiritual experience.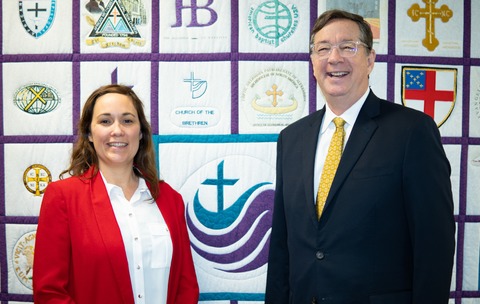 The Irish Council of Churches is pleased to announce the appointment of Dr Nicola Brady to the position of General Secretary



Dr. Brady comes to the role with a wealth of ecumenical experience and a commitment to social justice, having served as Research Coordinator for the Council for Justice and Peace of the Irish Catholic Bishops' Conference and the Northern Ireland Catholic Council on Social Affairs. As part of this role she has coordinated inter–church engagement in a wide range of social policy areas, including poverty, migration, mental health, and peace and reconciliation. She was also a member of the Management Committee of the Irish Churches' Peace Project, 2013–2015.

Commenting on her appointment, Dr. Brady noted that 'churches bring a unique and valuable perspective to the major challenges facing our society. Most importantly, they bring the Christian message of hope to those who are struggling. I look forward to building on the significant work that has been done to date by the Irish Council of Churches and the Irish Inter–Church Meeting to respond to the many different needs in our local communities, united by a shared commitment to Gospel values'.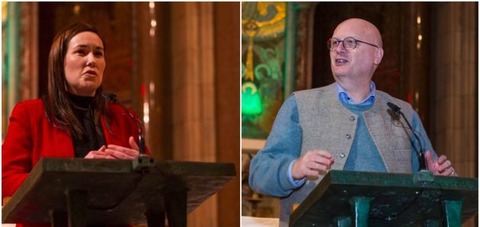 Can Northern Ireland ever adopt forgiveness as a permanent attitude rather than a transaction?

How does forgiveness fit into the cut and thrust of political point-scoring, binary positions and contested history?

Canon David Porter admitted that one of his memories of being in Clonard Monastery was "shout[ing] at senior members of the Republican movement and get[ting] away with it down in Parlour 4, normally about midnight when our patience got a bit thin at the end of a long evening of haggling over what was the way forward" between the ceasefires and the Belfast Agreement.

The former director of ECONI (Evangelical Contribution on Northern Ireland, since then renamed to the Centre for Contemporary Christianity) is now Chief of Staff and Strategy for the Archbishop of Canterbury.

He'd returned to the west Belfast church to deliver a talk at the closing event of this year's 4 Corners Festival which aims to bring people out of their own corner of the city of Belfast to encounter new places, hear new perspectives and fresh, and make new friends. Porter's address was followed by reflections from Dr Nicola Brady, the general secretary of the Irish Council of Churches.

Office of Public Witness issues Action Alert on reducing tension, avoiding war with Iran


The Presbyterian Church (U.S.A.)'s Office of Public Witness has issued an Action Alert, calling on Presbyterians to urge their representatives and senators to help reduce tension and avoid conflict in Iran.

"After withdrawing from the Iran deal last spring," the Action Alert states, "the Trump Administration has taken several steps that have increased tension in the region." The administration has imposed numerous sanctions since withdrawing from the Joint Comprehensive Plan of Action a year ago, sanctions that have had serious economic impact on Iran.

The situation has continued to escalate, with Iran threatening to resume high level uranium enrichment in response to the sanctions, and the Trump Administration dispatching an aircraft carrier strike group to send a "clear and unmistakable" message.

Speaking the truth in love: Engaging in fearless dialogues

"Blessed are the peacemakers, for they shall be called children of God,"

Jesus taught the crowds during the Sermon on the Mount. But being a peacemaker often means engaging in controversial and difficult conversations that run the risk of confronting one's own biases and prejudices as well as alienating others, no matter what side of the table one sits. In addition, pastors tend not to be confrontational by nature (and neither do congregations) until they are forced to confront such high-octane topics as racism, clergy sexual abuse, violence, church security, gun control, abortion, sexual identity, homosexuality, gay marriage, politics — you name it. What's required is "a very particular set of skills," to steal Liam Neeson's line from the movie "Taken."

How can we be effective change agents in the world?

"I don't know how to change the world, but I can change the three feet around me," says pastor Gregory Ellison II, recalling the words his aunt said to him years ago. It's a challenge he's taken to heart and to the streets as the associate professor at Emory University's Candler School of Theology in Atlanta. He is also the founder of Fearless Dialogues, a grassroots organization that creates opportunities for unlikely partners to engage in hard conversations. The goals of the organization are simply stated as: "to see gifts in others, hear value in stories, and work for change and positive transformation in self and others."

Ecumenical Opportunities:
The Episcopal Church seeks Staff Assistant:

This person serves in the Office of Government Relations, a stand-alone remote office of DFMS located in Washington, D.C. Provides administrative support for critical office functions, including procuring office supplies, facilitating travel arrangements, ensuring functional IT for office, coordinating events, scheduling, attending and taking minutes at meetings, ensuring the Office functions on a day-to-day level, and other administrative tasks.
The Episcopal Church seeks an Administrative Associate for Creation Care and Justice:

this person

will be responsible for a range of communications, administrative and programmatic tasks supporting the Episcopal Church's ministries of Creation Care, Racial Reconciliation, Domestic Poverty and Social Justice. This position liaises closely with RJCC's Director, Staff Officers and related Administrative Associates, the Canon for Evangelism, Reconciliation and Creation Care, as well as appointed task forces and governing bodies.

Ecumenical Advocacy Days for Global Peace with Justice
is seeking an event planner-conference director for our April 17 – 24, 2020 Advocacy Days event. The Event Planner-Director will build on the dynamic tradition established by seventeen (17) successful previous annual meetings and be committed to facilitating an ongoing exploration of ways to make the 2020 event even more exciting and powerful, with an expanded impact on the domestic and international policies we address.

To apply, p
lease submit resume and cover letter to:
Martin Shupack
Church World Service
Email: mshupack@cwsglobal.org
110 Maryland Ave. NE, Suite 110
Washington, DC 20002
The Latin America Working Group (LAWG) seeks a full-time Program Assistant/Fundraising Associate

to start in mid-June. Join our small, hard-working, and collaborative team in advocating for just U.S. policies towards Latin America!
Serving as a leading voice of witness to the living Christ in the public square since 1950,
the National Council of Churches of Christ in the USA (NCC) brings together 38 member communions
and more than 40 million Christians in a common expression of God's love and promise of unity.