Subject: NCC Weekly News: Lent and Hope, Cyclone Recovery, Highlander Center
View this email online if it doesn't display correctly
From
Jim:
God keeps calling us to join the journey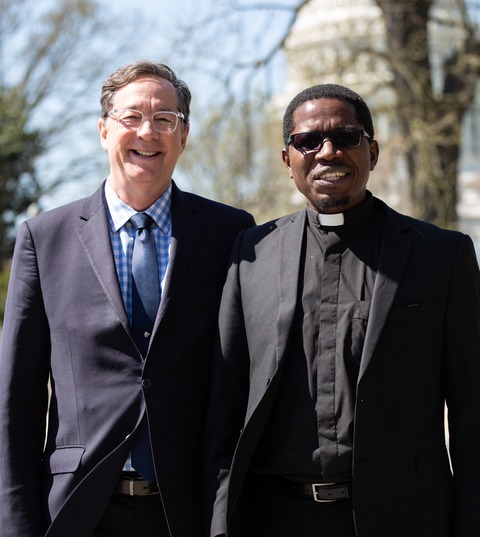 My life is bound up more deeply with the ecumenical movement than I previously realized. For example, many years ago as a high school student, I spent a lot of time at the YMCA, the Young Men's Christian Association. It was near our home, and I was aware my father had long been involved in the 'Y,' so it was comfortable for me to hang out there, especially to play basketball.

I didn't know much at that time of the YMCA's history as one of the important formative actors in the early ecumenical movement. Along with the YWCA and the World Student Christian Federation, these were important pan-denominational organizations that spurred the growth of the movement.

One of the countless programs offered by the YMCA held my attention: "Youth in Government." I participated in many meetings at my local Y to plan for our participation in the program and in my senior year in high school I was elected youth governor of the state of Illinois. The Y intentionally educated and formed young people to be responsible and active citizens. I benefited from that ministry.

There are a seemingly infinite number of ministries and programs that have sprung from the cooperative efforts of ecumenism: mission efforts, disaster and relief ministries, programs for children, youth, and families, educational work, community organizing, health care, advocacy for justice and peace; the list goes on and on.

The hymn says, "My flows on in endless song, above earth's lamentation, I hear the sweet, though far-off hymn that hails a new creation." I've been blessed to be part of this flow. After college, I worked for the Pacific Conference of Churches, based in Fiji. What a blessing it is to have had my first full-time job be in the ecumenical community.

As we approach Easter, we Christians remember that it is a vision of what can be that binds us together. During Lent, we seek to shed our selfishness and greed and self-centeredness and make room for a new creation. We repent of our brokenness and work for reconciliation with one another and with God.

God keeps calling and inviting us to join the journey--which takes time. Another favorite hymn of mine sings, "Bind us together, Lord, bind us together with cords that cannot be broken. Bind us together, Lord, bind us together, bind us together with love."

Amidst a discouraging atmosphere in which the president insults people on an hourly basis, and gun violence, Islamophobia, racism, and a thousand other ills afflict us, it can be hard to see the many ways we are connected with one another.

But, I have to reflect and be thankful. In recent days, I have been part of a wonderful, intentional church-based conversation called "race matters." Today, I hosted the general secretary of the Zimbabwe Council of Churches (pictured with me above) and learned of his work in forging a national dialogue aimed at securing a better future for his nation. A year ago, I was sleepless with anticipation for the amazing "ACT Now to End Racism" rally we held on the National Mall in Washington, DC.

Lent allows us to make room for the resurrection that has come -- and is still to come. The resurrection shows us that no matter how dark it seems, there is always hope. It is through our common efforts and with God's blessing that so much good has happened and will continue to happen.
Jim Winkler
President and General Secretary
US Churches and Christian organizations reject President Trump's recognition of Israeli annexation of the Golan Heights



Following US President Donald Trump's announcement and declaration recognizing Israeli sovereignty over the Golan Heights, US churches and Christian organizations, including Global Ministries of the Christian Church (Disciples of Christ) and United Church of Christ, issued the following statement on March 28, 2019.

This past Thursday, March 21, President Trump announced that the United States would recognize Israeli annexation and sovereignty over the Golan Heights. As US-based churches and Christian organizations with long histories of engagement in the Middle East through mission and ecclesial relations, we fully reject this unilateral declaration and are especially concerned about this Administration's disregard for international law.

We see this reversal of consistent US policy and international consensus—that the Golan Heights are occupied and were acquired by force in the 1967 War in contravention of international norms—as an abandonment by the US of diplomacy to resolve such issues.
'White power' symbol found after fire destroys social justice center that hosted Rosa Parks, MLK Jr.
"Now is the time to be vigilant. To love each other and support each other and to keep each other safe in turbulent times," the center said.

A Tennessee social justice center that has hosted iconic civil rights leaders was destroyed in a fire and a "white power" symbol was found on the site, the center said.

The symbol, which officials did not describe but said was connected to the white power movement, was discovered after the main office was completely destroyed in a fire last week, the Highlander Research and Education Center said in a news release Tuesday. It was spray-painted on the parking lot connected to the main office.

No one was hurt in Friday's blaze.

"While we don't know the names of the culprits, we know that the white power movement has been increasing and consolidating power across the South, across this nation, and globally," Highlander said. "Since 2016, the white power movement has become more visible, and we've seen that manifest in various ways, both subtle and overt."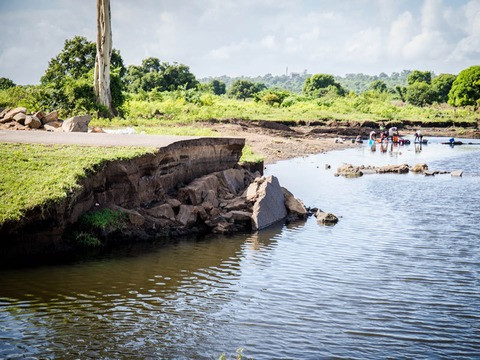 Cyclone recovery in Southern Africa will be a long-term effort



It has been three weeks since the Southern African countries of Mozambique, Malawi and Zimbabwe were slammed by Cyclone Idai, packing winds of more than 120 miles per hour and torrential rains that produced catastrophic flooding.

But, as first response rescue efforts continue, it is becoming clear to aid agencies such as Presbyterian Disaster Assistance (PDA) that recovery is going to be a long process in this region. That brings with it the challenge of keeping people's attention focused on recovery in distant nations when the media gaze is turned to newer disasters, maybe closer to home.

"That's why you have a national office in a church that has a stated commitment to providing attention and care to all of God's children, not just the ones that are obvious, interesting or beneficial to us in some way," says the Rev. Dr. Laurie Kraus, director for Presbyterian Disaster Assistance. "We have a commitment to tell those stories and respond, whether people are noticing or not. But it is challenging sometimes to hold people's interest."

Cyclone Idai grabbed attention when it happened, followed by statistics that have become more staggering as time goes on.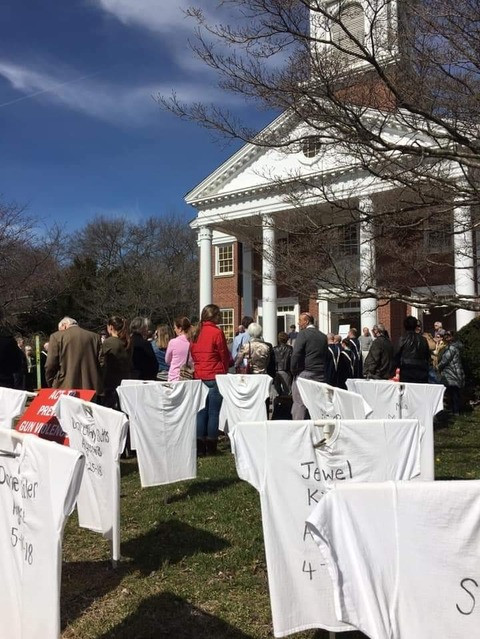 Maryland church visibly recognizes gun violence victims, remembers with communion

A memorial of 120 T-shirts, planted in the lawn outside Westmoreland Congregational United Church of Christ in Bethesda, each bearing the name of a person killed by gun violence in the Washington, D.C. area during the first part of last year. White shirts, each which marks a life lost, with ages and death dates.

"Celebrating communion outside amid the shirts helped us visibly remember those whose lives have been lost," said the Rev. Timothy Tutt, church pastor. "Communion is a reminder that God is with us—feeding us when our souls are hungry and quenching the thirst of our grief—even amid pain. The cup also nurtures us and offers us sustenance to go forth in the world to work for peace and justice."

The congregation, which has long worked for the prevention of gun violence, began the March 24 service worship service in the sanctuary before moving outside. Kaeley McEvoy, Westmoreland's coordinator for of Congregational Life, Faith Formation and Volunteer Corps, served as preacher and presided at communion.

"My scriptural message (using John 13:1-17) noted that we all have feet that are wounded, need washing and are made for walking. In the act of foot washing, Jesus knowingly cares for his disciples, specifically Peter and Judas, who are about to deny and betray him. In this act, Jesus shows that though our feet are wounded, our souls are full of pain or brokenness, it is our job as Christians to love each other in vulnerable ways," McEvoy said. "In light of the pursuit of justice and the call to end gun violence, our broken feet must be mobilized to stand in vulnerable spaces with and among the reality of pain, knowing that God's mercy, grace and love are ever present."

'Not a page in a book' – accompaniers hear Palestinians' testimonies from Ma'alul village

Ma'alul, a Palestinian village destroyed in the 1948 Arab-Israeli war, saw a visit by ecumenical accompaniers in mid-March.

"I would have liked to invite you to a real home, not just as a refugee," said Jad Saba Yusef Salem as he received the group of accompaniers to the village.

Today, 95-year-old Salem is one of few remaining survivors from the 75 families who used to live in the village back in 1948.

"My memory is not so good these days, but all the things I learnt in school, those I still remember," Salem says jocularly, and moves on to tell the story of a community of some 800 people who used to cultivate the lands, growing wheat and corn, but also where apple trees used to abound.
Earth Day 2019: Creation Justice Ministries
Each year before Earth Day, Creation Justice Ministries offers materials to equip faith communities to protect, restore, and more rightly share God's creation.

Our 2019 theme is "Next Generation Rising" and the resource focuses on children and youth leading the way for creation justice. You can find Bible study, sermon starter, liturgical, and action materials when you download it.

Many faith communities will celebrate on a day convenient for them since Earth Month and Easter align this year. To connect with others who are planning Earth Day activities, join the Earth Day Sunday 2019 Facebook Event.

Please help promote this celebration on Facebook, Twitter, and Instagram. If you want to share the resource with your own community, check out our website for more action ideas and our promotional toolkit for ways to share.
Ecumenical Opportunities:
NCSS-RFC Religious Studies Summer Institute,

July 9-11, 2019, Washington, DC


The Religious Freedom Center of the Freedom Forum Institute and the National Council for the Social Studies invite you to join us at the Newseum in Washington, DC to:
Increase professional competence related to the disciplinary concepts and tools of religious studies as an academic discipline.

Increase personal confidence in teaching about religion in constitutionally appropriate ways that engage key stakeholders in your school context.

Develop working relationships with leading religious studies subject matter experts and curricular resource providers.
For more details
click here
.
Religious Studies Institute for Independent Schools,
July 23-25, 2019,
Washington, DC
The Religious Freedom Center of the Freedom Forum Institute will host the Summer Religious Studies Institute at the Newseum. The program will convene K-12 independent school educators in the nation's capital to explore issues of religious literacy, civil dialogue and the challenges and opportunities of navigating religious diversity in the classroom.
Independent school educators will learn about religious studies as an academic discipline and increase personal confidence in navigating religiously and ideologically diverse classrooms while upholding their schools' missions. Co-conveners include the Thales Academy, the Council of Islamic Schools in North America, Sacred Heart Schools, and the National Catholic Educational Association.
For more details click here.
Serving as a leading voice of witness to the living Christ in the public square since 1950,
the National Council of Churches of Christ in the USA (NCC) brings together 38 member communions
and more than 40 million Christians in a common expression of God's love and promise of unity.