Subject: NCC Weekly News: Greetings from Abu Dhabi
View this email online if it doesn't display correctly
From

Jim:
"Premises of Human Fraternity"
(Editor's note: this is an excerpt from Jim Winkler's speech at the Global Conference on Human Fraternity in Abu Dhabi, February 3, 2019.)
I wish to thank the Muslim Council of Elders for convening this Global Conference of Human Fraternity and for extending an invitation to me to speak on the 'Premises of Human Fraternity.' I am grateful to join with His Eminence, the Grand Imam, for the third time at such a conference as this.

This conference and others like it reflect a growing sense of and movement toward unity among the world's major religions. This momentum has been gathering for decades, and with our active involvement and encouragement, it promises to become an inexorable force toward peace and justice and a new epoch in human history.

And, yet, our success is not certain. We must remain in close and constant contact with one another, for there remain within all major religions powerful extremists who believe they, and only they, possess the truth.

The realization that our creator — the Divine, the Holy, the One that loves and cherishes each of us, celebrates our diversity and deeply desires we live in harmony with one another — has been increasing in the consciousness of humanity. This is one of our premises.

We as religious leaders must show the way forward. We must be the ones who set the example. When we are in the midst of bitter disagreements with one another, our people are dismayed.

In the Christian faith, for example, it was because young people were tired of factional disputes that they created ecumenical organizations such as the Young Men's Christian Association, the Young Women's Christian Association, and the World Student Christian Movement. These new bodies breathed fresh air into world Christianity and led to the ecumenical movement that brings me before you today.


Similarly, in my country, interfaith groupings are rapidly supplanting the Christian ecumenical organizations that have been a key source of cooperation and understanding. Again, young people desire to have new and deepened relationships with people of other faiths. They will not wait for faith leaders to forge these paths.
Our faith traditions teach eternal truths, but they will nevertheless change in the years ahead because the world has become a smaller place and our young people yearn for unity. It is a struggle between cosmopolites and localites. One need not be a world traveler to be a cosmopolite, but one must be open to and interested in new experiences and be sensitive and vulnerable and open to the realities and experiences of others.

Too often, however, localites feel threatened by those who are different from them, by those who have different beliefs, faiths, customs, and traditions. In my country, at this moment our historic openness to the world is being threatened by rulers who seek to build walls, restrict movement, and disengage from the world.

What we need throughout the earth are religious and political leaders who can comfortably and articulately express their faiths, interests, and concerns without demanding obeisance and surrender from those who possess different beliefs.

(Read the whole speech here)
Jim Winkler
President and General Secretary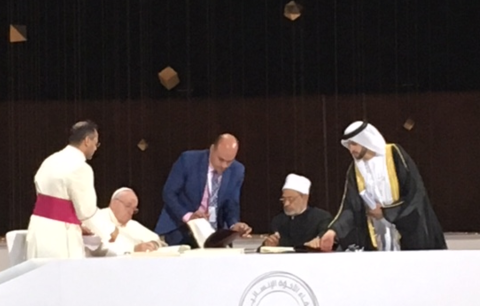 Pope Francis says pilgrimage to UAE is a new page in Christian-Islam dialogue

In his own words, Pope Francis said his pilgrimage this week to the United Arab Emirates wrote a "new page in the history of the dialogue between Christianity and Islam" and in promoting world peace based on brotherhood.

While in Abu-Dhabi, Pope Francis signed a document with the Grand Imam of al-Azhar, the ancient seat of learning in Sunni Islam, condemning religiously motivated violence and other violence, The Associated Press reported.

"The document is a vibrant appeal to respond with good to evil, to reinforce interreligious dialogue and to promote mutual respect in order to block the road to those who add fuel to the fire of the clashes between civilizations," said the director of the Holy See Press Office, Alessandro Gisotti, after the signing.

"The document is courageous and prophetic because it confronts, and calls by name, the most urgent issues of our day on which those who believe in God are encouraged to question their conscience and to confidently assume their responsibility to give life to a more just and united world."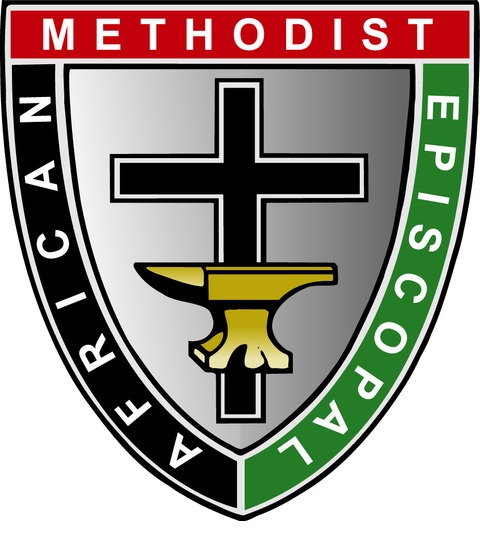 The Social Action Commission of the African Methodist Episcopal Church joins our voice with all those calling for the resignation of Governor Ralph Northam of Virginia

There is no excuse for the racist photograph that appeared in his 1984 medical school yearbook. Posing for a picture with one person in blackface and another in a Ku Klux Klan robe is never appropriate for anyone at any time. To have this picture taken and published in the same year that the Reverend Jesse Jackson was making his first run for President and Black, Brown and progressive men and women were rediscovering the political power of their communities was an act of white supremacist insensitivity and insanity. The message it was meant to send was intolerable then and must not be tolerated now.

There is no excuse for Governor Northam not releasing this information himself and then publicly repenting for this demeaning and offensive act. He should have done this before, during or immediately after the Democratic gubernatorial primary or the statewide election.

Governor Northam tried to keep hidden from the people his state a choice that could have started a difficult conversation that might have salvaged his political career and challenged the people of his state to deal with the divisive and destructive choices of white privilege, power, and arrogance. Such a conversation could have brought racial healing to Virginia, the home of the Confederate Government during the Civil War while being a model for the American nation during the Trump administration.

If Governor Northam is genuinely sorry and wants to move forward with integrity, it is time for him to step down as Governor of Virginia and allow the citizens of Virginia to begin the healing process under the leadership of the Lieutenant Governor of Virginia.

As the number of organizations, political groups and key politicians calling for his resignation grows, we urge the members of the African Methodist Episcopal Church to pray for Governor Northam and his family that this time they choose correctly--to resign and repent. Pray for the Commonwealth of Virginia that the faith communities there will let their voices be heard for the healing that comes only through justice, conversion and then forgiveness.



Bishop Reginald Jackson

, President – Council of Bishops


Bishop Gregory Ingram

, President – General Board


Bishop Adam Jefferson Richardson

, Senior Bishop


Bishop Frank M. Reid, III, Chairperson

– Social Action Commission


Jacquelyn Dupont-Walker

, Director
PC(USA) Stated Clerk calls for peaceful solution to the conflict in Venezuela



J. Herbert Nelson asks Presbyterians to pray



As the humanitarian and economic crisis worsens in Venezuela, the Reverend Dr. J. Herbert Nelson, II, Stated Clerk of the Presbyterian Church (U.S.A.), is urging all Presbyterians to pray for a peaceful solution. In a letter to the church, Nelson said the people of Venezuela are facing shortages of food, medicine, and basic services in the midst of widespread corruption.

"We call upon those in power in the country to seek a peaceful resolution to this struggle for leadership," the letter reads. "We urge those from outside who are threatening intervention to desist from actions that can only make the Venezuelan tragedy worse and exacerbate what is already a regional crisis."

Nelson asks for prayers for the Presbyterian Church of Venezuela (IPV), a PC(USA) partner through the Venezuelan Mission Network and other ecumenical organizations.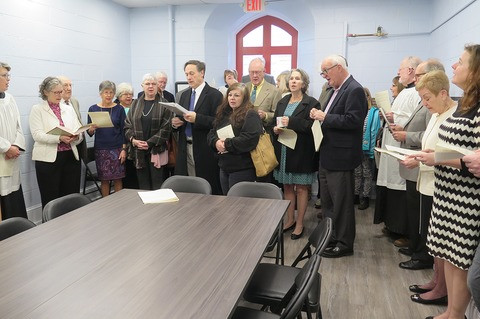 Church once named after Confederate general dedicates new 'home base' for racial healing

The Diocese of Southwestern Virginia gathered in Roanoke at the end of January for its 100th anniversary convention, which was capped by a lively Eucharist on Jan. 27 with Presiding Bishop Michael Curry, who heralded the moment as a time "to anticipate the future with revival."

About an hour northeast of the 10,000-seat Berglund Center, where Curry preached, the diocese's congregation in Lexington, Virginia, is hoping for a revival of its own – on a smaller scale, perhaps, but with the parish's existence and identity at stake.

For more than 100 years, the congregation had been known as the R.E. Lee Memorial Church, a tribute to the Confederate general who served as a senior warden there after the Civil War. Facing pressure from Southwestern Virginia Bishop Mark Bourlakas and from like-minded parishioners, the congregation's vestry narrowly voted in September 2017 to change the name back to its original Grace Episcopal Church, though that resolution left a wound that is still healing.

"We lost a lot of people," the Rev. James Hubbard, interim rector, said in a phone interview. "A good number of the folks who left have come back slowly. Some have not. I'm sure some will never come back, but it was for all sorts of reasons."

Earth Day 2019: Creation Justice Ministries
Each year before Earth Day, Creation Justice Ministries offers materials to equip faith communities to protect, restore, and more rightly share God's creation.

Our 2019 theme is "Next Generation Rising" and the resource focuses on children and youth leading the way for creation justice. You can find Bible study, sermon starter, liturgical, and action materials when you download it.

Many faith communities will celebrate on a day convenient for them since Earth Month and Easter align this year. To connect with others who are planning Earth Day activities, join the Earth Day Sunday 2019 Facebook Event.

Please help promote this celebration on Facebook, Twitter, and Instagram. If you want to share the resource with your own community, check out our website for more action ideas and our promotional toolkit for ways to share.
Week of Prayer for Christian Unity

At least once a year, Christians are reminded of Jesus' prayer for his disciples that "they may be one so that the world may believe" (see John 17.21). Hearts are touched and Christians come together to pray for their unity. Congregations and parishes all over the world exchange preachers or arrange special ecumenical celebrations and prayer services. The event that touches off this special experience is the Week of Prayer for Christian Unity.

Traditionally the week of prayer is celebrated between 18-25 January, between the feasts of St Peter and St Paul. In the southern hemisphere, where January is a vacation time, churches often find other days to celebrate it, for example around Pentecost, which is also a symbolic date for unity.

The theme for the week of prayer in 2019, "Justice, and only justice, you shall pursue ..." is inspired by Deuteronomy 16:18-20. The resources for the week have been prepared by members of different churches in Indonesia.

International Day for the Elimination of Racial Discrimination is March 21

2018 Theme: Promoting tolerance, inclusion, unity and respect for diversity in the context of combating racial discrimination

Every person is entitled to human rights without discrimination. The rights to equality and non-discrimination are cornerstones of human rights law. Article 1 of the Universal Declaration of Human Rights states that all human beings are born free and equal in dignity and rights. And based on Article 2, everyone is entitled to all the rights and freedoms set forth in the Declaration, without distinction of race or any other kind.

Yet racism, xenophobia and intolerance are problems prevalent in all societies, and discriminatory practices are widespread, particularly targeting migrants and refugees as well as people of African descent.

States are urged to take comprehensive measures to combat racism, racial discrimination, xenophobia and related intolerance, and to promote tolerance, inclusion, unity and respect for diversity.

Serving as a leading voice of witness to the living Christ in the public square since 1950,
the National Council of Churches of Christ in the USA (NCC) brings together 38 member communions
and more than 40 million Christians in a common expression of God's love and promise of unity.