Subject: NCC Weekly News: A Prayer for Peace
View this email online if it doesn't display correctly
From Jim: A Prayer for Peace in Korea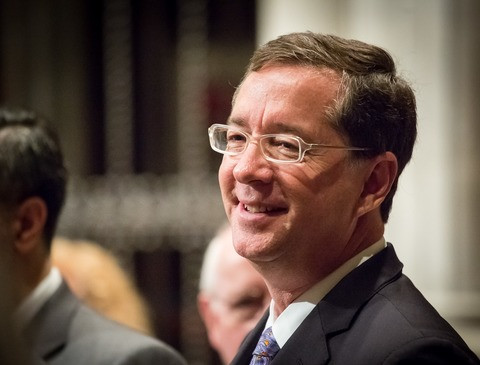 Last weekend I was in Atlanta to be part of a weekend-long consultation on the situation on the Korean peninsula. The forum was hosted by the United Methodist Church's General Board of Global Ministries, and former President Jimmy Carter was present. I was asked to offer a prayer as part of this gathering, and when I got there, I was given one that had been graciously prepared for me to say! I had come with a prayer of my own, which I offer today:

God, we come humbly before you today in search of peace and reunification for Korea.

We pray the United States will work with the Democratic People's Republic of Korea, the Republic of Korea, and other nations to negotiate a treaty to end the Korean War, establish normal diplomatic relations, and set the stage for all nuclear-armed nations on earth to rid themselves of weapons of mass destruction.

We pray for and commit ourselves to work for an end of the suffering of the people of North Korea. We pray for and commit ourselves to the task of reconciliation and harmony.

O God, help our churches place the cross of Christ before and above all national flags for we have decided to follow Jesus, and there is no turning back.

We ask your blessing, O God, on the inter-Korean summit and the efforts of President Moon and Chairman Kim to advance concrete measures of cooperation. May their work not be stymied by those forces bent on perpetuating hostilities.

O God, we well know that peacemaking is hard work and requires imagination, creativity, and resolve. As followers of the most imaginative, creative, and committed peacemaker of all, Jesus the Christ, we have the preeminent example to follow. We give special thanks to those with us who have walked in the footsteps of Jesus and have themselves sacrificed in the cause of peace and reunification.

Gracious God, help us to forego demonization, distrust and blaming. Help us refuse to be bitter and hateful and ground in enemy-making.

O God, we can see a brighter future just before us. We can taste its delicious flavor and enticing smells and sweet sounds. We know our ultimate security is in Christ. As peacemakers, teach us to be humble and patient.

We are aware, O God, that you are opening a Kairos moment before us and are continuing to work through us and in history. Help us to seize the moment and the day.

Lord, it is time. There have been enough deaths, enough suffering, enough war. War is not the answer. Today, we here are renegades for peace, for peace and reconciliation are spiritual and holy forces that give us meaning.

We are grateful for the partnership for peace in Korea represented at this forum of Christians from around the world and across many denominations. We honor the hard work and commitment shown by all those churches and individuals gathered here. Keep us committed to this blessed task.

Pyeonghwa, or peace, means eating rice equally. This is our goal as we refuse to cower behind artificial DMZs and walls. We refuse to place our faith in artillery, bombers, weapons, and spies. Our faith knows no boundaries; our faith is one of love for you, O God, are love.

God of life and unity and peace, you have called us to be your people. Bring us closer to you that we may become what you called us to be, and that we may walk in newness of life: new and old, north and south, east and west. We ask this in the name of Jesus and through the grace and communion of the Holy Spirit.

Jim Winkler
President and General Secretary
Lutheran Response to California wildfires
Wildfires are raging across California, destroying thousands of homes and wiping out the town of Paradise, located north of Sacramento. Multiple deaths have been confirmed and large-scale, mandatory evacuations are in place for multiple communities across the state's impacted areas as first responders work to gain control of the fires.

Gifts to Lutheran Disaster Response designated for "U.S. wildfires" will be used to help those affected by wildfires until the response is complete. Together, we can help provide immediate and long-lasting support. Please give today.


A.C.T Now! at the Christian Unity Gathering
"Dr. Hooker was outstanding!
I am so grateful for his presentation."
"Overall the conference was most beneficial, especially
Dr. Hooker's presentation."
"Hooker's presentation most hopeful in 35 years!"
The Rev. Dr. David Anderson Hooker, keynote speaker and facilitator of the NCC's Christian Unity Gathering, October 15-17. 2018, addressed the theme, "A.C.T. Now to End Racism: Hard Truths in Beloved Community." Dr. Hooker began with "Why the church is so well-positioned to be effective in addressing racism and inequity." Then he asked: "Why is the church mostly ineffective?" And "What must we do to be saved?"
You can relive here (or experience for the first time) as Dr. Hooker presents what it will take to build a Narrative of a Shared Future. Be introduced to "Transformative Community Conferencing" as a model for building that narrative and finding our way toward a preferred future.
Click here for Dr. Hooker's slides.
Click here for info on Dr. Hooker's book,

The Little Book of Transformative Community Conferencing: A Hopeful, Practical Approach to Dialogue

(Justice and Peacebuilding)
Ebony Bishops' Statement to the Council of Bishops and the People Called United Methodists
on the Resurgence of Racism in the United States

Adopted by Council of Bishops on November 6, 2018


"The Spirit of the Lord is upon me, because he has anointed me to bring good news to the poor. He has sent me to proclaim release to the captives and recovery of sight to the blind, to let the oppressed go free."
(Luke 4:18 NRSV)

Racism is harmful to all of society. And we are alarmed by its recent resurgence in the United States. In the United States the culture of racism, white privilege, and white supremacy controls the thoughts and actions of Anglos as well as people of color. It is a form of bondage for people of color and Anglo persons alike. Racism is so insidious that often those who are in bondage to it are not even aware of their chains. It is a persistent sin and evil that infects all it touches. We are grieved that a culture of racism is institutionalized even in our beloved denomination.
National and international church leaders urge churches to engage with political leaders



Representatives from the World Council of Churches and the National Council of Churches are urging faith groups to engage with their political leaders. Jim Winkler, president of the national council, and Dr. Peter Prove, executive director of the WCC Commission of the Churches on International Affairs, appeared Monday on Coffee with the Clerk, a weekly Facebook Live broadcast with the Rev. Dr. J. Herbert Nelson, II, Stated Clerk of the Presbyterian Church (U.S.A.).

Winkler and Prove joined Nelson in Washington, D.C., to discuss the impact of the recent election results and discuss the role of various faiths in the work on Capitol Hill. Prove and Winkler say efforts to speak with members of the Trump administration have not been easy.

First World War centenary: Praying together in hope
Together with churches across Europe and around the world, the Conference of European Churches (CEC) commemorates one hundred years since the end of the First World War.

Today in remembrance and prayer, we recall the devastation, tragedy and futility of the First World War. We also live in hope for healing and peace in a Europe still healing old wounds and overcoming historical divisions.

We also recall this as a beginning of an important time for the ecumenical movement. Wars in Europe made it an urgent task of the churches to overcome turmoil, welcome, help and support to resettle refugees, build bridges, and commit robustly to peace and reconciliation. CEC is part of this legacy, and emerged following the Second World War, bringing together church leaders from across the East-West divide committed to building up a Europe of peace.

Mexican bishops urge better treatment of migrants
Consider each migrant who crosses your path as if they are Jesus Christ, six bishops of the Methodist Church of Mexico said in a statement urging better treatment of refugees.

"We are a church that empathizes with the suffering of men, women, youth, children and entire families who find themselves having to confront borders and criminal elements in order to find opportunities for a better life," said the statement, released Nov. 1 by the United Methodist Immigration Task Force.

Bishops Jose Antonio Garza Castro, Felipe Ruiz Aguilar, Raquel Balbuena Osorio, Rodolfo Rivera de la Rosa, Rogelio Hernendez Guitierrez and Moises Morales Granados signed the statement, which addressed the Methodist Church, sister churches and "all people of goodwill." -
Read the article
Joint Statement in Response to the Central American Migrant Caravans
Human migration is as old as human history. Individuals, families, tribes, and nations have been on the move since the days of Abraham and Sarah and before. Throughout the centuries, political and economic factors, including wars; health and environmental challenges; and racism, xenophobia, and religious discrimination have at times uprooted people and at others lured them to new venues across deserts, rivers, continents, oceans, and national and ethnic boundaries.

Today, migration is a critical international and at times a pressing national issue; a matter of last resort and no other choice for millions of human beings, and a desperate alternative to many who would rather stay where they are if conditions could permit safety and essentials for survival. In general terms, migrants today are those who by force or choice leave their regions of origin because of armed conflict, natural disaster, institutional or gang violence, development projects, human trafficking (including labor, sexual or drug trafficking) or extreme economic deprivation.

WCC general secretary dismayed at shooting in California

World Council of Churches (WCC) general secretary Rev. Dr Olav Fykse Tveit expressed dismay at the tragic shooting in California (USA) during which a gunman killed 12 people before taking his own life.

"We convey our grief to the community, to the families, to those who escaped but will carry the trauma of violence with them" Tveit said.

Among the dead was a sheriff's sergeant who was the first officer inside the door.

"Mass shootings are becoming a terrifying, repeat occurrence" Tveit said. "We pray for healing and help in the days ahead, for the victims and for the family of the perpetrator, who may himself have been traumatized by war."

The attack is the deadliest in the USA since 17 students and teachers were killed at a Parkland, Florida, high school nine months ago. It came less than two weeks after a gunman killed 11 people at a synagogue in Pittsburgh.


Litany in the Wake of a Mass Shooting

We mourn the murder of 12 precious children of God today in Thousand Oaks, California, and we weep for those who have lost people who were dear to them. We offer our prayers for solace, for healing and for a change of heart among the elected leaders whose unwillingness to enact safe gun legislation puts us all at risk.

Much of what can be said in the wake of such appalling carnage has been said. It was said after the mass shooting at the Sikh temple in Oak Creek, Wisconsin; and it was said after the Sandy Hook Elementary School tragedy in Newtown, Connecticut, the two devastating events that brought Bishops United Against Gun Violence into being. And it was said most recently after the anti-Semitic massacre at the Tree of Life Synagogue in Pittsburgh, just 12 days ago. Mass shootings occur so frequently in our country that there are people who have survived more than one.

While the phrase "thoughts and prayers" might have become devalued by elected leaders who believe speaking these words discharges their duty in the wake of a massacre, we nonetheless believe that we are called to pray for the dead, those who mourn them and those who respond to the scene of mass shootings. We, thus, offer the following "Litany in the Wake of a Mass Shooting," to commemorate the dead, to comfort their loved ones, and to honor survivors and first responders. And we do so with the reminder that one does not pray in lieu of summoning political courage, but in preparation for doing so. We invite you to join us in this litany and our commitment to take action so that our country can be freed from the epidemic of gun violence.

Order your "ACT to End Racism" T-shirts Today!


Didn't get a t-shirt at the April 4 rally? This one is made from the best quality shirt we could find. It feels soft and lightweight, with the right amount of stretch. It's comfortable and flattering for both men and women.

- 100% combed and ring-spun cotton (heather colors contain polyester)
- Fabric weight: 4.2 oz (142 g/m2)
- Shoulder-to-shoulder taping
- Side-seamed
Ecumenical Opportunities:
Church World Service is recruiting interns

for the Spring semester and we would like your help! We are looking for an Immigration and Refugee Policy Intern as well as a Media Intern. Applicants should e-mail mkebede@cwsglobal.org with resume and a cover letter by December 22nd, 2018. E-mails with application materials should have a subject line reading either "Immigration and Refugee Policy Intern" or "Media Intern" depending on the position of interest.
The Friends Committee on National Legislation seeks an Organizing Strategy Associate:

an individual with strong data-analytic skills to track the expansion of our lobbying across multiple initiatives, organize the scheduling of training and lobbying for two major events, and develop new tools to move digital advocates into off-line lobbying.

Click here for more information



The Friends Committee on National Legislation seeks a Grasstops Advocacy Manager:

a creative, self-starter with 3 to 5 years of experience either in development or grassroots advocacy to identify, cultivate, track and grow our network of individual grasstops and grassroots volunteer advocates who are building personal relationships with members of Congress.


Serving as a leading voice of witness to the living Christ in the public square since 1950,
the National Council of Churches of Christ in the USA (NCC) brings together 38 member communions
and more than 40 million Christians in a common expression of God's love and promise of unity.