Subject: NCC Newsletter: Working for Justice
View this email online if it doesn't display correctly
Working for Justice at the Christian Unity Gathering



NCC Newsletter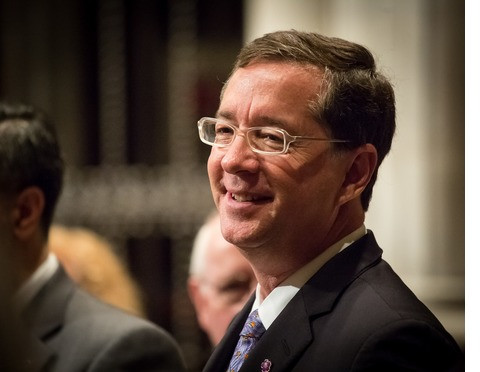 This week has been incredibly busy and fulfilling. We held our 7th Christian Unity Gathering on Monday and Tuesday. More than 1,000 people registered for it. The preaching by Rev. Dr. James Forbes and Rev. Otis Moss, III was thrilling and the panel discussions were excellent. Links to the Christian Unity Gathering sessions and news coverage are included in this newsletter.
The NCC Governing Board met on Wednesday and adopted a powerful statement about the current situation in our nation. I wish I could provide a link to that statement, but a few amendments were offered so as soon as those are incorporated, we will make it available on our website and in our newsletter.
The Governing Board meeting also afforded an opportunity to introduce our new Justice Advocacy and Outreach Manager, Minister Christian Watkins. This is a new position and in it Christian will help elevate NCC's work on ending mass incarceration and racism as well as develop a mini-grants program to support ministries involved in this work. Christian comes to us from the United Methodist Church where he has most recently served as the Wendland Fellow for Faith and Justice of the General Board of Church and Society of The United Methodist Church.
Christian has a Master of Divinity degree from Southern Methodist University's Perkins School of Theology with a concentration in Urban Ministry focused in Social Justice. Christian was born and baptized into the Christian Methodist Episcopal (CME) Church, and from the age of fifteen, was raised United Methodist under the esteemed pastorate of the Rev. Dr. Zan W. Holmes, Jr. and others at St. Luke "Community" UMC in East Dallas. Welcome, Christian!
Thursday saw a joint webinar of the NCC and the Cuban Council of Churches. Our keynote speaker was Rep. Jim McGovern of the 2nd District of Massachusetts. Rep. McGovern discussed the negative impact of US policy toward Cuba over the past several years and the possibility of moving toward a normalization of relations in coming years. That webinar is available
on YouTube
.
Now, a momentous election draws near. Here are valuable resources for your consideration:
May you also find rest and peace in the midst of so much turmoil.

Grace and Peace,

Jim

Sharing the Christian Unity Gathering
This week, the Christian Unity Gathering (CUG) was held virtually and attracted the largest crowd to date with the theme, "Breathing New Life into our Nation: Repentance, Re-formation, Reparation." The sessions confronted the white nationalism at the root of our country's founding and, through respectful dialogues, discussed a way forward. Commenters overwhelmingly expressed their gratitude for these visionary and helpful conversations.
If you missed CUG or would like to share what you learned with your friends, fellow parishioners, or family, we are providing the links to the sessions on YouTube so that they may be shared or used for discussion. With this work, we hope that many more will prayerfully reevaluate their beliefs and stand up, as an act of faith, for justice.
Opening Remarks from Dr. James A. Forbes and Session 1 - Repentance with Keynote Speakers Dr. Chanequa Walker-Barnes and Rev. Jonathan Wilson-Hartgrove Watch the Video
Session 2 – Re-formation: Protests, Policies, Polls and the Pandemic Watch the Video
Session 3 – Reparation: Looking Back-Looking Forward Watch the Video

News Coverage:

Religious News Service published an article, "Maryland Episcopal diocese reparations fund gains $100,000 in community donations," about the CUG session, "Reparation: Looking Back-Looking Forward" and provides a good summary of the panel discussion.
"The Impact of the Trump Administration on the Churches in Cuba"
Y
esterday, NCC co-sponsored this informative webinar with the Cuban Council of Churches, Alliance of Baptists, Church World Service, Presbyterian Church USA, United Church of Christ, Washington Office on Latin America, and Global Ministries of the Christian Church (Disciples of Christ) and United Church of Christ.

Representative Jim McGovern addressed his frustrations and said that "As people of faith, we believe in building bridges, not blowing them up." He emphasized that improving relations with Cuba is beneficial to the American people for trade, agricultural exports, and shared research, particularly in the biotechnology fields. About 77% of the Cuban population has spent their entire lives under the U.S. blockade on Cuba. We learned that the people are the ones who are suffering. The blockade has people completely strangled. There is no medicine and what medicine is available is expensive. There is no petroleum. Now, during the pandemic there are no artificial respirators.
Statement on Integrity, Safety, and Fairness in the 2020 U.S. election


NCC has joined with people of faith and leaders of the Washington-based offices of religious denominations and national organizations, to call for integrity in the election processes.The statement speaks out against the intimidation of voters, the denial of safe and equal access to voting, the propagation of doubt in electoral outcomes, and all threats of violence. Read the full statement here: https://www.afsc.org/document/faith-leaders-statement-integrity-safety-and-fairness-2020-us-election
Defending the Democratic Process: A Faith Community Call to Awareness and Action
We will continue to pray for and expect a peaceful and orderly electoral outcome. But we must not be passive witnesses to the death of democracy, should the worst occur. Join with faith leaders in the pledge to safeguard our American democracy with every ounce of our God-given strength and spirit.
Take the pledge: https://p2a.co/9gXDs9A
Clergy Asked to Sign up for Pray, Protect, and Serve
Be a Volunteer Chaplain at polling sites of vulnerable voters on election day. Help Protect the Precious Right to Vote in one of our key states (Alabama, Arizona, Florida, Georgia, Michigan, Ohio, Pennsylvania, North Carolina, and Wisconsin. Register now for October's Clergy Election Protection Webinars and YP1000 (Young Senior Pastor) Briefings: https://www.turnoutsunday.com/
ELCA Presiding Bishop Issues Indigenous Peoples Day Statement



The Rev. Elizabeth A. Eaton, Presiding Bishop of the Evangelical Lutheran Church in America, released a statement repudiating racism, white supremacy, and logos, mascots and stereotypes that perpetuate prejudice against Native Americans. She issued a call to educate ourselves and do our part to understand, respect, and celebrate American Indian and Alaska Native people, their congregations and communities, and the church. The statement asks us to reflect on the reality that the arrival of Europeans to these shores is seen differently by those who have experienced great pain and suffered many broken promises.Naming and honoring Indigenous Peoples Day "moves us all toward a better place." Read the full statement: https://www.elca.org/News-and-Events/8073
Events of Interest From Our Partners
Mourning Into Unity Vigil - Oct. 19


Healing our nation begins with mourning. Unity follows. United We Make America Whole. The Mourning Project was conceived as a response to the Covid-19 pandemic and the unvoiced grief so many of us feel. The goal is to bring Americans together to mourn the 200,000+ dead, and all the other losses of the unconstrained pandemic: unsafe schools, unsafe workplaces, unemployment. By gathering as one, we reclaim our unity and commitment to peaceful elections--and as a bulwark against the rising tide of violence.


In Washington, DC:

The Oct. 19 event in DC will be led by Rev. Glenna Huber of Church of the Epiphancy. It will be held at BLM Plaza, led by faith leaders and healthcare professionals. Dr. Melanie Hill, an

acclaimed and accomplished violinist, will play. After the short vigil, the leaders group will process to the White House to unfurl 450 feet of purple fabric.

https://letsreimagine.org/unity


In New York:

All are welcome to participate in the in-person vigil on Oct. 19 at The Cathedral Church of St. John the Divine. RSVP so that we can ensure the gathering can comply with state guidelines on gatherings and safety:

https://www.stjohndivine.org/calendar/38136/mourning-into-unity

.



National Gathering of Religious Leaders (NGRL) 2020 - Oct. 19-23

Religions for Peace (RFP) USA invites you to the National Gathering of Religious Leaders (NGRL) 2020 on the theme of Uplifting Moral Voices for Immigration and Refugees – Faiths in Action to be held October 19-23, 2020 from 2PM to 3PM ET daily. The Gathering will issue a call to action titled "A Joint Statement from U.S. Religious Leaders and Communities Regarding U.S. Immigration and Refugee Policies and Practices" and will provide a study guide for congregations titled "Offering Refuge: A Discussion Guide for Faithful Americans on Immigration Policies and Practices." To register for NGRL 2020 on Zoom, connect on the Facebook page, or endorse the call to action as an organization/individual, visit: http://www.rfpusa.org/national-gathering-of-religious-leaders-2020-uplifting-moral-voices-for-immigration-and-refugees-faiths-in-action/ (Kindly note that the call to action and study guide are embargoed until October 19, 2020, 2PM ET.)
Job Listing
The South Carolina Christian Action Council, Inc., the state's largest ecumenical agency representing 13 Christian denominations, congregations, and individuals, is seeking an

Executive Minister/CEO

. The Council engages its constituents in Prayer and the pursuit of Racial Justice and Healing, Social Justice, and Peace-making which lead to Unity. The organization, based in Columbia, SC, seeks a leader with experience in ministry, ecumenical relationships, and fundraising. More information: https://www.sccouncil.net/?page_id=1670