Subject: NCC Newsletter: WCC Assembly Reflections
View this email online if it doesn't display correctly
Echoes From the 11th Assembly of the World Council of Churches, White House Summit on Standing United Against Hate-Fueled Violence
Echoes From the 11th Assembly of the World Council of Churches
WCC Assembly delegates from NCC Member Communions (Photo credit:

K. P. Abraham)
Bishop Vashti Murphy McKenzie - NCC Interim President/General Secretary

The 11th Assembly of the World Council of Churches met in Karlsruhe, Germany recently where thousands gathered from diverse communions to continue the work of "…the unity of the church and the unity of humankind." Dr. Agnes Abuom, moderator of the WCC Central Committee said that our prayers were many. They included creating "..an enabling environment for prayer, celebration, discussions, exchange of views and ideas, as well as a glimpse of church life in Germany."

Under the theme "Christ's love moves the world reconciliation and unity", delegates and participants tackled tough issues that were both challenging and inspiring. Daily prayers in a variety of languages with music reflective of every corner of the globe strengthened the ecumenical fellowship. Presenters in the thematic plenaries were relevant on a variety of subject matters that touched on racial injustice, the plight of indigenous people, and environmental concerns. Our small group work was done either in home Bible studies or in ecumenical conversations.

I left the gathering with great hope and great disappointment. Great hope that Christians from all over the world from diverse faith traditions and reformations were able to pray, worship and study together. The Holy Spirit permeated the cacophony of the sounds of worship so that, as we were immersed with traditions not our own, we could feel the presence of God.

I felt hope as the delegations from Russia and Ukraine were in the same place as the WCC tried to reach a consensus that would express the outrage of an unprovoked war, give voice to both delegations of the same faith tradition and leave with a statement that did not put people's lives in jeopardy when they returned home. Hope that Indigenous People were given voice and place to express their current issues. Hope that the crises in the Middle East had a hearing that expressed the human cost and concerns for religious freedom.

There was hope as the young adult delegates demanded a seat at the table. They made an impact advocating for their full participation –

allow us to participate now so that you will have a church in the future

. So many signs of hope including making new global friends. Hope that we could challenge one another and still do the work of consensus-building as a decision making process. It looks like consensus-building is a pathway to failure, yet it emerges as a pathway to seek common ground amid competing interests.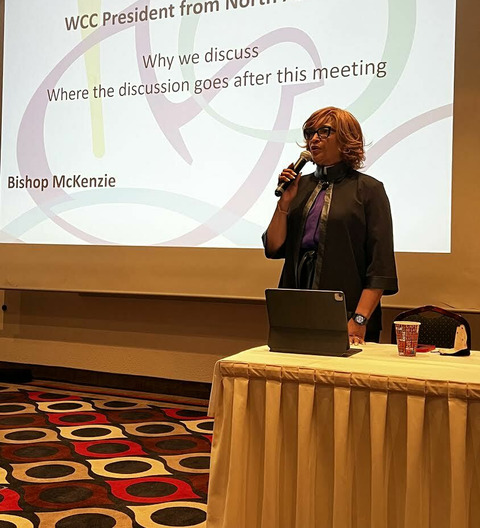 I was honored to be elected to the Public Issues Committee. It is one of the hardest working committees of the assembly meeting in between sessions, sometimes late into the evening or very early in the morning. The work of this committee provided a safe space for serious engagement on the trauma and suffering of people, the struggle with the legacies of colonialism, creation justice, the ravages of war and the things that make for peace in a divisive world

We sat together as delegates from Russia and Ukraine, the Middle East and Africa, Europe and the Pacific, Asia and the Americas. We prayed together. We worked together through difficult conversations.

Bishop Dr. Heinrich Bedford-Strohm, Evangelical Lutheran Church, Bavaria was elected the new Central Committee Moderator along with two Vice Moderators. One is a member of NCC's Executive Committee, H.E. Archbishop Dr. Vicken Aykazian, Armenian Apostolic Church. The other is the Rev. Merlyn Hyde Riley, Jamaica Baptist Union. Also, Rev. Dr. Angelique Walker-Smith, National Baptist Convention USA, Inc., was elected as the North American president, one of eight regional and Orthodox presidents elected by the Assembly.

"Where people are suffering, where people cry out for justice, the church must be an agent to give them a voice and to make visible how the church can be the salt of the earth and the light of the world," said Bishop Bedford-Strohm.

Bishop Sally Dyck, Ecumenical Officer for the United Methodist Church, and a member of NCC's Governing Board, was also elected to WCC's Executive Committee.

Several persons from NCC communions were elected to WCC's Central Committee including: NCC's Executive Committee member and Board Treasurer, Rev. Dr. Teresa Hord Owens, General Minister and President of the Christian Church (Disciples of Christ) in the United States and Canada; Ms. Kathryn Lohre, Executive for Ecumenical and Inter-Religious Relations in the Office of the Presiding Bishop, Evangelical Lutheran Church in America; Bishop Brian Thompson, African Methodist Episcopal Zion Church; Rev. Dr. Jennifer Leath, African Methodist Episcopal Church; Evelyn L. Parker, Christian Methodist Episcopal Church; Dr. Raimundo Barretto, American Baptist Churches, and others.
Rev. Dr. Angelique Walker-Smith - WCC president from North America; National Baptist Convention, USA, Inc.; Bread for the World USA
I am grateful for this invitation from our Interim General Secretary, Bishop Vashti Murphy McKenzie. Invitations like this are consistent with her steady pulse of inviting us to be a community. In Karlsruhe, she invited us for our group photo and North American regional meeting. She also gave voice to our WCC Public Issues Committee that brought substantive advocacy proposals for the ecumenical movement. We have and continue to appreciate her presence and leadership of our NCCC then and as we return to North America.

The Assembly was also invitational and built community. Although any of us wondered if an Assembly would event be possible because of COVID and other intersectional issues but alas the prayers and diligent labors involved prevailed and God's grace was extended for this. This testimony to grace was animated and amplified particularly in the worship and prayer times. The contributions from the world in our devotional life was powerful and inspirational not only for the Assembly but for our being back to our regional homes. The plenaries engaged us and helped us to remember days past and the people who have brought us thus far by God's grace. The Ecumenical Conversations and Brunnen engagements were particularly engaging and allowed us to go beyond the face of the issues and to create community exploration at the micro and macro levels.

The Pre-Assemblies were strategic to building community. The voices of the Community of Women of Men, Indigenous communities, those who are differently abled and the youth the Global Ecumenical Theological Institute (GETI) played key roles in laying the foundation for deepened inclusion during the Assembly. I heard from many who appreciated this traditional entry point for those who have not been at an Assembly. I am grateful for the continued space and support of the WCC related Pan African Women of Faith/Pan African Women's Ecumenical Empowerment Network (PAWEEN) and WCC related Africans and Africans in Diaspora (AAD) that go forward and speak directly into mutual priorities of the North American region and the WCC. I am also particularly grateful for the leadership of our WCC Moderator, Dr. Agnes Abuom, our Vice Moderators, Bishop Mary Ann Swenson, the late Metropolitan Gennadios, our General Secretaries since Busan and the faithfulness of the past Central and Executive Committee who served for 9 years versus the conventional 7-8 years. A period that included the challenges of the pandemic and racism, increased climate change and conflicts. It was not easy to go forward when so much threatened this possibility.

I thank God for all of you and look forward to serving with the elected WCC leadership and our North American region going forward in the global space with the NCC and WCC. Thank you for the invitation to serve you.

Rev. Dr. John Dorhauer - General Minister and President, United Church of Christ
These last two weeks in Germany were a dramatic testimony to the power of Christian siblings coming together in love and fellowship. Greeting dear friends whom we have been unable to see through the season of pandemic was absolutely delightful; and meeting new friends from all over the globe was rewarding.

I deeply appreciated the way the body wrestled with tough issues that we knew had the potential to divide us. The pair of matters surrounding the war in Ukraine and the plight of Palestinians in the Occupied Territories demonstrated our collective capacity to stay in dialogue with each other even when the disagreements are pronounced and passionate. This ability to model civil discourse and love across divisions can become a balm to a world drifting father and farther apart.

Just as rewarding was the unity with which we spoke of the urgency for the body of Christ to organize our collective capacity to seek a pathway through the climate crisis. Throughout the Assembly, we iterated our clear commitments to ending the crisis and rescuing a planet in the throes of an apocalyptic, dystopian unraveling. That was very gratifying, and I pray with fervor that we all take action and combine our efforts to raise consciousness and commit to lowering our carbon footprint.

Finally, let me say that of all the wonderful things we experienced, the worship for me had to be the highlight of them all. To see and hear and experience every morning the beauty of every culture expressing itself in sacred language, art, dance, and music had me wondering if this wasn't what heaven will be like. I didn't want it to end. I will never forget it.

Taking a Stand Against Hate-Fueled Violence
The National Council of Churches has consistently been vocal about the trauma and tragedy of mass shootings and other hate-fueled crimes. On Thursday, Interim President and General Secretary of the NCC, Bishop Vashti Murphy McKenzie joined survivors, experts, bi-partisan leaders and clergy at the United We Stand Summit at the White House.

"We need to say clearly and forcefully, white supremacy, all forms of hate... have no place in America," said President Joe Biden at the summit to elevate the conversation about hate-based attacks and mass shooting in America. "As to those who say, we bring this up, we just divide the country — bring it up, we silence it, instead of remaining silenced. For in silence, wounds deepen." The President was introduced at the summit by the mother whose daughter, Heather Heyer was killed during a White supremacist rally in Charlottesville, Va. six years ago.
Journalist Lisa Ling moderated conversations with survivors of hate crimes including Dawn Collin, Mayra Alvear, Vilma Kari, Joseph Borgen, Rais Bluiyan and Pardeep Kaleka. Dr. Cynthia Miller-Idriss and Bill Braniff presented compelling data on domestic terrorism. She also interviewed Christian Picciolini, who wasn't a survivor of an attack, but a perpetrator who enlightened the audience on how persons like him get recruited by hate groups.

There were panels on solutions from both the local and government perspectives, an armchair discussion with bi-partisan mayors, and the honoring of "Uniters", persons who personify bridge-building by confronting hate and division.
Vice President Kamala Harris said in her comments to summit attendees gathered in the East Room of the White House that, as a nation, we must have the determination to find hope in the midst of despair and join together to help prevent violence and provide better support to people and communities in recovery.

Brandon Wolf, a victim from the Pulse Nightclub shooting in Orlando, Fl. said, "No one should be left to fight hate alone. We must stand together. Harm against one of us is harm against all of us."
Photos Credits:
Top - Rabbi David Saperstein (Director Emeritus, Religious Action Center), Bishop Vashti Murphy McKenzie (NCC Interim President/General Secretary), Rev. Jim Wallis (Georgetown University), Bishop Samuel Greene (7th District AME Church)
Middle - Ambassador Susan Rice (Director, White House Domestic Policy Council) and attendees at the summit
Bottom - Vice President Kamala Harris addresses the summit
Greetings, NCC Friends and Supporters!

As we slowly bid farewell to the long days of summer and prepare ourselves for the cooler days of fall, a major part of the NCC's agenda is the annual 2022 Christian Unity Gathering (October 9-11). This is the third year in which we are holding a virtual CUG, and this year's event will again bear witness to the work that the National Council of Churches is doing to provide advocacy and action that shines light upon critical issues and works in the public square toward solutions.

Because of your long-term engagement with NCC, we're appealing to you to get involved! There are two ways in which your participation can make a tremendous difference. I am asking that, with God's help, you lend your support in both areas.

1. Registration
The 2022 CUG registration fee is a modest $25 to help defray costs. Please click the Register Now link and make plans to join us for engaging dialogue, impactful and relevant presentations, and conversations from leading scholars, preachers, educators, and thought leaders!
2. Financial Sponsorships

We are seeking sponsorships on three levels and each of the tiered levels of sponsorship offer different perks.

Gold ($300) – This level includes mention of sponsorship in the slide deck during sessions

Frankincense ($500) – Includes all the benefits of Gold plus display of sponsor logo in the Whova event platform, as well as mention in press releases about the event

Myrrh ($1000) – Includes all the benefits of Gold & Frankincense plus social media mentions on all NCC social media accounts.
Click on the Sponsor Now button below to partner in this important work and make your support for NCC known to our many participants.
I and the NCC team are grateful for your prayers and support as we journey together toward our annual gathering in October. Let's continue to work together for a cause greater than ourselves!

By the Grace of God,

Bishop Vashti Murphy McKenzie
Interim President/General Secretary
You are cordially invited to attend the "We the People: A Call to Prayer and Progress" on Thursday, September 29, 2022 at 6:00pm at Metropolitan AME Church 1518 M St NW, Washington, DC. On the occasion of the Congressional Black Caucus Legislative Weekend, we are gathering as moral leaders to redeem the soul of the nation as we kick-off 40 days to the midterm election, November 8, 2022.
RSVP: https://www.eventbrite.com/e/we-the-people-a-call-to-prayer-and-progress-tickets-415615084907
September is Voting Rights Month - Voter Empowerment: Check-up Sunday Every Sunday
"We were all made in God's image and likeness. Voter suppression on the basis of skin color is a throwing away of Imago Dei."
Jim Wallis,
Chair in Faith and Justice and the founding Director of the
Georgetown University Center on Faith and Justice
"The right to full participation of the person in political and civic life, including the opportunity: to vote by secret ballot…the right to vote is a basic human right."
from the 1963 NCC Human Rights Policy Statement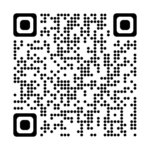 September is Voting Rights Month. The National Council of Churches issues a Call to Action to energize and empower voters to exercise their right to vote in upcoming elections and in every election. The right to vote with unfettered access to the ballot box is one of America's sacred trust. It was a hard-fought right and is a present hard-fought fight right now in our country.

NCC Voter Empowerment imitative partners with our communions and others to provide a Voter Resource Guide and the Voter Toolkit, from Faiths United to Save Democracy that contains information for a church-based plan of action. On Check-Up Sunday, people can use a QR code to check their voter status, verify ID requirements, poll locations, poll rules and regulations, voter registration deadlines, early voting and election dates and more. There are ideas to stimulate conversations at church and at home.

Register your communion, church and organization today to receive the Voter Empowerment Resource Guide. It's free. Click here to register: Go to https://nationalcouncilofchurches.us/voter-empowerment/ Use the hashtag #Vote Ready #NCC on your social media platforms.
NCC Seeks Director of Communications
NCC is looking to add a new Director of Communications to its team. Based at its headquarters in Washington, DC, the Director of Communications is responsible for all of NCC's outward messaging including press statements, social media, website, multimedia, and this newsletter! You can read the full job description on NCC's website and if this sounds like an opportunity for you please send your cover letter and resume/cv to jobs@nationalcouncilofchurches.us.
Deadline Approaching for Low/No Income Families to Receive Child Tax Credit, Stimulus Payments
Churches and faith based organizations are a vital link to families who have little or no income. Some may be members in your church community, others are served by you through your community ministries. Many however are not aware that they may be eligible for payments including the Child Tax Credit, stimulus payments, and other aid that has been distributed based on tax filings. By taking 15 minutes to fill out a simple form, these families can receive vital payments that can help them out. Even people without children who don't file tax returns can receive stimulus payments that they are entitled to.

The deadline for claiming these payments is November 15

.
Code for America in partnership with the White House and the Treasury Department have created a website for everyone to file a tax return so that they can receive the payments intended for them. Just go to GetCTC.org/ncc and sign up and complete the form. It takes just 15 minutes and could mean thousands of dollars for families who need it. Outreach materials to get out the word in your community are available at this link.
New COVID-19 Boosters Are Here, Get Your Free Vaccine Now!!
This week the CDC updated its guidance on COVID-19 booster vaccination. A new booster is now available that protects people from both the original COVID-19 strain as well as the more recent Omicron strain.
A single dose of Pfizer-BioNTech COVID-19 booster is recommended for individuals ages 12 years and older at least 2 months after your last booster or 2-shot primary series. A single dose of Moderna COVID-19 booster is recommended for individuals ages 18 years and older at least 2 months after your last booster or 2-shot primary series. You can find where you can get your booster by going to vaccines.gov. Make sure you select "Pfizer-BioNTech Booster" and/or "Moderna Booster" when you search.
In addition, Churches should be aware that 10-13% of the population of the United States

has not received even one COVID-19 vaccination

. Research has shown that people who are not vaccinated often live in rural communities and/or live in poverty. For those who are not vaccinated, the current surge is just as dangerous. Churches can share reminders that the COVID-19 vaccines are safe, effective, and FREE for all. Answers to frequently asked questions and myth busters about vaccines can be found on the Centers for Disease Control and Prevention website.
National Sign-Up Day for the Affordable Connectivity Program (ACP)
Saturday, September 24, 2022 * 10 am- 2 pm EST
In a time when the internet is essential to daily life, the pandemic has highlighted the disparities in internet access across the US, particularly for communities of color. The Center for Faith, Justice, and Reconciliation proudly partners with Black Churches 4 Digital Equity to invite you to stand in the gap for digital justice!
The Affordable Connectivity Program is a federal subsidy program to help households in need get free or low-cost internet service plus a $100 discount to buy a tablet or computer. The goal of the Sign-Up Day is to facilitate 10,000 new ACP applications from across the US.



1. HOST YOUR OWN National ACP Sign-Up Day on Saturday, September 24, 2022 from 10:00 am EST to 2 pm EST.
2. VOLUNTEER at one of our fifteen National Day of ACP city sites.
3. SPREAD THE WORD – Share National Day of ACP Enrollment information and city sites with your congregation, clients, and community residents.
4. SHARE ON SOCIAL - Share info about enrollment and city sites via Facebook or Twitter or traditional media.
5. TAKE ACTION! Use our simple tools to send your state broadband leaders an email, tweet, or phone call advocating for digital equity resources for black communities in your city.

If you find our newsletter informative, please forward it to friends and colleagues!
Your gifts helps us build a more just and equitable community that chooses grace over greed, love over hate, and faith over fear.