Subject: NCC Newsletter: Progressing Toward Lent
View this email online if it doesn't display correctly
As I review my calendar for this past week, it is filled with meetings, phone calls, emails, and other events that reflect my life as president and general secretary of the National Council of Churches.

On Monday, I was privileged to help teach Mike McCurry's National Capital Semester for Seminarians. As always, this is an impressive group of students. I spoke about the width and breadth of the ministry of the NCC; our priorities for 2021; our progress on updating the New Revised Standard Version of the Holy Bible; and our commitment to anti-racism, to faith and order, to Christian education and faith formation, and to justice and advocacy.

I also participated in a meeting of the governance committee of Americans United for Separation of Church & State (AU), an important organization on whose board I served. AU was founded in 1947 at the Chicago Temple, a church my father served many years later. AU is ably led by my good friend Rachel Laser and I am grateful to be part of the crucial effort ensure that government does not promote religion over non-religion or favor one faith over another.

On Tuesday, the NCC staff held its weekly meeting during which we pray and share with one another what is happening in our lives and our work. We are just beginning to prepare for our annual Christian Unity Gathering which will take place in mid-October.

Later on Tuesday, I met with the coordinating committee of the Circle of Protection, a long-term coalition of the NCC, the US Conference of Catholic Bishops, the National Association of Evangelicals, Sojourners, Bread for the World, and many other organizations seeking to ensure government programs that assist impoverished people around the world are protected and strengthened. This week, we had an excellent meeting with Mr. Cedric Richmond, the new director of the White House Office of Public Engagement, regarding the proposed Covid relief package in front of the Congress.

On Wednesday, the NCC finance committee met to review the preliminary 2020 budget numbers. By the grace of God and the generosity of those who bequeathed gifts to us, last year's results were pretty good.

On Thursday, I was blessed to be part of another meeting of Jewish, Christian, and Muslim leaders seeking to connect government vaccine efforts with our houses of worship. Already, many synagogues, churches, and mosques are being used for vaccine distribution, but many more can be part of the effort. Hopefully, at our next meeting we can discuss this with President Biden.

On Thursday evening, I watched a webinar featuring Professor Skip Gates, Rev. Dr. Otis Moss III, and Dr. Yolanda Pierce that provided a preview of a two-part documentary that will air next week on PBC on the history and culture of the Black church.

Finally, today I joined Rev. Jim Wallis and many others for the weekly meeting of the Faith Table. We were joined by Rep. Barbara Lee of California who has introduced legislation in Congress to create a long overdue Commission on Truth, Racial Healing and Transformation. Her legislation dovetails nicely with the NCC's own anti-racism initiative.

I feel incredibly blessed to be part of this essential ministry. The National Council of Churches and its member communions are a vital part of the most consequential endeavors underway to address peacemaking, racial justice, public health, and evangelism. This is where God wants us to be.

Reparations Hearing on H.R. 40
Ash Wednesday 2021 will be a great day to begin the prayerful process of repentance in our journey to the cross, and towards racial equity in America, and beyond! We are pleased to hear that on on February 17, 2021 at 10am EST, the US House Judiciary Committee will hold a hearing on H.R. 40: Commission to Study and Develop Reparation Proposals for African-Americans Act.
H.R. 40, first introduced in 1989 by the late John Conyers and reintroduced every year unsuccessfully until now, establishes the Commission to Study and Develop Reparation Proposals for African-Americans. The commission shall examine slavery and discrimination in the colonies and the U.S. from 1619 to the present and recommend appropriate remedies.

As part of our NCC Policy Priorities for 2021 sent to the Biden/Harris Administration transition team on December 18th, we urged the administration "to support legislation like HR40, which would explore reparations as a matter of equity and dismantling systemic racism."

NCC Governing Board chair, Rev. Dr. John C. Dorhauer of the United Church of Christ, has prayed, "We are a nation that has healed the wounds of its people lightly—often crying, "Peace, peace" when there is no peace. Neither our Civil War nor our civil rights movement has ended race hate. We remain a deeply divided people. We have not chosen a path-way to the kind of redress and reparations that would atone for past sins and create racial equity." ("United Against Racism: Churches for Change," ©New York: Friendship Press, 2018, p. 115)
PBS Special "The Black Church"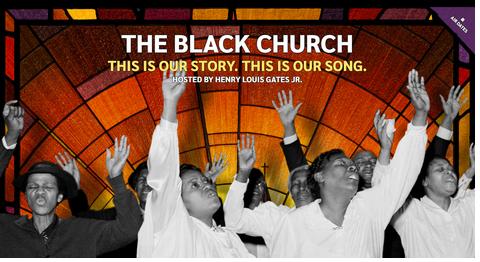 The Black Church: This is Our Story, This is Our Song

will premiere February 16 and 23, 2021 at 9:00 p.m. ET on PBS stations nationwide (check local listings). This moving four-hour, two-part series from executive producer, host and writer Henry Louis Gates, Jr., the Alphonse Fletcher University Professor at Harvard University and director of the Hutchins Center for African and African American Research, traces the 400-year-old story of the Black church in America, all the way down to its bedrock role as the site of African American survival and grace, organizing and resilience, thriving and testifying, autonomy and freedom, solidarity and speaking truth to power. The documentary reveals how Black people have worshipped and, through their spiritual journeys, improvised ways to bring their faith traditions from Africa to the New World, while translating them into a form of Christianity that was not only truly their own, but a redemptive force for a nation whose original sin was found in their ancestors' enslavement across the Middle Passage.

Presiding Bishop Michael Curry of The Episcopal Church and will be featured along with Rev. Dr. William Barber II; Bishop Vashti McKenzie, AME Church; scholar Cornel West; media executive and philanthropist Oprah Winfrey; singer, songwriter, producer and philanthropist John Legend; singer and actress Jennifer Hudson; ; gospel legends Yolanda Adams, Pastor Shirley Caesar and BeBe Winans; civil rights leaders Rev. Al Sharpton and ; and many more. Through their interviews, viewers will be transported by the songs that speak to one's soul, by preaching styles that have moved congregations and a nation, and by beliefs and actions that drew African Americans from the violent margins of society to the front lines of change.
COVID-19 Pandemic Response
PC (USA) Leads the Way Toward COVID-19 Vaccinations
Rev. Dr. J. Herbert Nelson, II, Stated Clerk of the General Assembly of the Presbyterian Church (U.S.A.); and the Rev. Dr. Diane Moffett, president and executive director of the Presbyterian Mission Agency, joined about 20 other faith leaders at the state Capitol Building in Kentucky to receive their first vaccination against COVID-19. Both are encouraging everyone to do the same when it's their turn.
[Photo of Dr. Nelson credit to the Kentucky Governor's office.]
Reflecting on Racial Injustice for Lent
NCC endeavors to share examples of materials that can inspire and be used to lead the way toward racial justice and The United Methodist Church (UMC) has two for the Lenten season.


A study course to help dismantle racism is offered by Bishop Hee-Soo Jung of the Wisconsin Conference. "Together in Christ: A Lenten Study on Beloved Community" includes eight sessions of prayers, lessons, and discussion questions.
The Baltimore-Washington Conference of The United Methodist Church has also published "A Lenten Experience of Scripture, UMC Social Principles and Antiracist Action to Build Beloved Community."
Stating that

the face of evil forces that seek to divide and demean the human family have many names, they name racism as one of these manifestations.
Spread the Word About Domestic Abuse and Violence
A "shadow pandemic" of domestic abuse and violence has risen alarmingly in conjunction with COVID-19-related lockdowns. As we near Valentine's Day, we join the World Council of Churches in working toward a world free from rape and gender-based violence. It simply isn't true that "love hurts." A person who doesn't know how to love, hurts. Love heals. #ThursdaysInBlack #ValentinesDay2021
If this newsletter was forwarded to you, sign up to receive it.
------------------------------------------------
Your gifts
helps us build a more just and equitable community that chooses grace over greed, love over hate, and faith over fear.