Subject: NCC Newsletter: Last Chance to Get #VOTEREADY
View this email online if it doesn't display correctly
Last Chance to Get #VOTEREADY
Election Day is Tuesday, Make Sure You Are #VOTEREADY
"We were all made in God's image and likeness. Voter suppression on the basis of skin color is a throwing away of Imago Dei."
Jim Wallis,
Chair in Faith and Justice and the founding Director of the
Georgetown University Center on Faith and Justice
"The right to full participation of the person in political and civic life, including the opportunity: to vote by secret ballot…the right to vote is a basic human right."
from the 1963 NCC Human Rights Policy Statement
During Voting Rights Month in September, the National Council of Churches issued a Call to Action to energize and empower voters to exercise their right to vote in upcoming elections and in every election.
The right to vote with unfettered access to the ballot box is one of America's sacred trusts. It was a hard-fought right and is a present hard-fight right now in our country.

NCC Voter Empowerment initiative has partnered with our communions and others to provide a Voter Resource Guide and Voter Toolkit from Faiths United to Save Democracy that contains information for a church-based plan of action. On each Check-Up Sunday, people can use a QR code to check their voter status, verify ID requirements, poll locations, poll rules and regulations, voter registration deadlines, early voting and election dates and more. Included are ideas to stimulate conversations at church and at home.

The best way to ensure you can vote on election day is to double check your registration online via your state's election website. If you get to the polls and run into an issue, call the Election Protection hotline at 866-OUR-VOTE or 888-VE-Y-VOTA for Spanish.

Register your communion, church, or organization today to receive the Voter Empowerment Resource Guide. It's free. Click here to register: https://nationalcouncilofchurches.us/voter-empowerment/. Use the hashtags #Vote Ready, #NCC on your social media platforms.
Bishop McKenzie Participates in OWN Your Vote
Interim President and General Secretary Bishop Vashti McKenzie was a special guest participating in "A Virtual Voting Conversation with Oprah Winfrey" on Thursday, November 3, at 8p ET., offering the closing prayer/benediction for the online event.

The virtual conversation was a project of OWN Your Vote, sponsored by the Oprah Winfrey Network, Advancement Project, the African Methodist Episcopal Church, NAACP, VOTE.org, and several other organizations that are focused on issues that primarily impact African Americans and women.

According to oprah.com, "As the nation reels from the effects of inflation, gun violence, climate change, racial injustice and voter suppression, OWN Your Vote seeks to shed light on the solution through a bipartisan registration and a get-out-the-vote campaign aimed at providing OWN's audience of Black women with tools and resources to overcome voter suppression in the November election."
Former NCC Associate General Secretary Passes
The Rev. Albert Mitchell Pennybacker, Jr., former associate general secretary of the National Council of Churches, passed away in Chagrin Falls, Ohio on October 27 at age 91.

For 35 years he served as senior minister of various Christian Church (DCC) congregations in Connecticut, Ohio, and Texas. "Penny," as he was called by many, also was a veteran of postwar global ecumenical efforts, especially under the aegis of the World Council of Churches (WCC), and of the US Civil Rights era in northern Ohio.


Rev. Pennybacker served NCC from 1993–99. While there he met such a variety of needs that he dubbed himself a "utility player." He carried two titles at NCC — associate general secretary for income development and associate general secretary for public policy. He also worked with Faith and Order, assisted with support for the AmeriCorps program. and promoted the NCC in numerous public and private arenas.


He served as a fellow and visiting professor at Yale Divinity School, a trustee and lecturer at Texas Christian University and Brite Divinity School, a trustee of the Disciples Divinity House at the University of Chicago, and as a Chautauqua Institution chaplain.

Reflecting on his years with the NCC, Rev. Pennybacker commented, "The Council, like most ecumenical bodies, is marked by the fragility of casual commitments among so many constituencies. Yet it serves, admittedly imperfectly but often courageously, the vision of God's intended life for all people in all the world. The NCC is therefore precious and as our wonderfully able general secretary has often said, 'to be handled with care.' It has been a joy and an honor to be a part of the Council's unique ecumenical ministries."

The Chattanooga, Tennessee native was predeceased by his wife, Martha, to whom he was married for 62 years. In 2017, he married the Rev. Joan Brown Campbell of Chagrin Falls.

Rev. Pennybacker is survived by his wife, children, granddaughters, and extended family members.
A Powerful Voice from Harlem Fades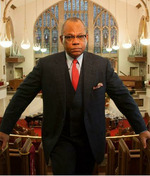 NCC extends condolences to the family of the Rev. Dr. Calvin O. Butts III, and to all who were impacted by his great ministry of service. Dr. Butts, pastor at Harlem's Abyssinian Baptist Church, passed away on Friday, Oct. 28. For more than a generation, the venerable Rev. Butts was totally involved in the community's social, political, and economic welfare.

Dr. Butts was a graduate school student when he was hired to work at Abyssinian as youth minister in 1972. He later was named assistant pastor, and became the congregation's senior minister 1989, a position he held for more than three decades.

Following in the enormous footprints of former pastors Rev. Adam Clayton Powell Jr. and Rev. Samuel Proctor was a formidable assignment, but one that Rev. Butts soon accomplished by building his own legacy through service.

The limelight never appeared to be what Rev. Dr. Butts sought. Nevertheless, his willingness to use his voice to speak against injustice and to speak words of consolation during times of crisis elevated his status as a public figure—from challenging the cigarette and tobacco industries' advertising practices in Harlem, to the misogynistic lyrics of Hip Hop and Rap music, to the disproportionate impact of HIV/AIDS on the black community, to leading Abyssinian in prayer as the fires of the felled Twin Towers were still smoldering.

Rev. Dr. Butts demonstrated stewardship beyond the pulpit with his strong advocacy of political and social justice. His significant influence reached well beyond Harlem's borders and will be felt for many years to come.

He is survived by his wife, Patricia, three children and six grandchildren.

Bishop McKenzie Addresses Springfield Branch NAACP
NCC Interim President and General Secretary Bishop Vashti McKenzie was the keynote speaker at the NAACP—Springfield (MA) Branch annual Freedom Fund Banquet, in observance of their 104th anniversary.


Bishop McKenzie immediately challenged the 500-member branch by asking, "When are we going to say that enough is enough?"


She then encouraged listeners to ensure their voices are heard by voting in each general and presidential election and to remind acquaintances to vote, to become poll watchers, and to pen letters to the local newspaper editor.


"This is a time, where you find your courage to keep believing that justice is still possible," Bishop McKenzie said. "Keep believing, keep working to deconstruct the deranged underbelly of fear and phobias in America."
The combination fundraiser and membership drive also was an occasion to honor community members striving to make a difference and helping neighbors in need.


Bishop McKenzie's invitation to speak was extended by Greater Springfield Branch President Bishop W. Talbert Swan (pictured in photo with Bishop McKenzie and his wife, Cynthia Davis Swan). Bishop Swan is prelate of the Greater Vermont Ecclesiastical Jurisdiction of the Church of God in Christ.

Invitation: Pan African Women of Faith Conference
The Pan African Women of Faith Ecumenical Empowerment Network will host their annual conference online November 17–18 from 8:00 am–noon. The conference will begin with an orientation session on November 17. Everyone is invited to be a part of the experience, which is formatted as two half-day sessions. The registration donation of $25 can be sent via Paypal: Paween.
EITC Added to GetCTC's Simplified Filing Tool - Deadline to File November 15
From now until November 15, eligible GetCTC clients in the 50 states and D.C., will be able to claim the Earned Income Tax Credit (EITC) using a simplified filing tool. To claim the EITC, clients will have to provide W2 paperwork, which they do not have to provide to only claim the Child Tax Credit or missing third stimulus payment. The tool's income limits remain the same: clients must earn less than $12,550 single or $25,100 married, and have less than $400 in self-employment income.

All clients directed to GetCTC.org will be given the option to choose if they want to add W2s for this additional money. Clients who select this option will be asked a few additional EITC qualifying questions and guided through entering their W2s. By reporting information from their W2s, clients will also be able to claim their federal tax withholding. Any client who chooses not to add their W2s or is ineligible for the EITC (including filers in Puerto Rico) can use GetCTC exactly as they always have. For more information about EITC functionality in GetCTC, watch this updated recorded GetCTC demo.

This critical program through GetCTC gets more money to families who need it. But this functionality is also an experiment. GetCTC will be tracking clients' experiences carefully to learn more about the barriers and to help advocacy efforts for key next steps in filing reforms.

Now is the time to do everything you can to send families to GetCTC.org. Updated outreach materials, available in 11 languages, can be found here.
If you find our newsletter informative, please forward it to friends and colleagues!
Your gifts helps us build a more just and equitable community that chooses grace over greed, love over hate, and faith over fear.