Subject: NCC Newsletter: Ecumenical Patriarch Visit
View this email online if it doesn't display correctly
Ecumenical Patriarch Visit
Welcoming His All-Holiness
Below are my remarks made at the NCC Reception for His All-Holiness Ecumenical Patriarch Bartholomew on Tuesday, October 26, 2021.
"Your All-Holiness, we are grateful you accepted our invitation to this reception which confirms your commitment to ecumenism and to friendship through the archdiocese with the National Council of the Churches of Christ in the United States of America.

We want you to know of the love and affection we have for you and we join in welcoming you to our nation. We pray your meetings with our national leaders will be fruitful and move the entire world along the path to peace and toward climate justice.

We at the NCC are grateful for the partnership of Archbishop Elpidophoros and the archdiocese in the life and work of the NCC (as well as other Eastern Orthodox traditions).

The archdiocese is very active at all levels of the NCC, especially on our governing board, on board committees, on Faith and Order, and interfaith relations. We are thankful Archbishop Elpidophoros serves as chair of the NCC World Council of Churches Relations Committee and that Fr Nicolas Kazarian serves on the Executive Committee.

The NCC has a close connection to Orthodoxy, not least because of the senior leadership in the Council of Associate General Secretary Dr Antonios Kireopoulos. Dr Kireopoulos works directly with the Archbishop and the Greek Orthodox Archdiocese of America representatives on all these committees and convening tables and brings Orthodox sensitivity to all the Council's work.

In addition, the NCC maintains five formal interreligious dialogues, those with Hindus, Buddhists, Sikhs, Jews, and Muslims.

As well, I wish for you to know the NCC is the custodian of the honorable tradition of the RSV and NRSV translations of the Bible that started in 1947 and continued through 1989. We have just completed the NRSV Updated Edition less than a month ago, which ensures the integrity of the translation into the next several decades. This work was done with an international team of biblical scholars brought together by the Society of Biblical Literature.

Assembled here this morning are senior ecumenical leaders from Oriental Orthodox, Roman Catholic, Historic Black, the Episcopal, and Mainline Protestant Churches. All of them represent churches within the NCC, or churches in close partnership with the NCC in our work.

We pray for you and your continued strength and health and we offer our congratulations on his 30th anniversary as Ecumenical Patriarch. We look forward to hearing from you this morning."


Grace and peace,
NCC Welcomes the Ecumenical Patriarch
On Tuesday, October 26, 2021,

the National Council of Churches held a reception for His All-Holiness Ecumenical Patriarch Bartholomew at the Simpson Chapel in the United Methodist Building on Capitol Hill.
Ms. Tura Foster Gillespie of the National Workshop on Christian Unity led the singing of the procession hymn, "All Creatures of our God & King," as His All-Holiness; The Most Rev. Archbishop Elpidophoros, Greek Orthodox Archdiocese; NCC President and General Secretary Jim Winkler; and NCC Governing Board Chair Bishop Teresa Jefferson Snorton, CME, processed into the chapel.
The opening prayer was offered by His All-Holiness, then Mr. Winkler greeted those in attendance. (See remarks above.)
Bishop Jefferson Snorton warmly welcomed everyone to the gathering, "It is an honor to have you here with us today. The world is quickly becoming smaller, not geographically in size but in the ways in which we interact, interrelate, and depend on one another. Today, as the children of God, as the people of the church, we understand that global community because as the Christian faith, we have been global for a long time. His High Holiness' presence with us today is a testimony in which our global relationships and our faith transcends time and transcends space. We are so grateful for this opportunity to gather because it reminds us of our duty and our responsibility to bring hope to a world that is filled with terror and fear and pandemic, to show love in a world where often faith wants to prevail but most of all to show unity. Though we call ourselves by many names, we are but one. We are one in Christ. We are one in the faith."
Bishop David Talley of Memphis, chair of the Committee on Ecumenical and Interreligious Affairs; and Rev. Susan Henry Crowe, General Secretary of the United Methodist General Board of Church and Society also spoke then
His All-Holiness addressed those assembled. (See remarks below.)
A special recognition of the 30th anniversary of His All-Holiness's Election and Enthronement was read by NCC's former Governing Board Chair, Rev. Dr. John Dorhauer, United Church of Christ. An Ecumenical Cross was presented by NCC Governing Board Vice Chair, Bishop Elizabeth Eaton, Evangelical Lutheran Church in America who said, "May this Council cross be a symbol of the transformative power of Jesus' presence in our lives together to be steadfast in faith and unity, in Christ open to God's creation, justice, and loving kindness." Archbishop Vicken Aykazian, Armenian Church of America, gave the closing prayer.

His All-Holiness Ecumenical Patriarch Bartholomew Remarks
His All-Holiness delivered the remarks entitled, "The Future of Ecumenical Dialogue," during which he said in part:
"Since the beginning of September, we have traveled extensively from Hungary to Italy, from the United Arab Emirates to the Vatican and now to the United States of America. It is our conviction that ecumenical dialogue is first and foremost a witness to our Christian faith and to the unity of Christ's Body that is inherent to the teaching of the Gospel. Christ's call to unity is clearly directed to us:



I ask not only on behalf of these, but also on behalf of those who will believe in Me through their word, that they may all be one. As you, Father, are in Me and I am in You, may they also be in Us, so that the world may believe that You have sent Me.

(John 17:20-21)

Since the late 19th century, when the quest for unity became a vital part of the Church's mission in the world, the Orthodox Church has always prioritized the rapprochement among Christians as a response to Christ's commandment. No other Encyclical of the Ecumenical Patriarchate exemplifies the Orthodox commitment to the ecumenical movement like the Encyclical "Unto the Churches of Christ Everywhere," issued in 1920, in the aftermath of the First World War.

Following World War II, the need for a global Christian organization was brought to fruition with the World Council of Churches, based on two crucial principals: an actual dialogue on theological issues and the need for joint social action.

Today, the ecumenical movement is at a crossroads. If we do not place the issue of unity and communion at the center of our commitment, we will lose the authenticity of our relationships and the common goal that brings us together. We have excellent and very talented theologians working on various aspects of our doctrine. But how can we reinvent our commitment to the "dialogue of love?" As you may know, this expression was originally used to describe the first encounter between Pope Paul VI and Ecumenical Patriarch Athenagoras, in Jerusalem, in 1964. The dialogue of love needs symbols, actions and encounters that embody our desire for unity.

Allow us to offer one example of the kind of ecumenical milestone to which we are committed regarding an issue dear to our heart: the protection of the environment. On September 7, 2021, together with His Holiness Pope Francis and His Grace Archbishop Justin Welby of Canterbury, we, for the first time in the history of Christianity, issued an urgent appeal for the future of the planet. A few weeks later, we were once again together in Italy to discuss the environment in preparation for the COP26. Our common care for the natural environment has become a tangible opportunity to explore the mystery of unity.

The determination of the Ecumenical Patriarchate with the ecological crisis is grounded in the principle that we cannot have two ways of looking at the world: one, religious and another one, worldly. We cannot separate our concerns for human dignity, human rights, or social justice from our concerns for ecological preservation and sustainability. These concerns are closely linked. If we value each individual made in the image of God, and if we value every particle of God's creation, then we must also care for each other and our world. In religious terms, the way we relate to nature directly reflects the way we relate to God and to our fellow human beings, as well as the way we relate to the whole of creation in all its biodiversity and beauty.

That is why our venerable predecessor, the late Ecumenical Patriarch Demetrios sent, on September 1st, 1989, the very first Encyclical to all Orthodox Churches throughout the world, instituting the first day of the ecclesiastical year as the Day of Prayer for the Protection of Creation.

We have repeatedly stated that the crisis we are facing today is not primarily ecological. It is a crisis in the way we perceive and conceive of the world. We treat our planet in a sacrilegious way, precisely because we fail to see it as a gift from above; because we fail to recognize our obligation to respect and pass this gift on to future generations. Therefore, before we can effectively deal with problems of our environment, we, as Christian ministers, must change the way we see the world and society. Otherwise, we are simply dealing with symptoms and not their causes. We require a new worldview if we are to desire what the Book of Revelation calls

a new earth

. (Rev. 21.1)

This is only one example among many others. We are aware of the colossal initiatives the National Council of Churches has undertaken, especially in tackling racial injustice. If we consider the protection of the natural environment based on the theological acknowledgment of God's presence, how much more should we defend the dignity of any human being based on the sacredness of God's image imprinted in every person?

Dear Brothers and Sisters in Christ,

The future of the ecumenical movement resides in 'the dialogue of love' through the creation of new symbols and common actions. We need to open our hearts to the language of dialogue. This is the ultimate condition for the restoration of unity among Christians. The 20th century was a time for growing restoration of relationships. The 21st century should become the century of the restoration of unity. The path to Christian unity has been neither peaceful nor painless. Unity is a task that remains difficult to fulfill. But the bonds of friendship among divided churches and the bridges by which we can overcome our divisions are indispensable, now more than ever. Love is essential, so that dialogue between our churches can occur in all freedom and trust. Then, we will acknowledge that the divergences originating from different ways in which churches respond to moral problems are not necessarily insurmountable, since churches witness to the gospel in different contexts. We should also recognize dialogue as an ethos by which churches can be prepared to compare and confront their divergences honestly, examining them in light of doctrine, worship, holy Scripture, but also pastoral care. Let us, therefore, process with hope along the path toward our restored unity."
President Joe Biden Sends Congratulations on NCC's Historic Election
Jim Winkler, NCC President and General Secretary, responded to the Build Back Better (BBB) Framework announced this week by President Joe Biden, "As Jesus told us, the kingdom of God belongs to the little children. As Christians, we are called to care for each one. The BBB Framework creates a brighter future for our children by providing universal pre-k for 3 and 4-year-olds and ensuring that childcare is affordable for many families. The National Council of Churches' 2021 priorities include expanding the Earned Income Tax Credit (EITC) and Child Tax Credit (CTC) so we applaud the one-year extension of these programs in BBB but will continue to advocate for a permanent expansion. The NCC has called for the administration to address health and educational disparities. Therefore, we fully support the Affordable Care Act premium tax credits for up to 4 million uninsured people in states where they can't access Medicaid, but at the same time are troubled by the exclusion of paid family leave and tuition-free community college which would go a long way in bringing economic equity to the US."
On Thursday, October 28, 2021, Rev. Dr. Leslie Copeland-Tune, NCC's Chief Operating Officer, joined civil and human rights leaders as well as other advocates for the "Black Women Leaders & Allies Freedom Walk for Voting Rights & Economic Justice." The event was organized by the National Coalition on Black Civic Participation (NCBCP) Black Women's Roundtable and National Council of Negro Women.
NCC, the Poor People's Campaign, Faithful Democracy, and other sponsors made a collective call for Congress to pass the Freedom to Vote Act, John Lewis Voting Rights Advancement Act, Build Back Better Act and Infrastructure Investment & Jobs Act.
This group has been organizing around voting rights in a concerted way since the summer.
NCC joined The Leadership Conference on Civil and Human Rights to sign a letter urging members of Congress to oppose the EAGLES Act of 2021 (S. 391/H.R. 1229), and instead invest in positive solutions to promote safe and supportive learning environments for students. Read the letter.
NCC joined 43 groups as part of the Justice Roundtable to sign onto a letter supporting
the EQUAL Act (S. 79) to pass bipartisan crack cocaine sentencing reform
to finally end the federal sentencing disparity between crack cocaine and powder cocaine offenses.
Christian Unity Gathering Videos
COVID-19 Pandemic Response:
This week we feature a collaborative vaccination campaign sponsored by the Connectional Young Adult Ministry (CYAM)
and the College of Bishops of the Christian Methodist Episcopal (CME) Church.
Dean Leon F. Parker III, Dean at Miles College, Pastor of Unity C.M.E. Church and CYAM Treasurer, offers encouragement and Bishop Marvin Frank Thomas, Presiding Prelate of the 2nd Episcopal District, prays that we may see God's hand at work in the COVID-19 vaccines and that we may hear God's call for us.
Ecumenical Advocacy Days Hires Conference Coordinator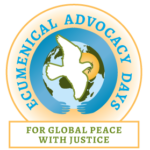 EAD announced that Sharmagne Taylor, CMP, has been hired as 2022 EAD conference coordinator. She is an entrepreneur and seasoned meeting and event consultant with specialization in project and attendee management, community engagement and DEI initiatives.

Over her 35-year career, she has provided both comprehensive and project directed support to corporate, national, and international association, religious, fraternal, educational and government organizations including registration, housing, budgeting, strategic planning, and fund development support. Prior to opening her own firm, On-Site Partners, Inc., in 1998, Sharmagne worked for 15 years in hotel operations, sales and convention services, primarily with Hyatt and Hilton.

She is graduate of University of Houston Conrad N. Hilton College of Hotel and Restaurant Management, where she is currently a member of the Dean's Advisory Board and a board member, committee chair and Distinguished Lecturing Member of Eric's Club. In 2003, she completed the Community Minority Business Advancement Program offered by The University of Texas McCombs School of Business. Sharmagne is a 2020 Distinguished Service Award recipient of the University of Houston Alumni Association and the 2018 recipient of the Distinguished Alumni Award presented by the Hilton College Alumni Association, where she helped to establish the Mary Douglas Endowment which has provided eight scholarships since its inception, to both graduate and undergraduate students. She also serves as an executive committee member of the Greater Houston Convention and Visitor Bureau and the Sales and Marketing committee for Houston First.

Sharmagne is a life member of Alpha Phi Omega Fraternity, a life member of University of Houston Alumni Association, a past board member of UH Black Alumni (UHBAA), a member of Alpha Kappa Alpha Sorority, Incorporated, Mu Kappa Omega Chapter and has served as president of Julia F. Thompson, Inc., its charitable organization, focused on lifelong learning and providing funding for its scholarship and community service programs. In her ministry journey as an adult, she has focused on campus ministry, women's ministry, Christian education, event management support and economic empowerment activities within multiple United Methodist congregations.


She will start with November 1. You can reach her by emailing coordinator@advocacydays.org.
North American Academy of Ecumenists Conference
The North American Academy of Ecumenists will hold their 2021 Annual Conference on November 18, 2021 virtually via Zoom. The conference is titled, "Dangerous Ecumenism for a Divided World."

If you find our newsletter informative, please forward it to friends and colleagues!
Your gifts helps us build a more just and equitable community that chooses grace over greed, love over hate, and faith over fear.