Subject: NCC Newsletter: Commemorating Voting Rights and Oak Creek, Last Chance for Healthcare
View this email online if it doesn't display correctly
Commemorating Voting Rights and Oak Creek, Last Chance for Healthcare
African-American Clergy Lead Effort to Protect Voting Rights; Join Them!
In July, NCC's Bishop Vashti McKenzie joined influential faith leaders from across the country to co-sign a letter urging President Biden to use his presidential power to speak out more boldly and use his authority to protect our right to vote.

This month, we continue our efforts to protect voting rights, in honor of the men and women who worked untiringly to ensure voting rights for all.

August is an important month in voting rights history. The 19th Amendment gave women the right to vote nationally on August 18, 1920. Nearly a half century later, President Lyndon B. Johnson signed the Voting Rights Act into law on August 6, 1965.

Churches played an important role in the passage of the Voting Rights Act, and they can still play an important role today.
Your signatures are the voice of millions of voters whose rights are at risk due to voter obstruction and suppression. Lending your support to this cause can give the power needed to urge President Biden to take action.

Please send a letter to President Biden and share the link below to encourage those in your network to also send him a message. We need to act quickly to help ensure free, fair, and safe elections in the November 8 midterm elections.

Use this link to add your support: https://chng.it/RNXbK5vpCd
Ten years ago today, August 5, 2012, a white supremacist gunman killed seven people in a Sikh gurdwara in the community of Oak Creek, Wisconsin. At the time, the National Council of Churches President Kathryn Lohre expressed heart ache for the Sikh community in Wisconsin and across the country.

"As children of God, we mourn the tragedy of violence wherever it occurs, whether in a movie theater or a house of prayer."

"We pray for healing and wholeness for all affected...and stand in solidarity with our Sikh brothers and sisters in this frightening time," Lohre said.

In responding to the attack at the time, Dr. Antonios Kireopoulos, NCC associate general secretary, Faith & Order and Interfaith Relations, said, "While it is difficult to know what was in the mind of the attacker, it would seem that it was the same mix of fear, ignorance, and bigotry that fuels all violence against individuals or communities of faith. It is our prayer that such acts of terrorism - for they are in fact terrorist acts - become less and less frequent, and indeed come to an end, as our society becomes more and more vigilant in educating one another on what it truly means to live as neighbors of one another.

"We can never stop acts of insanity," Kireopoulos said. "We can always do more to foster understanding and respect."

Over the past 10 years, NCC has continued to deepen its relationship with the Sikh community. In 2019, NCC and its partner the Sikh Council of Interfaith Relations established a formal dialogue.
Building relationships and nurturing friendships is at the heart of the dialogue. To accomplish this goal, agendas and programs are designed to foster a better understanding of each other's faiths and communities. Issues discussed include historical and current realities, including religious persecution experienced by both communities worldwide.

Today we join with the Sikh community in remembering the lives lost in this horrible act of hate. We invite you to view a video produced by the Sikh Coalition and the Revolutionary Love Project to remember.
Senate Votes This Weekend, Last Chance to Expand Healthcare for People in Poverty
This weekend the US Senate will vote on a bill called the Inflation Reduction Act. Earlier in the negotiation process this included the expansion of Medicaid to provide 2.2 million people living in poverty with access to healthcare, closing the Medicaid coverage gap. The smaller package being considered in the Senate this weekend has removed this expansion. However, the package is expected to include lower prescription costs in Medicare and a continuation of premium subsidies for Affordable Care Act insurance.

We stand firmly in the belief that the budget reconciliation package should also include funding to close the Medicaid coverage gap. This would be the only provision that would mainly benefit people in poverty.

Scripture asks, "How does God's love abide in anyone who has the world's goods and sees a brother or sister in need and yet refuses help?" [1 John 3:17 NRSVue]

We know Jesus healed the sick and told his followers, "As you go, proclaim the good news, 'The kingdom of heaven has come near.' Cure the sick; raise the dead; cleanse those with a skin disease; cast out demons." [Matthew 10: 7-8 NRSVue]

Join us in telling the Senate to help low-income people who have no health insurance because their state governments decided not to accept the Affordable Care Act's Medicaid expansion. Let them know that, as people of faith, we want the approximately 2.2 million Americans who live below the poverty line — mostly in the South, and mostly people of color — to have access to reliable health care. Without the expansion of Medicaid, they have no feasible way to obtain coverage so Congress must act. Medicaid must be expanded as an investment in the future of our nation and because we hold dearly our directive to help all who are struggling in poverty and to heal those who are sick.
It is urgent to contact your senator now before they vote this weekend on this bill!
CUG Registration Now Open
Registration is now open for the 2022 Christian Unity Gathering of the National Council of Churches (NCC). The gathering will take place October 10-11. Our virtual platform affords us the opportunity to tap into powerful voices from around the world. The virtual event also will facilitate increased attendance, provide scheduling flexibility, eliminate travel barriers, reduce the event's carbon-footprint, and be more inclusive.

The purpose of the Christian Unity Gathering is to give witness to the Good News of Jesus Christ, to demonstrate the churches' visible unity, and to engage today's church-dividing issues. Since 2014, this annual event has presented conversations on such topics as Christian leadership in unchartered waters, the impact of trauma, responding to humanitarian crises, the future of faith formation, how to uproot racism/Christian nationalism/White supremacy, and how to deal with domestic unrest and dramatic change.
For 2022, NCC has set for plans for an inspiring collection of presenters and speakers during this two-day event. A special message will be given by NCC Interim President and General Secretary Bishop Vashti McKenzie. Additionally, NCC's Governing Board, Convening Tables, Christian leaders, scholars, activists, and ecumenists from across the United States will come together for education, inspiration and advocacy surrounding NCC's priorities.

Communions and leaders have weathered lots of change, and winds of change appear to be growing even stronger. People of faith are better equipped to navigate change when we join together—in faith, in prayer, in discernment, and in determination to stand in the face of shifting tides.

The fee to attend on the Whova platform will be $25 per attendee. The recorded sessions will be available via Whova for future viewing.

Registration is accessible at any time by using the QR code or visit nationalcouncilofchurches.us/cug-2022 and make plans now to join us for engaging dialogue, impactful and relevant speeches, and conversations from leading scholars, preachers, educators, and thought leaders!
McKenzie Touts Voter Empowerment at Women in Ministry Gathering

During the recent Quadrennial Conference of the African Methodist Episcopal Church Connectional Women in Ministry in Detroit, Mich., Interim NCC General Secretary/President Bishop Vashti Murphy McKenzie highlighted the Voter Empowerment 2022 initiative, NCC's church-based action plan, as many voters face challenges at the polls.

"Seeds of fear and doubt are being sown as voting laws and polling places have changed in many states," Bishop McKenzie told attendees at their 17th event. "Voting is one of the best ways for people to actively engage in creating and maintaining strong, effective government that reflects their interests. Every registered voter must have unfettered access to the polls."
Commemorate the Voting Rights Act With NCC's Voter Empowerment Guide
August 6 marks the 57th Anniversary of the Voting Rights Act signed into law by President Lyndon B. Johnson in 1965. This historic piece of legislation was made possible through the sacrifice of foot soldiers and freedom fighters—including the late Amelia Boynton, Fannie Lou Hamer, C.T. Vivian, and the Honorable John Lewis—who broke the back of Jim Crow through the power of non-violent resistance and advocacy.

Despite their noble sacrifices, the Supreme Court has weakened important provisions of the Voting Rights Act and paved the way for States to enact restrictive voting laws. The National Council of Churches believes the right to vote is a civic sacrament that must be protected for all Americans. As we approach the first federal election since the violent January 6 assault on our democracy, we our divine discontent that Congress has failed to pass the John Lewis Voting Rights Act and the For the People Act.

We call upon Congress to swiftly pass legislation to protect and expand our democracy upon their return to session in Washington. The NCC is committed to empowering our member communions with resources to engage their communities to vote during this upcoming election and beyond.
NCC Seeks a Director of Communications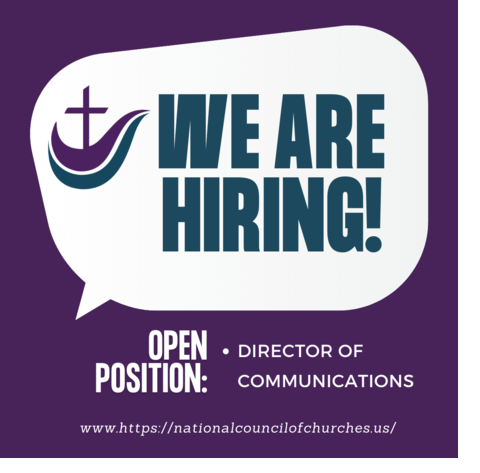 The National Council of the Churches of Christ in the USA (NCC) has been a leading force for ecumenical cooperation among Christians in the United States since its founding in 1950. The 37 NCC member communions — from a wide spectrum of Protestant, Anglican, Orthodox, Evangelical, historic African American and Living Peace churches — include 30 million persons in more than 100,000 local congregations in communities across the nation.

The Director of Communications is responsible for managing the public relations work of the NCC. This position will be located in the NCC's Washington D.C. offices.



Essential Functions



The Director of Communications will:
•Manage the Council's public relations, brand and reputation, create and distribute press releases, action alerts, and marketing campaigns.
•Play a key and essential role in the creation of the Council's public statements.
•Produce and edit an electronic newsletter and lead NCC's social media efforts.
•Maintain contact with communications staff of NCC member communions and partners and strategize with them on matters of mutual interest and concern.
•Work closely with and regularly meet with the Council's Communications Committee to develop communications strategies and execute programs to deliver communications objectives throughout the organization.
•Maintain contact with and develop strategic relationships with members of the secular and religious media to ensure the NCC has a high public profile.
•Maintain the NCC's website and databases, ensure it is regularly updated and remains up to date technologically as well as create rich and creative content that is optimized for search engines.
•Be familiar with the NCC's public policy positions and those of its member communions and represent the Council as directed.
•Assist in the preparation of the Council's Christian Unity Gathering (CUG) including in preparing the program agenda, generating stories and media coverage, handling audio/visual needs and assisting with the logistics of the CUG.
•Ensure the Council's communications ministry is carried out with sensitivity to gender, racial, economic, disability and intergenerational lenses.
•Equip, train and resource regional and local faith-based organizations related to the Council's mission and priorities.
•Undertake other projects/work/functions that may be assigned.
•This position reports to the Chief Operating Officer (immediate supervisor) and President/General Secretary (head of NCC staff).



Essential Qualifications



•Degree in journalism, communications, or related field required.
•Demonstrated experience in managing a comprehensive strategic communications and media relations program to advance an organization's mission and goals.
•Strong media relations skills desired.
•Superior oral and written communications skills.
•Knowledge of website design platforms, including WordPress.
•Previous website management experience.
•Experience working with Neon or other CRM systems is preferred.
•Training in theology and ecumenism is preferred.
•Passion for and experience in ecumenism and the work of the National Council of Churches.
•A track record of collaborative leadership and team building within complex religious organizations.
•A self-starter with project management skills, who is able to manage multiple projects simultaneously.
•Integrity and an ability to establish and maintain trust amongst diverse constituencies and team members, and an ability to engage with proficiency with others in various leadership positions.
•Creativity, forward thinking, and technological savvy.
•Familiarity with the public policy positions of the NCC and member communions.
•A record of and ability to infuse race, gender, and economic equality with sensitivity to disability and intergenerational concerns, throughout the organization and its work in tangible, efficient and creative ways.
•Ability to manage and oversee a budget.
•Significant familiarity with community organizing techniques.
•Ability to make timely, intelligent decisions and take action after considering options and available information.
•Membership in an NCC member communion preferred.



Benefits



Annual salary range $65,000-$75,000 plus 9% pension benefits, 22 days of paid vacation, and a significant health care insurance subsidy.



Procedure and Deadline



Send a cover letter, resume, and salary requirements via email by August 8, 2022 to: jobs@nationalcouncilofchurches.us.
Masters Series for Distinguished Clergy
Bishop Vashti Murphy McKenzie will be a speaker during the Masters Series for Distinguished Clergy (MSDC) program: "Spiritual Leadership: Advancing Justice In An Unjust World" on October 13-14, 2022. This
Masters Series for Distinguished Clergy (MSDC) is hosted by Skinner Leadership Institute.
Blessed Tomorrow, the faith program of ecoAmerica, along with the host committee, is convening a roundtable of 20-25 national faith leaders in person to discuss and plan denominational, organizational and collective efforts to catalyze public engagement and political action on climate solutions. The event will be on
Monday, November 14, 2022 at Auburn Seminary in New York City, NY from 12:30 pm - 5:30 pm ET with a dinner to follow.
The host committee is compris
ed of:
Bishop Vashti McKenzie, Interim President and General Secretary, National Council of Churches

Rev. Dr. John Dorhauer, General Minister and President, United Church of Christ

Rev. Teresa Hord Owens, General Minister and President, Christian Church (Disciples of Christ)

Bishop Anne Henning-Byfield, President of the Council of Bishops, African Methodist Episcopal Church

Imam Mohamed Magid, Executive Religious Director of All Dulles Area Muslim Society Center

Basharat Saleem, Executive Director, Islamic Society of North America

Rabbi Jonah Pesner, Director, Religious Action Center of Reform Judaism

Rev. Dr. Emma Jordan-Simpson, President, Auburn Seminary
Starting next year, there will be seven years to make significant progress toward climate solutions to meet the IPCC 2030 climate goals. This presents a momentous opportunity and responsibility for faith leaders to champion climate justice and work toward climate solutions. The significance of the number seven across faith traditions offers a profound framework.
Churches for Middle East Peace Advocacy Summit
Churches for Middle East Peace (CMEP) is hosting a virtual "Advocacy Summit: Accountability Matters" in mid-August to encourage constituents to set up virtual or in person meetings with their Congressional offices while members are back in their State/Districts to focus on Defending the Human Rights of Palestinian Children and Families Living Under Israeli Military Occupation Act (HR 2590) as well as further Congressional action on the killing of Shireen Abu Akleh. There will be a webinar and trainings to prepare folks and then guidance to set up constituent meetings during the remainder of the August recess.

This summit is in three parts. The first part on August 9, 2022 features Ali Awad, an activist and journalist from the village of Tuba in Masafer Yatta. (short clip from Ali). Advocacy training will take place on August 11, 2022 followed by the Congressional meetings.
"Preserving Black Churches" Grants Available
Annual grants from the Preserving Black Churches, a project of the African American Cultural Heritage Action Fund of the National Trust for Historic Preservation, are intended to "preserve historic Black houses of worship—either with active congregations and nonactive congregations—and advance ongoing preservation activities while strengthening capacity for historic congregations, and preservation and community organizations to steward, manage, and better utilize their historic structures."

Grants range from $50,000 to $200,000 and are awarded in five categories: Capital Project, Endowment and Financial Sustainability, Organizational Capacity and Operations, Programming and Interpretation, or Project Planning.
The African American Cultural Heritage Action Fund of the National Trust for Historic Preservation will hold a virtual webin
ar on

August 10, 2022 at 1:30 pm ET and provide more information. Register for the webinar.
COVID-19 Pandemic Response: Share Reminders that Vaccines are Free
Churches should be aware that 10-13% of the population of the United States has not received even one COVID-19 vaccination. Research has shown that people who are not vaccinated often live in rural communities and/or live in poverty. For those who are not vaccinated, the current surge is just as dangerous. Churches can share reminders that the COVID-19 vaccines are safe, effective, and

FREE

for all. Answers to frequently asked questions and myth busters about vaccines can be found on the US Centers for Disease Control and Prevention website.

If you find our newsletter informative, please forward it to friends and colleagues!
Your gifts helps us build a more just and equitable community that chooses grace over greed, love over hate, and faith over fear.