Subject: NCC Newsletter: Child Tax Credit, Climate, and COVID
View this email online if it doesn't display correctly
Congress should expand the Child Tax Credit to Protect Millions of Children
Speak out for those who cannot speak, for the rights of all the destitute.
Speak out; judge righteously; defend the rights of the poor and needy.

Proverbs 31:8-9, NRSVUE

The Child Tax Credit (CTC) is a fully refundable tax credit for families with qualifying children. The American Rescue Plan Act of 2021 (ARPA) temporarily expanded the CTC for 2021 to supply more help to children and families. The Center for Budget and Policy Priorities (CBPP) said that "for the first time the (CTC) succeeded in driving child poverty sharply downward in 2021." The issue is that the expansion has expired, which reports state that, "an estimated 19 million children in the lowest-income families - more than 1 in 4 children under age 17 - are ineligible for the full CTC." That is why the National Council of Churches of Christ in the USA (NCC) supports the expansion of the CTC that millions of children may be helped.

More research shows that:

The Rescue Plan's temporary expansion of the credit — which made the full credit available to all children except those with the highest incomes, increased the maximum credit amount, and included 17-year-olds — produced historic results.


The expanded credit in combination with other relief efforts drove the child poverty rate to a record low of 5.2 percent. Without the Child Tax Credit expansion (but with other pandemic relief measures in place), the child poverty rate would have been 8.1 percent.


Nationally, early 19 million children under age 17 receive less than the full $2,000-per-child credit or no credit at all because their families' earnings are too low or because the adults were out of work that year.


The estimated 19 million children under 17 who do not receive the full credit are disproportionately Black, Latino, and American Indian or Alaska Native (AIAN). Due to historical and ongoing racial discrimination, many people of color are overrepresented in low-paid work and face more limited economic opportunities.


Roughly 45 percent of Black children, 39 percent of Latino children, 38 percent of AIAN children, 17 percent of white children, and 16 percent of Asian children currently cannot receive the full credit because their families' incomes are too low.



The Child Tax Credit is important to families in every part of the U.S. Roughly 1 in 3 children living in rural areas get less than the full credit or no credit at all.

The NCC believes Congress should change the lives of 19 million children by making the full credit available to children in families with the lowest income. We hope that in their remaining legislative session, Congress will prioritize the needs of children and low-income families

Reference: Year-End Tax Policy Priority: Expand the Child Tax Credit for the 19 Million Children Who Receive Less Than the Full Credit
NCC Participates in Climate Roundtable with National Faith Leaders
On Monday, November 14, 2022, faith leaders gathered in New York for a "National Faith Leaders Climate Roundtable" hosted by ecoAmerica, an organization that "builds institutional leadership, public support, and political resolve for climate solutions in the United States." The intent of the roundtable was to think strategically about how to further the aims of ecoAmerica's faith program, called Blessed Tomorrow, which "works with religious and denominational leaders from across a diversity of traditions to care for creation and elevate their leadership on climate change as a moral, religious, and justice issue."

Eleven member communions of the National Council of Churches were represented at the table, including three Heads of Communion: Rev. Dr. John Dorhauer, General Minister and President of the United Church of Christ; Rev. Dr. J. Herbert Nelson, Stated Clerk of the Presbyterian Church USA; and Rev. Terri Hord Owens, General Minister and President of the Christian Church (Disciples of Christ). The NCC was represented by Bishop Vashti Murphy McKenzie, Interim President and General Secretary, and Dr. Tony Kireopoulos, Associate General Secretary.

While climate change has been on the agenda of many organizations, including faith communities, for many years, it was noted that in US society today, climate change denial is still a problem, as reflected in the fact that 109 members of the House of Representatives and 30 members of the Senate still deny that climate change exists. The reality of climate change in the face of such a degree of denial creates an imperative for religious communities to do their part to educate their respective communities on this issue. Indeed, while advocacy in the halls of congress for significant policy changes, much of the work to be done is at the local community level, so as to promote the required solutions. Scientific consensus warns that the world has 7 years to implement these solutions before we pass the threshold to save the planet.

As Bishop McKenzie has noted, "God created the world, and saw that it was good. It is up to human beings, beginning with people of faith, to protect, nurture, and do what it takes to heal the environment, as we are all stewards of what God has made."

The participants of the roundtable discussed ways to engage clergy and congregations in this all-important work.
NCC Mourns Passing of Rev. Doug Grace, Ecumenical Advocacy Leader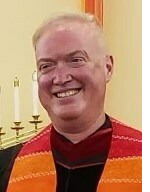 It is with profound sadness that we share the news of the passing of The Rev. Douglas Grace, former Director of Ecumenical Advocacy Days for Global Peace with Justice (EAD). Doug served faithfully as Director of EAD for more than seven years. During that time, the conference experienced growth in both participation and impact. Working with more than 40 faith-based groups to organize EAD, Doug was a skilled organizer and advocate. His sense of humor was contagious and his passion for justice undeniable. He was thoughtful, strategic and committed to do justice, love mercy and walk humbly with God.

Prior to serving as EAD's director, Doug was the director of the Interfaith Climate and Energy Campaign with the National Religious Partnership for the Environment and an associate for domestic issues for the Office of Public Witness for the Presbyterian Church (USA). He had been serving as pastor of Prince of Peace Presbyterian Church in Pickerington, Ohio, where he was ordained in June of this year. He was 52 when he died following a short illness.

Doug graduated from Bowling Green University and Union Theological Seminary in New York City. While attending Union Seminary, he served Madison Avenue Presbyterian Church as an intern, and after graduating, was director of their homeless program for the city of New York.

Doug worked closely with the NCC when he was on staff at the PCUSA's Office of Public Witness as well as when he was Director of EAD and the Interfaith Climate and Energy Campaign. He was a valued colleague and friend to many and will be sorely missed.

A memorial service for Doug will take place at 1 p.m. on Tuesday, November 22 at First Presbyterian Church, 110 W. Broadway, Granville, Ohio 43023. In lieu of flowers, the family suggests that memorial contributions may be made to Prince of Peace Presbyterian Church, 895 Old Diley Road, Pickerington, Oho 43147; Emergency Warming Shelter, Holy Trinity Church, 592 W Main St, Newark Ohio, 43055; or First Presbyterian Church, 110 W Broadway, Granville, Ohio 43023, earmarked Mission.

Doug is survived by many loved ones, friends and colleagues. Our faith teaches us that we do not mourn without hope but with the assurance that we will meet again. May Doug's memory be a blessing and a reminder that inspires us to continue to fight for justice for all of God's people.

To read the full obituary, click here.
NCC Joins Activists to Support Oak Flat
NCC joined the Baptist Joint Committee for Religious Liberty (BJC), The Episcopal Church and others for the Oak Flat Unity Summit on Tuesday, Nov. 15 in Washington, D.C. The summit provided an opportunity to amplify concerns about Oak Flat, a sacred recreational, and ecological haven on public land in the Tonto National Forest in Arizona, about an hour east of Phoenix. The land is sacred to the Apache and several other tribes. Resolution Copper, which is owned by two of the world's largest mining companies, Rio Tinto and BHP, is proposing to develop a very large underground copper mine that would have severe negative impacts on the land, the communities that consider it sacred and the environment.

Following the summit, advocates visited lawmakers on Capitol Hill to urge them to pass the Save Oak Flat Act (HR 1884 and S 915), which would protect Oak Flat from ruin and environmental disaster, including potential extreme water shortages for local communities.

Rev. Jennifer Hawks, BJC's associate general counsel, has been organizing faith communities around this issue, including the NCC, and spoke at the Oak Flat Unity Summit. Rev. Dr. Leslie Copeland Tune, NCC's Chief Operating Officer, represented NCC at the meeting. Oak Flat is listed on the National Register of Historic Places for its religious and cultural significance. Members of Congress are being urged to protect this land and the religious freedom of those who consider it sacred.
Registration Open for Conference of National Black Churches
The Conference of National Black Churches will be holding its 2022 consultation December 13-15, 2022 in Orlando, FL. The theme of this year's gathering is "Making Crooked Places Straight: Confronting the Impact of COVID-19 and the Broader Pandemic of Racism." You can get more information and register at
https://www.thecnbc.net/2022consultation
Now's the Time to Get an Updated COVID Vaccine
Although COVID hasn't gone away, our community is in a stronger place today because we have the tools to protect one another, especially safe and effective vaccines.

The COVID vaccines continue to work very well at preventing severe illness, hospitalization, and death.

Now, updated COVID vaccines are here for everyone 5 or older to help protect against Omicron.

It doesn't matter which COVID vaccine you got (Pfizer-BioNTech, Moderna, Novavax, Johnson & Johnson's Janssen) or how many boosters you've already gotten.

Get your updated vaccine 2 months after your last dose.

If you recently had COVID, you should wait 3 months from when you got sick to get your updated vaccine.

Where to find COVID-19 vaccines

You have 3 ways to find free vaccines near you:

Go to vaccines.gov

Text your ZIP code to 438829

Call 1-800-232-0233
Remember to bring your CDC COVID-19 Vaccination Record card when you go for your updated vaccine. 

For more information visit cdc.gov/coronavirus or talk to a health care provider.
Join World Council of Churches and NCC for Thursdays in Black
In every country, gender-based violence is a tragic reality. This violence is frequently hidden, and victims are often silent, fearing stigma and further violence.

We all have a responsibility to speak out against violence, to ensure that women and men, boys and girls, are safe from rape and violence in homes, schools, work, streets – in all places in our societies.

The campaign is simple but profound. Wear black on Thursdays. Wear a pin to declare you are part of the global movement resisting attitudes and practices that permit rape and violence. Show your respect for women who are resilient in the face of injustice and violence. Encourage others to join you.

Often black has been used with negative racial connotations. In this campaign Black is used as a color of resistance and resilience.

Share your Thursdays in Black photos on Twitter, Facebook and Instagram, using hashtags #ThursdaysinBlack and #WCC! Get more information at https://www.oikoumene.org/what-we-do/thursdays-in-black
Latin American Working Group Seeks Executive Director
Latin America Working Group (LAWG) and its sister organization, Latin America Working Group Education Fund (LAWGEF) are seeking an experienced, dynamic, and visionary leader to serve as the Executive Director (ED) for the organization. The Executive Director will be responsible for leading and managing all aspects of the organization including program planning and implementation, fundraising, staff management, and budgeting. A successful candidate for this position will have a track record of success in leading teams, working in coalitions to protect/promote human rights, building and leading advocacy campaigns that incorporate and strengthen a diverse grassroots base, and will have a deep understanding of how U.S. policies impact communities across Latin America, and how these policies can be crafted to strengthen human rights. This is a Washington, DC-based position. LAWG/LAWGEF is willing to discuss flexible work options. Click link for more information.
JustFaith Ministries is seeking a Marketing Director
JustFaith Ministries is a non-profit organization committed to inspiring action to address the root causes of injustice while serving with love. Through small-group programs designed for individuals, churches, and more broadly spiritual audiences, we invite learning and inspire action around contemporary social issues. We are seeking a Marketing Director who will bring a passion for social justice to our marketing needs. For more information and a job description, click here. The deadline for resumes is Dec. 15, 2022.
Metropolitan Baptist Church Pastoral Opening
The Metropolitan Baptist Church in Largo, Maryland is prayerfully seeking its 7th full-time Senior Pastor in its 158-year history to lead a congregation of over 1200 active members, with approximately 600 persons attending weekly either virtually or in-person. The successful candidate will be a transformative leader and motivator, with dynamic preaching and teaching ability, strong administrative talents, and the capacity to engage a multigenerational congregation. Metropolitan is seeking a Senior Pastor with a fresh vision for our church who also embraces the core mission of our ministry: to bring persons into a saving and redemptive relationship as disciples of Jesus Christ. As we live by Christ's example, we empower others to carry out the commands of God's Word. We seek only to be God's servants as agents of healing, wholeness and justice in a wounded and fragmented world.

If you find our newsletter informative, please forward it to friends and colleagues!
Your gifts helps us build a more just and equitable community that chooses grace over greed, love over hate, and faith over fear.