Subject: NCC Newsletter 12.3.2022
View this email online if it doesn't display correctly
From Darkness to Light – 2022 Advent
Daily Advent devotionals are available on all NCC Social Media Networks. Come, let us reason together! Members of the National Council of Churches and all communion partners are invited to join in praying for hope, unity, and healing during this Advent/Christmas season (November 28 – January 1).

We give thanks to our NCC staff for offering daily prayers and to the Committee on the Uniform Lessons Series (CUS) for their work in developing the Scripture readings published in the Home Daily Bible Readings (Monday-Friday) and the Guide to Lesson Development (Sundays). You can find NCC devotionals and other updates on Facebook, Twitter, and Instagram.
Springfield (IL) NAACP Branch Lobbies for 1908 Race Riot National Monument
A delegation of leaders from the Springfield (IL) Branch, NAACP, along with NCC's Chief Operating Officer, Rev. Dr. Leslie Copeland Tune, and National Religious Partnership for the Environment National Outreach Coordinator, Rev. Michael McClain, visited members of Congress and their staffs, along with officials from the Biden Administration, to urge them to designate a national monument memorializing the Springfield 1908 Race Riots. The riots were one of the worst examples of mass racial violence in the U.S. and led to the founding of the NAACP in 1909.

The national monument would share the events that led to a White mob attacking and lynching Black people in Springfield and destroying their homes by fire. It would also memorialize the story of one of the NAACP's founders, journalist and anti-lynching activist Ida B. Wells-Barnett, who courageously fought against lynchings and racial violence in the U.S.

During their visit to the nation's capital, the delegation met with Senator Dick Durbin (IL), staff from the Council on Environment Quality at the White House, and staffs from the offices of Congressman Joe Neguse (CO) and Senator Martin Heinrich (NM). There is widespread and bipartisan support for the national monument designation, in large part because of the efforts of the Springfield NAACP, led by President Teresa Haley. Other leaders from the Springfield Branch included in the delegation were Austin Randolph, James Bass, and Theresa Clay.

A letter with signatures from thousands of denominational leaders, including NCC member communions, in support of the national monument has also been collected.

A video about the 1908 race riots and the efforts to establish a national monument site in Springfield, Ill., can be viewed here.
Celebrating 150 Years of Uniform Lessons: The Work of CUS
Photo: CUS Committee Members
Rev. Dr. Tammy Wiens, Director of Christian Education and Faith Formation at the National Council of Churches, recently contributed an article to

Presbyterian Outlook

, reflecting on the 150-year history of the Committee on Uniform Series. In the article, Wiens recounts the history and importance of the diversely ecumenical Uniform Lesson Series and her history of involvement with the group. The article can be read in its entirety here.

Wiens writes, "… I'm honored to have a part as CUS celebrates a sesquicentennial (150th) anniversary. As I consider what I most treasure about working with these ecumenical partners, it's astounding to discover that the values shared by those who formed the first Lessons Series continue to find resonance in the committee's work in each successive generation."

In the article, Wiens highlights important considerations regarding the work of CUS:
• Teaching from Scripture feeds our spiritual hunger and nourish growth as disciples
• Theologically diverse voices with freedom to retain their distinct perspectives
• Ecumenical partnerships enliven the experience of oneness in Christ
• The future of faith formation

In 2022, Wiens writes, the Committee on the Uniform Lessons is perfectly poised to address the challenge of living out our intersectionality because it has already built a healing community in which the harms of the past and present can be addressed and repaired. We are braced to be accountable to each other's health and wholeness, even where it means recovering the stories of faith that were previously buried, overlooked, or sometimes violently erased. For those who have eyes to see, our continued study of Scripture is helping to shape us into a better people who desires to prepare a better planet for those who follow.
UN Permanent Forum on People of African Descent Webinar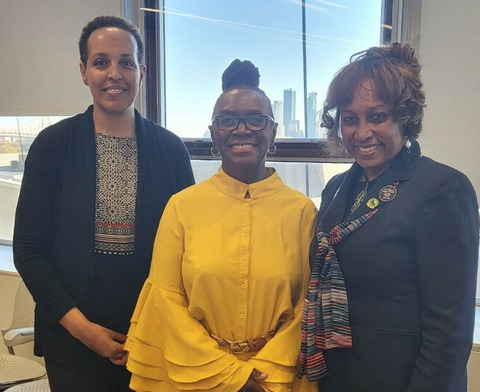 The United Nations (UN) Permanent Forum on People of African Descent will hold its first session from December 5-8, 2022, at the Palais des Nations of the UN Office in Geneva, Switzerland. To mark this historic moment, the Commission of the Churches on International Affairs (CCIA) of the World Council of Churches (WCC) hosted a virtual side event on Tuesday, Nov. 29 ahead of the first meeting. The webinar, titled, "The New UN Forum for People of African Descent: Realising the Promises of the Durban Declaration and Programme of Action (DDPA)?", examined the lessons learned from the 2001 Durban World Conference Against Racism, structural racism as the legacy of slavery and colonialism; hope for the Permanent Forum; and policy efforts to combat systemic racism and racial discrimination.

Speakers included: Rev. Dr. Angelique Walker-Smith, WCC President from North America and NCC Governing Board member; Rev. Dr. Iva Carruthers, Samuel DeWitt Proctor Conference; Rev. Lamont Wells, Evangelical Lutheran Church in America; Ms. Marilia Schuller, Methodist Church of Brazil; and, Dr. Sushil Raj, a member of the UN Working Group of Experts on People of African Descent. Rev. Jennifer S. Leath from the AME Church and a WCC Central Committee member, served as moderator.

The recording from this powerful conversation is now available. It can be viewed here.


The Permanent Forum on People of African Descent was established in August 2021 by the UN General Assembly as "a consultative mechanism for people of African descent and other relevant stakeholders as a platform for improving the safety and quality of life and livelihoods of people of African descent, as well as an advisory body to the Human Rights Council, in line with the programme of activities for the implementation of the International Decade for People of African Descent and in close coordination with existing mechanisms."

Photo:

(l-r) Mrs. Semegnish Asfaw Grosjean, Programme Executive, Commission of the Churches on International Affairs, World Council of Churches; Ms. Gaynel Curry, Expert Member, UN Permanent Forum on Peoples of African Descent; Rev. Dr. Angelique Walker-Smith, WCC North American President & NCC Governing Board member, taken at meetings at the Church Center in New York, across the street from the UN.
NCC Speaks Out Against Colorado Springs Shooting and "Copycat" Actors
The National Council of the Churches of Christ in the USA (NCC) deplores the gun violence and hate crime that targeted the LGBTQ+ community at Club Q in Colorado Springs, CO. We also speak against the rise in hate speech from "online extremists" groups calling for "copycat" violence. Since the Colorado Springs mass shooting took the lives of five people and injured nearly 20 others, the Department of Homeland Security has issued its seventh bulletin since 2021 warning due to the praise of the alleged shooter.

The NCC continues to call for prayer for the families of those whose lives were taken. Further, we speak out against any group that would intentionally incite violence against another group, but especially against minority and marginalized groups. We pray for the recovery of the injured and for healing within the Colorado Springs community. As we have stated previously, no group, especially those marginalized, should live in fear of gun violence.

NCC Laments the Violence Against College Students
at the University of Virginia and the University of Idaho
Last month, the nation was saddened and troubled by acts of violence on college campuses across the United States. Our prayers remain with the families of the University of Virginia (UVA) students who were killed or injured due to gun violence at the hands of a fellow student. Our prayers also are with the families of the University of Idaho college students who were fatally stabbed. These young people senselessly lost their lives, and we pray for healing for their families, friends, and loved ones.

The NCC also calls for prayer and support for the Charlottesville community in the shooting deaths of three young men and the healing of two injured college students. We also call for prayer and support for the families of the four slain University of Idaho students. We hope that the impacted Idaho community aids law enforcement officers who are still investigating this heinous and violent act and that they will continue to do so until the guilty are brought to justice. We hope that universities across the country make a renewed commitment to the safety and wellbeing of their students.

Related NCC Statement
https://nationalcouncilofchurches.us/ncc-agonizes-after-the-elementary-school-shooting-in-texas/
DHS Secretary Mayorkas Outlines Priorities During FBSAC Public Meeting
The Department of Homeland Security's (DHS) Faith-Based Security Advisory Council held a public meeting on Tuesday, Nov. 29, via Zoom. In the meeting, DHS Secretary Alejandro Mayorkas outlined three priority areas for the Faith-Based Security Advisory Council, including strengthening relationships with faith-based communities with the goal of minimizing threats to the safety and security of houses of worship and people of faith in the U.S. Those priority areas include: reviewing and assessing DHS's information sharing with faith-based partners to make sure it is relevant, timely, and actionable; expanding non-profit security grant and other resource programs; and making recommendations on how to build trust with stakeholder communities.

The reinvigorated FBSAC will provide organizationally independent, strategic, timely, specific, and actionable advice to the Secretary on diverse homeland security matters. Specifically, the Council's contributions will enhance the Department's work to protect houses of worship, improve coordination and information sharing of threat information with the faith community, and through the faith community, within the broader communities in which they serve; increase access to DHS resources by building trust and addressing potential barriers; and prevent, protect, respond to, and recover from acts of targeted violence, terrorism, and other threats. NCC's Chief Operating Officer, Rev. Dr. Leslie Copeland Tune, was appointed to the Council in October.

For more information about the FBSAC, visit https://www.dhs.gov/faith-based-security-advisory-council.
Registration Open for Conference of National Black Churches
The Conference of National Black Churches will be holding its 2022 consultation December 13-15, in Orlando, FL. The theme of this year's gathering is "Making Crooked Places Straight: Confronting the Impact of COVID-19 and the Broader Pandemic of Racism." You can get more information and register at

https://www.thecnbc.net/2022consultation.
16 Days of Activism Against Gender-Based Violence: How the WCC Is Involved
As the global campaign "16 Days of Activism against Gender-Based Violence" kicked off on 25 November, the World Council of Churches (WCC), Lutheran World Federation, and other ecumenical partners are calling on us all to "UNITE! Act to End Violence Against Women and Girls."
The tapestry designed as a waterfall with messages and images from communities and individuals around the world committed to end rape and violence. After the WCC Assembly in Karlsruhe it is dis-played at the Ecumenical Centre in Geneva and intended to be displayed in the United Nations in New York and other locations. Photo: Marcelo Schneider/WCC
The WCC fellowship and all people of good will can participate in the annual global campaign, which runs until 10 December, through prayers, Bible studies, exhibitions, learning, and taking action.

The WCC and its partners will be raising awareness on violence against women and girls as well as highlighting examples of work by organizations across the world.

Based on the UN Women's global theme, UNITE in this case stands for Urgency, Networking, Intervention, Training, and Empowerment—all to break the cycle of violence against women and girls.

How you can get involved:



See the Thursdays in Black Waterfall of Solidarity and Resistance.

This beautiful tapestry is on public display in the Ecumenical Centre from 21 November to 21 December. Did you know the tapestry can continue to grow? Consider contributing a panel. See instructions here.



Pray with us.

Prayers during the 16 Days will be held in the Chapel of the Ecumenical Centre in Geneva, with services for groups and churches to use added to the liturgical resources online.



Learn how to Explore research on gender, media and violence.

In collaboration with the World Association for Christian Communication, the WCC will host, on 8 December at 2 p.m. (Geneva time), an exploration of research findings on women's representation in the media, particularly around gender-based violence, the increasing problem of online violence, and steps to monitor and advocate for an end to online violence.

The 16 Days Against Gender-Based Violence is an annual international campaign that began on 25 November, the International Day for the Elimination of Violence against Women, and ends on 10 December, Human Rights Day.

"These days of solidarity and prayer will help strengthen our resolution and our hope that we can in fact move forward on the path toward a world without rape and violence," said Prof. Dr Isabel Apawo Phiri, Deputy General Secretary, World Council of Churches.

"We will gather safely to discuss the challenges, our wounds, and our hopes—and we will resolve to take some concrete actions together," said Phiri. "Please join us to share, think, and pray in a way that transcends gender inequality and other social, political, and even religious lines that, at times, seem uncrossable."


Join the World Council of Churches and NCC for Thursdays in Black
In every country, gender-based violence is a tragic reality. This violence is frequently hidden, and victims are often silent, fearing stigma and further violence.

We all have a responsibility to speak out against violence, to ensure that women and men, boys and girls, are safe from rape and violence in homes, schools, work, streets – in all places in our societies.

The campaign is simple but profound. Wear black on Thursdays. Wear a pin to declare you are part of the global movement resisting attitudes and practices that permit rape and violence. Show your respect for women who are resilient in the face of injustice and violence. Encourage others to join you.

Often black has been used with negative racial connotations. In this campaign Black is used as a color of resistance and resilience.

Share your Thursdays in Black photos on Twitter, Facebook and Instagram, using hashtags #ThursdaysinBlack and #WCC! Get more information at https://www.oikoumene.org/what-we-do/thursdays-in-black
Biden Administration Announces Student Loan Repayment Extension Pause
On Tuesday, November 22, the U.S. Department of Education announced an extension of the pause on student loan repayment, interest, and collections. The extension will alleviate uncertainty for borrowers as the Biden-Harris Administration asks the Supreme Court to review the lower-court orders that are preventing the Department from providing debt relief for tens of millions of Americans. Payments will resume 60 days after the Department is permitted to implement the program or the litigation is resolved, which will give the Supreme Court an opportunity to resolve the case during its current term. If the program has not been implemented and the litigation has not been resolved by June 30, 2023 – payments will resume 60 days after that. You can read more about the Biden-Harris Administration's continued fight for student debt relief for millions of borrowers here.
Summit for Democracy: Progress in the Year of Action
During the "Year of Action" following the first Summit for Democracy in December 2021, the United States and more than 100 partner governments around the world have taken meaningful steps to build more resilient democracies, combat corruption, and defend human rights. Summit participants have undertaken important pro-democracy reforms at home, contributed to impactful multilateral initiatives, and worked together to resist authoritarian aggression, including Russia's unprovoked and unjustified war against Ukraine. President Biden announced that on March 29–30, 2023, he will co-host the second Summit for Democracy with the leaders of Costa Rica, the Netherlands, the Republic of Korea, and the Republic of Zambia. This diverse group of co-hosts underscores the universal desire for accountable, transparent, and rights-respecting governance. You can read the full fact sheet here.
JustFaith Ministries Is Seeking a Marketing Director
JustFaith Ministries is a non-profit organization committed to inspiring action to address the root causes of injustice while serving with love. Through small-group programs designed for individuals, churches, and more broadly spiritual audiences, we invite learning and inspire action around contemporary social issues. We are seeking a Marketing Director who will bring a passion for social justice to our marketing needs. For more information and a job description, click here. The deadline for resumes is Dec. 15, 2022.
Metropolitan Baptist Church Senior Pastor Vacancy
The Metropolitan Baptist Church in Largo, Maryland is prayerfully seeking its seventh full-time Senior Pastor in its 158-year history to lead a congregation of over 1200 active members, with approximately 600 persons attending weekly either virtually or in-person. The successful candidate will be a transformative leader and motivator, with dynamic preaching and teaching ability, strong administrative talents, and the capacity to engage a multigenerational congregation. Metropolitan is seeking a Senior Pastor with a fresh vision for our church who also embraces the core mission of our ministry: to bring persons into a saving and redemptive relationship as disciples of Jesus Christ. As we live by Christ's example, we empower others to carry out the commands of God's Word. We seek only to be God's servants as agents of healing, wholeness and justice in a wounded and fragmented world.

If you find our newsletter informative, please forward it to friends and colleagues!
Your gifts help us build a more just and equitable community that chooses
grace over greed, love over hate, and faith over fear.