Subject: NCC Newsletter 11.27.2022
View this email online if it doesn't display correctly
NCC's Interfaith Dialogues Continued Through the Fall Season
In 2022, the National Council of Churches' bilateral interfaith dialogues continued to address critically important issues. The experience of this interaction goes back to our member churches and finds its way into other respective interactions and work. With the active participation of 25 member and non-member communions at the convening table, the exposure for the churches to these other communities and the relevant issues through the dialogues is quite broad; likewise with such wide church participation, the exposure to our interfaith partners of ecumenical realities is quite extensive, and the input from the various churches informs work of the whole. These intersections reflect the conciliar principles, methodologies and aims of the organization.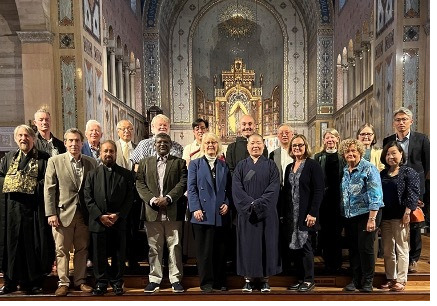 The

National Buddhist-Christian Dialogue

, co-convened by the NCC with The Guibord Center, Claremont School of Theology, University of the West, and Fo Guang Shan Hsi Lai Temple, met remotely in May, and covered the following agenda topics: the historical and religious dimensions to the war in Ukraine; the lessons learned from the Japanese experience of WWII internment; and the continuing impact of Covid-19 in our communities. In October, the dialogue resumed in-person gatherings and met in Los Angeles, and it covered the following agenda topics: the Lotus Sutra and peace, and the Christian scriptures and justice; internal distinctions in our respective traditions; and therefore implications for solidarity in the face of racial discrimination and hate crimes directed at Asian communities in the US. The group also visited the Japanese American National Museum for a private tour (as the museum was otherwise closed to the general public for the day) of an exhibit on "Sutra and Bible – Faith and the Japanese American WWII Incarceration" Click HERE for more information.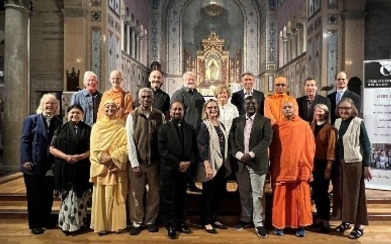 The

National Hindu-Christian Dialogue

, co-convened by the NCC with The Guibord Center and Vedanta Society of Southern California, met remotely in May, with an agenda focused on historical and religious dimensions to the war in Ukraine and humanitarian concerns facing the world as a result of the conflict. In October, the dialogue resumed its in-person sessions with a gathering in Los Angeles. Topics included the meaning of respective holidays that were being celebrated during that timeframe, namely Diwali and worship of the Divine Mother, and All Saints Day, with particular focus on the various theological understandings of Mary; the interrelatedness of growing friendship, deepening theological understanding, interfaith dialogue, and collaboration; and how these converge when addressing the social complexities in the US and India in terms of racism, ethnic supremacy, and religious nationalism. The group also had a private viewing of the film on the sanctity of creation, especially animals, called Anima, which was produced by The Guibord Center and is winning awards in international film festivals. Click HERE for more information.
The

National Jewish-Christian Dialogue

, co-convened by the NCC with the National Council of Synagogues, met in person in Washington in May, with an agenda that included a discussion of anti-Semitism; a private, guided visit to the US Holocaust Memorial and Museum (as the museum was otherwise closed to the general public for the day); and a facilitated engagement in how to hold difficult conversations. These challenging conversations continued at an in-person meeting in November in Providence, where the group engaged in a facilitated discussion of hurtful language and respectful discourse; the persistence and growth of anti-Semitism in the US, especially on college campuses today; Christian nationalism in the US; Jewish nationalism in Israel; and the history, and various forms, of Zionism.
The

National Muslim-Christian Dialogue

, co-convened by the NCC with the US Council of Muslim Organizations, met virtually in April, addressing agenda topics that included religious nationalism globally and in the US, as well as the intersection of Christian nationalism and the war in Ukraine. The dialogue then met again in person in November in Chicago, where topics of discussion were what our respective faiths call us to be in a polarized society; concerns of each community in the then-upcoming US mid-term elections; and perspectives on issues related to the Middle East, including the recent violence against women in Iran and resulting global demonstrations, the current status of diplomatic discussions on the Iran nuclear deal, and the future of political dialogue around the Abraham Accords.
The

National Sikh-Christian Dialogue

, co-convened by the NCC with the Sikh Council for Interfaith Relations, met virtually in July, with the agenda topic of how our faiths are shared across religious boundaries, which explored various perspectives on salvation and distinctions with regard to evangelism and proselytism, and what these distinctions mean for the overall relationship between the two communities. This relationship will be further examined by Christians and Sikhs that participate in the dialogue in a webinar in December hosted by the Sikh Council for Interfaith Relations, "Christian-Sikh Relations: Exploring our Common Future."
Registration Open for Conference of National Black Churches
The Conference of National Black Churches will be holding its 2022 consultation December 13-15, 2022 in Orlando, FL. The theme of this year's gathering is "Making Crooked Places Straight: Confronting the Impact of COVID-19 and the Broader Pandemic of Racism." You can get more information and register at
https://www.thecnbc.net/2022consultation
16 Days of Activism Against Gender-Based Violence: How the WCC Is Involved
As the global campaign "16 Days of Activism against Gender-Based Violence" kicked off on 25 November, the World Council of Churches (WCC), Lutheran World Federation, and other ecumenical partners are calling on us all to "UNITE! Act to End Violence Against Women and Girls."
The tapestry designed as a waterfall with messages and images from communities and individuals around the world committed to end rape and violence. After the WCC Assembly in Karlsruhe it is dis-played at the Ecumenical Centre in Geneva and intended to be displayed in the United Nations in New York and other locations. Photo: Marcelo Schneider/WCC
The WCC fellowship and all people of good will can participate in the annual global campaign, which runs until 10 December, through prayers, Bible studies, exhibitions, learning, and taking action.

The WCC and its partners will be raising awareness on violence against women and girls as well as highlighting examples of work by organizations across the world.

Based on the UN Women's global theme, UNITE in this case stands for Urgency, Networking, Intervention, Training, and Empowerment—all to break the cycle of violence against women and girls.

How you can get involved:



See the Thursdays in Black Waterfall of Solidarity and Resistance.

This beautiful tapestry is on public display in the Ecumenical Centre from 21 November to 21 December. Did you know the tapestry can continue to grow? Consider contributing a panel. See instructions here.



Pray with us.

Prayers during the 16 Days will be held in the Chapel of the Ecumenical Centre in Geneva, with services for groups and churches to use added to the liturgical resources online.



Enjoy food for thought.

A tray lunch at the Ecumenical Centre in Geneva on 28 November, starting at 12:30pm, will explore opportunities to strengthen global mechanisms to end violence against women and girls.



Learn how to Explore research on gender, media and violence.

In collaboration with the World Association for Christian Communication, the WCC will host, on 8 December at 2pm Geneva time, an exploration of research findings on women's representation in the media, particularly around gender-based violence, the increasing problem of online violence, and steps you can take to monitor and advocate for an end to online violence.

The 16 Days Against Gender-Based Violence is an annual international campaign that began on 25 November, the International Day for the Elimination of Violence against Women and ends on 10 December, Human Rights Day.

"These days of solidarity and prayer will help strengthen our resolution and our hope that we can in fact move forward on the path toward a world without rape and violence," said Prof. Dr Isabel Apawo Phiri, deputy general secretary, World Council of Churches.

"We will gather safely to discuss the challenges, our wounds, and our hopes—and we will resolve to take some concrete actions together," said Phiri. "Please join us to share, think, and pray in a way that transcends gender inequality and other social, political, and even religious lines that, at times, seem uncrossable."


Join the World Council of Churches and NCC for Thursdays in Black
In every country, gender-based violence is a tragic reality. This violence is frequently hidden, and victims are often silent, fearing stigma and further violence.

We all have a responsibility to speak out against violence, to ensure that women and men, boys and girls, are safe from rape and violence in homes, schools, work, streets – in all places in our societies.

The campaign is simple but profound. Wear black on Thursdays. Wear a pin to declare you are part of the global movement resisting attitudes and practices that permit rape and violence. Show your respect for women who are resilient in the face of injustice and violence. Encourage others to join you.

Often black has been used with negative racial connotations. In this campaign Black is used as a color of resistance and resilience.

Share your Thursdays in Black photos on Twitter, Facebook and Instagram, using hashtags #ThursdaysinBlack and #WCC! Get more information at https://www.oikoumene.org/what-we-do/thursdays-in-black
Latin American Working Group Seeks Executive Director
Latin America Working Group (LAWG) and its sister organization, Latin America Working Group Education Fund (LAWGEF) are seeking an experienced, dynamic, and visionary leader to serve as the Executive Director (ED) for the organization. The Executive Director will be responsible for leading and managing all aspects of the organization including program planning and implementation, fundraising, staff management, and budgeting. A successful candidate for this position will have a track record of success in leading teams, working in coalitions to protect/promote human rights, building and leading advocacy campaigns that incorporate and strengthen a diverse grassroots base, and will have a deep understanding of how U.S. policies impact communities across Latin America, and how these policies can be crafted to strengthen human rights. This is a Washington, DC-based position. LAWG/LAWGEF is willing to discuss flexible work options. Click link for more information.
JustFaith Ministries Is Seeking a Marketing Director
JustFaith Ministries is a non-profit organization committed to inspiring action to address the root causes of injustice while serving with love. Through small-group programs designed for individuals, churches, and more broadly spiritual audiences, we invite learning and inspire action around contemporary social issues. We are seeking a Marketing Director who will bring a passion for social justice to our marketing needs. For more information and a job description, click here. The deadline for resumes is Dec. 15, 2022.
Metropolitan Baptist Church Pastoral Opening
The Metropolitan Baptist Church in Largo, Maryland is prayerfully seeking its seventh full-time Senior Pastor in its 158-year history to lead a congregation of over 1200 active members, with approximately 600 persons attending weekly either virtually or in-person. The successful candidate will be a transformative leader and motivator, with dynamic preaching and teaching ability, strong administrative talents, and the capacity to engage a multigenerational congregation. Metropolitan is seeking a Senior Pastor with a fresh vision for our church who also embraces the core mission of our ministry: to bring persons into a saving and redemptive relationship as disciples of Jesus Christ. As we live by Christ's example, we empower others to carry out the commands of God's Word. We seek only to be God's servants as agents of healing, wholeness and justice in a wounded and fragmented world.

If you find our newsletter informative, please forward it to friends and colleagues!
Your gifts help us build a more just and equitable community that chooses
grace over greed, love over hate, and faith over fear.