Subject: NEW! Reedy and Factory Team Parts - Team Associated - July 1, 2016

Insider's Newsletter
July 1, 2016
New! Reedy 1216-C2 Dual AC/DC Comp. Balance Charger with Int'l Power Cords
June 30, 2016 - Reedy's 1216-C2 Dual AC/DC Competition Battery Charger is now available with the appropriate power cords for use in select zones worldwide! Thanks to a high-performance microprocessor and specialized operating software, the 1216-C2 is versatile, easy to use, and incorporates many advanced features to make it the perfect charging solution for new hobbyists, casual enthusiasts, or hardcore racers.
New! Factory Team Aluminum Wing Buttons
July 1, 2016 - NEW Factory Team Aluminum Wing Buttons can be used on various vehicles such as 1:10 on- and off-road as well as 1:8 buggies and truggies.
New! Factory Team B6 Titanium Screw Kit
June 30, 2016 - Switch your RC10B6 and B6D to titanium screws for more weight savings! 90 screws included, 86 for the B6 and 88 for the B6D.
Steven Hartson leads the team to 7 victories at JRBL Electric Round 4
June 22, 2016 - Under the sunny skies of Huntington Beach lies the world-famous OCRC Raceway. Currently the home of the prestigious Reedy Off-Road Race of Champions, the facility guaranteed a great day of racing.
Welcome to the new Factory Team Spotlight!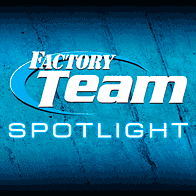 June 29, 2016 - The Factory Team Spotlight is a window into the setup and chassis layout of some of Team Associated's Factory Drivers. Here, we give you a view into the driver's car, details about the setup, and an insight to why they make the choices they do. Check out the first three entries now!
Improved V2 Diff Shimming Method
June 28, 2016 - After several weeks of testing and racing the 1:8 scale V2 diffs, our engineering team has found a setup that improves the consistency and length of time between rebuilds of the V2 differentials.