Subject: MOVING FATHER LETTER + TONIGHT! Fr. Nathan Cromly | 8P
View this email online if it doesn't display correctly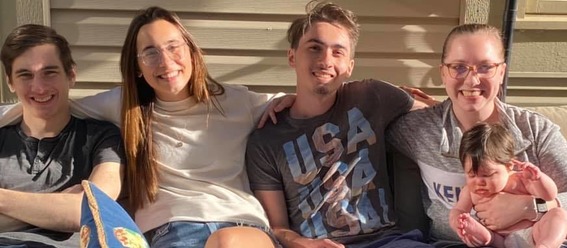 A MOVING LETTER


FROM A FATHER TO HIS MARRIED CHILDREN



[Last week we invited families to join us in embracing the "Live IT 7 Week Challenge for Families." Below is a moving note Bill & Lori Noltner shared with their married children. Great witness of how we impact the next generation.]
Emilee and Brandon,
As you know, Mom and I have been involved with the Mass Impact community for some time now and have
benefited
greatly, not only from the different programs they offer for families, but more-so, by being

surrounded by husbands, wives, and children who have made a commitment to making their homes a place of praise, worship, and spiritual growth

. We wish we had the wherewithal to raise our family with the skills this community provides when we first started our journey.

Without question, in this day and age,

there is nothing more critical to the future of marriages, children, and indeed an enduring society than the family.

Said another way: As the family goes, so goes the future of our culture and our way of life.
Furthermore, a family (and it's constituents) who's priority it is to

raise each other in relationship with God can withstand any trial, bear any burden, and discern objective truth from the subjective truths that society will increasingly force upon it

. This family is a light in the darkness. When you think about Maddy's future as we have, you want her to become the very best version of herself. The one God himself had in-mind from the beginning of time. Who will set the standard? Where will the bar be placed? If you do not set the standard for her, someone else surely will.
With that in mind, we humbly invite you to join our community of families and participate in the Live IT 7-Week Challenge described below.

The only thing really challenging about it is making the decision to do it - for seven weeks solid.

We can guide you through the rest.
We know that you have made a priority for leading your family to the promised land.

No time like the present to chart the spiritual course for your family.

This is a great place to get started and we hope you'll make that commitment. Let us know if you have any questions.
With All Our Love...

The 7 Week Live IT Family Challenge begins Pentecost Sunday, May 31. Join us.

WHY:

Because we want to be saints.

Along with our families.
WHAT:
A dedicated, weekly time of

talking and praying
with your family in your home using the Live IT Gathering Guide for seven weeks (
GO
).
WHEN
:
Whenever works best.

F
ind a weekly time. Declare and announce it. Give advance notice.
We begin the week of May 31 (Pentecost), concluding with "Celebration Saturday" on July 18, 3-7P at Swan Creek-- food, fellowship, faith and fun.
HOW:
Together.

1) Sign up at
ILoveMyFamily.us
.
2) Get our "Live IT Family Challenge" Band App.
(GO) Every Friday we'll ask you to take a quick moment to report if you did it, and perhaps share a story of how it went, or ask questions if you'd like.
THIS WILL COINCIDE WITH

Family Road Trip
Season 5, a reality program featuring three families on the same journey, broadcast over radio (
GO
).
We don't promise it will be easy.
We do promise it will be worth it.
FR. NATHAN CROMLY | TONIGHT 8PM HERE
"The future of humanity passes by way of the family."
~ Pope St. John Paul II

We are families seeking to make our homes places of ever-deepening encounter with Jesus Christ.