Subject: Polish Newsletter on Optics and Photonics – June 2022 – Candela Foundation & PPTF
Polish Newsletter on Optics and Photonics
edition #7 (June 2022)
We invite you to read the seventh edtition of the PNOF, in which we present the activities of our community – many prizes were awarded and many events took place.
Enjoy your reading and let us know your feedback!
Candela Foundation
Polish Technological Platform on Photonics
Photonics Job Fair 2022 Awards
Two awards were granted during International Photonics Job Fair 2022, organised on the occasion of the Day of Light. A challenge for the Most Attractive Employer of the Fair was won by Sygnis SA. The University of Warsaw Student Association of Optics and Photonics received an award for outstanding activity. Congratulations!
Inauguration of the Quantum Cluster
On 23 May 2022, during a conference at the University of Warsaw, establishment of the Quantum Cluster was announced, which will be composed of representatives of science, industry and non-governmental organisations.
Quantum Structure Infrared Photodetectors (QSIP), Kraków

10 – 15 JULY 2022
OPTO 2022: Warsaw, Warszawa

18 – 21 JULY 2022
22nd Polish-Slovak-Czech Optical Conference, Wojanów,

5– 9 SEPTERMBER 2022
XIII Sympozjum Techniki Laserowej (STL), Karpacz

19– 23 SEPTEMBER 2022
9th Workshop on Physics and Technology of Semiconductor Lasers 2022, Kraków,

2– 6 OCTOBER 2022
Processing technicial
VIGO Photonics
Computer Vision Engineer
XTPL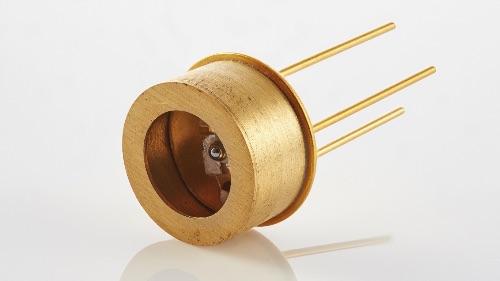 VIGO Photonics detectors flying to the Moon!
NASA has selected infrared detectors from Ożarów Mazowiecki to monitor critical environmental parameters onboard new Orion spacecraft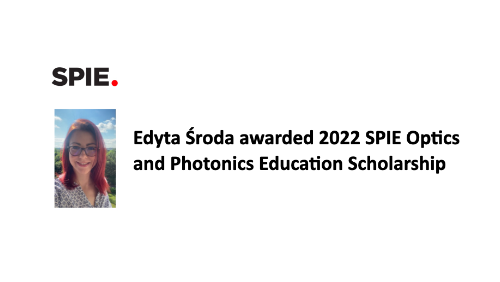 Edyta Środa awarded SPIE 2022 Optics and Photonics Education Scholarship
Edyta Środa from the Wrocław University of Science and Technology was awarded scholarship by SPIE. SPIE has honoured 78 students underlining their potential contribution to the development of optics and photonics. Congratulations!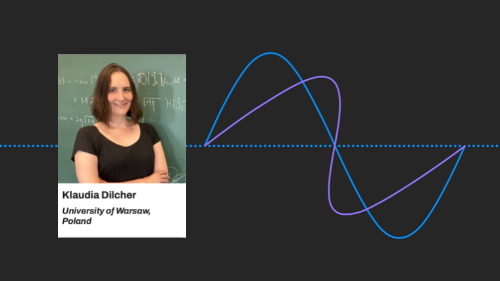 Klaudia Dilcher awarded 2022 Optica Women Scholar
Klaudia Dilcher from the University of Warsaw has become one of 20 laureates of the "Optica Woman Scholar" scholarships awarded by the Optica Foundation. Congratulations!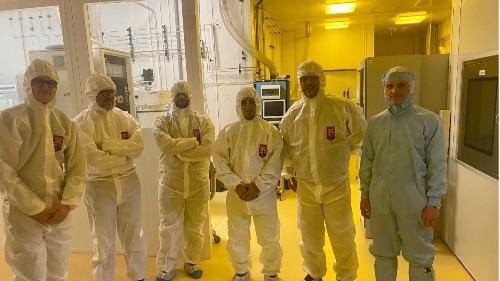 OpTecBB delegation in Poland
On 19 and 20 May representatives of photonic companies and research institutes from Berlin and Brandenburg visited Warsaw. German guests visited German guests visited VIGO Photonics, Łukasiewicz-Institute of Microelectronics and Photonics and Photonics Job Fair.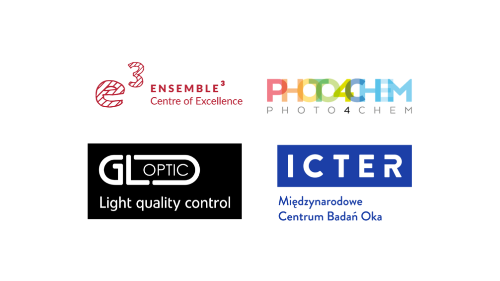 New members of PPTF
In May and June, four new members joined the PPTF: GL OPTIC, a manufacturer of professional light measurement systems from Puszczykowo near Poznań, the Warsaw-based Centre of Excellence in nanophotonics and crystal growth Ensemble3, Photo4Chem, a Krakow-based company producing photoresins for 3D printing, and ICTER, the Warsaw-based International Centre for Translational Eye Research.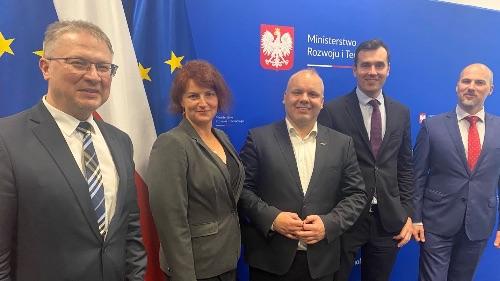 Presentation of Polish photonics companies attracted interest of the guests from Taiwan.
Representatives of the PPTF took part in a meeting organized by the Polish Investment and Trade Agency and the Ministry of Development and Technology with a delegation of the state investment fund Taiwania Capital. Presentation of Polish photonics companies met with interest of the guests from Taiwan.
Do you have something interesting to share?
Share it with us!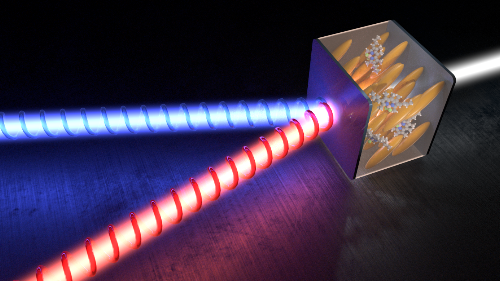 Microlaser with two circularly polarised beams
Researchers from the University of Warsaw, in collaboration with the Military University of Technology, created a new type of tunable microlaser that shines with two beams. These beams are circularly polarised and directed at different angles. To obtain this effect, the scientists filled an optical microwave cavity with liquid crystal in which a laser dye was dissolved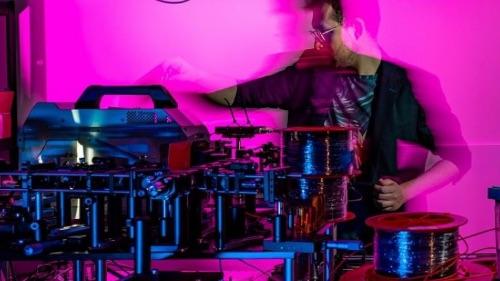 How to check if photoreceptors are working?
Can non-functioning photoreceptors be detected like dead pixels on a matrix? Until now this has not been possible, but the new technique will allow an instant and non-invasive method of assessing the physiological state of the retina. Assessing the quality of photoreceptors is crucial because their dysfunction can help diagnose various eye diseases, some leading to blindness

PhotonHub Europe
PhotonHub Europe (PHE) is a pan-European support network for entrepreneurs and public institutions interested in developing and upgrading their businesses with photonics technologies. It offers free knowledge and training, the possibility to experiment, test and develop technologies, business support, funding support and a wide network of contacts - services that are available to all entities in the EU, with a special focus on SMEs. The PPTF is PHE's Polish partner as a national photonics hub.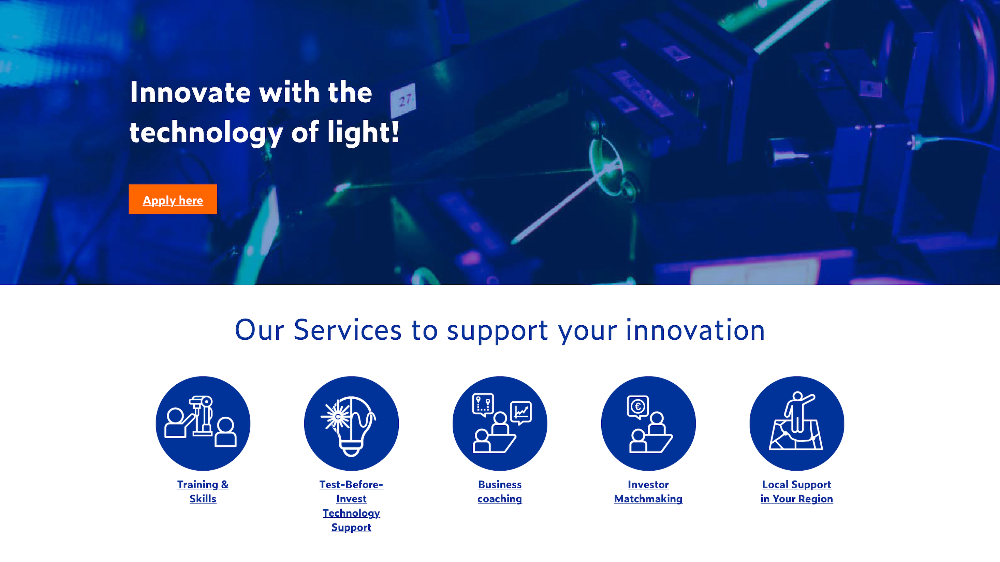 PhotonHub is looking for companies to support their development
At the end of May, during the ITM Industry Europe trade fair in Poznań, PPTF representatives presented PhotonHub's offer and talked to companies about how they can use its services in the development of their products. PPTF will also be presenting PHE's offer at other trade fairs. If you want to find out how your company can benefit from PHE's technological support - write to info@pptf.pl.
Do you know something worth sharing in the newsletter?
We are collecting information about optics and photonics community in Poland. The newsletters is created in close collaboration with the local community. If you want to share with us something interesting, newsworthy – please contact us by sending an mail to newsletter@candela.org.pl
The main organizer of the Newsletter is the Candela Foundation. Polish Technological Platform on Photonics is a partner of the initiative providing support and participates in editorial process.
Polish Technological Platform on Photonics

ul. Poznańska 129/133
05-850 Ożarów Mazowiecki
NIP: 1132964250
KRS: 0000719713
REGON: 369546598
Candela Foundation

ul. Grochowska 357/513
03-822 Warszawa
NIP: 1133028363
KRS: 0000885495
REGON:388293056