Subject: Stunning New Kit Colors! Beads Gone Wild
View this email online if it doesn't display correctly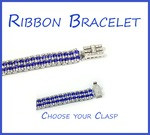 Happy Monday everyone! Hope this newsletter finds you all healthy and happy. I have one more little thought about thread vs fireline. Again a customer reminded me.. drape. they each have a different drape, and that can be influenced by the size and amount of beads. And.. alot of people have been told to always use fireline when using crystals. Maybe if the whole thing is crystal heavy... But what really breaks the thread is the way it is pulled thru the bead hole and or if the bead is loose on the thread. The see saw action of the crystal moving will cut threads. Ok... Now on to something new. We are working on a new green color way for the Pearl Bliss and discovered that the green beads were smaller that the blue. the Bllue beads are Toho and Green beads are Miyuki. I post a picture here because so many times people ask what is the difference between the two. Here is a visual . There are other differences... A topic for another day! Also while working on a 3 flower simple necklace.. I present 4 different flowers. The first is iridescent green, the other three are tanzanite. I thought the green was too bland.. then the tanzanite got lost with the lighter purple seeds around the crystal. the last one shows the crystal made with a darker seed around the top of the crystal. I like it alot. But now I like the size of the first one... I did an extra row because I was watching tv.. Just thought you might like to see how a different color around the crystal will change the color of the crystal. Check out some of the new kit colors. thank you for your business. Take Care, Stay Healthy!

Glenda



1st is one row larger, green crystal, last 3 are all the same bead counts and size and color of crystal.
Pearl Bliss - Green Coming Soon.
Ribbon Bracelet - Platinum Plated Beads with Majestic Blue.
Photo shows the bracelet done without the edging.

You can choose edging or not when you make it.
Feel like trying Layered Hubble Stitch?
Dogwood - Great for Beginners- Peyote with class!
Want to make Beaded Beads? We have several kits and a free Youtube! It was my very first one done for the bead society. Not the best but it will help you make beaded beads. Check it out.
https://www.youtube.com/watch?v=FTzu1BJhxAs&t=112s