Subject: New Kit colors, sale items Beads Gone Wild
View this email online if it doesn't display correctly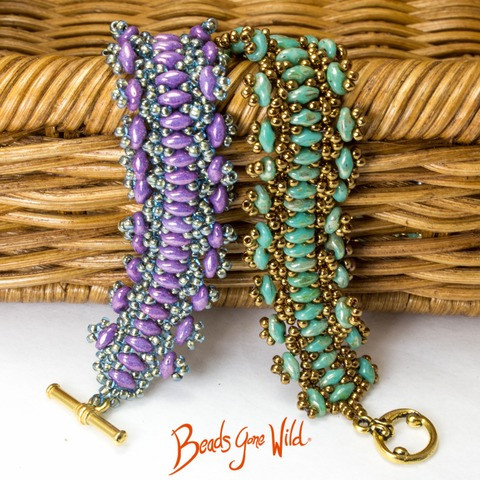 Hello Everyone, Happy Wednesday! It takes 21 days to make a a new habit. How many are of you have new habits? It is kind of odd not having the store open. We get a few phone calls, no robo calls, which is wonderful. I am training Piper to bark when the postman or ups man come instead of everyone who walks by the door. We (Pat and I) have taken over the classroom, and finally lifted up one of the tables so we can have a decent packing station. Last week a customer asked for a Silver Ribbon Bracelet. So I made the kit and I LOVE the new color. Reminds me of a sapphire and diamond bracelet. Because I couldn't decide on the clasp, this is a kit where you can choose your clasp. Fun!

Beading tip

: If you are not used to doing alot of seed bead weaving, it may disturb you. to know that sometimes it is impossible for the thread not to show. Example Right Angle Weave, Cubic Right Angle Weave, Herringbone and Ribbon Bracelet. . I like it showing on the Ribbon Bracelet because it keeps the ribbon look. On projects like Cubic RAW you can experiment with different thread colors. That is why sometimes you will see a weird color thread in the kit. It is not a mistake! Your eyes will blend the colors in the finished project. I appreciate you! Have a Great rest of your week.

Glenda



Ribbon Bracelet Kit. This bracelet can be made in one or two evenings, giving quick satisfaction.
Learn New Techniques-
Hubble stitch is easy to learn with these kits. Two colors help to see the pattern, and size 8/o seed beads.
Variations in Cubic Right Angle Weave
A wonderful Rope with colors that excite.
The Beaded Ball is an old design.
It used to be done in garnet, onyx, MOP, and pearls. These kits are my variations. Betty R, Just for Fun, and Celestial Dreams. I am urging you to go to the Youtube video and watch me make one of the ombre color beads, then try your hand. The bead takes about 10 minutes to make and 20 to weave thru and thru and thru to stiffen. It is so fun to experiment with colors! Enjoy. Post some of your work on our Facebook page.
Take advantage of the Final Offerings!

Quantity available at time of writing.