Subject: Legends of America - January 2019 Newsletter
View this email online if it doesn't display correctly
Legends of America Newsletter - January 2019
Over the holiday break, I took a trip down memory lane and started looking through old blogs I wrote years ago. These are hidden gems now, rarely visited, back when I had a completely separate blog from Kathy's and while I was still in the corporate world. Ran into one from 2008 that I just couldn't resist sharing in this newsletter:

Did they Worry about Cholesterol?
I've been trying to convince myself since late last year that 2008 is a turning point. I have to make a change to my health if I want to enjoy this life more. So, here I am smoking my cigarette, ready to go downstairs and rustle up some bacon and fried eggs (maybe some biscuits and homemade sausage gravy on the side...mmmm), pondering what it is that I can do differently.
The points really being driven home at work. Two of my co-workers ride their bikes to the office, and one of them, Warren, rides his bike every chance he gets. Even has a daily blog where he sets the pace for others, writing about his ride through the slush and sub-zero temperatures. Jim, the other co-worker, eats healthy foods for lunch and doesn't take part in greasy menus. It keeps the issue in front of me constantly, and with my doctor getting more and more worried about my Cholesterol, weight, smoking, etc, my mind is a flurry of ways I can justify not changing anything at all.
Really, if you look at how people lived in the Old West, did they have to worry about all this health crap? For instance, a quick search on Legends Of America reveals plenty of insight on the diet of a Cowboy. Under Frontier Recipes, I find "Fried Camp Apples". The list of ingredients is simple and delicious. Apples, Sugar, Cinnamon, and Lard or Meat Droppings (yum yum!). And then there are other Old West Recipes like BBQ Biscuit Pie, Buffalo Steaks with Chipotle-Coffee Rub, and oh, one of my favorites, Cowboy Sausage and Sweet Taters. All with good ol' fashion wholesome ingredients. Didn't seem to raise any alarms over Cholesterol back then, why do we care so much now?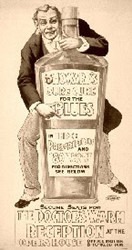 And if they did get sickly, there were plenty of easy remedies to cure it. Got the Croup? Pack sheep droppings into a tobacco sack and soak in warm water. Then just apply the sack to your neck and wear it until the choking spell is over. Worried about Cancer? Eat three almonds a day. Have a Boil? Catch a Roadrunner early in the morning, kill it, boil it and eat it...the boil will go away. Eat an onion sandwich and wash your hair to prevent a cold, and for a cough, boil cow dung in water and gargle with it three times a day. They even had a cure for stuttering, just hit the person in the mouth with a chicken gizzard.

Seems to me if those living in the old west could eat the way they did, and cure things so easily, why are we so obsessed with our health these days? Of course, I'm sure someone's going to point out that the life expectancy of someone born in the US in 1900 was only 47 years. Guess that means I have to look deeper for more excuses.

I'll leave you with some old west wisdom. "

Life is not about how fast you run, or how high you climb, but how well you bounce

". In the meantime, I smell bacon!

February 2008

Fast forward to January 2019 and I'm still in denial, although I'm helped along by three different meds. Maybe this is the year I finally get serious about better habits?

Dave "mmmm bacon" Alexander
Here are just a few of the latest additions since our last newsletter. Be sure to see our What's New Page for all the latest.
Stone Chambers of New England – Hundreds of distinctive stone structures are found all over New England that are of a design and form that have been found nowhere else in North America.





White Horse Tavern, Rhode Island

– The White Horse Tavern in Newport, Rhode Island is the oldest tavern still in operation in America. It is also said to be haunted.

Vermont Gold – A Glitter of Hope

– The first reports of gold in Vermont surfaced in 1845 when gold was found in Somerset. More gold finds followed setting off a gold rush.
Ruggles Mine – Mica Mining in New Hampshire – Ruggles Mine in Grafton, New Hampshire, a mica mine, got its start in about 1805 and operated for almost 160 years before becoming a tourist attraction.

Fort Constitution, New Hampshire – Fort Constitution, New Hampshire, located in New Castle was first fortified in 1631 and called The Castle. It has a rich history in the Revolutionary War.

Millbrook Village, New Jersey – Millbrook Village in Hardwick Township, New Jersey is an original and re-created village located on the Old Mine Road in the Delaware Water Gap National Recreation Area.

Appalachian National Scenic Trail – The Appalachian National Scenic Trail is a 2,185-mile long footpath through scenic and culturally and historically significant lands of the east coast.

Fort Adams, Rhode Island – Situated on a point at the entrance to Newport Harbor, Fort Adams, Rhode Island was formerly one of the principal coastal defenses along the Atlantic Ocean.

George "Machine Gun" Kelly – Prohibition Era Outlaw – George Kelly Barnes, better known as "Machine Gun" Kelly was a Prohibition-era criminal, whose crimes included bootlegging, armed robbery, and kidnapping.

We have added 18 articles since our last newsletter.
Whether on a riverboat atop the Mighty Mississippi, or in the smoky dimness of a mining camp saloon, a lucky draw could turn a broken man into a winner. In the days of the frontier west, poker was king with the mustachioed likes of Wild Bill Hickok, Doc Holliday, "Canada" Bill Jones, Wyatt Earp, Bat Masterson, and hundreds of others.

In the old west towns of Deadwood, Dodge City, Tombstone, and Virginia City, gamblers played with their back to the wall and their guns at their sides, as dealers dealt games with names such as Chuck-A-Luck, Three Card Monte, High Dice, and Faro, by far the favorite in the wild west saloons.

Terlingua - Best Ghost Town in the Lone Star State
In the Winter of 2011, Kathy and I escaped snowy Missouri and headed south for a Texas adventure.
Located between Big Bend National Park and Big Bend Ranch State Park in southwest Texas, Terlingua is Texas' most visited ghost town. The name "Terlingua" actually applies to a mining district, and there were three different settlements located here in southwestern Brewster County. The name derives from two Spanish words,

tres

and

lenguas

, meaning "three tongues," called such for one of two reasons. Still debated today, some say "three tongues" refer to the three languages spoken in the area long ago – English, Spanish, and Native American. The second reason refers to the three forks of Terlingua Creek.

The first settlement in the area was a Mexican village located on Terlingua Creek three miles above its confluence with the Rio Grande River. In the mid-1880's, cinnabar, from which the metal mercury is extracted, was discovered, which would slowly change the region from a single sleepy village into a mining district.

In case you missed them..here's some articles that have received the most interaction on our Facebook fan pages over the past month.
Fort Robinson Massacre - January 9, 1879, Cheyenne escape Fort Robinson Nebraska, leading to several battles now known as the Fort Robinson Massacre.
Fort Huachuca, Arizona - The name "Huachuca" comes from an obscure local American Indian language which, when loosely translated, describes a "place of thunder."
Thank you for your support!
We can't say enough how much your support keeps us motivated in sharing our love of American History and travel destinations. Our primary funding is through our General Store and Photo Print Shop, but your donations through our Tip Jar have also played a large role during our website remodel, and continue to help with our server and technical costs. Thank you, thank you, thank you.
Supporting our love of history since 2003, Legends' General Store is a great place to find unique gifts, books, DVD's, wall art, Native American inspired herbal remedies, t-shirts, postcards and much more. As a newsletter subscriber, save 10% off any item. Just use coupon code

NEWS10

in cart view.
Providing a wide range of photo prints and products from vintage images to our current travels. Thousands to choose from, including historic travel destinations, old west, native american, art and more available in many print sizes, including canvas and print wraps. Or put your favorite on a calendar, coffee mug or t-shirt. Just select an image and browse our many products in the Photo Shop. As a newsletter subscriber, save 10% on all prints. Just use coupon code

News10

during checkout.
What Our Readers are saying:
or comment on any of our articles.