Subject: SwordSearcher: Try this in your Bible reading; How to make a reading plan.

SwordSearcher Bible Software Newsletter
Forward to a Friend | View Online | SwordSearcher Home Page | Subscription Settings
Try this in your Bible reading:
When you come across a verse that is hard to understand, don't go straight to a commentary. I know, this may sound like a strange suggestion from someone who makes Bible Software, but just give this a try and see what happens. I am not suggesting that there is anything wrong with reading commentaries -- that's not what this is about.

Try to make a habit of cross-referencing before you do anything else in SwordSearcher. Before you read your favorite commentators or start clicking on links in the Bible margin for topical references, check out some cross-references first. If you already do this regularly then you already know how satisfying this is during Bible study. If you never really did it this way before, give it a shot using the KJV-TSK in SwordSearcher [video tutorial]. It will help you with copious cross-references. Another helpful tool is the Find Related Verses function [video tutorial], which helps you do Bible searches based on the words in a verse you are studying.

-Brandon

Psalm 119:18 Open thou mine eyes, that I may behold wondrous things out of thy law.
Quickly design a reading plan in SwordSearcher
If you can carve out 15 minutes a day, you can read through the Bible in a year.

Did you know you can read through the whole Bible in one month by devoting about two and a half hours a day? That may be too ambitious, so maybe you would like to read through the New Testament in a month -- very doable with about 30 minutes a day of reading!

SwordSearcher contains a powerful daily reading plan system that you can leverage right now to begin a Bible plan, and you will know right up front how long it will take.

You can use the preset "Bible in a Year" plan to read from the Old and New Testament every day of 2017, or, design your own reading plans for any portion of the Bible, either by calendar days or daily time spent.
The gift of better Bible study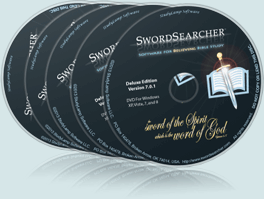 Save 50% when you order five SwordSearcher Deluxe Edition DVDs for donations to Bible teachers and missionaries.
Quantity discounts are also available when ordering more than one copy for personal use. See the order page for details.
Tips
If you're not sure what version of the Deluxe Library you have, go to the Help menu in SwordSearcher and select Check for Updates.
If you don't see a tab for a library resource you are looking for, you can look for it by selecting File, Select Module. You can easily choose which library items have visible tabs by selecting Tabs, Select Which Tabs to Show.
We've got lots of great videos showing various features in SwordSearcher. There are several how-to articles as well.

©2016 StudyLamp Software LLC.