Subject: #SoulBlast - We are happy to announce another SOLD OUT issue of SPQ!
Share a lil' Soul with
your Social Networks!
#SoulBlast - We are happy to announce another SOLD OUT issue of SPQ!

Forward to Friends Past Soul Blasts View Online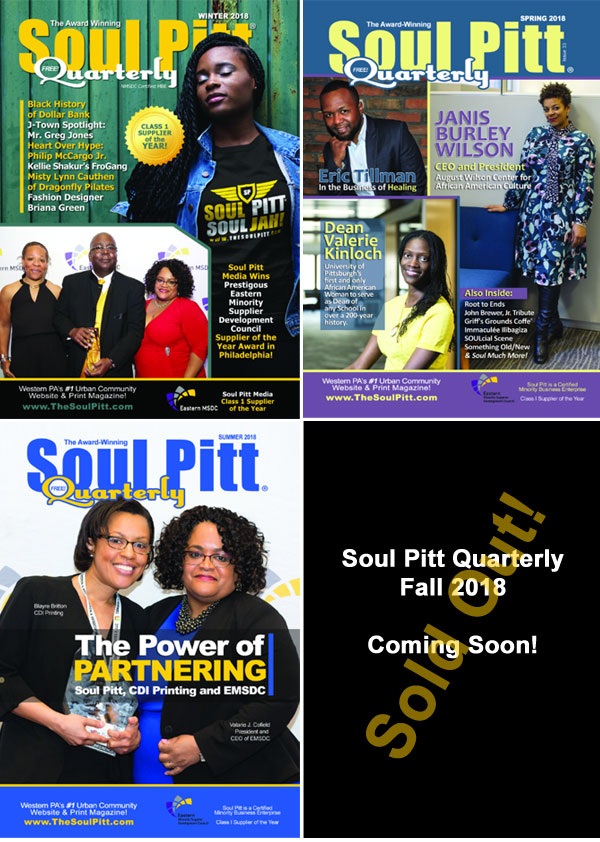 We are happy to announce another sold out issue of Soul Pitt Quarterly and want to thank our current and newest advertisers for choosing Soul Pitt Media for your advertising and marketing needs! Our business runs solely on advertising revenue and we truly appreciate the support of our advertisers and community.
We would like to thank Craig Dawson, our VP of Sales & Marketing, for his continuing efforts to partner with companies throughout this region and get them to see the value in doing business in the minority community.
We would also like to thank our writers for their amazing articles and information that is distributed free throughout the Tri-State area.
So stay tuned, as our 2018 fall issue is right around the corner! We will continue to work hard to make each and every edition something that we can all can be proud of.

The Soul Pitt Media Team
www.TheSoulPitt.com
412.407.SOUL (7685)

A Soul Blast from TheSoulPitt.com goes out to thousands and those that they pass it on to!
All Soul Blasts are also posted on ALL of Soul Pitt's social media sites at no additional charge.
To get a blast call 412.407.SOUL or email adsales@thesoulpitt.com

GET SOULcial with SOUL PITT!