Subject: #SoulBlast - Watch Students of Color "DARE TO DREAM" Film on Journey in Cuba to Become Doctors | June 23rd
Share a lil' Soul with
your Social Networks!
#SoulBlast - Watch Students of Color "DARE TO DREAM" Film on Journey in Cuba to Become Doctors | June 23rd

Forward to Friends Past Soul Blasts View Online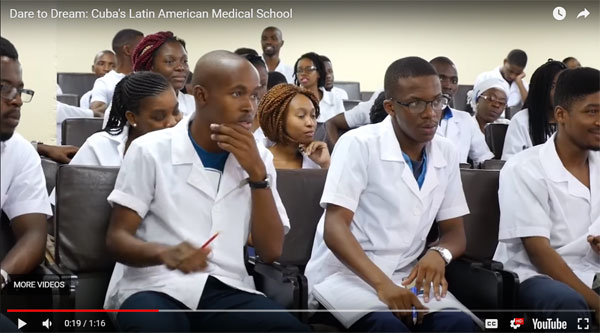 Click Here to View the Trailer for
"Dare to Dream: Cuba's Latin American Medical School"

This film is about the 170 courageous, economically marginalized young Americans, (mostly people of color), who left the U.S. to join thousands of other international students to follow their dreams of becoming compassionate doctors, totally free of charge at Cuba's renowned Latin American Medical School, (ELAM) Full scholarships are still being offered to U.S. students who have the courage to dare to dream!
Please join us for a potluck dinner, film, and discussion about Cuba: its free and universal healthcare system, and U.S.-Cuba relations today under the Trump administration, questions you may have, and upcoming trips and events.


When: Saturday, June 23rd
4:30 P.M. Help Set-Up – If you can bring a dish to add to the potluck,
(if you know what it is, please let me know so I can coordinate food) LisaCubaSi@aol.com) 412-303-1247
5:00 P.M. Dinner – Please join us for dinner. ALL WELCOME!
6:00 P.M. FILM – Our featured P4P speaker, Cheryl LaBash, co-chair of the National Network on Cuba, will show the film.
6:00 P.M. – Open discussion
Where: Pittsburgh Theological Seminary,
Knox Room
616 N. Highland Ave. Pittsburgh, PA 15206
Plenty of free parking!

For information, or questions,
please call 412-303-1247, LisaCubaSi@aol.com
My goal is to give some kids from Pittsburgh
the same opportunity to change their lives...

Sponsored by
the Pittsburgh-Matanzas Sister Cities Partnership, Thomas Merton Center, IFCO- Pastors for Peace, National Network on Cuba.

A Soul Blast from TheSoulPitt.com goes out to thousands and those that they pass it on to!
All Soul Blasts are also posted on ALL of Soul Pitt's social media sites at no additional charge.
To get a blast call 412.407.SOUL or email adsales@thesoulpitt.com

GET SOULcial with SOUL PITT!