Subject: #SoulBlast - UwebTV Tenacity Comedy Special | June 1, 2019 from 7PM to10PM
Share a lil' Soul with
your Social Networks!
#SoulBlast - UwebTV Tenacity Comedy Special | June 1, 2019 from 7PM to10PM

Forward to Friends Past Soul Blasts View Online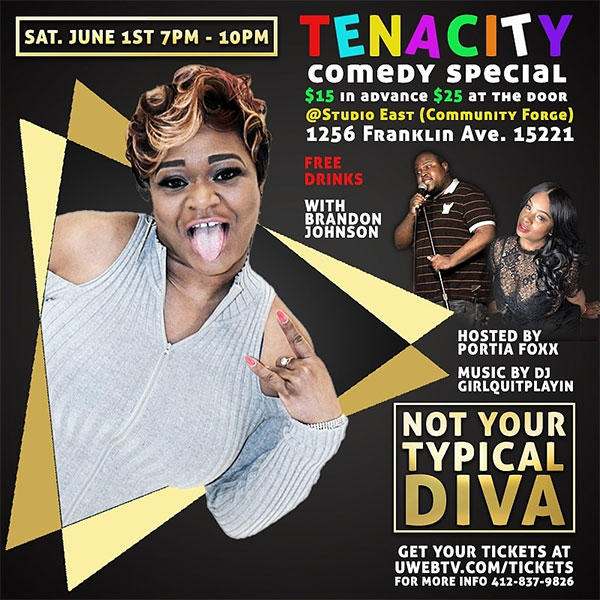 UwebTV Tenacity Comedy Special
Saturday, June 1, 2019 from 7PM to10PM
@ Studio East (Community Forge)
Come out for free drinks. Get your laugh on with Tenacity, Brandon Johnson, Wamo's Portia Foxx and Dj Girlquitplayin on the music.
"Tenacity is definitely not your typical diva"
Tickets available online at UwebTV.com/Tickets or eventbrite.com
Doors open 7pm
$15 in advance $25 at the door
at Community Forge
1256 Franklin Ave. 15221

A Soul Blast from TheSoulPitt.com goes out to thousands and those that they pass it on to!
All Soul Blasts are also posted on ALL of Soul Pitt's social media sites at no additional charge.
To get a blast call 412.407.SOUL or email adsales@thesoulpitt.com

GET SOULcial with SOUL PITT!