Subject: #SoulBlast - Tucked With Care, LLC | Non-Medical Home Care to the Senior Individuals in the Community
Share a lil' Soul with
your Social Networks!
#SoulBlast - Tucked With Care, LLC | Non-Medical Home Care to the Senior Individuals in the Community

Forward to Friends Past Soul Blasts View Online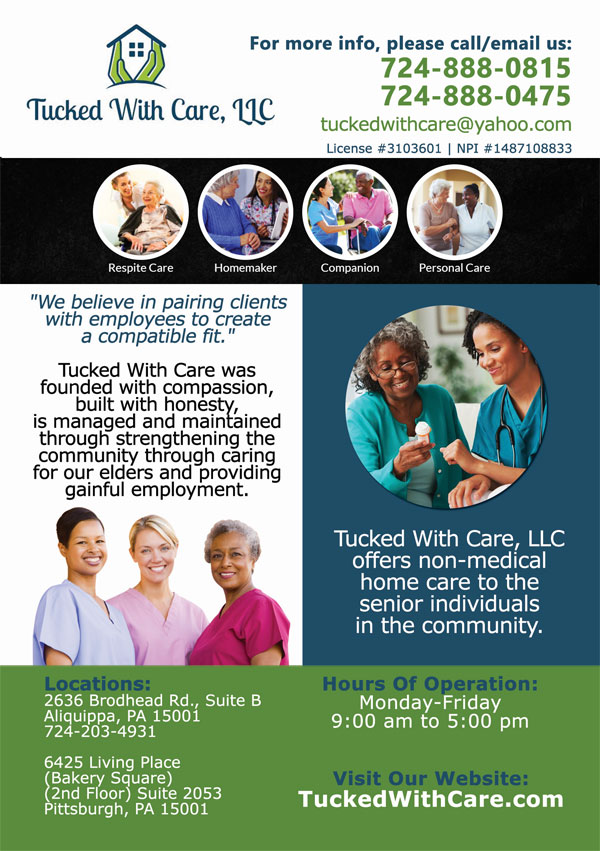 Tucked With Care, LLC offers non-medical home care to the senior individuals in the community. The high-quality services that we provide reflect how much we care about the clients and how much their satisfaction means to us. You or your loved one can expect the following services from us:

Respite Care | Homemaker
Companion | Personal Care
For more information, please call us:
724-888-0475 or 724-888-0815


A Soul Blast from TheSoulPitt.com goes out to thousands and those that they pass it on to!
All Soul Blasts are also posted on ALL of Soul Pitt's social media sites at no additional charge.
To get a blast call 412.407.SOUL or email adsales@thesoulpitt.com

GET SOULcial with SOUL PITT!