Subject: #SoulBlast - Tribute to Luther Vandross, Saturday, June 16 at 7 PM – 9:30 PM
Share a lil' Soul with
your Social Networks!
#SoulBlast - Tribute to Luther Vandross, Saturday, June 16 at 7 PM – 9:30 PM

Forward to Friends Past Soul Blasts View Online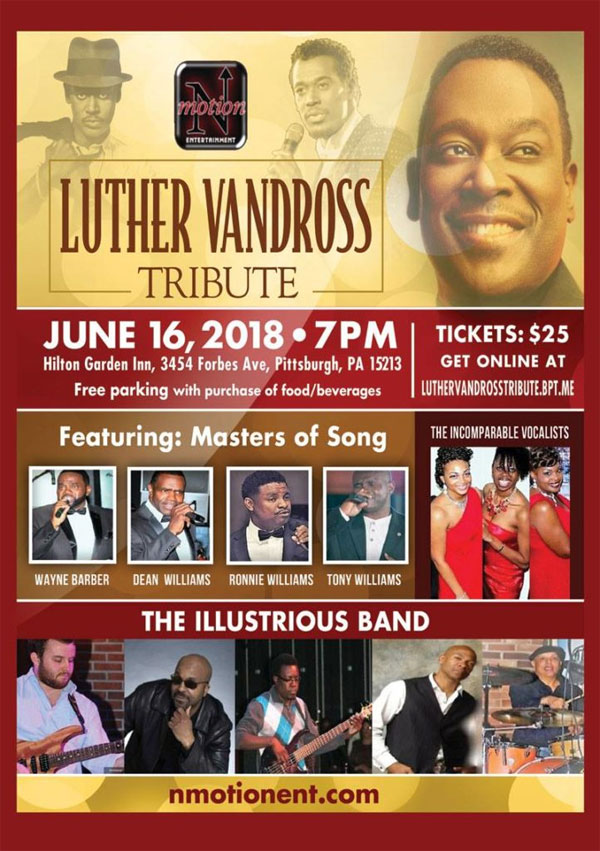 N-Motion Entertainment will be presenting a
'Luther Vandross TRIBUTE'
featuring
Wayne Barber, Dean Williams,
Ronnie Williams and Tony Williams

on Saturday June 16, 2018 at 7:00 pm
at the
Hilton Garden Inn,
3454 Forbes Avenue, 15213 (Oakland area).


All this talent on one stage in Pittsburgh. We all know Luther has passed on, but his music will live forever and these men just remind us of all the great hits Luther produced throughout the years.
Come out and join us at the Hilton Garden Inn,
cause this is one show you do not want to miss.


Purchase Tickets Online at
LutherVandrossTribute.BPT.ME
A Soul Blast from TheSoulPitt.com goes out to thousands and those that they pass it on to!
All Soul Blasts are also posted on ALL of Soul Pitt's social media sites at no additional charge.
To get a blast call 412.407.SOUL or email adsales@thesoulpitt.com
GET SOULcial with SOUL PITT!