Subject: #SoulBlast - This Sat, August 17! NeighborHOOD Conversations: A Real Conversation About Women's Mental Health
Share a lil' Soul with
your Social Networks!
#SoulBlast - This Sat, August 17! NeighborHOOD Conversations: A Real Conversation About Women's Mental Health

Forward to Friends Past Soul Blasts View Online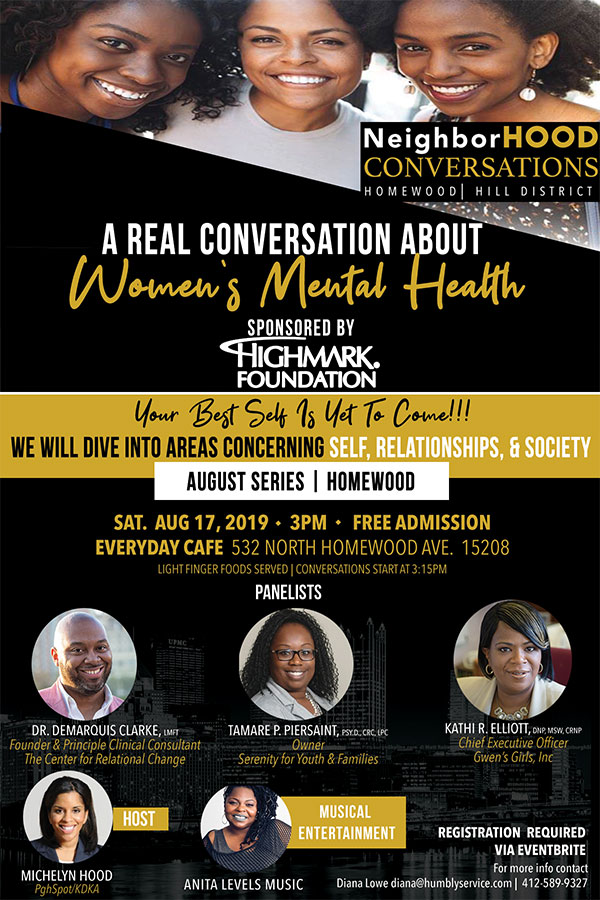 This is a special edition of NeighborHOOD Conversations discussing women's mental health - Your Best Self is Yet to Come!

A Real Conversation About Women's Mental Health will dive into areas of Self, Relationships and Society. Let's talk!


Panelists Include:
Dr. Demarquis Clarke, LMFT (Founder and Principle Clinical Consultant for The Center for Relational Change), Tamare P. Piersaint, PSY.D., CRC, LPC (Owner of Serenity for Youth and Families) and Kathi R. Elliott, DNP, MSW, CRNP (CEO of Gwen's Girls, Inc) will dive into areas concerning self, relationships and society.
There will be music by Anita Levels Music and light refreshments.
Come out and enjoy honest and transparent conversation.


SATURDAY, AUGUST 17, 2019 | 3PM
@ Everyday Cafe
532 North Homewood Avenue | Pittsburgh, PA 15208
FREE ADMISSION! Registration is Required.
CLICK HERE TO REGISTER VIA EVENTBRITE

For more info contact
Diana Lowe, diana@humblyservice.com
412.589.9327

A Soul Blast from TheSoulPitt.com goes out to thousands and those that they pass it on to!
All Soul Blasts are also posted on ALL of Soul Pitt's social media sites at no additional charge.
To get a blast call 412.407.SOUL or email adsales@thesoulpitt.com

GET SOULcial with SOUL PITT!