Subject: #SoulBlast - The WHITNEY HOUSTON Experience Featuring TANISHA THOMAS | Saturday, April 13, 7-9PM
Share a lil' Soul with
your Social Networks!
#SoulBlast - The WHITNEY HOUSTON Experience Featuring TANISHA THOMAS | Saturday, April 13, 7-9PM

Forward to Friends Past Soul Blasts View Online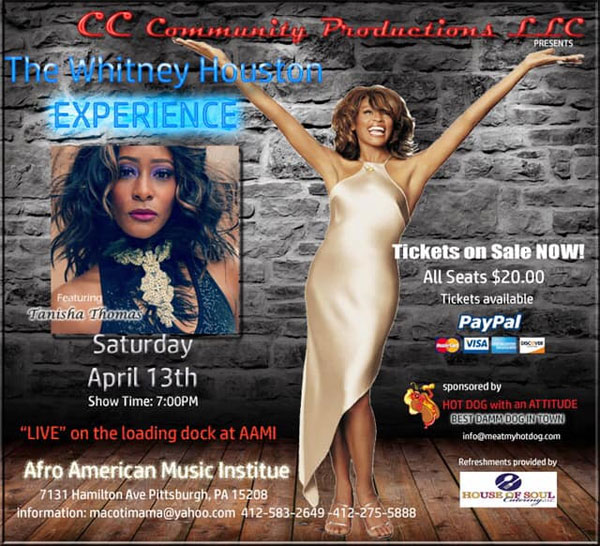 CC Community Productions LLC Presents
The Whitney Houston Experience
Featuring
TANISHA THOMAS
Saturday, April 13, 2019 at 7 PM – 9 PM
@ Afro-American Music Institute
7131 Hamilton Ave, Pittsburgh, PA 15208
(at the Loading Dock)

Sensational Songstress Tanisha Thomas
will be singing legendary Whitney Houston
Greatest Hits!
Tanisha is a Westinghouse Alumni (Bulldog)


Tickets Available Now!
For more info or tickets call CC at
412-583-2649
Or Don Patterson @ 412-275-5888

Sponsored by
HOT DOG WITH AN ATTITUDE
(412-275-5888)

Refreshments by
HOUSE OF SOUL CATERING
Donation $20
Tickets also available via PayPal


Info@meatmyhotdog.com
Macotimama@yahoo.com

A Soul Blast from TheSoulPitt.com goes out to thousands and those that they pass it on to!
All Soul Blasts are also posted on ALL of Soul Pitt's social media sites at no additional charge.
To get a blast call 412.407.SOUL or email adsales@thesoulpitt.com

GET SOULcial with SOUL PITT!