Subject: #SoulBlast - The 2019 Cincinnati Music Festival | July 25–27, at Paul Brown Stadium!
Share a lil' Soul with
your Social Networks!
#SoulBlast - The 2019 Cincinnati Music Festival | July 25–27, at Paul Brown Stadium!

Forward to Friends Past Soul Blasts View Online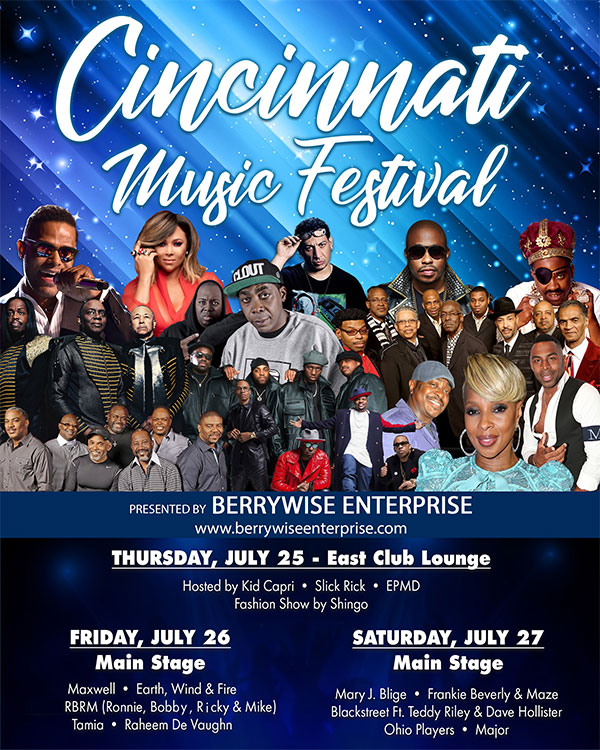 Premier ticket and hotel reseller, Berrywise Enterprise is providing ticket and hotel packages for the 2019 Cincinnati Music Festival.The iconic event will happen Thursday, July 25-Saturday, July 27, at the Paul Brown Stadium, on the Cincinnati riverfront. Attendees will have a memorable experience with prime seating and accommodations.
"Here at Berrywise Enterprise, we are dedicated to you and your Cincinnati Music Festival ticket and hotel needs.," says Berrywise Enterprise owner, Zachary Berry. "We've won a number of great comments for our work with the festival. But, our most important win is making you a happy, life-long patron."
The Cincinnati Music Festival is one of the nation's oldest and most highly anticipated music festivals, attracting local and regional guests from across the Midwest. Each year, the festival showcases a bevy of old school artists, along with the hottest contemporary R&B performers. Last year's event drew a crowd of almost 50K music lovers.


This year's line-up includes the legendary talent of
Mary J. Blige, Maxwell, Maze ft. Frankie Beverly, Earth, Wind & Fire, (RBRM) Ronnie, Bobby, Rickey, & Mike, Tamia, Ohio Players, Blackstreet ft. Teddy Riley & Dave Hollister, Raheem DeVaughn, Major, DJ Kid Capri, EPMD, and Slick Rick.

Ticket prices start at $65 and are
available a la carte or within a bundle.

Visit berrywiseenterprise.com
to purchase packages/tickets and for festival updates.

A Soul Blast from TheSoulPitt.com goes out to thousands and those that they pass it on to!
All Soul Blasts are also posted on ALL of Soul Pitt's social media sites at no additional charge.
To get a blast call 412.407.SOUL or email adsales@thesoulpitt.com

GET SOULcial with SOUL PITT!